Custom Email Tracking Tool for Microsoft Dynamics 365/CRM
An email tracking tool is an add-on to Dynamics CRM aimed at increasing the efficiency of email management. Custom-built for your business, it helps tracking outgoing and incoming emails sent via any email server.
How It Works
An email tracking tool works via direct access to email server, with email synchronization running at a defined time interval. See how you can easily track email interactions: after you've added the contact person's email into your CRM, the tool can automatically track both outgoing and incoming emails.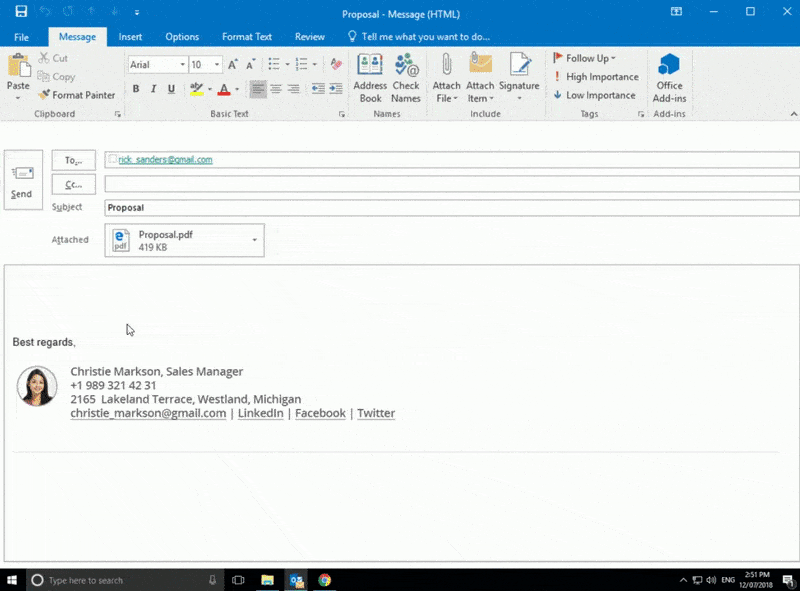 Get More Value from Your CRM
Pipeline transparency

Email communication regarding lead generation and nurturing, as well as account management activities are visible at all company levels.

Gap-free communication

CRM users have a full picture of how communication with customers flows.

More time for true sales and marketing

Automated email logging saves the time of sales and marketing teams for more important tasks.

No data loss

Even if the user deletes the tracked message in a mail client, an email copy is still kept in Microsoft Dynamics 365/CRM.

Increased information security

If certain emails should not be tracked for they contain highly confidential data, users rely on confidentiality settings.
Custom Email Tracking Tool vs. Standard Tracking Tool for Outlook
Email tracking tool by Microsoft
Custom email tracking tool by ScienceSoft
Exceptions and privacy settings
Creating new CRM contacts
Sometimes tracking is inconsistent, e.g. when incoming emails are moved to other folders according to a rule.
CRM users have to check the tracking box for each outbound email manually (potential risk in case a user forgets to apply this setting).
Intelligent association of emails with opportunities is available, however disabled in certain scenarios.
Outlook email tracking plug-in allows tracking from Exchange, Gmail, Yahoo, etc.
The tool allows creating CRM records, such as activities, accounts, contacts and leads from the Quick Access Toolbar only manually.
All inbound emails are tracked automatically.
Email tracking works even in such specific but crucial cases as:
No recipient receives, reads or opens an inbound e-mail (e.g. the email is sent to a user who is on vacation).
An inbound email is sent to a deactivated user (e.g. a user does not work in the company any more).
An inbound email is automatically moved from Inbox to another folder according to a rule.
Logic can be customized.
All outbound emails are tracked automatically, even if an outbound email is sent via a web client. Logic can be customized.
All incoming/outgoing emails tracked in CRM are linked to a company, if the company or its contact is mentioned in "From", "To" or "Cc".
Uploading, matching and synchronizing of the email history on the server from the pre-CRM period.
Equally tracks emails from Exchange Server as well as through any other IMAP/POP3 email provider.
Emails from certain users can be excluded from tracking, e.g. emails of C-level executives. They still can be tracked manually via Outlook plug-in.
The tool analyzes business emails according to certain rules and, even if they are not from a CRM contact, a new company or contact is created automatically with all the necessary attributes. For example, if an employee replies to an email sent to info@company.com using a personal mailbox, e.g. jsmith@company.com, the email is also tracked.
Service Scope
Buidling a custom email tracking tool based on your requirements and specifications, and our business analysis (in case customization is needed according to the specifics of email communication processes in your company).
Providing maintenance and support to ensure excellent performance.
Providing user guides and user training.
Planning to Manage Your Emails More Efficiently?

ScienceSoft can design an email tracking tool specifically for your business requirements. 

<![endif]--> <![endif]--> <![endif]-->