EmailScoop is a customizable automatic solution to easily track outgoing and incoming emails sent via any email server.
How It Works
EmailScoop works via direct access to email server, with email synchronization running every 5 minutes (however, the synchronization interval is configurable on demand). See how you can easily track email interactions: after you've added the contact person's email into your CRM, EmailScoop can automatically track both outgoing and incoming emails.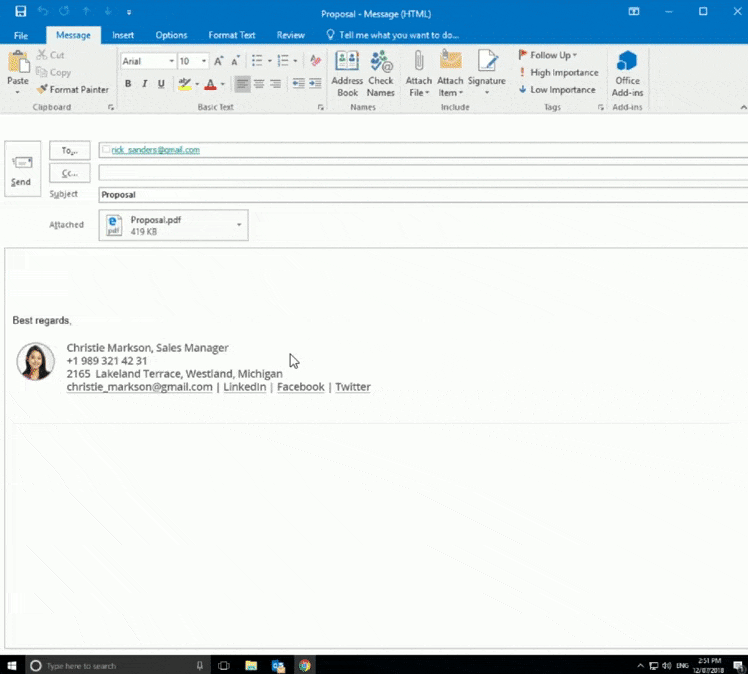 EmailScoop vs. Standard Tracking Tool for Outlook
Features
EmailScoop by ScienceSoft
Email tracking tool by Microsoft

Incoming emails

All inbound emails are tracked automatically.

Email tracking works even in such specific but crucial cases as:

No recipient receives, reads or opens an inbound e-mail (e.g. the email is sent to a user who is on vacation).
An inbound email is sent to a deactivated user (e.g. a user does not work in the company any more).
An inbound email is automatically moved from Inbox to another folder according to a rule.

Logic can be customized.

Sometimes tracking is inconsistent, e.g. when incoming emails are moved to other folders according to a rule.

Outgoing emails

All outbound emails are tracked automatically, even if an outbound email is sent via a web client.

Logic can be customized.

CRM users have to check the tracking box for each outbound email manually (potential risk in case a user forgets to apply this setting).

Smart matching

All incoming/outgoing emails tracked in CRM are linked to a company, if the company or its contact is mentioned in "From", "To" or "Cc".

Intelligent association of emails with opportunities is available, however disabled in certain scenarios.

Email history

Uploading, matching and synchronizing of the email history on the server from the pre-CRM period.

Not available.

Different providers

Equally tracks emails from Exchange Server as well as through any other IMAP/POP3 email provider.

Outlook email tracking plug-in allows tracking from Exchange, Gmail, Yahoo, etc.

Exceptions and privacy settings

Emails from certain users can be excluded from tracking, e.g. emails of C-level executives. They still can be tracked manually via Outlook plug-in.

Not available.

Creating new CRM contacts

The tool analyzes business emails according to certain rules and, even if they are not from a CRM contact, a new company or contact is created automatically with all the necessary attributes. For example, if an employee replies to an email sent to [email protected] using a personal mailbox, e.g. [email protected], the email is also tracked.

The tool allows creating CRM records, such as activities, accounts, contacts and leads from the Quick Access Toolbar only manually.
Additional Services
Customizing EmailScoop based on your requirements and specifications, and our business analysis (in case customization is needed according to the specifics of email communication processes in your company).
Providing maintenance and support to ensure excellent performance.
Providing user guides and user training.
Let's Cooperate
Ready to overcome problems with the out-of-the-box email tracking in Microsoft Dynamics 365/CRM? Contact our dedicated team for a consultation.