Social Intranet to Drive Employee Engagement
SharePoint social intranets offer a rich feature set for promoting corporate culture and employee collaboration.
With 16 years in SharePoint development, we deliver robust social intranets to help orgs increase employee engagement, motivation, and loyalty.
Our SharePoint Competencies
Microsoft Partner since 2008.
Recognition for ScienceSoft's ample expertise in SharePoint intranets from Microsoft.
For the second straight year, ScienceSoft USA Corporation is listed among The Americas' Fastest-Growing Companies by the Financial Times.
100+ completed SharePoint projects since 2007.
130+ testimonials from our valued clients.
20+ Microsoft-certified SharePoint experts.

Expertise in complex SharePoint customization and integration.
We cooperated with ScienceSoft on our company intranet project. Their work will help us achieve a higher level of communication with our diverse workforce. We have already seen an increase in event participation and use of the tools built into the site which allow the employees to have a greater part in self-managing their needs.
Denise Yarian, People and Culture Manager, Autosoft
Benefits that Our Social Intranets Provide
Non-financial employee recognition
We provide a social intranet that supports enterprise-wide employee recognition through announcing achievements and promotions, posting employee success stories, assigning status badges (e.g., Expert, Master).
Smooth change management
We bring intranets that guide employees through organizational changes like mergers and acquisitions. They help to create a social space for communication, discussion and collecting feedback on changes in business processes and corporate culture.
Centralized content governance
We offer intranets with a clear-cut content governance model. It allows keeping all corporate files in order and avoid content silos.
Effective communication
We create a SharePoint intranet that connects all the company's employees all over the world. Thus, employees can easily find and reach their colleagues with certain skills, in case they need help with fulfilling their tasks. We arrange both formal (business-related) and informal (communities, social media) communication within an intranet.
Increased employee engagement
We build social intranets with convenient UX and intuitive UI. We also enrich social intranets with personalization features, for example, personalized news and content suggestions.
Employee satisfaction and retention
With a SharePoint social intranet, you can support employees by offering, corporate knowledge base, Q&A section and other features. We enhance your intranet with surveys and questionnaires, which allows for regular monitoring of employees' work satisfaction. HR managers will be able to see contentment dynamics and make necessary improvements to increase employee satisfaction and retention.
Corporate culture support
We create unique branding for a SharePoint intranet that helps to promote corporate culture (values, goals, achievements, etc.) across the company.
Communication tools and web parts (news, announcements, employee benefits, policies and procedures, chats, blogs, wikis, communities, discussion boards, social networks).
Gamification features (badges, leaderboards, mini-games, etc.).
Analytical and reporting tools (feedback, surveys and questionnaires, dashboards).
Learning management features (onboarding training, compliance training, microtraining apps, assessment tests and quizzes).
Employee help desk (processing employee requests related to vacation, health insurance, office supplies, equipment maintenance, etc.).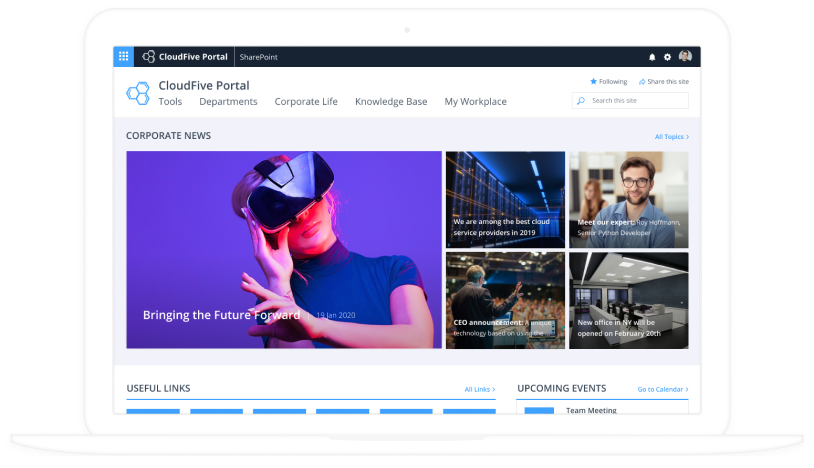 SharePoint Intranet Demo
See the most popular social features of SharePoint intranet in our live demo.
Content Management Capabilities We Provide
Content creation. The content authoring module of a SharePoint intranet simplifies generating various types of intranet content. This module enables end users to focus on content, not on the authoring process.
Content diversity. A social intranet supports multiple content categories: news and announcements, policies and procedures, Q&A, wikis, intranet usage, etc.
Content analytics. A SharePoint intranet enables collecting data on intranet use and popularity.
Content personalization. To improve content search and accessibility, a SharePoint intranet supports personalized quick links, content suggestions, recently viewed documents, personalized newsfeed and timeline.
Service Options We Offer
| | |
| --- | --- |
| Developing a social-oriented intranet from scratch as a collaboration hub or a full-fledged content management platform. | Migrating your intranet from third-party platforms to SharePoint and from SharePoint to newer versions of the platform or to the cloud. |
| Adding new features to your intranet (LMS, wikis, etc.). | Redesigning your intranet. |
Social Intranet Options We Provide
Depending on the required degree of socialization, we provide the following options for an intranet with social tunes:
An intranet complemented with social web parts. We add several social web parts to your business-oriented intranet. For example, we can create a discussion board, which employees can access right on the home page of the intranet.
An intranet with an isolated social environment. We unite numerous social features under one tab (e.g., named Corporate Life) of a SharePoint intranet to have them on the same page: a blog, a discussion board, communities, classifieds, a media gallery, and other social features.
A full-fledged social intranet. We deliver an intranet dedicated exclusively to the social activities of your company.
How We Deliver Social Intranets
We provide a complete set of services to deliver a feature-rich social intranet that will stimulate employee communication and promote corporate culture:
1
Consulting
We recommend you the most appropriate deployment type, content governance policies, user adoption as well as on a mobile version of an intranet.
2
Discovery and business analysis
We conduct research on employee behavior, habits and preferences and define intranet features that will attend to their social needs. We collect this information via interviews with employees and managers and electronic questionnaires. We help you to determine the volume of required social features, a set of communication tools, integrations and customizations (including intranet branding).
3
Implementation
We develop a social intranet ensuring its stable and error-free operation. We also elaborate a content governance model that will help you to streamline content management of your social intranet.
4
UX and UI design
To ensure better intranet adoption, we leverage the modern SharePoint experience to design user-friendly and eye-catching intranets.
5
Customization
We customize your social intranet to streamline communication and enable smooth work of systems and tools integrated with your intranet.
6
Integration
We integrate a social intranet with various systems and tools, such as Active Directory (to pull employee information like birthdays), HR, ERP (to pull information to a KPI dashboard), external information sources (industry news, social networks, weather forecast, and share price) and other information to be automatically updated on the intranet's home page.
7
Quality assurance
We use a thorough QA approach from the start of the project to deliver a robust solution by offering regular code review and unit testing. We also conduct continuous testing during implementation of a social intranet.
8
Managed services, support and evolution
We provide after-launch support to ensure the operation stability of your social intranet. We improve UX and UI to increase user adoption. Also, we add new features to attend to the changing social needs of your company, offer continuous support and help desk services.
Objectives and Key Results We Help You to Achieve
We offer a sample set of OKRs to measure the value our social intranets bring to your business:
Intranet adoption

: increased intranet use, the number of views of certain content, an average time on a SharePoint page, reduced email use.

Employee behavior

: the number of communities (active and closed), the number of shares, likes and discussions, the number of employees engaged in corporate life.

Employee attitude and loyalty:

the number of external shares to social media from an intranet, reduced employee turnover.

Content management:

the amount of user generated content, trending topics, the time spent on creating content.
Our Approach to Social Intranet Implementation
We implement a social-oriented SharePoint intranet adapted to the specific communication needs of your company's individual employees and teams.

We help you to reduce costs and maximize ROI of your social intranet as we make the most of out-of-the-box SharePoint functionality and use proprietary tools in intranet development.

We offer you a complete package of SharePoint services from consulting to support and evolution to bring you a full-fledged and ready-to-go social intranet.
<![endif]-->