Editor's note: Andrew explains what are the benefits and key features of all-in-one marketing software and presents the list of top 3 platforms. If you consider implementing a fitting all-in-one marketing platform, feel free to check ScienceSoft's marketing automation services offering.
91% of marketers believe that marketing automation is essential for their company's success. And it is not surprising, considering the benefits of marketing automation platforms. Employing such a platform, you can automate various marketing tasks to streamline your marketing workflows, which will bring improved lead conversion and increased marketing ROI.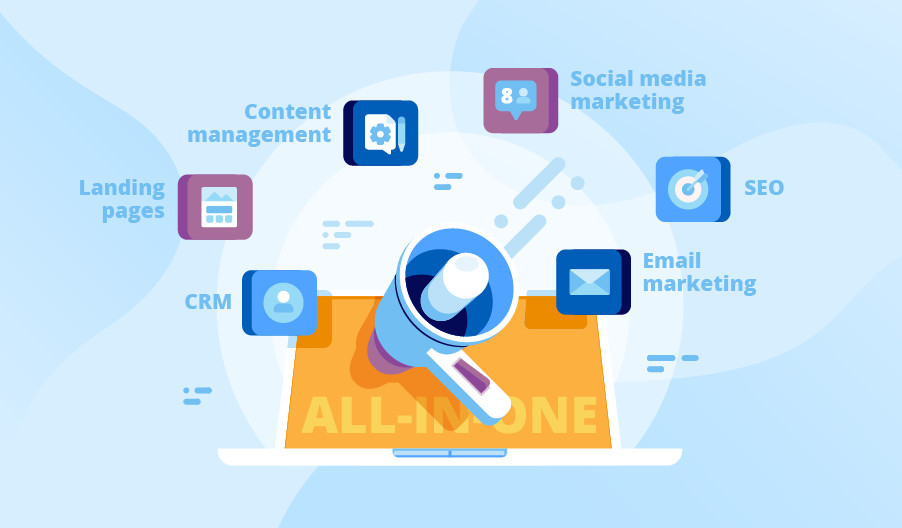 You can choose among a multitude of digital marketing platforms catering to the automation of different marketing aspects, but I suggest looking closer at all-in-one marketing software. Below, I dig deeper into its characteristics and share the best all-in-one marketing platforms available in the market.
All-in-one marketing software capabilities
All-in-one marketing software combines various marketing functions in one place to let you accomplish your goals using one digital marketing platform instead of several separate tools. To help you generate qualified leads, create personalized customer journeys, and launch marketing campaigns tailored to customers' interests, all-in-one marketing platforms include the following features:
CRM.
Email marketing.
SEO.
Content management.
Landing pages.
Social media marketing, etc.
Top 3 all-in-one marketing platforms
Dynamics 365 Marketing
Key strength: Dynamics 365 Marketing offers all-encompassing marketing automation features. It allows you to create unified customer profiles, carry out advanced customer segmentation and target each segment with personalized messages and multi-channel marketing campaigns.
Unique features:
Multi-channel campaigns – using email marketing, dynamic landing pages, SMS, social media, and other channels to generate qualified leads.
On-brand email templates – customizable email templates (an abandoned shopping cart reminder, a newsletter, etc.) for tailored email marketing campaigns.
Customer segmentation – creating customer segments based on certain features (demographical, territorial, behavioral data, etc.) for targeted marketing.
Customer journey mapping – building automated, multi-channel customer journeys (automated emails, activity generation, etc.) of a selected customer segment from scratch using a drag-and-drop editor.
Event management – organizing events to demonstrate your product or services, using dashboards to have a broad overview of your event-planning activities (promoting, attendee registration, event broadcasting) and results (final analytics, ROI evaluation).
Analytics – tracking KPIs of all marketing activities and providing insights into customer behavior.
Customer Voice – capturing feedback based on personalized surveys.
Limitations: Limited number of integrations with third-party services.
Pricing: From $1,500 per user/month for 10,000 contacts (as a standalone app). From $750 per user/month for 10,000 contacts (if you have a qualifying Dynamics 365 app in use with more than 10 users).
More about Dynamics 365 Marketing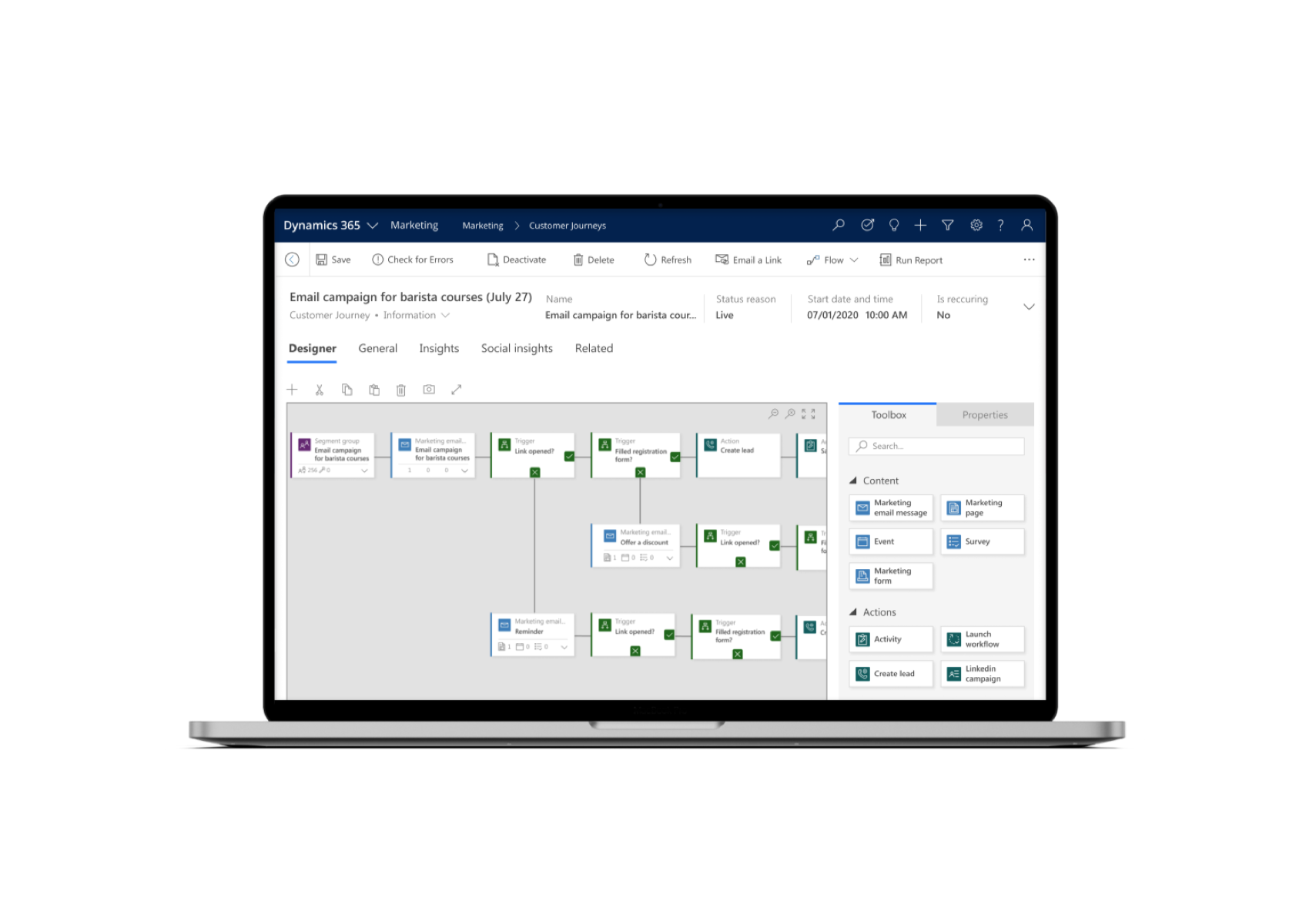 Salesforce Marketing Cloud
Key strength: Salesforce Marketing Cloud provides powerful automation tools to streamline your business' marketing workflows and increase the profitability of your marketing activities with personalized marketing journeys and targeted campaigns.
Unique features:
Audience Studio – funneling data from various customer touchpoints (emails, social media, phone calls, etc.) to enable customer segmentation and personalized communication.
Email Studio – creating engaging marketing emails using customer segmentation, customizable email templates, A/B testing, email analytics, etc.
Interaction Studio – providing recommendations to marketers on the best action based on the data captured from every customer touchpoint in real time.
Data Studio – discovering new audiences and including them in marketing activities.
Social Studio – developing an effective corporate social media profile by creating content, communicating with customers, and promoting marketing campaigns.
Limitations: Separate pricing packages for marketing automation tools.
Pricing: Email, Mobile and Web Marketing suite starts at $400 org/month for the Basic edition (billed annually). Audience Studio starts at $18,000 org/month for the Basic edition (billed annually). Social Studio starts at $1,000 org/month for the Basic edition (billed annually).
More about Salesforce Marketing Cloud
Hubspot
Key strength: Hubspot offers all the necessary marketing tools so that you can attract more prospects, convert more leads, and provide a personalized experience to your customers.
Unique features:
Email marketing management – creating and personalizing marketing emails in the drag-in-drop editor, executing A/B tests to determine which message has better reach and conversion.
Landing Page Builder – no-code creation of landing pages that show dynamic content based on a customer's behavior.
Lead management – easy access to all customer-related information and interaction to create targeted marketing campaigns.
Social media management – composing and scheduling posts with Hubspot's recommendations on the best time to publish the posts, tracking and monitoring engagements on social media.
Limitations: Lack of customization capabilities.
Pricing: Starter edition – from $40/month, Professional – from $800/month, Enterprise – from $3,200/month.
What is your next step in the marketing automation journey?
An all-in-one marketing automation platform can improve your company's efficiency and increase its revenue by helping you automate processes in various marketing aspects. To reap these benefits, you need to carefully choose and ensure the smooth implementation of fitting all-in-one marketing automation software. If you need help with any of these tasks, ScienceSoft's team is ready to assist you!
As a marketing automation provider, ScienceSoft will help you optimize marketing processes with platform-based or custom marketing automation software.