Editor's note: In this blog post, Oleg shows why Dynamics 365 marketing automation is something worth exploring when you're looking to increase your marketing efficiency. He explores common marketing pains you may face and provides an overview of Dynamics 365 features to cure them. If your company is interested in applying marketing automation based on Dynamics 365, ScienceSoft's Dynamics 365 offering is at your service.
Microsoft Dynamics 365, previously known as Microsoft Dynamics CRM, has been a popular choice across the CRM market in recent years and officially holds 40,000+ customers worldwide. Dynamics 365 for Marketing is a platform for marketing automation within the Dynamics 365 suite, with such organizations as DHI (international provider of water supply services and solutions) and UNICEF using it to their advantage.
It's also worth mentioning that Dynamics 365 for Marketing has become a platform of choice across many ScienceSoft's customers. In this article, I'll outline the common manual marketing pains and show you how they can be solved by implementing Dynamics 365 marketing automation.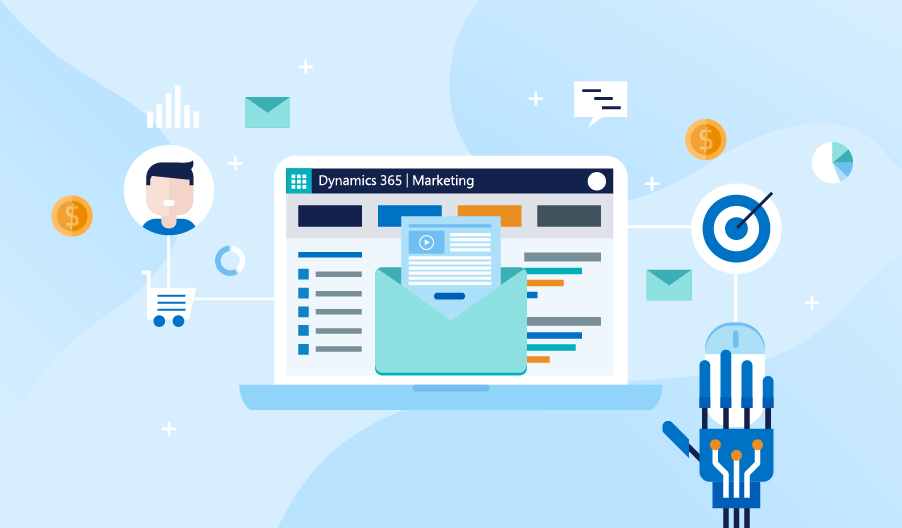 Over my years working with ScienceSoft's customers seeking to automate their marketing processes, Dynamics 365 for Marketing has proven useful in eliminating many issues caused by manual processes. Here is the list of the issues caused by manual marketing I commonly encounter in my practice:
Issue #1: Lost opportunities for lead generation
The most frequent issues that tend to stay in the way of generating healthy leads are:
No prospect personalization.

Poor communication (missed deadlines, unprofessional responses, etc.).

Lack of transparency in a prospect's journey.
Issue #2: Inconsistent marketing efforts
This issue is rather complex and often arises from the lack of insight into a prospect's needs and manifests itself in non-converting customer journeys. Here are some common examples:
Mismatch of the delivered content.

Missed targeted campaigns.

Lack of an engagement plan.
Issue #3: Email marketing errors
If you send emails manually, chances are you've run into the following issues that affect your overall email marketing performance:
Emails lack consistency (unclear message, poor structure, etc.).

Device optimization is neglected (e.g., emails look bad on mobile screens).

Follow-up activities are missing.
Here, I'll provide you with a list of Dynamics 365 for Marketing features that may become effective in the fight against common marketing process problems.
Lead scoring and prospects segmentation
What's good of lead data if you can't use it to your advantage? Microsoft Dynamics 365 for Marketing allows you to set up lead scoring rules based on the collected lead data. Employing the collected data and built-in AI, Dynamics 365 enables the automatic segmentation of prospects (assigning them a rating based on the presented data) and provides insights on how likely they are to buy your product or service. Noteworthy that you can continuously improve the scoring system by feeding it accumulated prospects-to-leads data, thus increasing your chances to close more deals in the future.
Customer journeys
Dynamics 365 for Marketing allows you to create a predefined "path" for each potential customer comprising activities for you to interact with them. These activities range from sending a welcome email to scheduling a demo or organizing a meeting. Customer journeys are also a valuable asset when fully integrated with your existing marketing workflows. For example, Dynamics 365 for Marketing users will get notified of each deadline they need to meet and which action is appropriate at the current stage of the customer journey. To better illustrate how customer journeys work, please take a look at the picture below.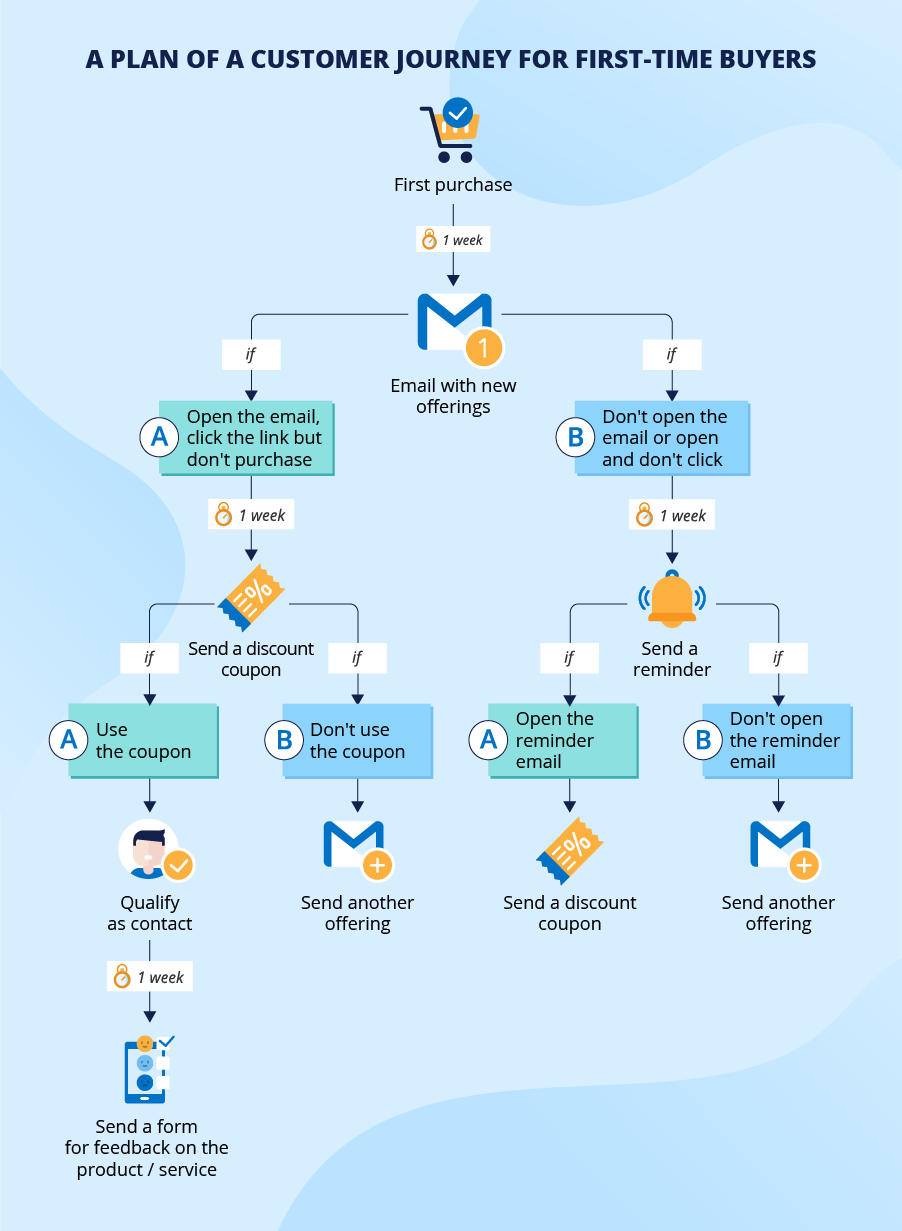 Interactive pages
To further advance your prospects' journeys, Dynamics 365 for Marketing features various lead capture forms and a landing page designer, providing a convenient follow-up for existing email and other marketing campaigns. It includes a preview feature that helps ensure the intended user experience with any device.
Templates for emails
Dynamics 365 for Marketing assists with email marketing featuring the drag-and-drop marketing email designer. Here, you may use customizable templates to express your ideas and convey your intentions the way you want to. With the preview feature, you may view how the recipient will see your email on multiple devices (desktop and mobile).
360° prospect view
Dynamics 365 for Marketing collects and stores the data acquired at every touchpoint with a prospect in one place. Such data may include contact info, location, products/services viewed, etc. The feature can be used to improve your marketing efforts tailoring conversion paths of your prospects.
Omni-channel communication
Dynamics 365 allows you to launch marketing campaigns across various communication channels, including email, texts, and social media. As all your interactions are recorded, you may use the records to view how your audience responds to your promotion and choose the most effective communication channels to interact.
Along with the functional overview of Dynamics 365 for Marketing capabilities, we offer you a demo format to grasp a real-life experience of working with this app.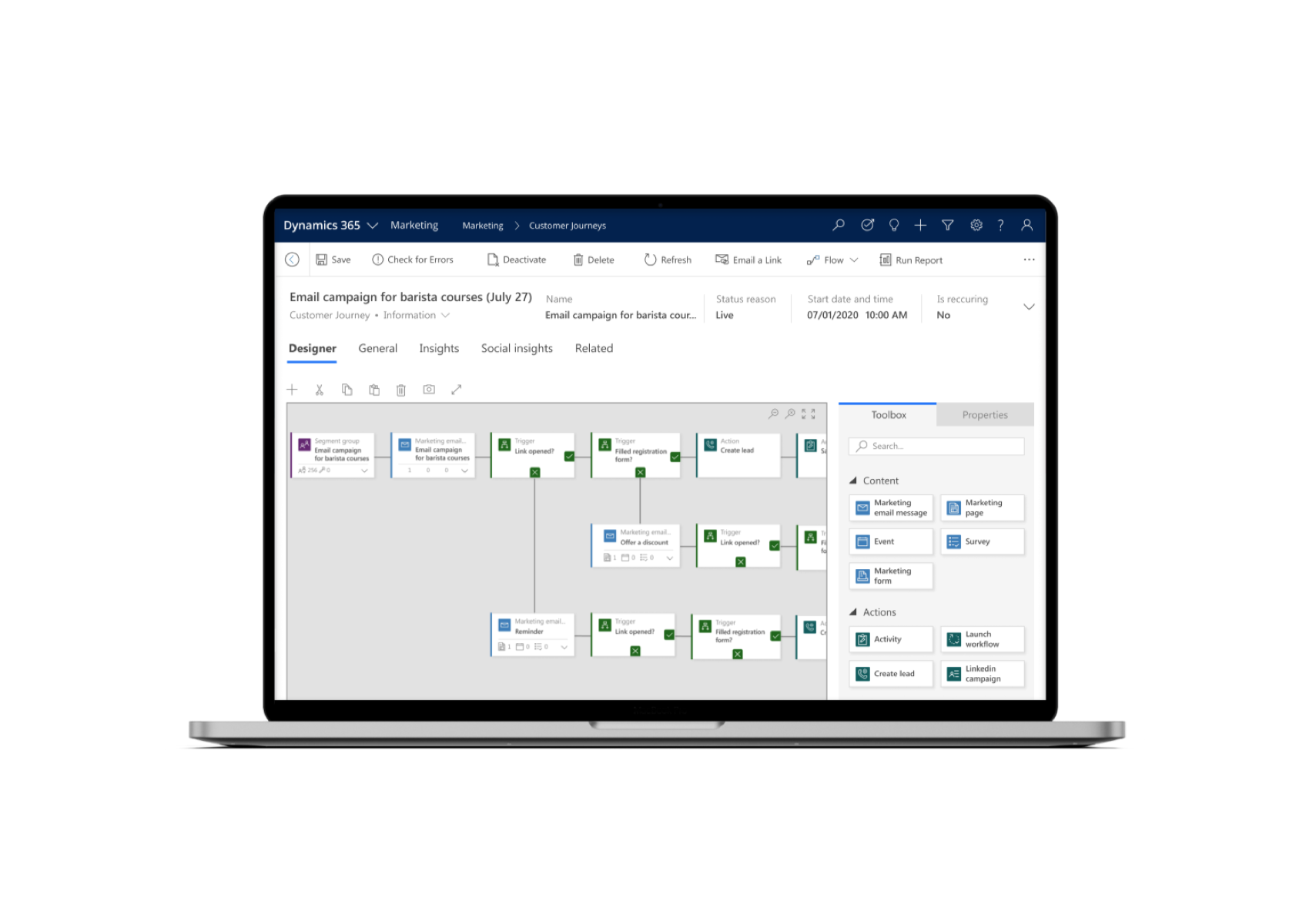 Overall, Microsoft Dynamics 365 for Marketing allows you to automate routine tasks and execute your marketing campaigns to cater to each of your prospects. Automation helps streamline the process of prospect nurturing via a number of features such as automated email campaigns and customer journeys. However, those are just general features, and if you're interested to learn about specific capabilities of Dynamics 365 for Marketing that can be useful for you, don't hesitate to contact our Dynamics 365 consultants.
Are you planning to implement Microsoft Dynamics 365 or experiencing troubles with your existing solution? Our experts are ready to address your challenge.