SharePoint Contract Management
At ScienceSoft, we create powerful, user-friendly and cost-effective contract management solutions based on SharePoint that fully automate a contract's life cycle, which helps support obligation management.
Contract management systems help businesses quickly create, approve and finalize contracts, keep contract documentation accurately and securely stored, and effectively track the execution of contract milestones.
And here's how exactly SharePoint can transform your routine contract management:
Time-consuming contract creation
Fast and effective contract generating due to reusing contract templates, as well as typical contract clauses and fields
Fix it with SharePoint
Legal wording inconsistency
The boilerplate language throughout all contract documentation
Fix it with SharePoint
Disjointed contract storage
A central repository for storing and managing contracts
Fix it with SharePoint
Slow contract finalization
Integration with e-signature software, which accelerates contract finalizing
Fix it with SharePoint
Lack of contract management after a contract's finalization
Tracking a contract's life cycle until all its obligations are fulfilled and contact retention as required by compliance regulations
Fix it with SharePoint
Security and compliance risks
Protection from unauthorized access, easiness to find, track and report on contracts
Fix it with SharePoint
ScienceSoft's Experience in SharePoint Speaks for Itself
16 years in SharePoint development.
20+ Microsoft-certified SharePoint experts.
100+ successful projects with SharePoint and Office 365.
Microsoft Partner since 2008.
For the second straight year, ScienceSoft USA Corporation is listed among The Americas' Fastest-Growing Companies by the Financial Times.
What You Get with Custom SharePoint Contract Management
Rich feature set
A tailored SharePoint contract management solution can provide a set of features suited specifically to the subtleties of your business processes.
See more
Contract templates
Clause libraries & saved fields
Guided contract creation
Contract co-authoring
Search
Alerts and notifications
Access control
Versioning
Reporting
Integration with enterprise systems like ERP, CRM, BI, CPQ, AP and smart technology like machine learning and AI
Hierarchical approval workflows
Parent-child contract hierarchies
Compliance check
Consistency with your industry specifics
As the one-size-fits-all approach won't work for contract management, a SharePoint contract management solution can be tailored to the specific needs of various industries.
See industry-specific needs
Healthcare: easy creation of reusable templates for various types of contracts (e.g., payer, patient, clinical trial, corporate sponsorship); HIPAA compliance; reduced medical error due to loss or duplication of contracts.
Legal: document digitization, fast contract search and review, secure content sharing and automated reporting
Retail: tracking the fulfillment of contract obligations, automatic contract renewals when needed, accelerating contract execution and business transactions.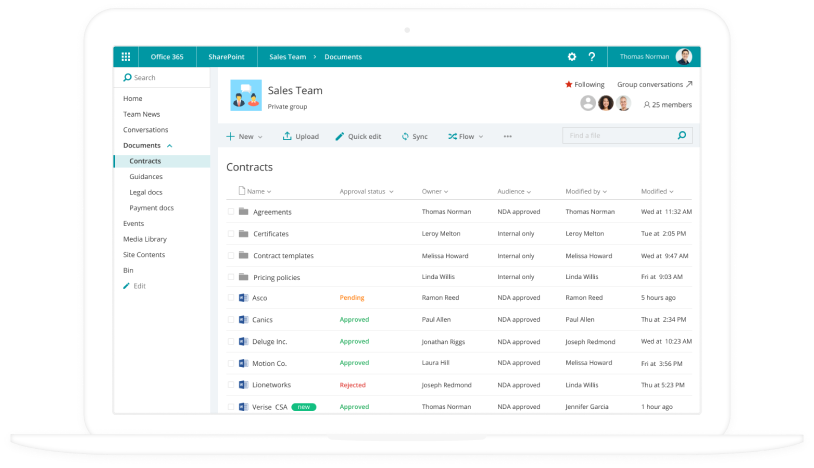 See SharePoint Contract Management in Action
Check our interactive demo to see how SharePoint facilitates creating, approving and sharing contract documentation.
Select the Right Service Option
ScienceSoft's SharePoint Portfolio
It's High Time to Implement a Contract Management Solution
Don't lag behind and start your implementation project right now if you want to leverage the following benefits of SharePoint contract management
time saved on contract search

reduced contract administration costs

regulatory compliance
<![endif]--> <![endif]--> <![endif]-->