Office 365 Consulting Services
Office 365 consulting helps map business needs to relevant solutions and also covers advising on Office 365 implementation, user adoption, and evolution.
ScienceSoft offers all-inclusive Office 365 consulting to provide your company with effective and multifaceted in-house and remote collaboration.
Want to Quickly Set Up Remote Collaboration?
ScienceSoft's consultants will analyze the needs of your company's remote employees and describe how to arrange effective cloud collaboration using the Office 365 suite.
| | |
| --- | --- |
| | The Financial Times named ScienceSoft USA Corporation among Americas' fastest growing companies- 2022. |
Office 365 includes a variety of applications and services that form the basis of employee digital workplace. We help organizations to compose an individual Office 365 collaborative toolset depending on their business specifics and collaboration requirements.
Confused by the Diversity of Office 365 Applications?
Our Office 365 consultants will be glad to help you select an optimal set of apps to create full-fledged digital workplaces for your employees.
Office 365 out-of-the-box integration with SharePoint Online allows the Office 365 suite to complement SharePoint Online capabilities to build an effective employee digital workplace.
SharePoint Online + Microsoft Teams
Facilitated internal communication
Personalized collaboration
Simplified information exchange
SharePoint Online + Yammer
Free and open communication
Easy document creation and sharing
Increased employee engagement
SharePoint Online + Stream
Easy conversion and optimization of searchable videos
Embedding videos in intranet pages
Interactive tests and quizzes in videos
SharePoint Online + Planner
Streamlined management of projects and tasks
Improved collaboration
SharePoint Online + Delve
Convenient employee search
Easy tracking colleagues' activities and recent documents
SharePoint Online + Power BI
In-depth analytics
All reports in one place
Diverse permission levels
Want to Extend Capabilities of Your SharePoint Solution?
Our consultants are ready to describe the benefits of integrating your SharePoint solution with Office 365 apps.
We help organizations compose a personal Office 365 collaborative toolset depending on their business specifics and collaboration requirements. Our team provides consulting support at each stage of implementing an Office 365 solution, including deployment, customization and user adoption.
1
Office 365 consulting
When you decide to start your cloud path, we are to back you up on the way. Our Office 365 consultants help you make your cloud solution an integral part of the enterprise digital environment and a useful tool for each employee. We provide both advisory and technical assistance depending on your business needs.
2
Office 365 implementation
We help you select a suitable Office 365 subscription plan aligned with your budget, IT strategy and collaboration scope. We can implement the selected Office 365 toolset in line with the Microsoft requirements and set your cloud solution to ensure its efficient management and use.
3
Office 365 customization
We tailor your Office 365 solution to your specific corporate environment, industry requirements and employees' preferences. We handle all-out customizations and develop unique custom features, including complex workflows, branded site templates, interactive chatbots, ready-to-go custom add-ins and more.
4
Our team helps you plan and carry out smooth migration of your on-premises, cloud or hybrid solutions to Office 365 along with preserving the integrity of your business data. To assess the preliminary scope of your Office 365 migration project, you are welcome to use our Office 365 migration calculator.
5
Office 365 integration
We integrate the Office 365 suite with your enterprise solutions and tools to ensure transparent and continuous cross-department and enterprise-wide collaboration. We handle Office 365 integration with platform-based and custom on-premises or cloud environments and ensure employee directory synchronization and single sign-on to facilitate users' switching between different systems.
6
Office 365 support
We offer flexible support options to let you stay in line with the platform updates, implement the latest Office 365 features, extend your solution with custom functionality and prevent it from any turbulence. To prevent any potential difficulties with the Office 365 adoption, we provide dedicated training sessions for Office 365 admins, developers and end users to help them manage and utilize their cloud solutions efficiently.
7
We take over the administration of your Office 365 ecosystem to ensure its availability, security and performance stability. Our services include managing Office 365 accounts, preventive monitoring and prompt troubleshooting, protection from security vulnerabilities, monthly reporting on resources consumption, and more.
8
Cloud license and account management
As a Cloud Service Provider, we officially resell Office 365 licenses with a price advantage. What's more, we support consolidated billing by combining charges for the cloud licenses and ScienceSoft's services into a single bill.
We deliver Office 365-based solutions that serve daily in banks, financial institutions, manufacturing, healthcare, retail and other organizations of different sizes and business domains. Explore the examples of our Office 365 projects: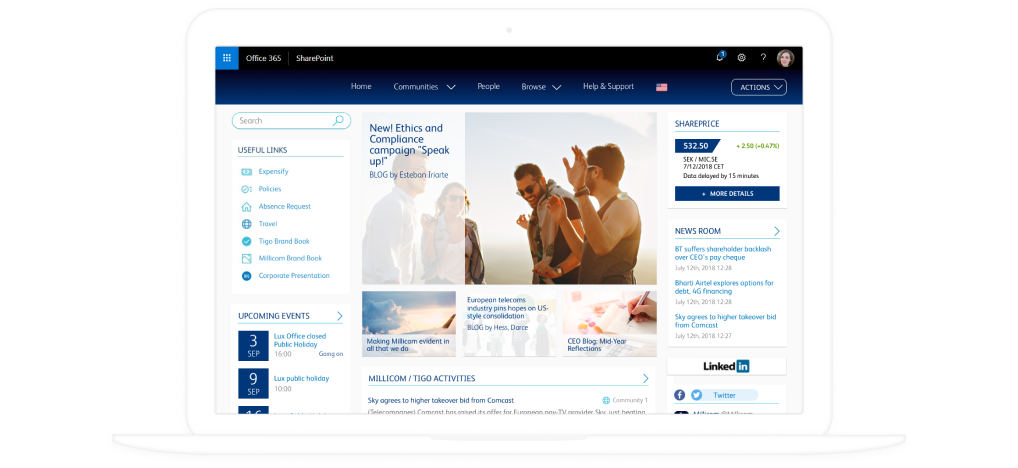 Employee Portal for an International Telecom Company
Online Learning Portal for a UK Social Care Services Provider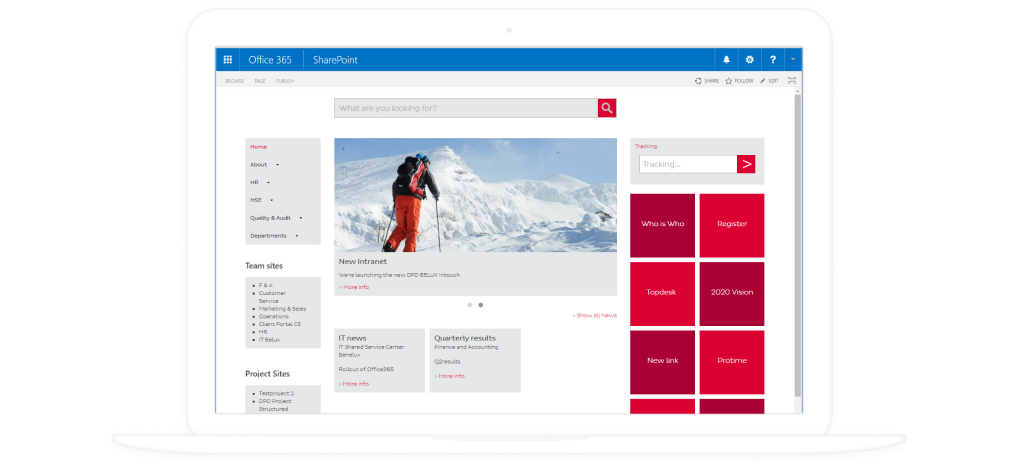 SharePoint Online Intranet for an International Parcel Delivery Company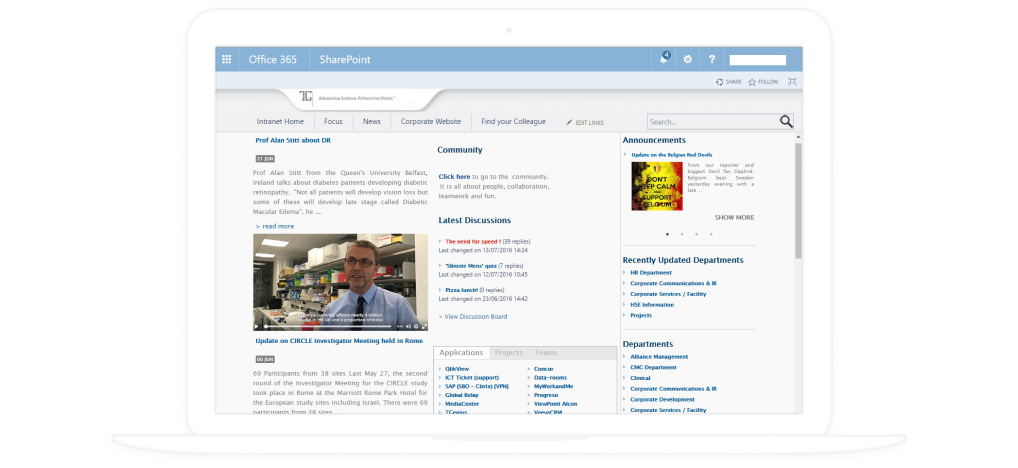 Social Internal Portal for a Biopharmaceutical Company
We offer comprehensive consulting on the capabilities of the Office 365 suite and prioritize the following activities:
| | |
| --- | --- |
| | Ensuring a smooth transition to the cloud to let you reshape IT infrastructure and restructure IT staff painlessly. |
| | Implementing an optimal set of Office 365 applications to let your employees benefit from every single element of their new digital workplace. |
| | Finding the right balance between your customization requirements and Microsoft restrictions to help you get a highly functional solution. |
| | Enabling stable protection of your cloud solution where corporate content, sensitive data, employees' knowledge and expertise are immune. |
| | Taking care of user adoption from the planning stage to guarantee your solution or its particular features are popular and meet users' needs. |
Our Customers Say
We partnered with ScienceSoft for our Office 365 migration project. This included the migration of email, distribution lists and shared mailboxes, calendars and contacts from G-Suite to Office 365. The project encountered a number of unforeseen issues during migration and cutover but ScienceSoft rose to the challenge and worked closely with the Lemongrass Team to ensure a timely resolution. The ScienceSoft Team were always very professional, demonstrating competency in the required skillset and good communications.
Chris Calver, Chief Delivery Officer, Lemongrass Consulting
Doubt the Feasibility of Your Office 365 Solution?
ScienceSoft can help you get the most of your Office 365 solution, improve user adoption, and increase the solution's ROI by adapting the suite to your changing business needs.
All Office 365 and SharePoint Projects
Let ScienceSoft Help You Make the Most of Office 365 Capabilities

Our experience in Office 365 consulting and implementation for various industries allows us to help you choose suitable Office 365 tools, build effective solutions and successfully solve Office 365-related issues.

<![endif]--> <![endif]--> <![endif]-->