Adobe Commerce (Magento) as a Marketplace Platform for Multi-Vendor Ecommerce Business
Adobe Commerce as a Marketplace Platform: The Gist
Online marketplaces are the most profitable sales channel in ecommerce (generating almost a half of all online sales). No wonder that ecommerce software vendors strive to cover the marketplace model, and Adobe Commerce is no exception. Though inherently a single-vendor platform, it serves well in a multi-vendor role too. What you need is a ready-made marketplace extension to convert Adobe Commerce into a multi-vendor marketplace.
This ability to keep apace with ever-changing demands of ecommerce businesses and digital consumers has awarded Adobe Commerce a status of Leader in Digital Commerce according to such reputed market researchers as Gartner and Forrester.
Translate the right marketplace value to sellers
Launching a marketplace, you need to understand your competitive advantages and communicate them clearly to draw in sellers. With a marketplace powered by Adobe Commerce, you offer:
Services to enable ecommerce sales quickly
Including self-service product management, online merchandising, payment processing, and customer service. Warehousing, order management and return handling may be either on the seller's or the marketplace's side.
You assume a full ownership over customer acquisition and achieve vast customer outreach through advertising, SEO, promotions.
Unmatched customer experience
Access to multiple brands, a possibility to compare products and prices from multiple sellers.
Adobe Commerce multi-vendor marketplace: functional portfolio
Marketplace features for the owner
Streamlined onboarding of new sellers
With an intuitive process of marketplace account registration and automated notifications on account approval.
To enable different commission rates for different sellers and product categories.
Reporting on key marketplace metrics: GMV, average order value, customer acquisition cost, etc. The metrics can be tailored to your business needs.
Of products uploaded by sellers.
Restricted product categories
To protect consumers from fraudulent products and require from sellers licensing confirmation before giving them an approval to sell.
Customizable product attributes
For different product categories and types.
To ease customer navigation to top selling products, trending product categories, best sellers, and current special deals.
Product recommendation techniques
To showcase a larger product assortment to customers and help conversions.
Marketplace features for sellers
To modify business information and manage business operations: products, orders, payments, sales analytics.
To delineate responsibilities of different team roles.
To make URLs SEO-friendly and easier to share.
To speed up time to market for new products.
Assisted inventory management
Notifications on low stock, a pre-order possibility, timed SKUs to go live upon restock.
Allowing sellers to receive, process and ship their orders independently.
To connect a seller's account to their business systems: e.g., OMS and PIM.
Sellers can promote their social media presence and nurture a brand-loyal audience.
Access to customer-generated content
To view and respond to customer feedback and inquiries.
Marketplace features for customers
To allow for shopping in the native language.
To help customers filter a wide-ranging product catalog and a seller list.
Contacting a seller directly
To get customer cases resolved promptly.
With products from different sellers.
Access to a seller's page
With comprehensive brand information and a full product collection.
With automated tax calculation for multiple sellers.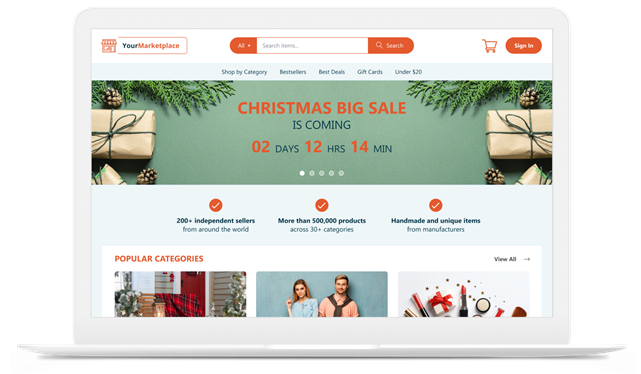 See Marketplace Functionality in Action
We've prepared a demo to illustrate all the functional capabilities that you will obtain in a marketplace solution and explain how they will help you to engage more sellers and make digital user experience smooth.
Adobe Commerce marketplace integrations
To enable professional marketplace trading, you can create APIs and provide cross-system integration possibilities. It means that sellers will be able to connect a marketplace account to their business systems and enable data exchange between them. This is particularly important for omnichannel sellers.
The focus integration areas are inventory, product information management, order fulfillment, and analytics.
Sellers upload product listings in bulk and sync stock levels across their sales channels.
Product information management API
Sellers spread consistent product information across their sales channels.
Sellers maintain visibility into large volumes of omnichannel order data, manage different packaging and couriers centrally, and please customers with fast and accurate delivery.
Sellers look deeper into sales performance, analyze the efficiency of their promotional initiatives, elicit seasonal trends, and understand the contribution of a marketplace channel into their revenue pipeline.
| | |
| --- | --- |
| | |
| | Since 2011, ScienceSoft has been a reliable partner to businesses choosing Adobe Commerce as an ecommerce technology. Tasked to build a multi-vendor marketplace, we successfully shape it into a required solution, keeping focus on lasting security and high coding standards. |
| | |
How a marketplace model works for different product lines
With Adobe Commerce as marketplace software, you cater to the specifics of diverse shopping categories.
Adobe Commerce multi-vendor marketplace: investment breakdown
A total cost of your marketplace launch is a sum of three components.
1
Adobe Commerce license cost
Magento Open Source – free
Adobe Commerce Starter – from $1,999/month
Adobe Commerce Pro – from $3,999/month
* Final license cost depends on your gross merchandise volume.
2
Marketplace extension cost
Given the variety of marketplace solutions, ScienceSoft advises on the best-suited one upon the analysis of your business requirements and budget expectations.
3
Marketplace implementation cost
Full ownership over the design and implementation of a marketplace powered by Adobe Commerce for the mid-market (including consulting support) – from $250,000.
More about Adobe Commerce
<![endif]-->