The Customer is King concept came into being long ago, but contemporary data analytics tools breathed new life into it. Businesses have understood that unique customer experience is their competitive weapon that boosts conversions in the short term and builds customer loyalty in the long run. And as companies need to know their customers to create such experience, customer data analytics (aka customer data analysis and consumer analytics) has taken a rightful place in the portfolio of data analytics services.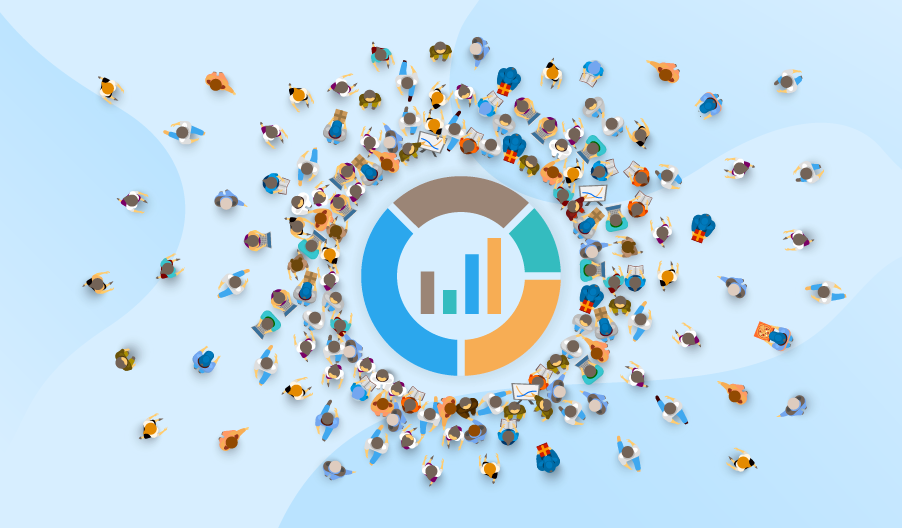 What is customer analytics
Customer analytics is a process of collecting and analyzing customer data to learn customer behavior and preferences for making strategic and tactical business decisions, as well as automatically forming personalized recommendations.
Intended to provide the answers to diverse customer-related questions, customer analytics can embrace different types of business analytics. Businesses can apply descriptive analytics and get a clear picture of their status quo. They can use diagnostics analytics to find out the roots of a particular business problem. Companies can even enjoy the advanced capabilities of predictive and prescriptive analytics. Relying on data science and machine learning, these two types can provide forecasts and recommend actions that a business can take.
Here are the examples of insights into the revenue generated by different customer segments that an ecommerce retailer can get with the help of customer analytics:
Of all customer segments, value-seekers generate the lowest revenue (descriptive analytics).
While an average customer from this segment used to buy three products (two of which are at a discount), now they buy just two discounted products, which leads to the revenue drop by 12% (diagnostic analytics).
The analytical system estimates how much revenue can be gained if these customers are offered a 3%, a 5% or a 7% coupon for their next purchase upon the condition that they buy four products (predictive analytics).
Of these three scenarios, the system recommends offering a 5% coupon as it will lead to the maximum revenue increase for this segment (prescriptive analytics).
4 types of customer data to analyze and their use cases
To run customer data analytics, companies can use diverse customer-related data (which, nowadays, mainly belong to big data rather than traditional data). Here, we look at 4 main customer data types to find out how companies in different industries can use them.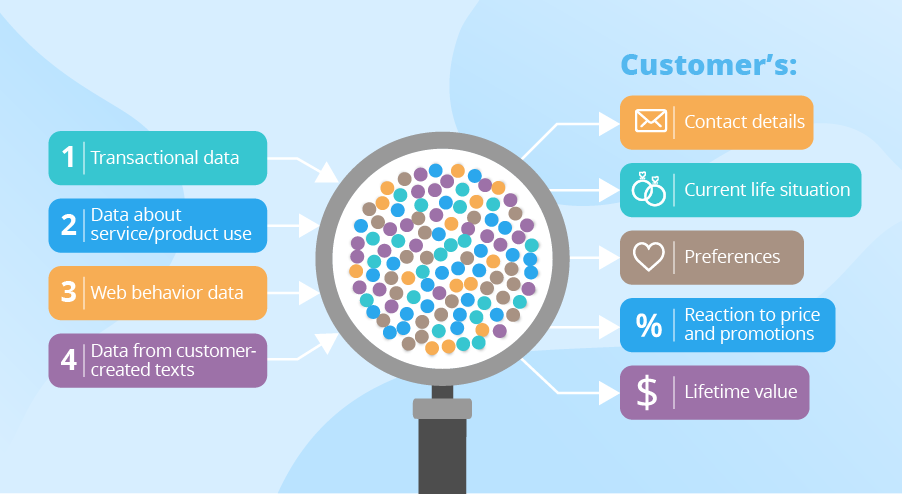 1. Transactional data
It's easy to explain transactional data through retail, where each purchase deepens a company's understanding of their customers' journeys. For example, Walmart crunches their historical transactional data to forecast demand for approximately 500 million item-by-store combinations in the United States. This allows them to have the right product in the right place, and in turn, increase their sales.
2. Data about service/product use
Manufacturers can examine the data about product use to create a better customer experience and innovate. For instance, Toyota runs several research projects aimed at examining drivers' behavior. The company applies image analysis to evaluate the drivers' head pose and hand position, tests drivers' multiple sitting scenarios and seat belt positions to understand what features will improve drivers' comfort and safety.
3. Web behavior data
A company can analyze every move that their website visitors make: where they come from, which pages they open, how deep visitors' engagement is, etc. With this data at hand, the company can create relevant content to increase conversion rates. Ecommerce retailers apply this logic to track customer behavior, identify customer preferences and make product recommendations with the help of predictive analytics.
4. Data from customer-created texts
Customers take the opportunity to share their personal impressions about a product or a service in the form of an online review or a social media post. Companies can study this content to get a clue about what their customers think about their brand, product or service by identifying trends, recognizing a positive or negative emotional tone of each piece of text, revealing complaints and problems to solve. For example, Samsung uses social media analytics to attract customers from their competitors.
How to get customer analytics: 4 options
There are four options of how a business can get customer analytics:
Buy a ready-to-use customer analytics tool.
Implement a customer analytics solution with the efforts of an in-house team.
Involve a consulting and implementation vendor.
Outsource customer data analytics.
Before choosing any of these options, a business needs to know in detail the advantages and disadvantages of each. We invite you to check the comparison table below and weigh the alternatives.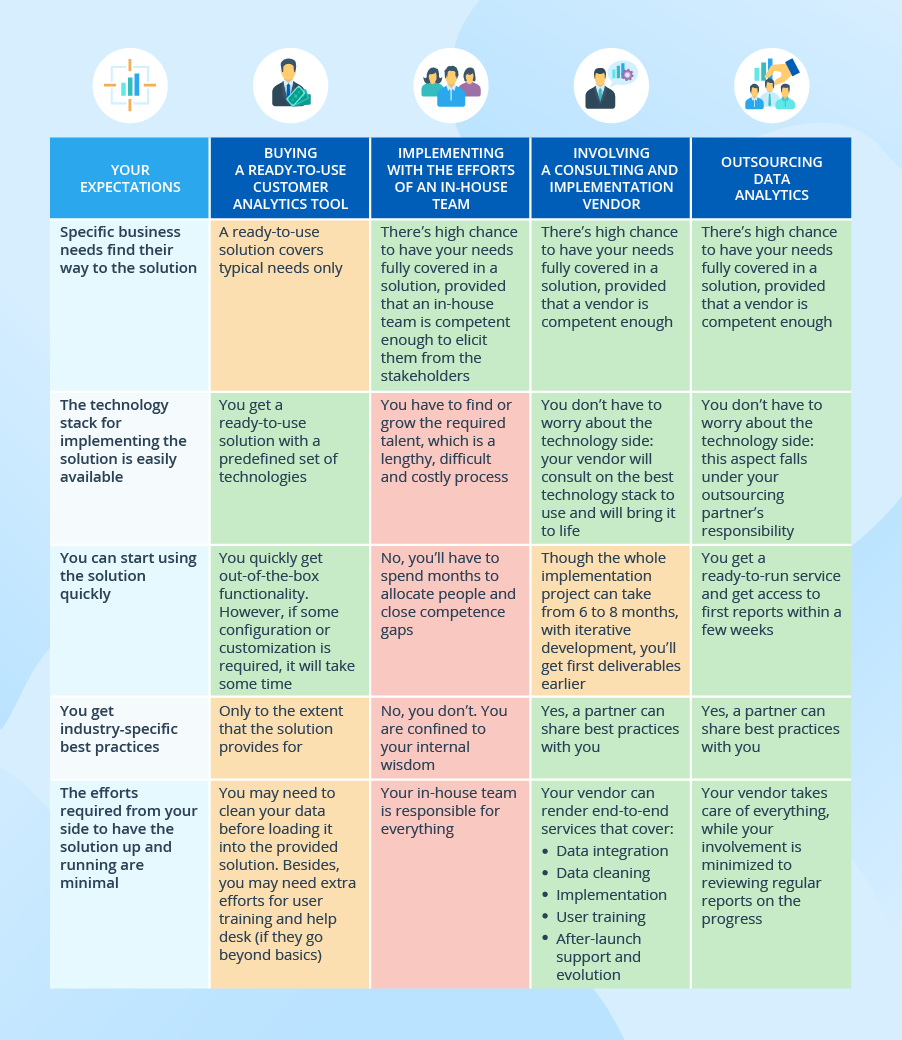 If you consider data analytics outsourcing or consulting and implementation services, you can follow the relevant links and read about each service in more detail.
Is customer analytics a keystone of any business? No doubt!
Companies cannot stay competitive without customer data analytics as it helps to attain the following 10 goals:
Short-term:
Increasing conversion rates.
Segmenting customers based on similar behavior patterns to target their needs better.
Understanding customer journeys (what products and when they buy, what channels they prefer).
Mid-term:
Forecasting sales.
Predicting customers' response to marketing activities and offering them relevant products and promotions.
Reducing the costs of marketing campaigns.
Establishing targeted/personalized communication.
Long-term:
Improving customer satisfaction.
Increasing customer loyalty and retention.
Optimizing product portfolio to better satisfy consumer needs.
Fortunately, customer data analytics empowered by big data and business intelligence technologies keeps up with business needs and can provide sales, marketing, product development, and customer service from any industry with much-needed insights.