Big Data Consulting Services
In big data services since 2013, ScienceSoft shares its knowledge to help businesses in 30+ industries carry out their big data initiatives with minimized risks and a focus on long-term quality.
Big data consulting services are advisory activities aimed at providing expert guidance and professional support to businesses looking to turn their data into a tangible value driver.
Big data consultants help companies collect, process, and capitalize on terabytes of high-velocity and high-variety data. Here at ScienceSoft, we apply decades of experience in IT and data analytics to design state-of-the-art big data ecosystems and perfect the existing ones. Whether you are building an enterprise solution or a new disruptive software product, we are excited to share our expertise.
Why Choose ScienceSoft as Your Big Data Consultancy
Since 2013 in end-to-end big data development, we have been delivering big data solutions that cover operational and analytical big data needs, including real-time analytics and processing, which gives us a deep understanding of your challenges and the best ways to address them.
Since 1989 in data analytics, data science, and custom software development.
Practical experience in 30+ industries, including manufacturing, healthcare, retail, BFSI, logistics, energy, and telecoms. Building competitive software products and advanced enterprise solutions.
An expert team of architects, developers, DataOps engineers, ISTQB-certified QA engineers, data scientists, project managers, and business analysts with 5­–20 years of experience.
An independent cloud big data consultancy, partnerships with Microsoft and AWS.
Quality-first approach based on a mature ISO 9001-certified quality management system.
ISO 27001-certified security management relying on comprehensive policies and processes, advanced security technology, and skilled professionals.
92% of Firms Witness Measurable Value From Their Big Data Initiatives
According to the 2023 NewVantage survey, 92% of firms report that data investments bring tangible business results. The benefits of big data implementation include but are not limited to improved decision-making, enhanced customer experience, higher business productivity, and optimized expenses.
However, all companies face certain challenges on the way to big data adoption. 80% of companies report that the main obstacles impeding their data-driven organizational transformation are related to people, business processes, and cultural alignment. Only 20% cite technology limitations as their primary impediment.
In this context, a pragmatic, value-focused digital transformation strategy and timely adoption of industry best practices become the main drivers of successful big data implementation and its efficient management in the future. With a large team of seasoned business consultants and experienced big data engineers on board, ScienceSoft is ready to help you carry out your most ambitious big data projects.
End-to-End Big Data Services ScienceSoft Offers
The Financial Times Includes ScienceSoft USA Corporation in the List of the Americas' Fastest-Growing Companies 2023
For the second year in a row, ScienceSoft USA Corporation ranks among 500 American companies with the highest revenue growth. This achievement is the result of our unfailing commitment to provide high-quality IT services and create best-value solutions that meet and even exceed our clients' expectations.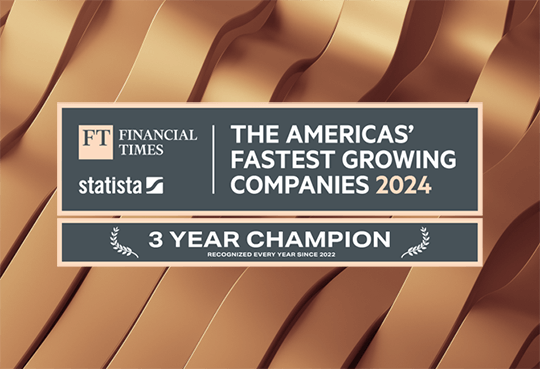 How It Works: Big Data Components We Cover
A bus layer or aggregation layer collects data from various sources, handles event sequencing, timestamping, and routing.
A data lake stores collected raw data.
A batch processing layer extracts data from the data storage in a scheduled manner (entails the latency from minutes to hours) and transforms it into analyzable formats to be further processed by the analytics layer.
A stream processing layer captures real-time data and handles real-time in-memory processing (entails latency from milliseconds to seconds).
A serving component (a data warehouse) stores processed data.
A big data governance layer handles data auditing, security, quality, cataloging, metadata management, etc.
Big Data Solutions We Build
Data consultants often divide big data solutions into two categories based on their purpose. Operational big data systems are needed to keep data-rich solutions running smoothly: here, the main goal is to enable stable software performance. On the other hand, analytical big data systems are built to drive comprehensive insights from the ever-growing volumes of data that would otherwise be discarded. The most advanced big data systems (think Uber, Netflix, or eBay) combine both operational and analytical elements.
Operational big data systems
Such systems enable fault-tolerant, low-latency processing of massive data workloads. Their capabilities enable real-time, interactive responses to ensure a smooth user experience. Examples of such systems include streaming services, online games, ridesharing apps, real-time ad targeting solutions, and much more.
Analytical big data systems
Such systems enable batch and real-time analytics of large multi-source datasets. They provide detailed insights and identify hidden patterns to help with strategic and operational planning (e.g., for enterprise management, sales analytics, or customer segmentation). AI/ML-powered big data analytics systems also enable building accurate predictions and getting intelligent process optimization recommendations.
Popular Big Data Use Cases We Cover
Data consulting services are focused on adapting big data technology to a particular use case. With practical experience in 30+ industries, ScienceSoft knows how to tailor a big data solution to your industry's specific needs.
Predictive maintenance and condition monitoring, real-time asset tracking, production optimization, quality control, smart SCM and fleet management.
Large-scale ecommerce systems, customer behavior analytics, online and in-store personalization, dynamic price optimization, smart supply chain and inventory management.
Fraud detection, customer analytics, credit scoring, portfolio & risk management, real-time monitoring of insured assets.
Vehicle & transportation conditions tracking, predictive maintenance, fleet management optimization, demand planning.
Large-scale OSS/BSS, VoIP, and IPTV systems, subscriber analytics (e.g., segmentation, behavior modeling, CLV, churn), network management and optimization.
Streaming services, online games, ridesharing and delivery apps, AI assistants, collaborative workspaces, CRMs, ecommerce platforms, etc.
Equipment and power grid monitoring, predictive maintenance; optimizing hazard management, resources utilization, and equipment performance.
Traffic management; energy, resource, and waste management; data-driven urban planning; public safety systems; environment monitoring (e.g., air quality); predictive city infrastructure maintenance.
Crop yield optimization, precision farming, real-time livestock management and environment monitoring, pest and disease management, SCM optimization.
Production monitoring and optimization, quality control, driver behavior & road condition analytics, connected car services & autonomous vehicles, predictive maintenance for manufacturing equipment and vehicles.
Large-scale SCM monitoring systems, real-time balancing of demand/supply and inventory levels, supply chain cost modeling and optimization, supplier risk estimation.
Our Selected Big Data Stories
Technologies ScienceSoft Works With
We're Proud to Be a Part of Our Customers' Success
Kaiyang Liang Ph.D
Professor
Miami Dade College
We needed a proficient big data consultancy to deploy a Hadoop lab. ScienceSoft's team proved their mastery in a vast range of big data technologies and showed themselves as great consultants. Special thanks for supporting us during the transition period. Whenever a question arose, we got it answered almost instantly. We would certainly recommend ScienceSoft as a highly competent and reliable partner.

Joakim Ohlander
Technical Director
YAGER Development GmbH
ScienceSoft has been a life savior for us and our players when we were about to release our video game The Cycle Frontier and were facing immediate issues in terms of backend scalability. Their combination of expert knowledge at Microsoft Azure .NET and great agile collaboration skills allowed us to start working fast and effectively together in solving problems which allowed us to release.
Simen Løkka
CEO
Travision AS
We commissioned ScienceSoft to audit and upgrade our partially developed AI-based software for clay pigeon shooting tracking. As a result, the system could track a flying target in a real-life outdoor environment and faultlessly detect shooter's performance. We are satisfied with our cooperation with ScienceSoft and their skilled development team, which smoothly fit into our project. In case of further system evolution, we'll continue our collaboration and won't hesitate to recommend ScienceSoft as a reliable development partner.
Mark Atkins
CEO
Invention Machine Corporation
ScienceSoft has delivered cutting-edge solutions to complex problems bringing in innovative ideas and developments. ScienceSoft follows specifications very rigidly, requiring clear communication about intended functionality. My final comment about ScienceSoft reflects their dedication to handle any problem that occurs as a result of hardware or software issues; simply put, they will go the extra mile to support their customers regardless of the time of day these issues arise.
View all customer reviews
Big data promises big value, and we've seen it come to fruition for dozens of our clients. But every time we take on a new big data project, we are reminded that big value also requires big efforts. Truly efficient solutions that make our clients feel the difference from day one are never just a bundle of ready-made tools and technologies. High-performing and cost-effective big data systems feature a large share of custom code that is written to meet the unique business objectives and operational needs of each initiative.
What Makes ScienceSoft Different
At ScienceSoft, we don't just talk about the miracles of big data. We focus on our customers' priorities to deliver sustainable solutions that bring real value instead of bloated project budgets and unreachable delivery deadlines.
Proactive work and timely delivery
thanks to our teams of senior engineers without creative burnout, ready to work in a fast-paced environment.
due to our cost reduction best practices, offshore development centers, and a broad tech stack.
due to our mature, ISO-certified security and quality management systems.
Highly accurate AI/ML models
thanks to our 34 years in AI and experienced data scientists.
Industry-centric solutions
thanks to our practical expertise in 30+ domains.
due to our diverse partnerships and deep proficiency with AWS, Azure, GCP, and leading software vendors.
All about Data Analytics and Big Data
<![endif]--> <![endif]--> <![endif]-->