Business Intelligence and Business Analytics Services
Business intelligence (BI) services help enable structured data-driven decision-making across the company. An experienced provider of BI solutions, ScienceSoft integrates multi-source data and applies analytics techniques to automatically extract insights from the input records.
in data analytics

in business intelligence

in big data consulting

professionals on board
Components of a Business Analytics Solution We Build
Extracting data from diverse data sources, transforming it into a predefined format and loading it into a storage destination.
Storing any type of data, including big data.
Centralized storing of structured data for reporting and analysis.
Structuring data in a multidimensional format for rapid self-service data analysis.
Data reporting and visualization
Making analytics results digestible with immersive reports and interactive dashboards.
Identifying and eliminating data anomalies via data profiling, cleansing, validation, etc.
Ensuring data is stored, transformed and exploited in a secure way.
How We Visualize BI Dashboards
| | | | |
| --- | --- | --- | --- |
| Symbol map | Line chart | Bar chart | Pie chart |
| Heat map | Funnel chart | Connectivity chart | Scatterplot |
| Sparkline | Matrix | Pivot table, etc. | |
BI Framework by ScienceSoft
ScienceSoft has developed a proprietary BI framework, which we use in our projects to ensure that the delivered BI solutions cover all the functions a comprehensive BI solution should perform.
1
Planning
Trend analysis – identifying opportunities for a company's business growth and challenges it is likely to face.
Forecasting and what-if scenario modeling – anticipating trends and outlining scenarios that guarantee success.
Plan analysis – looking for mismatches, bottlenecks or underutilized capacity in strategic and tactical planning, etc.
2
Plan execution and performance monitoring
Performance assessment – measuring business performance with relevant internal and external benchmarks.
Plan/actual comparison – comparing planned vs. actual performance to find deviations.
Root cause analysis – finding reasons for lower than planned performance.
3
Decision-making
Getting a comprehensive view of all corporate data with the slice-and-dice capability to examine data from different viewpoints (e.g., by time, organizational units, product categories, customer segments).
Highlighting growth opportunities and potential risks.
Drilling down and conducting correlation analysis to establish the cause-effect relationship between variables.
Conducting change impact analysis.
4
Optimization
Optimizing internal processes or operations by employing business analytics insights.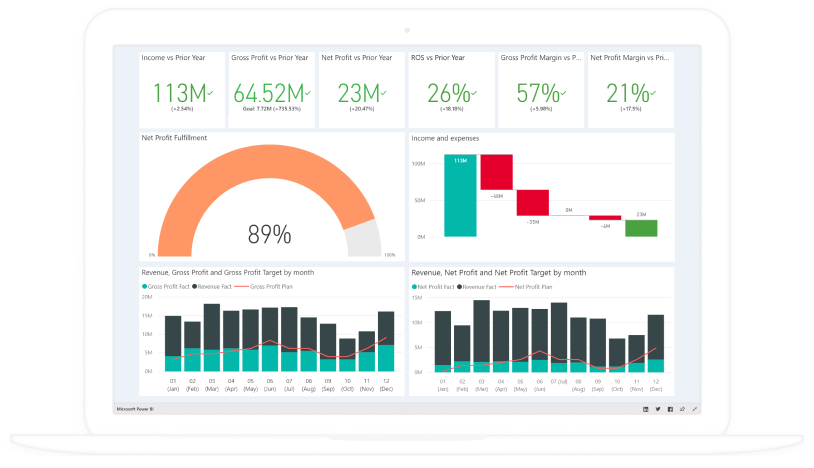 See Business Intelligence in Action
ScienceSoft shows how customized dashboards can tell you the whole story about your company's health and performance.
The Financial Times Includes ScienceSoft USA Corporation in the List of the Americas' Fastest-Growing Companies 2023
For the second year in a row, ScienceSoft USA Corporation ranks among 500 American companies with the highest revenue growth. This achievement is the result of our unfailing commitment to provide high-quality IT services and create best-value solutions that meet and even exceed our clients' expectations.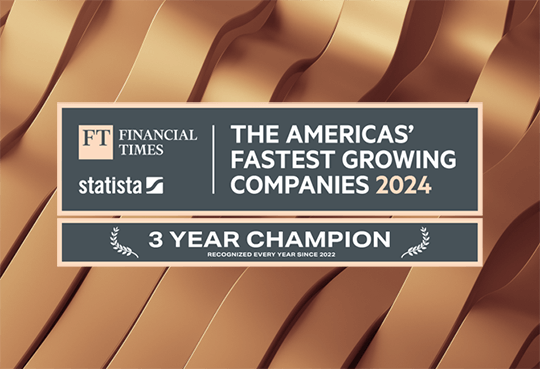 Company-wide data consolidation and storage.
Company's performance monitoring and analysis.
Strategic and operational planning.
Operational process monitoring and analysis.
Recognizing bottlenecks in operational processes.
Operational performance prediction and forecasting.
Creating a 360-degree customer view.
Customer behavior analytics and customer modeling.
Customer relationship management (personalized marketing, cross-selling and upselling, customer churn management, etc.).
Keeping track of a company's revenue, expenses and profitability.
Financial performance analysis.
Financial planning and budgeting.
Financial risk forecasting.
Brand and product intelligence
Product/service performance analysis.
Product/service portfolio optimization.
Brand awareness analysis.
Competitor benchmarking.
Supply chain intelligence
Supply chain visibility and analysis.
Identification of demand drivers, demand planning and forecasting.
Supply chain risks management.
Supply chain cost modeling and optimization.
Transportation and logistics
Operational capacity planning and optimization.
Static and dynamic route optimization and planning.
Data-driven fuel consumption estimation.
Enterprise asset intelligence
Enterprise asset usage analytics.
Enterprise asset life cycle management.
Enterprise asset investment planning.
Employee performance monitoring and analysis.
Workforce planning.
Employee churn prediction and management.
Employee recruiting analysis.
Customer behavior analytics and segmentation.
Sales and marketing performance analytics.
Intelligent demand forecasting and dynamic price optimization.
Multi-echelon inventory optimization
Technologies ScienceSoft Works With
Our Customers Say
Heather Owen Nigl
Chief Financial Officer
Alta Resources
When we first contacted ScienceSoft, we needed expert advice on the creation of the centralized analytical solution to achieve company-wide transparent analytics and reporting. ScienceSoft's consultants analyzed our workloads, documentation and the existing infrastructure and outlined a clear project roadmap for implementing the solution to get data-driven insights for tactical and strategic decision-making, planning and performance management.

Donat Gaudreau
Electrochemical Cell Design and Test Engineer
Unilia Fuel Cells
The database solution created by ScienceSoft allows inputting all our raw and processed test data through the user interface, accessing data within the database, processing and presenting database data in user-defined formats. We were satisfied with the quality and efficiency of the team's work regardless of arising challenges.
Maria Zannes

President & CEO

bioAffinity Technologies

bioAffinity Technologies hired ScienceSoft to help in the development of its automated data analysis software for detection of lung cancer using flow cytometry. Our project required coordination with multiple companies and individuals. ScienceSoft worked well with everyone. They are reliable, thorough, smart, available, extremely good communicators and very friendly.

Kaiyang Liang Ph.D

Professor

Miami Dade College

We needed a proficient big data consultancy to deploy a Hadoop lab for us and to support us on the way to its successful and fast adoption. ScienceSoft's team showed themselves great consultants. Special thanks for supporting us during the transition period. Whenever a question arose, we got it answered almost instantly.

<![endif]--> <![endif]--> <![endif]-->