For 14 years, we have been rendering end-to-end business intelligence (BI) services that include consulting and development, data visualization and reporting, health check and testing to help businesses stop the guesswork and benefit from informed decision-making. We treat every project individually and select the services that cover our customer's business needs best.
Our Competencies and Achievements
Business Intelligence Services We Deliver
BI consulting. We help our customers develop a BI strategy, ensure data quality, design or optimize BI architecture and automate reporting to satisfy our customers' needs in informed decision-making and maximize the ROI of a BI project.
BI development. We provide our customers with a robust BI environment. Depending on our customer's business needs, our BI services cover hardware consulting, suggesting a stack of technologies, developing a data warehouse, setting up ETL and data cleaning processes, delivering OLAP/ROLAP systems, as well as selling software licenses.
Data visualization. With data visualization in our portfolio of BI services, we help our customers look beyond the figures, focus on the important information and immediately spot any changes and trends. Besides, we tailor reports and dashboards to user roles, solve security challenges, develop versions for mobile devices.
Testing. We not only develop a BI solution, but also make sure that it runs as intended. For this reason, we deliver a data warehouse and ETL testing, OLAP and report testing, as well as load and performance testing.
BI health check. We support those customers who already have a BI solution in place but aren't sure if they make the most of it. We can audit the solution to find out if the technologies used are compatible, if the processes work properly, if there are any possibilities for improvement.
Our Business Intelligence Demo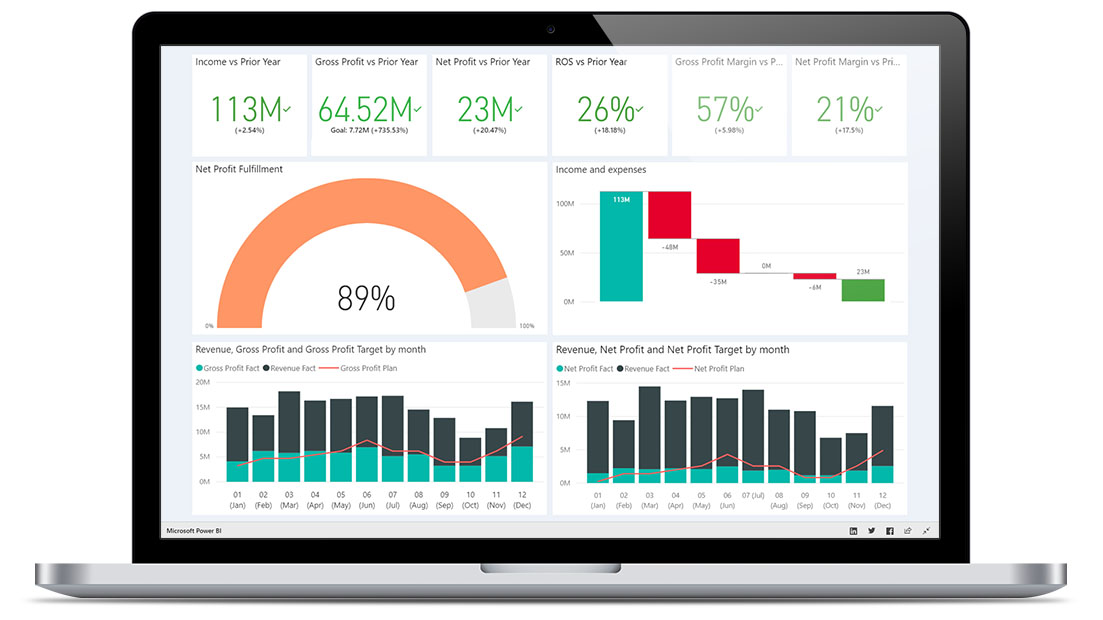 Try out
Challenges We Solve
Limited scope of data used for business intelligence. ScienceSoft's team can do data integration and merging to enable the analysis of data taken from multiple data sources.
Growing gap between the required and existing BI solutions. ScienceSoft delivers a BI solution tailored to the company's short- and long-term business needs.
Inconvenient reports and dashboards require extra efforts from employees, so their adoption rate will be low. ScienceSoft develops user-friendly reports that contribute to a fact-based corporate culture.
Practical Applications
A path to informed decision-making starts with multifaceted business questions. Thanks to business intelligence, our customers turn their data into insights.
Industries
ScienceSoft's project portfolio covers Banking and Finance, Retail, Manufacturing, Healthcare, Telecoms and other industries.
Here is the portfolio of our selected multi-industry projects:
Get the Power of BI
In decision-making, experience and good intuition is silver, but a well-implemented BI solution is gold. Contact us to get the BI solution you need.