Business Intelligence and Business Analytics Services
Business intelligence (BI) services include developing, implementing, and maintaining BI software to enable easy access to business data and support decision-making.
Since 2005, ScienceSoft renders BI services to help clients leverage business analytics for cost savings and improved performance.
When we first contacted ScienceSoft, we needed expert advice on the creation of the centralized analytical solution to achieve company-wide transparent analytics and reporting.

The system created by ScienceSoft automates data integration from different sources, invoice generation, and provides visibility into the invoicing process. We have already engaged ScienceSoft in supporting the solution and would definitely consider ScienceSoft as an IT vendor in the future.
Heather Owen Nigl, Chief Financial Officer, Alta Resources
16 years of BI consulting and hands-on practice.
32 years in data analytics.
A member of the Microsoft Partner Network with 9 Gold competencies, including Data Analytics and Data Platform.
AWS Select Consulting Partner.
A member of the Oracle Partner Network.

ISO 9001 and ISO 27001-certified to assure the quality of the BI services and the security of the customers' data.
Functional areas our BI services cover
Our industry expertise
We have experience in 30 industries, including:
Retail, Wholesale
Manufacturing
Telecoms

Professional services
Energy: oil & gas, electric power
Looking for Assistance with You BI Project?
We will meet your specific BI objectives and solve any BI-related issues to help you get the guesswork out of your decision-making.
Timeliness
While delivering BI & analytics services, we make time our priority. To allow you to make informed decisions promptly, we deliver:
First analytical insights in 1-5 days (in case of outsourced data analysis).
A functioning BI solution with the essential functionality in 1 month (due to the iterative approach to BI implementation).
Result-driven collaboration
When providing BI as a service, we set up collaboration in the course of which ScienceSoft's analysts achieve data completeness and its correct interpretation due to obtaining information from both – data sources and people.
When building or improving your BI solution, we elicit fragmented business needs to design a centralized BI solution that will correspond to your short- and long-term objectives.
Facilitated insights
With BI as a service, we provide you with flexible and diverse forms of analysis results – PowerPoint or PDF presentations, Excel or Google Sheets tables, Power BI reports and dashboards – to help you get a quick insight into your business operations.
When we develop or improve your BI solution, we advise on dashboards layout and recommend reports and KPIs that can give a broader view of your business. Besides, we blend business intelligence with business analytics so that your BI solution could create forecasts and even prescribe actions.
It's High Time to Resort to BI Services!
Quickly gain the BI capabilities with BI as a service or get your own robust analytical and reporting system to:
Eliminate the guesswork out of your business processes.
Improve operational efficiency and enhance customer experience.
Uncover trends and identify new profit opportunities.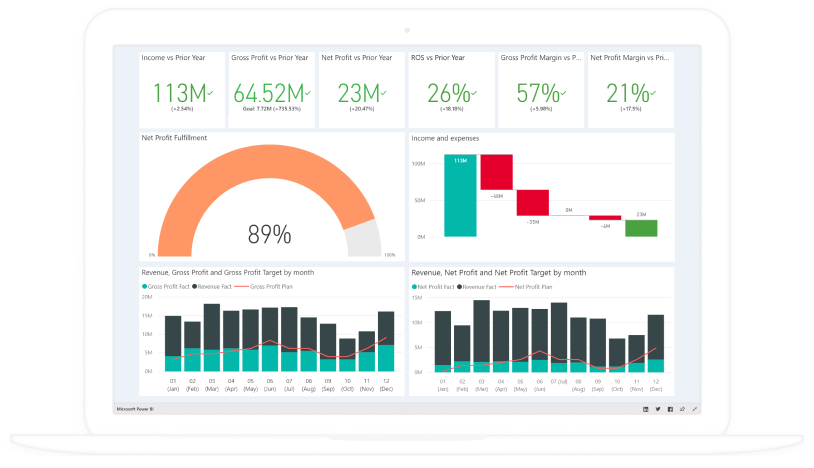 Must-Watch Business Intelligence Demo
ScienceSoft shows how a couple of customized dashboards can tell you the whole story about your company's health and performance.

Use BI & Analytics to Drive Better Outcomes NOW!

ScienceSoft's team will help you deliver the right information across your company to enhance your decision-making and achieve the above benefits.

<![endif]--> <![endif]--> <![endif]-->