For 14 years, we have been rendering end-to-end business intelligence (BI) services that include consulting and implementation, data visualization and reporting, health check and testing to help businesses benefit from informed decision-making. We treat every project individually and select the services that cover our customer's business needs best.
Our Competencies and Achievements
Business Intelligence Services We Deliver
We offer a wide range of business intelligence services to assist companies with any aspect of their project – be it designing and implementing a BI solution from scratch or auditing and improving the already existing solution.
We help businesses develop a BI strategy, standardize or optimize their BI tools, set up data governance practices and data quality assurance processes.
We design and implement enterprise-class BI solutions consisting of a data warehouse, online analytical processing (OLAP) systems, and reporting. We don't limit our implementation service with the coding work only but start with consulting and proceed with training, support and evolution after the solution deployment.
The users of our BI solutions can benefit from what-if and change impact analysis, measure performance, spot trends, and diagnose root causes of identified problems.
With due attention to user roles and security issues, we design and implement intuitive and informative dashboards so that our customers could timely spot alarming or positive trends.
We make sure that a BI solution runs as intended. For that, we deliver a data warehouse and ETL testing, OLAP and report testing, as well as load and performance testing.
BI health check
We support those customers who already have a BI solution in place but aren't sure if they make the most of it. We can audit the solution to find out whether there are any possibilities for improvement, the technologies used are compatible, and the processes work properly.
Our Business Intelligence Demo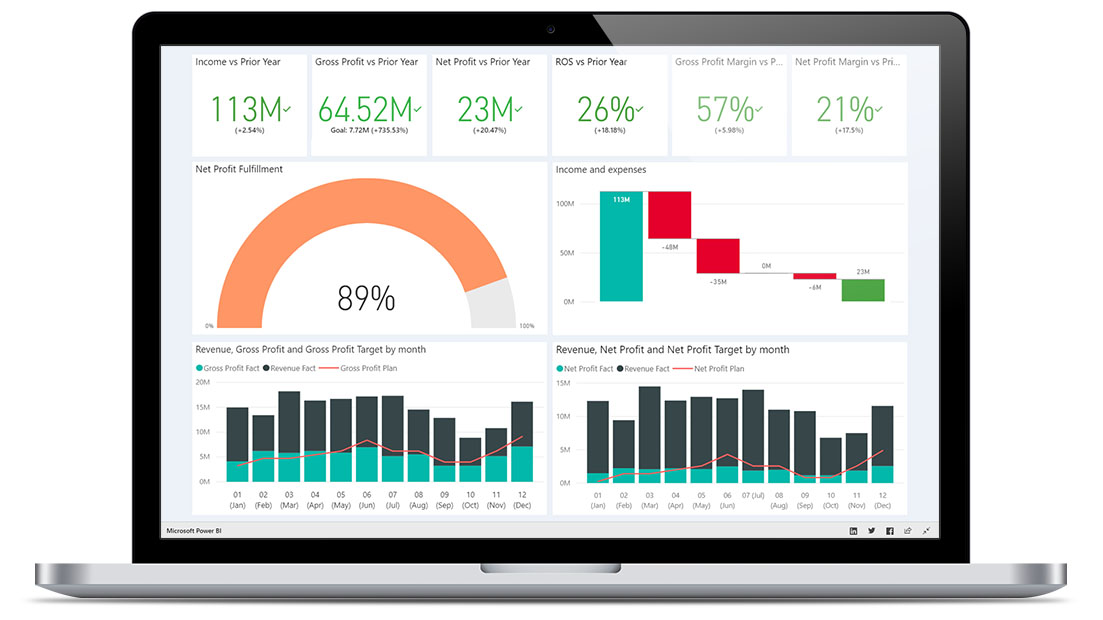 Challenges We Solve
The limited scope of data used for business intelligence. ScienceSoft implements a BI solution that integrates data from multiple external and internal sources, including outdated systems.
The growing gap between the required and existing BI solutions. ScienceSoft delivers a BI solution tailored to the company's short- and long-term business needs. We can deliver iteratively – implement a basic BI solution within 2-5 months and later add extra features to it.
Inconvenient reports and dashboards require extra efforts from employees, which can lead to low adoption of a BI solution. ScienceSoft develops user-friendly reporting and dashboards that contribute to a fact-based corporate culture.
Business Intelligence and Business Analytics Put into Action
At ScienceSoft, we implement business intelligence solutions to let our customers plan their activities and measure the performance against the plan, as well as against internal and external benchmarks; observe the issues and trends that have already taken place, as well as identify what has triggered them. If our customers need forecasts of a trend's development or prescriptions of what action they should take to get the full advantage of the trend, we extend the solution with business analytics. Here are selected examples of how companies can benefit from the BI and BA mix:
Industries
ScienceSoft's project portfolio covers manufacturing, retail and wholesale, healthcare, banking and finance, telecoms and other industries.
Here is the portfolio of our selected projects from different industries:
Get the Power of BI
In decision-making, experience and good intuition are silver, but a well-implemented BI solution is gold. Contact us to get the BI solution you need.