<![endif]-->
<![endif]-->
Business Intelligence Consulting Services
Business Intelligence (BI) consulting services help companies retrieve actionable insights out of their raw data to accelerate decision-making and improve business performance.
Since 2005, ScienceSoft's BI consultants have been assisting clients with implementing or revamping their BI solution.
Highlights about ScienceSoft
Partnerships with Microsoft, Amazon and Oracle.
8 Microsoft Gold competencies, including in Data Analytics and Data Platform.
Rated A+ by BBB; featured among 10 fastest growing data analytics companies by The Silicon Review; named among top big data consultants by the Manifest.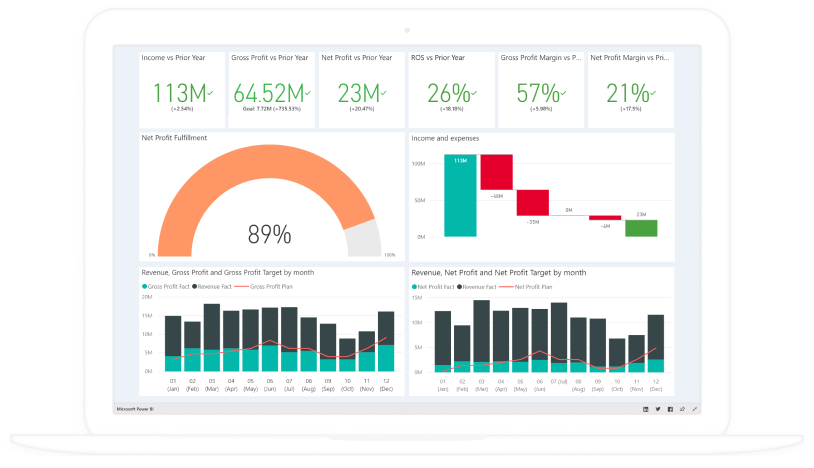 Must-Watch Business Intelligence Demo
ScienceSoft shows how a couple of customized dashboards can tell you the whole story about your company's health and performance.
BI CONSULTING SERVICES WE OFFER
For BI implementation
Explore our consulting services for BI implementation or a complete revamp
Concept design

We examine the existing reporting and analytical systems, business processes, KPIs, and conduct interviews with managers and analysts to understand business needs and explore business objectives.

Based on the findings, we specify the requirements for BI software and hardware, prepare conceptual solution design, define KPIs and reports for the solution, as well as create a clear and detailed BI roadmap for 3, 5 or 7 years.

Pre-implementation

At this stage, we do the following:

Design data quality assurance processes.
Offer an implementation strategy to create an integrated system from scattered analytical solutions and to integrate BI with other enterprise systems.
Define challenges that may appear during BI implementation and elaborate the ways of solving them.
Design a user adoption strategy.
Describe data sources and ETL procedures at a high level.
Implement a proof of concept (for complex projects).
Plan implementation by outlining such details as resources, milestones, roles and responsibilities.

Implementation

We are ready to take on implementation ourselves and put all our recommendations into practice, as we are equally experienced in rendering BI implementation services. At the same time, we respect your choice and if you decide to continue with a third-party vendor, we can help you select the best candidate and continue consulting engagement during implementation done by a third-party vendor to drive it to success by:

Explaining requirements to the vendor.
Supervising the vendor's performance.
In case of iterative implementation, adjusting the scope of next iterations based on the users' feedback.
Advising on the implementation of data quality measures in source applications.
Facilitating user adoption.
WHAT YOU CAN GAIN WITH SCIENCESOFT?
Our team of business analysts and BI technology consultants can gather fragmented business needs from different departments and design an integrated BI solution that will drive cost saving, performance improvement and business growth
We design cloud, on-premises and hybrid BI solutions that enable operational analytics, root cause analysis, what-if analysis, and accurate predictions.
We know your industry and can consult on KPIs, reports and dashboards that foster informed decision-making.
We have competencies in all major platforms. Therefore, we are technology-neutral and advise only what's best for you.
For BI improvement
Explore our consulting services for BI improvement
Concept design

At the concept design stage, we examine the existing reporting and analytical systems, business processes, KPIs, and conduct interviews with executives, middle managers and analysts to explore business objectives, understand business needs and identify the existing problems.

Typical problems we solve:

Low user adoption.
Huge and growing backlogs of needs.
Data quality issues.
Low performance of the BI solution.
Security issues.
High total cost of ownership.
Low value for a particular user group (C-suite, middle management, team leads and senior specialists, analysts).
Limited ability to support root cause analysis, what-if analysis, planning, optimization.

Based on the findings, we design your individual BI improvement roadmap, discuss it with all the stakeholders and get the approval from a project sponsor.

Implementation

We are ready to take on the implementation of the recommended improvements, as we are equally experienced in BI implementation. In this case, we introduce the technical changes in 2-8 week-long iterations that may cover changes in KPIs and reporting, data quality improvements, and BI solution modifications. We also conduct training so that the users are well-informed of the newly implemented features and are their confident users.

At the same time, we respect your choice if you decide to commission a third-party vendor to introduce the technical changes. In this case, we may closely collaborate with you and the vendor to ensure that all the recommended improvements have found their way to your BI solution.
WHAT YOU CAN GAIN WITH SCIENCESOFT?
Our team of business analysts and BI technology consultants analyzes multilevel interconnected problems and designs a solution that cover both business and technical aspects
In addition to addressing the problems that you voice out, we recommend other improvements that we spot based on our experience.
We go far beyond basic reports and KPIs and recommend the ones that will create a more insightful picture.
We bring in new technologies to add value to a BI solution, such as big data to include more operational data and data science to support optimization, forecasting, and clustering.
To deliver the services, we assign our multidisciplinary team of business analysts and BI technology consultants. Such an approach allows holistically solving different, often interconnected problems. For example, the inability to see profitability per product (a business problem) may arise from the flaws in data sources integration (a technical problem).
The Components of Your BI Solution at a Glance
A robust BI solution that allows defining consistent business objectives and measures, monitoring the company's progress in achieving them, analyzing the effect of introduced changes and optimizing business processes typically embraces:
A data lake, a data warehouse, OLAP cubes, reports and dashboards.
ETL processes for each of multiple data sources, including external and outdated ones.
Data science, including machine and deep learning, when advanced analytics is required.
Data quality management practices.
Data security practices.
Data Sources That Can Become the Foundation of Your BI Solution
BI solutions we consult on can take data from:
The company's ERP system.
CRM application (sales, marketing, customer service).
Human resource management applications.
Supply chain management systems (procurement management, vendor management, warehouse management).

Line-of-business applications.
Shop floor software.
Field service software.
Internet of Things (IoT).
Websites and web portals.
Other external sources.
<![endif]--> <![endif]--> <![endif]-->