Business Intelligence Consulting Services
Business Intelligence (BI) consulting services help set up the process of data aggregation and parsing to inform management decisions. Since 2005, ScienceSoft helps businesses implement intuitive end-to-end BI solutions and secure continuous BI support.
The Financial Times Includes ScienceSoft USA Corporation in the List of the Americas' Fastest-Growing Companies 2023
For the second year in a row, ScienceSoft USA Corporation ranks among 500 American companies with the highest revenue growth. This achievement is the result of our unfailing commitment to provide high-quality IT services and create best-value solutions that meet and even exceed our clients' expectations.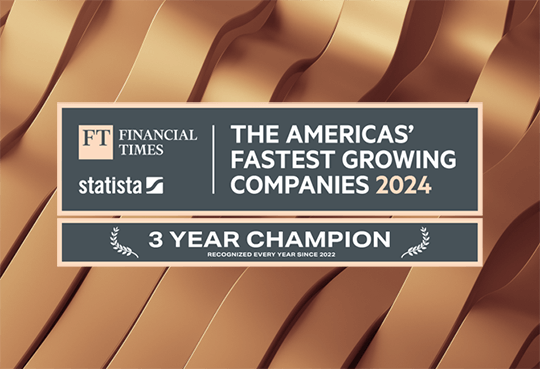 BI needs analysis
BI solution requirements elicitation

Analysis of existing data sources and data flows
ETL rules capturing
Data quality needs analysis
Defining requirements for reports and dashboards
Security and user access requirements elicitation, etc.

BI solution architecture design and tech selection
BI project estimation and planning
PoC delivery (in case of complex projects)
Development of BI solution components (a data lake, DWH, OLAP cubes, reports and dashboards), solution implementation
User training
BI solution support and evolution
See more: BI implementation services
BI solution gap analysis
Development support
BI solution troubleshooting on the code level (e.g., rewriting a faulty ETL process)
BI solution evolution (adding new data sources, creating new reports and dashboards, etc.)
Administration support (updating software, adding new users, handling permissions, administering data)
Request BI support services
Extracting data from diverse data sources, transforming it into a predefined format, and loading it into a storage destination.
Storing any type of data, including big data.
Centralized storing of structured data for reporting and analysis.
Structuring data in a multidimensional format for rapid self-service data analysis.
Data reporting and visualization
Making analytics results digestible with immersive reports and interactive dashboards.
Identifying and eliminating data anomalies via data profiling, cleansing, validation, etc.
Ensuring data is stored, transformed and exploited in a secure way.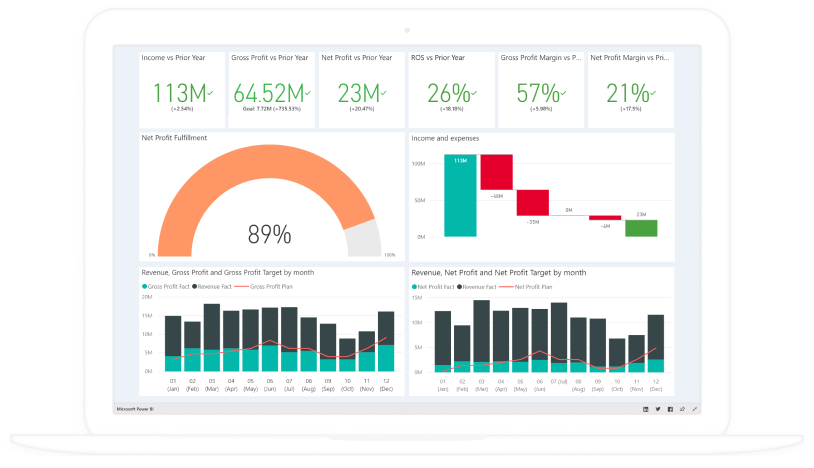 See Business Intelligence in Action
ScienceSoft shows how a couple of customized Power BI dashboards can tell you the whole story about your company's health and performance.
Our Customers Say
Heather Owen Nigl
Chief Financial Officer
Alta Resources
When we first contacted ScienceSoft, we needed expert advice on the creation of the centralized analytical solution to achieve company-wide transparent analytics and reporting. ScienceSoft's consultants analyzed our workloads, documentation and the existing infrastructure and outlined a clear project roadmap for implementing the solution to get data-driven insights for tactical and strategic decision-making, planning and performance management.

Donat Gaudreau
Electrochemical Cell Design and Test Engineer
Unilia Fuel Cells
The database solution created by ScienceSoft allows inputting all our raw and processed test data through the user interface, accessing data within the database, processing and presenting database data in user-defined formats. We were satisfied with the quality and efficiency of the team's work regardless of arising challenges.
Maria Zannes

President & CEO

bioAffinity Technologies

bioAffinity Technologies hired ScienceSoft to help in the development of its automated data analysis software for detection of lung cancer using flow cytometry. Our project required coordination with multiple companies and individuals. ScienceSoft worked well with everyone. They are reliable, thorough, smart, available, extremely good communicators and very friendly.

Kaiyang Liang Ph.D

Professor

Miami Dade College

We needed a proficient big data consultancy to deploy a Hadoop lab for us and to support us on the way to its successful and fast adoption. ScienceSoft's team showed themselves great consultants. Special thanks for supporting us during the transition period. Whenever a question arose, we got it answered almost instantly.

<![endif]--> <![endif]--> <![endif]-->