<![endif]-->
<![endif]-->
Business Intelligence Consulting Services
Business Intelligence (BI) consulting services help companies retrieve actionable insights out of their raw data to accelerate decision-making and improve business performance. Since 2005, ScienceSoft's BI consultants have been assisting clients with implementing or revamping their BI solution.
Business Intelligence Solutions We Offer
Highlights about ScienceSoft
Partnerships with Microsoft, Amazon and Oracle.
8 Microsoft Gold competencies, including in Data Analytics and Data Platform.
Rated A+ by BBB; featured among 10 fastest growing data analytics companies by The Silicon Review; named among top big data consultants by the Manifest.

A mature quality management system to deliver high-quality projects in time and within budget and guaranteed customer data security proved by ISO 9001 and ISO 27001 certifications.
Choose Your Service Option
BI implementation consulting
BI solution design.
A detailed BI roadmap for 3, 5, or 7 years.
A robust BI implementation strategy.
High-level description of data sources and ETL procedures.
Data quality assurance processes design.
Specification of challenges and ways to solve them.
User adoption strategy.
BI improvement consulting
In case the existing BI solution does not meet your BI and analytics needs, we conduct:
BI improvement roadmap design – upon analyzing your BI solution performance, backlogs, data quality issues, value for particular user groups, technology stack, etc.
Implementation (if required) – the recommended improvements introduced via the iterative approach (2-8-week iterations that may cover changes in KPIs and reporting, data quality improvements, and BI solution modifications).
User training.
Proof of concept (for complex projects).
To deliver the services, we assign our multidisciplinary team of business analysts and BI technology consultants. Such an approach allows holistically solving different, often interconnected problems. For example, the inability to see profitability per product (a business problem) may arise from the flaws in data sources integration (a technical problem).
Selected BI consulting projects
BI SOLUTION COMPONENTS WE DELIVER
A robust BI solution that allows defining consistent business objectives and measures, monitoring the company's progress in achieving them, analyzing the effect of introduced changes and optimizing business processes typically embraces:
Data Sources That Can Become the Foundation of Your BI Solution
BI solutions we advise on can take data from:
The company's ERP system.
CRM application (sales, marketing, customer service).
Human resource management applications.
Supply chain management systems (procurement management, vendor management, warehouse management).
Line-of-business applications.
Shop floor software.
Field service software.
Internet of Things (IoT).
Websites and web portals.
Other external sources.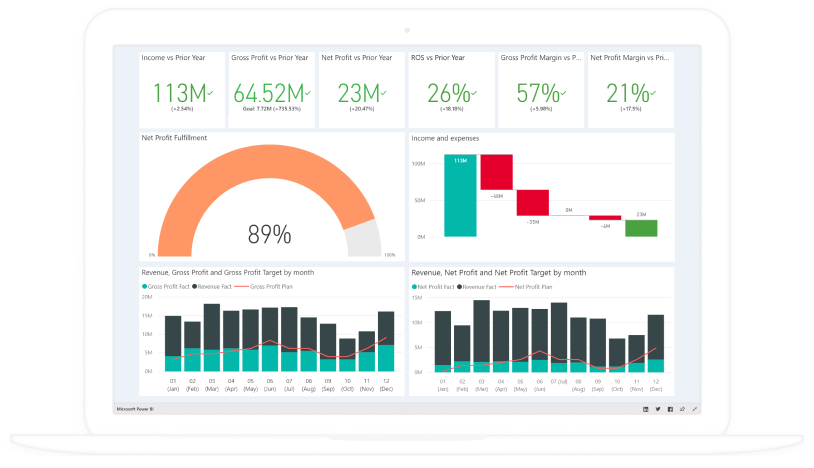 See Business Intelligence in Action
ScienceSoft shows how a couple of customized dashboards can tell you the whole story about your company's health and performance.
<![endif]--> <![endif]--> <![endif]-->