Business Intelligence Consulting Services
Business Intelligence (BI) consulting services help set up the process of data aggregation and parsing to inform management decisions. Since 2005, ScienceSoft helps businesses implement intuitive end-to-end BI solutions and secure continuous BI support.
Extracting data from diverse data sources, transforming it into a predefined format, and loading it into a storage destination.
Storing any type of data, including big data.
Centralized storing of structured data for reporting and analysis.
Structuring data in a multidimensional format for rapid self-service data analysis.
Data reporting and visualization
Making analytics results digestible with immersive reports and interactive dashboards.
Identifying and eliminating data anomalies via data profiling, cleansing, validation, etc.
Ensuring data is stored, transformed and exploited in a secure way.
Advanced analytics with data mining, big data analysis, machine learning and artificial intelligence.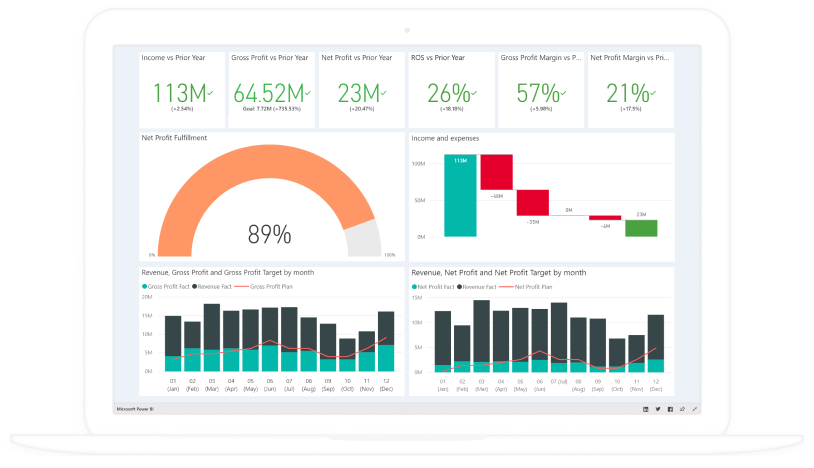 See Business Intelligence in Action
ScienceSoft shows how a couple of customized Power BI dashboards can tell you the whole story about your company's health and performance.
BI needs analysis
BI solution requirements elicitation

Analysis of existing data sources and data flows
ETL rules capturing
Data quality needs analysis
Defining requirements for reports and dashboards
Security and user access requirements elicitation, etc.

BI solution architecture design and tech selection
BI project estimation and planning
PoC delivery (in case of complex projects)
Development of BI solution components (a data lake, DWH, OLAP cubes, reports and dashboards), solution implementation
User training
BI solution support and evolution
See more: BI implementation services
BI solution gap analysis
Development support
BI solution troubleshooting on the code level (e.g., rewriting a faulty ETL process)
BI solution evolution (adding new data sources, creating new reports and dashboards, etc.)
Administration support (updating software, adding new users, handling permissions, administering data)
Request BI support services
Reach Your Business Intelligence Goals with ScienceSoft
We design and build end-to-end BI solutions as well as upgrade existing BI software to help our clients:
Achieve transparent data analysis and reporting due to consolidating multiformat business data scattered across different systems with different data models.
Enhance data quality due to automating error-prone manual data management processes.
Avoid data leaks and data breaches due to securing sensitive business data.
Increase the data maturity level due to enhanced data availability.
<![endif]--> <![endif]--> <![endif]-->