Customer Intelligence
Features, Integrations, Benefits and Tools
Since 2005, ScienceSoft has rendered business intelligence consulting services to help companies implement customer intelligence for improved customer relationships and streamlined operational and strategic decision-making.
Customer Intelligence in Brief
Customer intelligence solutions collect and analyze customer data to help companies gain a deeper understanding of customers' needs and behavior, personalize the customer experience, improve customer journeys, and drive sales.
Core functionality for customer intelligence software: customer data consolidation and management, customer data analysis, customer segmentation, and customer data reporting.
Important integrations: CRM, marketing automation software, customer service software, an ecommerce platform, a point-of-sale system.
Customer Intelligence Software: A Core Feature Set
The feature set of a particular customer intelligence solution depends on the industry, specificity of a company's operations, its operational and strategic goals, a data maturity level across the company, and much more. Below, ScienceSoft outlines the core features of a consumer intelligence solution.
Important Integrations for Customer Intelligence Solutions
ScienceSoft recommends integrating customer intelligence software with all data sources holding relevant customer information to maximize its efficiency. Below we list the common go-to integration options.
Customer relationship management (CRM) software
To enable comprehensive customer segmentation.
To analyze customer engagement and determine which products/services are required the most.
To improve sales efforts with ML-based recommendations (e.g., product recommendations generated by analyzing customer purchase history, customer sentiment) and maximize the long-term value of every customer.
Marketing automation software
To measure the success of marketing efforts on various parameters.
To provide ML-based recommendations for personalized marketing campaigns and optimal marketing actions (e.g., starting an email campaign for particular customer segments).
Customer service software
To determine customer and product experience gaps.
To analyze customer service requests together with customer behavior to create and optimize customer retention strategies for particular customer segments.
To analyze customer sentiment to optimize product/service portfolio and enhance customer loyalty.
To track metrics like the conversion rate by devices (PC/tablet/mobile), average order value, revenue and product/service preferences by customer segment, advertising channel performance, return on ad spend, etc.
To define customers' preferred payment methods and purchase time.
To identify popular product/service bundles.
What Ensures the Success of Customer Intelligence Solutions
Based on our 34 years in data analytics and 18 years in business intelligence, ScienceSoft defined a number of factors that should be covered to ensure the success of the solution.
For ensured safety of customer data (personal data, financial data, etc.) and compliance with regulatory requirements (GDPR, HIPAA, etc.), the solution should offer fine-grained access control, customer data anonymization, dynamic data masking, and end-to-end data encryption.
Automated pre-configured reports
To deliver timely relevant KPIs (conversion rate, CLTV, CSAT, churn rate, loyalty rate, net promoter score, etc.) to end users (sales reps, marketing teams, content managers, etc.).
Embedded analytics capabilities
To integrate analytics content (customer analytics reports, dashboards with relevant KPI suites, etc.) directly into business applications (CRM, marketing software, etc.) for prompt usage by non-technical users.
To analyze customer data from disparate sources at high volume and speed, make recommendations on next-best sales actions or ways to personalize customer interactions, enable customer behavior modeling, and much more.
Customer Intelligence Solutions: Success Story by ScienceSoft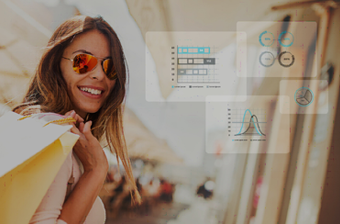 Design and Implementation of a Comprehensive Data Analytics Solution
360-degree customer view across all the channels and business directions.
Rich retail analytics, e.g., traffic and convertion, engagement, wish lists.
Cost Factors and Benefits
Factors determining the implementation cost of a customer intelligence solution:
Number of required internal and external data sources (CRM, social media, website, etc.) and customer data complexity (structured, semi-structured, unstructured, real-time, etc.).
Customer data volume.
Complexity of customer data cleansing.
Complexity of customer data analysis, ML and AI capabilities.
Data security and compliance requirements.
User training, if necessary.
Key financial outcomes
conversions by 150% and average order value by 50% due to personalized product recommendations

new customer acquisition costs due to optimized marketing efforts

sales force effectiveness due to targeting qualified prospects

sales to existing customers due to precise cross- and up-selling targeting

customer churn and increased customer loyalty due to the enhanced customer experience
Finding it complicated to relate the cost factors mentioned above to the investments they will entail? You don't need to figure it out yourself — we'll do it for you. Use our online cost calculator, and we'll provide you with a free estimate for your project.
Want to know how much your customer intelligence solution will cost?
Get a quote
Tools to Build a Customer Intelligence Solution: ScienceSoft's Choice
In our customer intelligence solution projects, we frequently rely on the following techs:
Microsoft Power BI
Best for
Flexible customer analytics in B2C and B2B sales.
Description
Pre-built integrations for 120+ data sources for a 360-degree customer view.
AI-based customer data preparation and analytics with the Power BI dataflows and Power BI Quick Insights features.
Machine learning modeling to anticipate customer demand, predict customer churn and customer response to marketing campaigns, identify next-best product recommendation, etc.
Customer data discovery with pre-built and custom visuals.
Securing customer data with data sensitivity labeling, end-to-end data encryption, and real-time data access monitoring.
Available as a SaaS option running in the Azure cloud or as an on-premises option in Power BI Report Server.
Mobile capabilities.
DEMO: Watch our Power BI demo.
Pricing
Power BI Desktop – free.
Power BI Pro - $9.99/user/month.
Power BI Premium - $4,995/dedicated storage and compute resources/month, $20/user/month.
Salesforce Interaction Studio
Best for
Digital customer experience analysis and optimization.
Description
Native integrations with SFMC, Service/Sales Cloud, Commerce Cloud, Pardot, Tableau, Datorama, and Einstein Analytics.
Integration with third-party data sources with the help of ETL, API, or Interaction Studio Gears.
Consolidating customer data across online and offline customer touchpoints into a Unified Customer Profile (UCP).
Support for real-time customer segmentation.
Tracking visitors at every touchpoint on the website/mobile app in real time.
Monitoring digital customer behavior under various marketing activities/offerings.
Triggering personalized messages with recommendations on the most relevant products/product categories, content, etc. based on customer behavior.
Pricing
Prices are available by direct request to Salesforce.
Looker
Best for
Ecommerce analytics.
Description
Integrating with corporate applications via open APIs.
Unifying customer data across various channels for analysis and customer segmentation.
Real-time customer analytics capabilities.
Tracking ecommerce KPIs (revenue, shopping cart abandonment, conversion rate, etc.).
Tracking the behavior of best customers vs. one-time buyers to design new promotions and marketing tactics.
Embedding customer analytics content into websites, portals, apps, etc.
Web-based only.
Pricing
Prices are available by direct request to Looker.
When Opt For a Custom Customer Intelligence Solution
ScienceSoft recommends developing custom customer intelligence software if your company:
| | |
| --- | --- |
| | Has specific requirements to the customer intelligence solution (gathering data from a large number of diverse data sources, support for pre-built reports for different user groups, a particular data refresh rate, etc.), which are not covered with the basic functionality of packaged solutions. |
| | Needs a customer intelligence solution, which allows for quick system evolution (for example, adding new functional modules to address the newly arisen business needs). |
Consider Professional Services for Customer Intelligence Software Implementation
With 18-year experience in building data warehouse and BI solutions, ScienceSoft designs and implements tailored customer intelligence solutions for companies to get a 360-degree customer view, personalize customer journeys, increase customer loyalty and decrease customer churn.
Customer intelligence consulting
Analysis of customer intelligence needs.
Conceptualization of a customer intelligence solution.
Solution architecture design and tech stack selection.
Planning of solution implementation (risk management planning, defining KPIs for measuring customer intelligence software quality, etc.).
Business case creation, including cost estimation, time budget estimates.
Go for consulting
Customer intelligence software implementation
Customer intelligence needs analysis and elicitation of software requirements.
Customer intelligence solution conceptualization.
Solution architecture design and tech stack selection.
Customer intelligence solution development.
Solution integration with relevant software (ecommerce software, CRM, POS, etc.).
Customer intelligence software quality assurance.
After-launch support and optimization.
Go for implementation
About ScienceSoft

ScienceSoft is an IT consulting and software development company headquartered in McKinney, Texas. With 17-year experience in BI consulting and development services, we deliver reliable customer intelligence solutions to translate raw customer data into actionable insights for optimized marketing, sales, product/service development, and customer services processes. Being ISO 9001 and ISO 27001 certified, ScienceSoft relies on a mature quality management system and guarantees that cooperation with us does not pose any risks to our customers' data security.

<![endif]-->