Visualize Your Data All Across the Company with Microsoft Power BI
Power BI: Core Concepts
Microsoft Power BI is a collection of tools used to import, aggregate and present data in the form of immersive and easy-to-digest reports and visuals.
Power BI is recognized as a leader among analytics and BI platforms by the major research companies (Gartner, Forrester, IDC, etc.). Best for data analysis for non-technical business users.
What Features Make Power BI an Industry Leader
Data management
Ingesting various data structures, including relational data, big data, IoT data, streaming data.
100+ native data source connectors
File data sources, databases, Azure data source ecosystem, online services.
Self-service relational and big data ingestion, cleaning, enrichment, etc.
Integration with Azure Data Lake Storage Gen2
To unify and enable collaboration on data across Power BI and Azure data services.
AI-powered data modeling with AutoML, Cognitive Services, Azure ML (Power BI Premium).
The statistical language R support
Using R for preparing data models, reports, data cleansing, advanced data shaping, dataset analytics, etc.
Speedy search for trends and displaying for an entire dataset.
Through ML models created in Azure Machine Learning Studio.
Real-time streaming with Power BI REST APIs, Streaming Dataset UI, Azure Stream Analytics to display and update real-time data.
Enterprise-wide reporting
Distributing reports preconfigured by analysts across the company.
Periodically delivering reports with the preset values defined by data analysts, BA, etc. at scheduling.
Self-service reporting on the as-needed basis to answer specific questions.
Presenting all the required data in a table format.
Optimizing Power BI content for mobile users.
Incorporating Power BI content into other applications.
Presenting a comprehensive visual snapshot of business-critical information in a single location.
Drilling up and down on data points to explore in-depth details about company's data.
Hundreds of out-of-the-box visuals, including charts, cards, KPIs, maps, matrix, etc. provided by Microsoft and the community.
Creating propriety visuals using the Power BI open source custom visuals framework.
Natural language user interface
Asking natural language questions and getting answers in the form of automatically created visuals and reports.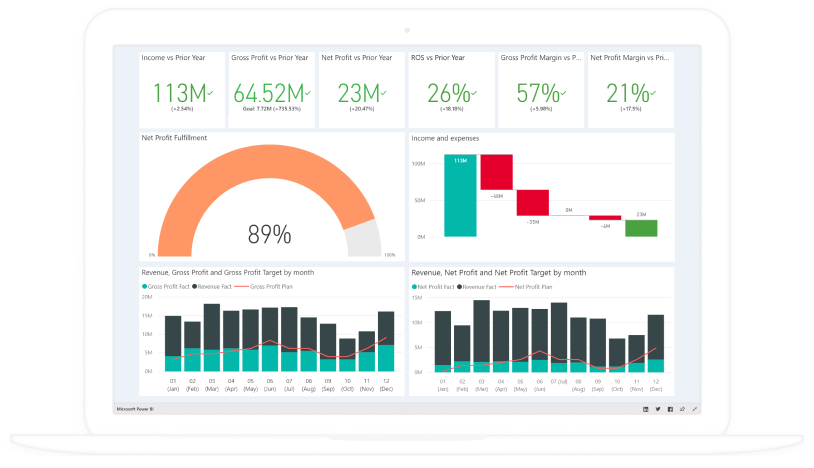 Eyewitness Data Visualization with Power BI
Discover how Power BI turns data into meaningful stories to find answers to diverse business questions.
For data in transit and at rest with Microsoft-managed encryption keys or the 'bring your own key' approach.
Restricting Power BI content access by publishing it to a separate workspace.
Restricting data access at the row level.
Compliance with ISO 27001, ISO 27018, EU Model Clauses, HIPAA BAA, and UK G-Cloud.
Availability in Microsoft national clouds
Meeting additional regulations on service delivery, data residency, access, and control.
Visualize Hidden Insights in Your Data with Power BI
Valuable Integrations for Power BI
To explore and visualize corporate data stored in a centralized data storage.
To quickly optimize finance and operations related to product planning, manufacturing, sales and marketing and discover new business opportunities.
To overview customer-related data in near-real time to find top sales opportunities and better engage with customers.
To make data-driven HR decisions for attracting and managing employees, increasing employee productivity, and creating a quality work environment.
Power BI + IoT device management system
To get insight (including real-time) into the functioning of connected products, machinery, buildings, medical devices, etc. to discover new optimization opportunities, etc.
| | | |
| --- | --- | --- |
| | | |
| | | Being a Microsoft Power BI Partner, ScienceSoft has been providing consulting, implementation and support for traditional BI and big data solutions based on Microsoft Power BI since 2016. |
Solutions Built with Power BI
Value to Obtain with Power BI
Easy access to analytics insights
As data required for decision-making is easily available, digestible and manipulated, time to insight becomes up to 27% faster compared with traditional BI*. Such improved analytics results in increased revenue, more efficient business processes, faster time to market for products, increased customer satisfaction, lower inventory and supply chain costs.
Increased business users' productivity
Power BI self-service tools, intuitive interface and collaboration capabilities improve business users' productivity and lead to the average time saving of 1.75 h per week.
Reduced data analysts' efforts
The automation of data wrangling activities, analytics accelerated with AI-driven engines lead to the self-sufficiency of non-technical business users in conducting data analysis and allows analytics professionals to concentrate on such activities as data management, complex data modeling, advanced data analysis, etc.
Driving data culture
Delivering business intelligence to business users across the entire company becomes easy and affordable with Power BI Desktop for free and a Power BI Pro version for $9.99/user/month.
Power BI Products and Pricing
<![endif]--> <![endif]--> <![endif]-->