Retail Data Analytics
A Full Overview
ScienceSoft applies 34 years of experience in data analytics and 20 years in retail IT to help retail businesses build smart data analytics solutions that increase sales and drive significant cost-saving opportunities.
Retail Data Analytics: The Essence
Retail analytics is needed to collect, process, and analyze valuable data from every facet of a retail business. Retail analytics solutions include customer, sales, and supply chain analytics; inventory and price optimization; merchandising and marketing analytics for brick-and-mortar and ecommerce stores. Advanced analytics solutions powered by AI and ML provide intelligent insights for real-time decision-making (e.g., personalized product recommendations for online customers) as well as for long-term planning and forecasting that help drive stable business growth.
Integrations: CRM, customer service management software, inventory management software, marketing campaign management software, supplier management software, POS software, an ecommerce platform.
Users: managers, and specialists in sales, marketing, customer support, inventory, ecommerce, and merchandising, financial analysts.
Implementation costs: $80K–$1M, depending on a solution's complexity.
Implementation results: up to 60% increase in the operating margin.
Retail Analytics Solution: Key Features
At ScienceSoft, we develop retail business analytics solutions that match the unique needs of each of our customers. Below, our consultants list the features that are most frequently demanded by our clients in retail industry.
Check the Insights You Can Get with Retail Analytics
Essential Integrations for a Retail Analytics Solution
ScienceSoft recommends establishing the following integrations in order to get a 360-degree customer view and comprehensive insight into retail business performance:
To enable customer segmentation.
To calculate customer-related metrics: engagement, satisfaction, profitability rates.
To analyze service requests by issue type, location, customer demographics, etc.
To identify flaws in customer service, inventory management, delivery, and other processes affecting customer satisfaction and get suggestions on the optimal ways to fix them.
Point of sale (POS) system
To identify customer spending habits like the buying time or preferred payment method.
To analyze sales performance per store/season/geographical location, etc.
To analyze customer online behavior and optimize marketing, cross-selling, and other activities based on the acquired insights.
To offer personalized suggestions to each customer based on their preferences.
To minimize inventory-related costs and optimize stock levels.
To analyze supplier performance and choose the most efficient and reliable suppliers, determine the top-performing products by supplier.
To provide a consolidated view of the retail business performance, including sales, inventory, marketing, etc.
To assess marketing campaign performance and get intelligent insights for marketing optimization (identifying the most profitable markdown strategies, forecasting the efficiency of targeted promotional activities, etc.).
To suggest personalized marketing campaigns at different levels of granularity (by a customer's product preferences, type of device, income level, location, etc.).
An in-store computer vision system
To quickly identify and react to situations like empty shelves or long checkout queues.
To analyze customer routes and actions and optimize merchandising and store navigation.
To detect possible security gaps (e.g., fraud at self-checkout stations) and timely take preventive measures.
Factors That Drive High ROI of Retail Data Analytics
With 34 years of experience in data analytics and 20 years in implementing retail IT solutions, ScienceSoft has defined the key factors determining the success of retail analytics software.
To make sure the solution will be able to handle the growing volumes of data and new data sources as your business expands.
To protect sensitive customer, business, and financial data against cyberattacks or unauthorized modification by implementing robust security mechanisms for data backup, encryption, authentication, sharing, etc.
To enable advanced analytics capabilities, such as intelligent demand forecasting, real-time personalized suggestions for online customers, dynamic pricing optimization, etc.
Retail Data Analytics for a Multibusiness Corporation: a Success Story by ScienceSoft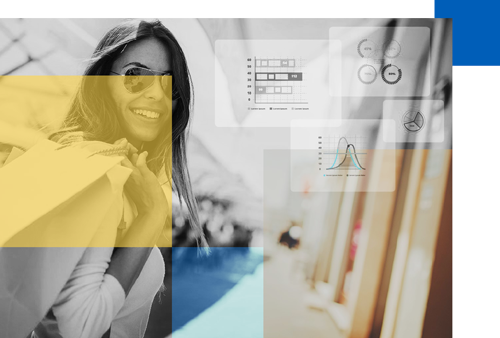 Design and Implementation of a Comprehensive Data Analytics Solution
Storage of structured and unstructured data from 15+ data sources.
~100 ETL processes that support efficient data quality management.
5 OLAP cubes and about 60 dimensions for data analytics.
360-degree customer view across all channels and business directions.
Retail analytics of both brick-and-mortar and ecommerce stores.
Costs and Benefits of Implementing Retail Analytics
The cost of implementing a retail data analytics solution may vary from $80,000 up to $1,000,000*, depending on the software complexity, the diversity of integrations, and the number of user roles.
The average pricing for a custom retail data analytics solution comprising a data warehouse, OLAP, and reporting functionality for midsize retailers may be within following ranges:
Retail companies with 200-500 employees.
Retail companies with 500-1,000 employees.
Retail companies with 1,000+ employees.
*Software license fees are not included.
The implementation of business analytics in retail brings:
in the operating margin due to the implementation of big data analytics

in operating costs thanks to AI/ML-based retail optimization

of acquiring new customers compared to the competitors making non-data-driven decisions

than competitors, thanks to sourcing consumer behavior insights from data analytics

due to analytics-based assortment optimization
Tools We Use to Facilitate ML-Powered Retail Data Analytics
Although ML is not an obligatory element of the solutions we build, it has been in demand recently. So, we've decided to share an overview of two tools that can help enable such functionality quickly and cost-effectively. Both tools provide a wide range of features to build, train, and deploy ML models with a high degree of automation and no-code capabilities.
AWS SageMaker
Features
150+ pre-trained ML models.
Complete security of ML artifacts due to data encryption in transit and at rest and the user's full ownership over the ML-produced content.
Native integration with Amazon services: Amazon S3, Amazon Redshift, AWS Glue, Amazon EMR, or AWS Lake Formation.
Support for real-time, batch, and asynchronous deployment of ML models.
Caution
Although SageMaker provides zero-code capabilities for building and deploying ML models, it can still be too complex for data analysts with a limited programming background.
Pricing
Free tier usage: available for the first 6 months.
On-demand pricing: $0.05–$28.152/hour.
Costs optimization: savings plans can reduce costs by up to 64%.
Azure Machine Learning
Features
Supports training and deploying ML models both on-premises and in the cloud.
Adoptable scaling of ML learning models with Azure compute for accelerated training.
Registries for sharing and finding ML artifacts across different teams.
Native integration with other Microsoft services: Azure Synapse, Azure Storage Blobs, Azure App Service, and more.
Continuous monitoring of ML models with Azure Security Center.
Automated usage cost control with quota limits and automatic shutdown.
Caution
The variety of ML models that can be created with this tool is limited and can fail to meet a retailer's needs.
Pricing
Free start option with a $200 credit for 30 days.
On-demand pricing: $0.096–$22.032/hour.
Costs optimization: savings plans for reserved instances can reduce costs by up to 73%.
Consider ScienceSoft's Services to Implement Your Retail Data Analytics Solution
Delivering complex retail solutions since 2003, ScienceSoft offers data analytics consulting and implementation services to help retail businesses quickly respond to market changes and stay ahead of their competitors.
About ScienceSoft

ScienceSoft is an IT consulting and software development company headquartered in McKinney, Texas. Since 2003, we help midsize and large retail companies leverage advanced data analytics to drive their business growth. We have developed mature quality and security management systems supported by ISO 9001 and ISO 27001 to provide our clients with first-class software and guarantee data safety.

<![endif]--> <![endif]--> <![endif]-->