<![endif]-->
<![endif]-->
Business Intelligence Solutions
For 15 years, ScienceSoft has been delivering business intelligence (BI) solutions that cover the needs of both business users and business analysts. The former need predefined reports, the latter value flexibility, and we know how to combine the required features into one solution.
BI software that we offer encompasses:
Data collection from different sources
Data parsing, cleaning and integration
Data warehouse and ETL

Online analytical processing (OLAP) for exploratory data analysis
Predefined reports and dashboards
Our Competencies and Achievements
Experience in data analytics services since 1989.
Since 2008, a member of the Microsoft Partner Network, with 8 Gold competencies, including Data Analytics, Data Platform and Cloud Platform.

AWS Select Consulting Partner

.
Successful solutions for Healthcare, Banking, Advertising, Retail, Manufacturing, etc.
Our Business Intelligence Demo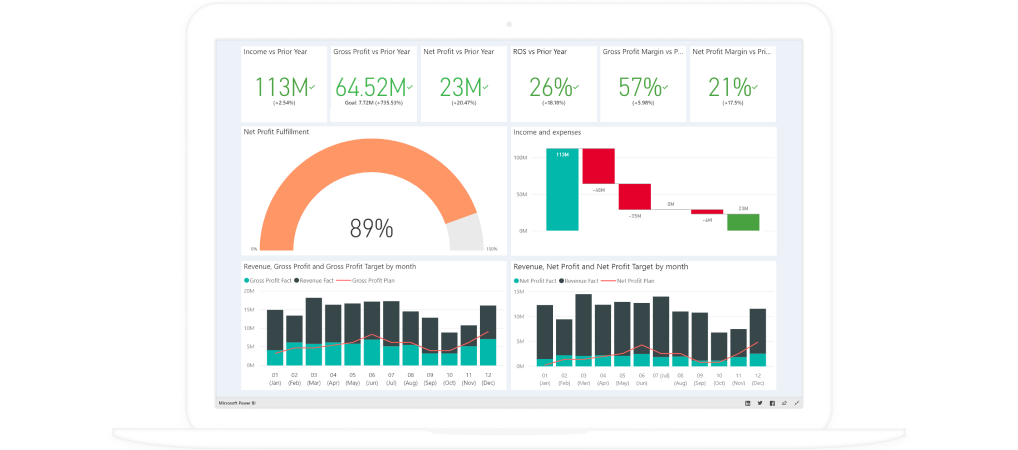 Try out
Customized BI Solutions
We take business needs of a particular customer as a core of a BI solution and fill it with relevant features.
Customer-related BI solutions
Customer analysis

Sample features:

Cohort analysis
Basket/cart analysis
Customer lifetime value analysis
Customer spend history
Customer complaint analysis

Marketing analysis

Sample features:

Analysis of loyalty program efficiency
Forecast of the response to marketing campaigns
Market share analysis per country
Brand portfolio analysis
Brand awareness analysis

Sales analysis

Sample features:

Sales and profitability analysis
Progress measured against sales goals
Category performance analysis
Sales seasonality analysis

Ecommerce analysis

Sample features:

Conversion rates analysis
Cart abandonment analysis
Visitors' engagement analysis
Analysis of the coupons redeemed
Assortment analysis
Process-related BI solutions
Performance analysis

Sample features:

KPI status vs. target
Alerts when not reaching the target
Department and employee performance analysis
Root cause analysis

Industrial analysis

Sample features:

Forecast of production levels
Analysis of quality assurance efficiency
Cost efficiency analysis
Asset analysis

HR analysis

Sample features:

Payroll analysis
Compensation analysis
Talent management analysis
Absenteeism analysis
Data Sources
We deliver business intelligence solutions that allow companies to analyze data from multiple sources (typically, 20 – 30) to get a complete picture of their business
ERP modules (Finance, Accounting, Sales, Marketing, Human Resources, Supply Chain, etc.)
CRM
Warehouse management system
Ecommerce
Website logs
Sensors, controllers

Customer surveys/questionnaires, market research
Time tracking system
Global positioning system
Social media
Customer mobile apps
Сall-centers records
Official stats
Typical Stages and Their Duration for Midsized BI Solutions
1
During this stage, we scrutinize the short-term and long-term business goals. We check the as-is situation (the available data sources and existing IT environment) and then identify gaps and possibilities for improvement.
2
Customized demo (1-5 days)
We transform the customer's needs into a demo, based on either real or demo data. Thus, our customers can see their future BI solutions in action.
3
We agree on the solution features, provide our customers with the estimations based on their requirements and allocate a BI team.
4
Delivery of a customized BI solution
This stage typically takes from 2 to 3 weeks.
TECHNOLOGY
Being the partner of Microsoft, we keep up with best practices in delivering business intelligence solutions, both on-premises and in the cloud.
Data visualization
OLAP cubes
Microsoft SQL Server Analysis Services
Data warehouse
<![endif]--> <![endif]--> <![endif]-->