For 14 years, ScienceSoft has been delivering business intelligence (BI) solutions that cover the needs of both business users and business analysts. The former need predefined reports, the latter value flexibility, and we know how to combine the required features into one solution.
BI software that we offer encompasses:
Data collection from different sources
Data parsing, cleaning and integration
Data warehouse and ETL
Online analytical processing (OLAP) for exploratory data analysis
Predefined reports and dashboards
Our Competencies and Achievements
Our Business Intelligence Demo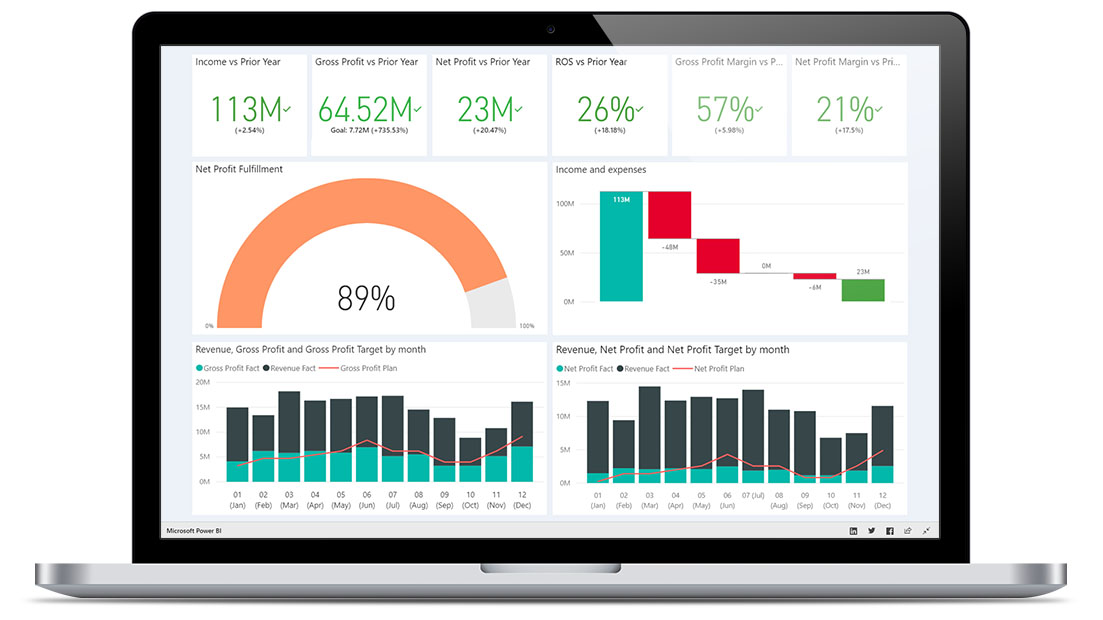 Try out
Customized BI Solutions
We take business needs of a particular customer as a core of a BI solution and fill it with relevant features.
Customer-related BI solutions
Data Sources
We deliver business intelligence solutions that allow companies to analyze data from multiple sources (typically, 20 – 30) to get a complete picture of their business.
ERP modules (Finance, Accounting, Sales, Marketing, Human Resources, Supply Chain, etc.)
CRM
Warehouse management system
Ecommerce
Website logs
Sensors, controllers
Customer surveys/questionnaires, market research
Time tracking system
Global positioning system
Social media
Customer mobile apps
Сall-centers records
Official stats
Technology
Being the partner of Microsoft, we keep up with best practices in delivering business intelligence solutions, both on-premises and in the cloud.
Data visualization
Microsoft Power BI
Microsoft Excel
OLAP cubes
Microsoft SQL Server Analysis Services
Data warehouse
Pricing
The pricing depends on the number of reports, dashboards, analytical measures and dimensions. Click the button below and tell us about your business requirements: our business intelligence consultants will be happy to clarify the details.