Data Visualization Consulting Services
Data visualization services help communicate company's data to business users using visual elements. For 32 years, ScienceSoft has been offering data visualizations services to help companies spot trends, track business goal achievements, compare the performance of different categories, products, brands, and more.
Want Your Business Data to Provide Answers?
ScienceSoft's team will develop and tailor your visualization solution so that it answers your specific business questions and help you make data-driven decisions promptly and efficiently.
32 years in data analytics.
16 years of experience in rendering data warehouse services, designing and implementing business intelligence solutions.
Partnerships with Microsoft, Amazon, Oracle and other tech leaders.
ISO 9001 and ISO 27001-certified to assure the quality of the data visualization services and the security of the customers' data.
Expertise in 30 industries, including: manufacturing, retail and wholesale, professional services, healthcare, financial services, telecommunications, energy and others.
Tracking company's revenue, expenses and profitability for improved financial forecasting and budget planning.
Identifying and managing financial risks.
Financial data monitoring.
Predicting customer's response to marketing activities for improved planning and optimized budgeting of marketing campaigns.
Customer segmentation for designing personalized marketing campaigns, cross-selling and upselling strategies.
Customer sentiment analysis for increasing product/service quality.
Customer profitability analysis for optimizing the sales funnel.
Identifying demand drivers to improve demand planning accuracy and optimize order management.
Monitoring procurement data and conducting spend analysis to identify rationalization opportunities.
Spotting trends and patterns throughout the delivery process to identify and predict risks and optimize the logistics.
Monitoring equipment performance for optimized overall equipment effectiveness and manufacturing process quality.
Uncovering defects in manufacturing processes to speed up product development and improve product quality.
Asset tracking and monitoring for optimized asset risks and maintenance management.
Predictive maintenance for enhancing the value of critical assets and optimizing asset life cycle management.
Keeping track of employees' activities to determine the performance gaps and devise measures to enhance staff performance.
Visualizing data for talent management (applicant data, current recruitment needs, best performers, etc.) to make informed decisions within the recruitment process.
Analyzing of retention activities on the employee productivity to identify the employee satisfaction drivers and reduce employee turnover.
Visualization Techniques to Tell Your Data Story
| | | | |
| --- | --- | --- | --- |
| Symbol map | Line chart | Bar chart | Pie chart |
| Heat map | Funnel chart | Connectivity chart | Scatterplot |
| Sparkline | Matrix | Pivot table, etc. | |
Data platform development
Build a data platform to lay the groundwork for your data visualization solution. We help you:
Integrate data sources into a centralized repository.
Build ETL/ELT, OLAP, etc.
Configure data security and data quality processes.
Set up robust data reporting and visualization.
Reports and dashboards development
Amend your BI and analytics solution with visualization. For that, we create full-fledged reports and dashboards for a diverse range of business users – from data analysts and CEOs to users with no analytics expertise and a company's clients.
Data visualization optimization
Tune your visualization solution for business performance increase. We optimize it at different architectural layers:
Data source(s).
Data model.
Visualizations (dashboards, reports, paginated reports, etc.).
Environment (data gateways, access controls, network, etc.).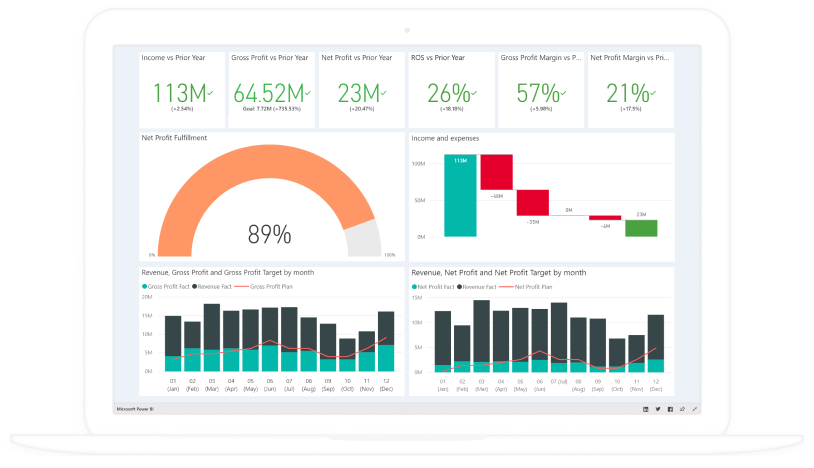 Eyewitness Data Visualization with our BI Demo
Discover how with our data visualization services you can turn data into meaningful stories to find answers to diverse business questions.
Data Visualization Challenges We Solve
| | |
| --- | --- |
| | Not insightful reports that force users to scroll through in an attempt to compare figures or spot trends. We believe that users should not waste their time and effort on searching for insights; they should focus on making informed decisions, instead. That is why we consider data visualization as an indispensable part of the reporting process. |
| | Overloaded reports and dashboards. No matter the reason – for example, too many visual elements, data visualization types or colors used – it makes reports and dashboards difficult to understand. We design ours carefully, making sure that trends or outliers are recognized immediately, colors are relevant and chart types are consistent. |
| | Disregarded user roles. We tailor reports and dashboards so that every user could focus on relevant data. For example, top management needs to stay on top of the information, and that is why we develop top-level reports and dashboards for them. |
| | Unanswered Why? We provide decision-makers with drill-down and filtering options so that they could answer their business questions by looking from different angles. For instance, a manager can look at the US sales in general, then rank them by states, then focus on those where sales are below the target. |
| | Insufficient flexibility. We do not limit our customers to a desktop version. Our data visualization services also cover the design and development of clear-cut dashboards for mobile users. As a part of this task, we solve data security challenges, as well as deliver a special UI/UX design. |
Tableau
MicroStrategy
QlikView
Kyubit BI
Sisense

Oracle Business Intelligence
Microsoft SQL Server Reporting Services
Microsoft PowerPivot
Microsoft Power View
Microsoft Excel

IBM Cognos Business Intelligence
Pentaho
Oracle Reports
JasperReports
Custom front-end environment
Establish Data Visualization That Works!

ScienceSoft is ready to help you visualize data and capture real value from it to improve your decision making.

<![endif]--> <![endif]--> <![endif]-->