<![endif]-->
<![endif]-->
Microsoft Business Intelligence to Drive Robust Analytics and Insightful Reporting
Recognized by Gartner as leaders, Microsoft business intelligence tools can yield a competitive advantage to the companies building up their analytics capabilities. Such companies can turn the Microsoft business intelligence suite into robust analytics solutions that allow for business activities planning, plan-actual analysis, change analysis, and business process optimization. Being a Microsoft Gold partner, ScienceSoft is ready to provide implementation and consulting assistance to ensure that this transformation is a success.
Microsoft Business Intelligence Tools by Groups
Microsoft offers a wide technology stack for implementing cloud, on-premises, and hybrid analytics solutions. The portfolio includes tools for data ingestion, storage, integration, quality management, processing, and building intuitive reporting.
Two Pillars of Microsoft-Based BI Solutions
The combination of Microsoft BI tools from the diagram above can be used to create a BI solution, though two names appear in real-life projects more often than others: Microsoft SQL Server and Microsoft Power BI.
Microsoft SQL Server

In 2018 (for the sixth year in a row), Gartner has positioned Microsoft with its SQL Server technology as a leader in operational database management systems.

Microsoft SQL Server is a database management system that:

Can be deployed both on-premises and in the cloud.
Allows storing and querying both traditional and big data. For example, the latest edition – SQL Server 2019 allows deploying a big data environment with advanced analytics and AI capabilities.
Enables both batch and streaming analytics (including real-time analytics).
Goes in bundles with multiple Microsoft products. For example, SQL Server 2016 goes in hand with SQL Server Analysis Services, SQL Server Reporting Services, SQL Server Integration Services, SQL Server Data Quality Services, and SQL Server Master Data Services.

In 2019 (for 12 consecutive years), Gartner has recognized Microsoft with its Power BI tool as a leader in analytics and business intelligence.

A highly user-friendly self-service analysis and visualization tool, Microsoft Power BI allows:

Retrieving both traditional and big data from a variety of cloud and on-premises data sources (thanks to having over 100 out-of-the-box connectors).
Building reports and dashboards using a drag-and-drop technique (no coding mastery is required).
Providing advanced data analysis capabilities (i.e., natural language queries, what-if analysis, forecasting, and built-in machine learning features).
Building and sharing reports and dashboards by desktop, web, and mobile users.
Setting alerts on KPIs.
Microsoft Power BI in Action: Demo
View our demo to see how a BI solution implemented on Microsoft Power BI helps to run root cause analysis.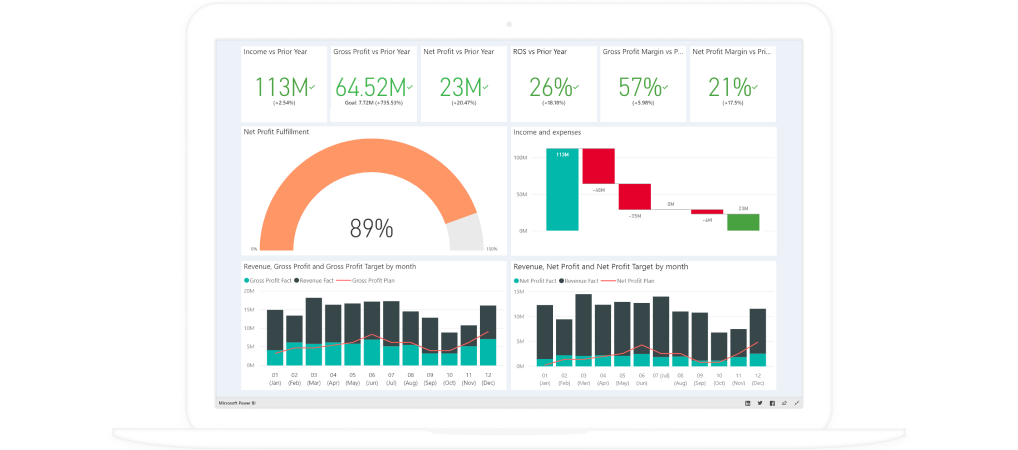 Pricing for Microsoft Business Intelligence Tools
Microsoft has several licensing options for different BI software: it can be billable per user (as in the case with Microsoft Power BI), per core (i.e., Microsoft SQL Server), or per hour (as most of the Azure cloud services).
Being an official reseller of Microsoft licenses and having 16 years of Power BI consulting and implementation practice, ScienceSoft can calculate the pricing of Microsoft BI platform that your particular project needs.
Make Your Microsoft BI Toolkit Shine
Here's the list of implementation stages you'll have to go through to make your Microsoft BI toolkit shine:

1

Mapping your business needs to Microsoft technology stack.

2

Designing a high-level architecture for your analytics solution.

3

Elaborating on implementation and user adoption strategies.

4

Deploying and configuring all the components of the analytics solution. For example, implementing a data warehouse on SQL Server, OLAP cubes on SQL Server Analysis Services and visualization on Power BI.

5

Applying SQL Server Integration Services (or another relevant Microsoft BI tool) to create ETL processes and build up complicated data flaws to ensure proper data integration from multiple sources.

6

Setting up data management practices with SQL Server Data Quality Services.

7

Creating and training machine learning models (if any) using Azure Machine Learning service.

Being a Microsoft Gold partner, ScienceSoft can help you tick all the above mentioned points.

<![endif]--> <![endif]--> <![endif]-->