Data Warehousing Consulting Services
Data warehouse consulting helps consolidate disparate data sources for analytical querying and reporting. Since 2005, ScienceSoft's data warehouse consultants help companies implement a scalable, high-performing data warehouse or upgrade the existing one to optimize its performance and costs.
Data analytics expertise since 1989.
18 years of experience in rendering data warehouse services.
Designing and implementing business intelligence solutions since 2005.
10 years of big data consulting and implementation practice.
Quality-first approach based on a mature ISO 9001-certified quality management system.
ISO 27001-certified security management based on comprehensive policies and processes, advanced security technology, and skilled professionals.
Expertise in 30 industries, including: manufacturing, retail and wholesale, professional services, healthcare, financial services, transportation and logistics, telecommunications, energy.
Heather Owen Nigl
Chief Financial Officer
Alta Resources
We first contacted ScienceSoft to get expert advice on the creation of the centralized analytical solution. After we got a clear project roadmap, we commissioned ScienceSoft to develop a part of the solution, covering invoicing. The system automates data integration from different sources and provides visibility into the invoicing process. We have already engaged ScienceSoft in supporting the solution and would definitely consider ScienceSoft as an IT vendor in the future.

Donat Gaudreau
Electrochemical Cell Design and Test Engineer
Unilia Fuel Cells
We commissioned ScienceSoft to build a flexible database with user interfaces for managing our test data stored as time-based CVS files. ScienceSoft delivered a fully functioning solution regardless of the new requirements that appeared during the project. We are planning to extend the logic of our reports and dashboards and data processing options in our solution, and we'll definitely be considering ScienceSoft as our partner in this initiative.
Maria Zannes
President & CEO
bioAffinity Technologies
bioAffinity Technologies hired ScienceSoft to help in the development of its automated data analysis software for detection of lung cancer using flow cytometry. Our project required a large amount of industry-specific methodology and algorithms to be implemented into our new software connected to EHR/LIS systems, which ScienceSoft's team handled well due to a profound understanding of laboratory software specifics and integrations.
The Financial Times Includes ScienceSoft USA Corporation in the List of the Americas' Fastest-Growing Companies 2023
For the second year in a row, ScienceSoft USA Corporation ranks among 500 American companies with the highest revenue growth. This achievement is the result of our unfailing commitment to provide high-quality IT services and create best-value solutions that meet and even exceed our clients' expectations.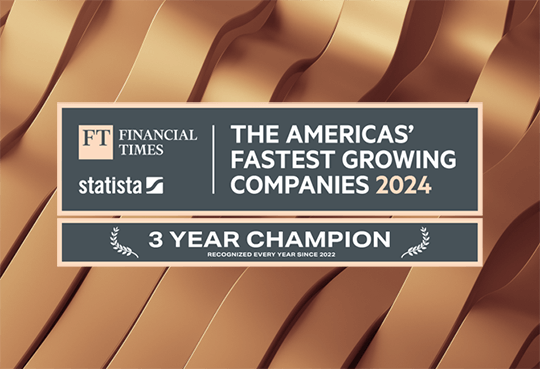 Data warehouse design
Engineered data warehouse requirements.
Business case, recommendations on optimizing data warehouse implementation and operation costs.
Data warehouse solution architecture and selected DWH platform.
Data governance policy and design. Data governance includes:

Data quality
Data availability
Data security

Data model and ETL/ELT design.
Data warehouse development and QA
Customized DWH platform.
Integrated data sources.
ETL/ELT pipelines.
DWH performance testing and DWH launch.
After-launch DWH support.
Data warehouse migration / optimization / evolution
DWH migration / optimization / evolution strategy and plan.
DWH solution redevelopment on a new platform.
Data and metadata transfer to a new data warehouse.
Data completeness and accuracy assessment.
Data administration services: data quality and security rules and policies setup, new data sources integration, ETL/ELT processes adjustment.
DWH performance control: monitoring query performance, data transformations correctness, data availability.
DWH issues resolution.
Highlights of Our Data Warehouse Consulting Services
Multidisciplinary expertise
Our data warehouse consulting team consists of:
Project managers.
BI consultants.
DWH architects.
Data quality experts.
One-to-one sessions with project stakeholders.
Meetings with several or all stakeholders to reconcile conflicting expectations.
Presentations of important project decisions, deliverables, risks or project milestone results.
Cross-departmental workgroups to solve complex problems (e.g., related to data quality, master data management).
Small DWHs or DWHs with simple data sources.
Short-term (up to 4 months) fixed-scope engagements.
Midsize and large data warehouses or data warehouses with complex architecture.
End-to-end DWH consulting.
Data warehouse implementation / migration / optimization consulting
We offer advisory support or complete project management to help you:
Implement a cost-effective DWH solution under set time and budget.
Migrate your legacy DWH solution to the cloud to achieve dynamic scaling of the DWH infrastructure and optimize DWH performance and costs.
Upgrade the existing DWH solution to meet new business needs (e.g., add real-time analytics).
Go for consulting
Data warehouse support and evolution
We help you meet newly arising analytics needs by:
Reducing data latency.
Solving performance and concurrency problems.
Lowering storage and processing costs.
Achieving DWH stability.
Ensuring timely and quality data flow for business users with near-zero DWH downtime.
Go for optimization
How Consulting Helps Reduce Data Warehouse Costs
project time and budget cost reduction due to thorough project management.

less IT staff time to deploy, administer and support a DWH solution due to choosing an optimal DWH platform.

infrastructure costs. No risk of infrastructure overprovisioning due to choosing proper DWH architecture, software, cloud vendor, cloud service configurations, etc.
<![endif]--> <![endif]--> <![endif]-->