Editor's note: Boris talks about several IT recruiting strategies that startups can follow, highlighting the pros and cons of each. And should you be seeking tech help for your startup, ScienceSoft gladly offers assistance with dedicated software development services.
In the IT field for more than 20 years, I've worked with dozens of software startups. While many of them believe that their major sticking point resides in finding sufficient financing, I can confirm that getting right software developers is likewise challenging and important. Bad UX and UI, bugs, and low performance can kill user trust. Missed deadlines result in missed market opportunities. Bad architecture design and supporting documentation will complicate knowledge transfer and hinder hiring new team members in the future. If MVP architecture isn't designed with an eye for growth and evolution, you'll have to rebuild it from scratch when your product starts to scale.
In this article, you'll find a step-by-step guide on finding appropriate software developers to confidently and quickly enter the market with a quality and selling software product.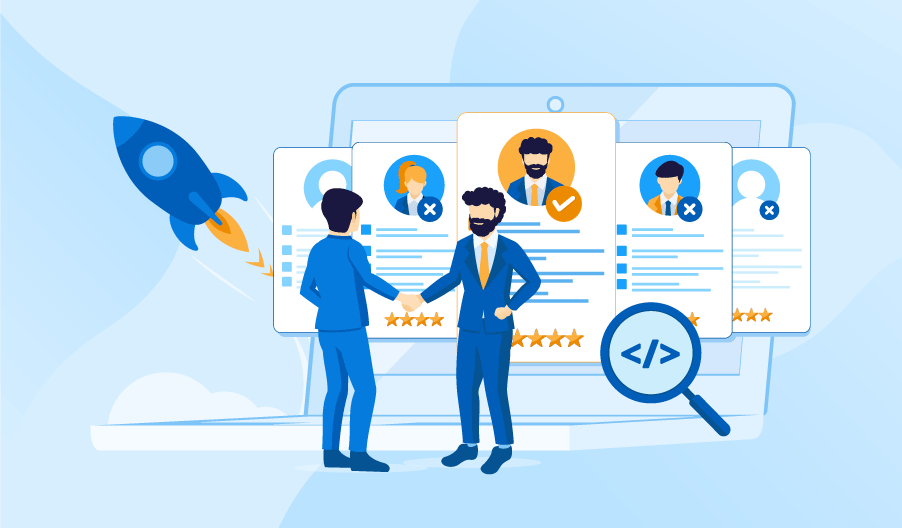 Step 0. Understanding the skills you need
You should come up with a detailed description of your software idea and high-level implementation strategy, and put together a list of software functions you want to realize. Understanding the kind of competencies you're looking for (web, mobile, or desktop developers (what tech stack?), integration engineers, testers, database architects, and more) will make the search much faster. In case you don't have any tech experience on-board and can't decide on what you need, I recommend turning to a professional tech consultancy for help.
Once you decide on the size and capabilities of the future dev team you need to hire, you are to choose the sourcing model to follow: in-house development, outsourced development or hybrid.
In-house team
Growing an in-house software development team brings direct supervision over the development process and team productivity. Fully dedicated in-house talents will be always at your disposal. They are more likely to have and sustain the proper level of involvement and the right understanding of the company, its goals and culture.
However, assembling an in-house team also means:
Higher costs. Besides monthly payrolls, you'll also take responsibility for taxes, training expenses, bonuses, vacations and sick leaves, etc.
Long commitments. You'll have to ensure full-time engagement for a long time, which is not what many startups can guarantee at the start of their journey.
Limited skills. A small in-house team may lack specific competencies needed in case your future application will deal with big data, IoT, machine learning, or advanced architectures (microservices) and DevOps practices will be used in a project. Bringing such expertise on board when it's needed may be time-consuming and not financially effective.
Prolonged project start. You need time to find, train your developers and make them work together as a team.
All hiring and managerial efforts are on your side.
Outsourced development
The two major benefits of outsourced staff reside in much faster launch and reduced costs. Other benefits (as well as bottlenecks) will depend on the outsourcing strategy – freelancers, outstaffing or full-process outsourcing. We'll find out pros and cons of each in more detail further in Step 2.
A hybrid approach
You may hire an in-house CTO and key tech specialists and reinforce them with outsourced software developers to perform the tasks with lower impact or tasks that require specific knowledge.
Going for outsourcing, you should choose an appropriate third-party employment practice.
Freelance developers
The major advantage is lower costs. Still, you may face the following difficulties:
Questionable quality and missed deadlines. You'll have to ensure enough control and strong management.
Usually, freelancers have no experience with large and complex software.
Confidentiality and security issues. Your code and data can be prone to misuse, theft, or loss due to the lack of security in software and equipment of freelance developers.
Finding the right freelance talents can be really time-consuming.
Overall, the option is mostly viable for small projects only.
Outstaffing
Outstaffing providers have a blend of pre-selected tech talents and a wide range of backgrounds at hand. Such companies can offer you professionals separately or as a team with PM, designers, SEO experts, compliancy consultants, and more. Basically, outstaffing gives you the ability to quickly hire professionals experienced in complex systems and latest techs and pay only for work done. They can also offer quick team scaling up and down depending on your demands.
The cons behind outstaffing are:
The delivery concerns and risk management is totally or partially in your responsibility.
You'll have to establish appropriate collaboration channels and resolve possible collaboration difficulties (especially, in case of team augmentation).
Onboarding and managing efforts are also totally or partially on your side.
Full-process outsourcing
An outsourcing vendor assumes full responsibility for the team arrangement and management, quality of the results and related risk management. If you don't have skills, experience or desire to establish and coordinate the development processes and want to stay 100% focused on marketing and strategic initiatives, that's your perfect option. Among startups that evolved into successful companies with leveraging the benefits of outsourced teams are Skype, GitHub, Viber.
The ramp-up is fast since teams are usually pre-assembled by a vendor and their structure is quickly adjusted to your project needs. You get access to a vendor's established development process expertise and best practices. Another strong side of outsourcing is a vendor's responsibility for the quality. High quality of deliverables and timeline alignment is guaranteed by SLA, and penalties can be applied in case of breaching it.
The major drawback of full-process outsourcing:
Higher costs than in other outsourcing models.
After your product gets market validation and builds traction, recruiting and hiring priorities change together with the development strategy. Catering for an increased number of users, their growing needs and expectations will require more complex designs patterns (modular architecture, cloud application), more sophisticated software development and management practices (test automation, cloud computing, DevOps, orchestration, performance engineering and monitoring). You may also consider introducing data analytics, offering 24x7 user support, and more.
Above all, this means that your dev team should possess proved experience in working with large, complex software systems as well as closely connect and collaborate to act in unison consistently. Thus, at this stage, the only viable options are to hire and build a professional in-house team or outsource an already formed team.
Don't kill your product idea with the lack of the right tech expertise
The best hiring model for a startup depends on the combination of many factors: an available budget, timeline, software complexity, previous experience in recruiting and hiring of tech specialists, and more.
In many cases, I think that hiring an experienced outsourcing agency is the best option. They can quickly reinforce the team in number and skill variety on demand, they're experienced in hundreds of projects, they're reliable (established processes and project management, tried and tested KPIs), and more. If you go for a full-process outsourcing, a vendor will take complete responsibility for your development process letting you stay 100% focused on what's at the core of most successful startups - marketing. They can offer flexible cooperation models for each step of your start up life cycle, you can check the example here.
At ScienceSoft, we have a wide service offering for young and ambitious companies, so if you are seeking for a reliable tech partner, drop us a line.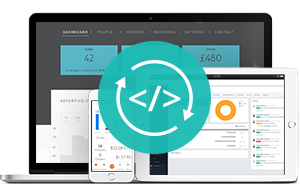 We've already successfully undertaken ~3000 projects. Leverage our all-round software development services – from consulting to support and evolution.