Workflow Manager Add-In for SharePoint and SharePoint Online
What Is Workflow Manager?
Workflow management is one of the most popular tasks SharePoint solutions address. When SharePoint workflows function appropriately, they facilitate business processes making them clear-cut and transparent. But how can you be sure that all your SharePoint workflows operate as intended? To help you get permanent control over all the workflows throughout your enterprise, ScienceSoft created the Workflow Manager add-in for SharePoint and SharePoint Online. The add-in provides a snapshot of all the enabled workflow instances. It allows SharePoint administrators to check workflow statuses and properties, resume and suspend selected workflows and more.
Workflow Manager Features
SharePoint administrators can use the add-in to manage all the active workflows. The add-in enables them to:
See all the lists and workflow instances from the host web.
Filter lists by name.
Filter workflow instances by status.
Resume/suspend workflow instances.
View error notifications.
Investigate workflow instances and get the details about a particular workflow.
How Does It Look like?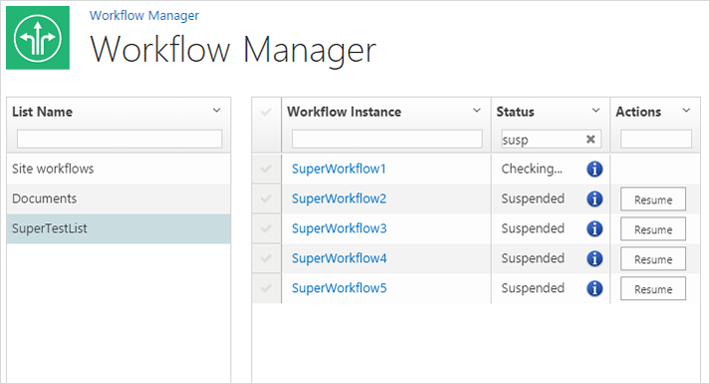 How to Launch the Add-in?
The Workflow Manager add-in is a ready-made solution for SharePoint administrators. Everything you have to do is to purchase the add-in on the Office Store, download it and launch it on your SharePoint site. No additional settings are required. The add-in is compatible with SharePoint 2013, 2016 and SharePoint Online.

We Are Ready to Help

Providing SharePoint consulting services since 2007, our team can help you handle not only SharePoint workflows but also the whole array of SharePoint-related challenges. We are available 24/7.

<![endif]--> <![endif]--> <![endif]-->