InOffice Cakes&Candles Add-In for SharePoint and SharePoint Online
What Is InOffice Cakes&Candles?
Enable your employees to follow their colleagues' birthdays right on their SharePoint intranet with the InOffice Cakes&Candles add-in. The add-in displays personal information (name, job title and date of birth) of users who are going to celebrate their birthdays. With this add-in, employees can congratulate their colleagues and send them a gift (an image) coupled with birthday wishes. When a user receives congratulations, he or she can read them by clicking the notification in the add-in.
How to Get the Add-in?
You can download InOffice Cakes&Candles from the Office Store.
How to Configure the Add-in?
To configure InOffice Cakes&Candles, click the gear icon in the title bar.
1
Choose a list of users from the drop-down list. Note: the list must contain the Person field to store users' names and the DateTime field to store users' birthdays.
2
Choose relevant fields, then set a notification period so that the app announces the upcoming birthday beforehand.
3
Choose a picture library to enable users to select images and send them along with congratulations (optional).
How Does It Look Like?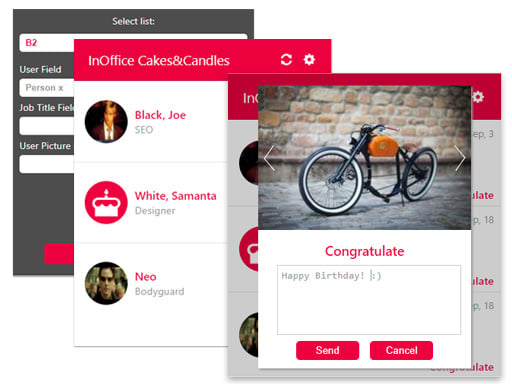 The add-in is available in 4 color themes
How to Add InOffice Cakes&Candles to a SharePoint Page?
To add InOffice Cakes&Candles to a SharePoint page, follow the instructions.
How to Troubleshoot the App?
If the InOffice Cakes&Candles add-in does not display any information about birthdays or the drop-down settings are empty, please go to Site Contents. Click the three dots and choose Permissions. You have to trust the add-in, so click the Here link to update the add-in permissions.

If the app still does not work appropriately, please contact us.

Are You Looking For Assistance?

Your colleagues need your attention and so do your SharePoint solutions. If you have any difficulties while setting or using InOffice Cakes&Candles, please contact our SharePoint development team. We are also ready to help you address various SharePoint-related challenges to improve your current deployments.

<![endif]--> <![endif]--> <![endif]-->