Security Token Offering Development Services
Leverage compliant blockchain-based securities trading
In financial IT since 2005 and in blockchain and cryptotech development since 2020, ScienceSoft provides full-cycle STO development services to help companies design, build, and maintain reliable and cost-efficient STO solutions.
Security token offering (STO) development services help create STO solutions that enable safe and transparent securities trading in compliance with required financial standards and regulations, e.g., SEC regulations, AML/CFT and KYC regulations.
Challenges to Solve with STO Development Services by ScienceSoft
Low liquidity of corporate assets, which results in their low value and small investment attractiveness.
Asset tokenization and support for fractionalized ownership to enhance liquidity of a company's assets, which drives their growth in value and prompts financial investors.
You get
Slow, costly and opaque financing activities due to the presence of middlemen, such as governmental and financial entities.
STO with minimized administrative costs and complete control for token issuers and investors over their digital assets due to eliminated intermediaries.
You get
Limited fundraising opportunities due to inability to attract investors from around the globe.
A decentralized STO issuance platform that provides 24/7 access and a legal framework for international investors to buy security tokens, which facilitates and speeds up fundraising for token issuers.
You get
Inefficient, error-prone manual processing of over-the-counter securities trading transactions.
Tailor-made smart contracts to automate over-the-counter securities trading transactions.
You get
Insufficient protection of securities-related data and transactions.
Robust cybersecurity algorithms to achieve high security of an STO solution and minimize the risk of financial fraud.
You get
Lack of competencies required to develop a reliable STO solution in-house.
Access to the proven technology skills and multi-industry expertise of ScienceSoft's 450+ developers to get a reliable STO solution.
You get
STO Solutions ScienceSoft Delivers
Blockchain-based tokens backed by the underlying tangible and intangible assets that serve as regulated securities.
Protocols that automate execution of pre-programmed rules related to the issuance, distribution and trading of security tokens.
Security token issuance platforms
Decentralized platforms for safe, transparent and legally compliant security token crowdsale and facilitated asset management for token issuers and investors.
Security token exchange platforms
Secure peer-to-peer exchange platforms that enable buying and selling of security tokens on a secondary market in a legally compliant manner.
Why Choose STO Development with ScienceSoft
Since 2020 in enterprise blockchain development and cryptotech.
Since 2005 in financial IT and in-house compliance experts to ensure that an STO solution meets essential banking and finance standards and regulations.
STO developers with 10+ years of experience and proficiency in leading blockchain frameworks: Ethereum, Hyperledger Fabric, Graphene, Parity Substrate, and more.
Since 2003 in cybersecurity to ensure world-class protection of STO solutions.
A mature quality management system and customer data safety backed up by ISO 9001 and ISO 27001 certifications.
The Financial Times Includes ScienceSoft USA Corporation in the List of the Americas' Fastest-Growing Companies 2023
For the second year in a row, ScienceSoft USA Corporation ranks among 500 American companies with the highest revenue growth. This achievement is the result of our unfailing commitment to provide high-quality IT services and create best-value solutions that meet and even exceed our clients' expectations.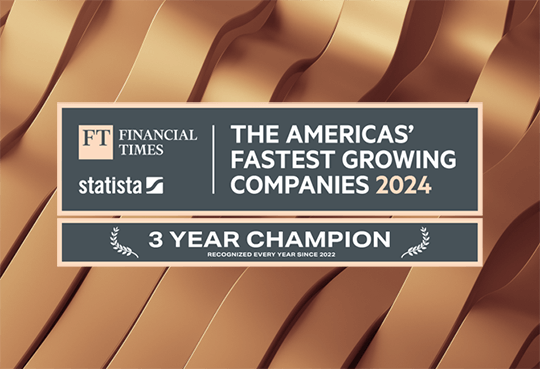 Technologies & Tools We Use
Security Token Offering Development FAQs
What types of security tokens does your STO development company delivers?
We design and develop the following types of security tokens:
Equity tokens that serve as tokenized company shares and provide token holders with equity rights, voting rights, buyback rights, profit sharing rights, and more.
Reserve asset tokens that represent full or partial ownership and certain rights over tangible and intangible assets a company owns, such as real estate, commodities, artworks, intellectual property, etc.
Debt tokens that represent the outstanding liabilities and debts and assure guaranteed payback and profitability to token holders.
How long does it take to implement an STO solution?
ScienceSoft can provide an MVP of an STO issuance platform or an STO exchange platform in 3+ months and consistently grow it to a full-featured solution with major releases every 2-4 weeks. Security tokens and smart contracts development requires 1-4 months on average.
What are the pricing options for STO development services by your company?
Depending on the required kind of service, we offer:
Time & Material, Time & Material with a cap – for advisory activities, agile implementation of an STO solution with frequently changing requirements.
Fixed price – for a feasibility study and PoC development, STO solution implementation divided by stages to fix the price for each stage.
A monthly subscription fee – for STO solution support activities.
How can you ensure the STO solution security and the safety of data it stores?
Our STO development company enforces policies to ensure legitimate user access, confirm transaction validity, and prevent fraudulent and malicious activities. We also devise a strategy to stay compliant with ISO 27001/27002, AML/CTF and KYC regulations, PCI DSS, and other relevant standards and regulations.
Choose Your STO Service Option by ScienceSoft
Security token offering consulting
Analyzing your business needs and eliciting requirements for an STO solution.
Suggesting optimal architecture design and tech stack for STO smart contracts, issuance and exchange platforms.
Providing a detailed feature set for STO issuance and exchange platforms.
Suggesting optimal API integration patterns.
Preparing an integration plan with required software, e.g., an accounting solution, a cryptocurrency wallet.
STO security consulting.
Delivering a roadmap for an STO solution implementation, including a risk mitigation plan and cost & time estimates.
Go for consulting
Security token offering development
Analyzing your STO needs.
STO solution conceptualization.
Architecture design for STO smart contracts, issuance and exchange platforms.
STO solution development.
API development to expand the solution's integration capabilities.
Integrating the STO solution with required software, e.g., an accounting solution, a cryptocurrency wallet.
STO solution quality assurance.
Drawing up user training materials or conducting user training (optionally).
Support and evolution of the STO solution (if required).
Go for development

<![endif]--> <![endif]--> <![endif]-->