Editor's note: Natallia explains why it is worth investing in a virtual hospital by showing the benefits it can bring to healthcare organizations and patients. And if you are interested in implementing a solution or a set of solutions to provide virtual patient observation and care, you're welcome to consider our custom healthcare software development offering.
According to the American Hospital Association, in 2019, about 75% of US hospitals connected with patients and consulting practitioners remotely. A year later, Forrester forecasted that virtual care visits would soar to more than 1 billion by the end of 2020, including 900 million visits related to COVID-19. Today, we see that the demand for virtual hospitals serving patients from any location grows not only due to the epidemiological situation but also as a reaction to the demographic aging of the world's population and the increase in the number of chronic diseases.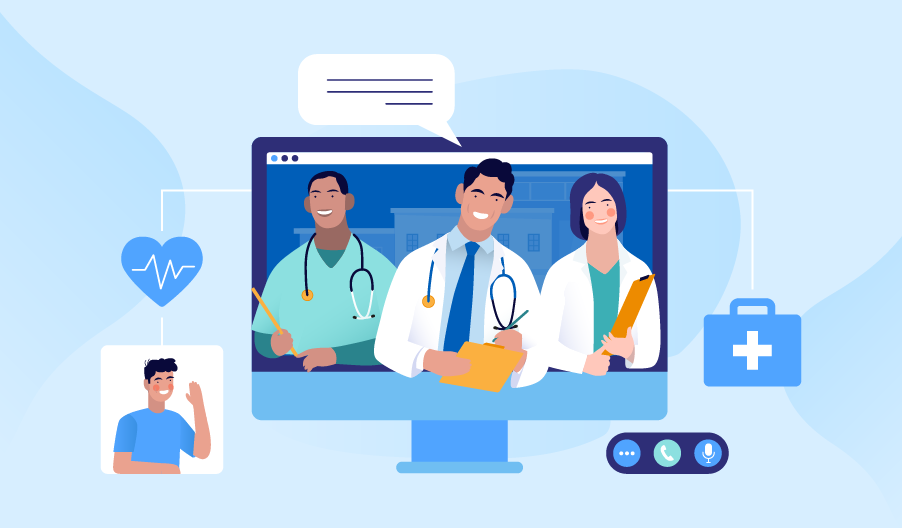 A virtual hospital enables continuous remote patient care supported by IoT, telemedicine, digital therapeutics, and care navigation technologies. Key virtual hospital capabilities include:
Provider-to-patient collaboration

Videoconferencing between a doctor/nurse and a patient.
Quick consultations for patients with a doctor/nurse via a chat or call.
Sharing photos of visual disease symptoms (e.g., a photo of a skin rash) for review and diagnosis.
Remote patient monitoring (e.g., medication intake and diet control).

Provider-to-provider collaboration

Video conferencing to exchange clinical opinions or for training purposes.
Patient data transferring in case of moving a patient from one medical department to another.
Reduced care costs
With the increase of hospital admissions due to COVID-19, hospital assets, from beds to exam gloves, are in high demand, some assets frequently being in short supply. A virtual hospital allows patients who do not need urgent hospitalization to stay at home, thus saving on assets required for examination and treatment. And remote triage, for example, via a video call with a primary care physician, expand access to health care while reducing expensive emergency room visits.
Improved hospital workflow efficiency
The implementation of a virtual hospital is especially suitable for allergy, physiotherapy, mental health and chronic disease divisions, as they generally don't require urgent medical attention. A virtual hospital can help distribute the workload of doctors and nurses to reduce patient waiting times and allow them to monitor more patients at the same time.
Today, there are two types of virtual hospitals: those aimed at treating patients worldwide and those that function as educational centers for students and doctors to improve qualification.
Described as the world's first facility dedicated to telehealth, the Virtual Care Center delivers virtual care services to patients across several US states. The center provides 4 core telehealth programs:
vICU – doctors and nurses remotely monitor patients' vital signs through highly sensitive two-way cameras, IoT and care navigation technologies.
vStroke – patients who come to any emergency department with stroke symptoms can receive an immediate virtual assessment from the center's neurologist using a two-way camera and a patient's electronic health record.
vHospitalists – to support real-time assessment, orders for tests and therapies, management of admissions and transfers.
vEngagement – using biometric monitoring and interactive technologies, the center's team proactively monitors and engages chronic patients (having provided them with a tablet, a blood pressure monitor, a pulse oximeter, and a weight scale).
In March 2020, the COVID-19 pandemic forced the Armidale Hospital emergency department in Australia to open a virtual emergency room for the coronavirus infected. Patients receive a tablet (or install a mobile app on their smartphones) and appropriate devices that match their condition (pulse oximeter, blood pressure monitor, etc.), and regularly attend scheduled e-visits.
It's a healthcare simulation center located in Spain. Simulators include mannequins, actors, part-task trainers and virtual patient models to enable healthcare professionals and students to train safely.
Medical students become virtual interns under physicians' supervision. Virtual training includes, for example, examining a patient with heart disease using different diagnostic devices.
Explore capabilities of virtual hospital techs for your organization!
More and more healthcare organizations adopt virtual hospital techs to enable remote care, increase their patients' and staff's safety during the COVID-19 pandemic, and reduce care costs. With many patients trying to avoid in-person hospital visits today, investing in virtual hospital software can give healthcare organizations a competitive edge over competitors. If you consider transforming your healthcare organization into a virtual hospital, you are welcome to contact ScienceSoft's healthcare IT team for an initial consultation.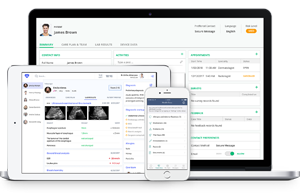 Looking for a solution to your healthcare IT challenge? Our experienced healthcare consultants are here to help.