Custom Telehealth Software for Nursing Care
Architecture, Key Features, Development Steps
Relying on 18 years of experience in healthcare IT, ScienceSoft designs and builds convenient telenursing products and helps healthcare providers implement reliable custom telenursing solutions.
Telenursing Essence
Using telehealth, nursing staff provides remote care, health state monitoring, and consultations on symptoms, disease management, rehabilitation, etc. Telenursing helps mitigate staffing issues and reduce re-admissions by 31% while ensuring continuous patient monitoring and care management.
Custom nursing telehealth software allows nurses to create and modify care plans according to each patient's unique needs. It also enables communication with interdisciplinary teams and ensures that the existing nursing processes and documentation requirements are aligned. Additionally, the software provides advanced analytics and reporting capabilities to assess patient outcomes, monitor KPIs, and identify areas for quality improvement.
Telenursing Market Overview
In 2022, the telemedicine market is estimated at $71.97 billion. By 2032, it is expected to amount to $244.21 billion, growing at a CAGR of 12.9%. The market growth is associated with the increasing prevalence of chronic diseases, support of telehealth initiatives by authorities, and the need to save costs. Telehealth technology for nursing practice has become one of the key telemedicine directions due to the increased number of patients, nursing staff shortage, and work overload.
How Telenursing Works
Architecture
At the core of the telenursing platform, there is a cloud server with a data storage and processing module and a video streaming server. The former collects and handles for patient-related data (e.g., telenursing calls history, contact information, health records), telenursing staff data, images shared by patients and nurses in the app (e.g., photos of wounds), video calls recordings, etc. The latter enables real-time video communication between patients and nurses.
Other key modules of a telenursing solution include:
including such features as nurse video visit scheduling, vitals entry, chat with a nurse, self-help guides, etc.
to view a telenursing staff list, grant app access to patients and nurses, etc. (used by nursing supervisors, nurse practitioners, administrators of home care organizations).
featuring a patient list, patient health history, patient vitals tracker, nurse video visit request scheduling and approval, instant messaging with patients, etc.
A telenursing application can be integrated with EHR/EMR, CRM, hospital information system (HIS), and smart devices for patients, including wearables. Through automation of data collection from these devices, the app empowers a nurse to effortlessly track patients' vitals (e.g., blood glucose level, blood pressure) and continuously monitor their health state in real time.
Preoperative and postoperative patient care
Nurses track patients' vitals using connected devices and guide patients through surgery preparation via video calls. After surgery, nurses assess patient recovery during e-visits and identify complications using photos and wearable device data.
Telenursing helps manage symptoms and track patients' vitals, enhances care plan adherence, and enables nurses to support patients in symptom alleviation remotely.
A telehealth app provides nurses with real-time information about the health state of elderly patients or patients with special needs, and helps coordinate and adjust home care.
Pregnancy monitoring and newborn care
Via telehealth, nurses help patients navigate pregnancy, conduct childbirth preparation courses, and monitor parents' and babies' vitals.
Video calls with a psychiatric nurse help monitor medication adherence, timely identify and alleviate symptoms of mental health disorders, and promote healthy coping mechanisms among patients.
Do You Need a Custom Telenursing App?
To determine whether you should consider implementing a custom-made telenursing solution, answer a few simple questions from ScienceSoft's healthcare IT team.
Do you need a solution that is specialized for your nursing practice? For example, it should follow the workflows of your healthcare organization, be tailored to a specific healthcare field (e.g., geriatric care, mental health, physical therapy).
Do you have a complex IT environment and need the telenursing app to be seamlessly integrated with your other software systems?
Do you need to implement advanced technologies or specialized capabilities? For example, voice recognition, image analysis, AI chatbots for patient support, or specific accessibility features.
Do you want to integrate your telehealth app with medical devices (heart rate monitors, glucose meters, etc.) to enable automated remote patient monitoring?
Should your telehealth app include a multilingual interface and automatic translation of in-app messages?
Tell us more about your needs
Please answer at least one question to help us better understand your business objectives.
A ready-made app will be more cost-effective
An out-of-the-box solution will likely suit your organization's needs just fine. If you need expert guidance to choose and implement the best-fitting telenursing app, don't hesitate to drop us a line.
A custom telenursing app is the best fit!
Based on the needs you shared, it looks like a custom telenursing app is the best option for you. ScienceSoft's healthcare IT experts are ready to help you define the software requirements, design a robust architecture, and fully develop your solution.
Patients join online appointments with a nurse to discuss their health state and test results, get instructions on care and pre-surgical preparation, etc. In case of emergency, patients can also call an on-duty nurse.
Remote patient monitoring
Nurses track and assess patients' vitals (collected by devices like biosensors, glucose meters, etc., or entered manually) and escalate the potential issues to the doctors.
A patient can message a nurse to ask for medical advice (e.g., how to care for an injury) or to be referred to the right specialist.
By exchanging photos and videos with patients, nursing staff checks the healing process, monitors medication side effects, or shares instructions (bandage changing, exercise).
Nurse peer-to-peer support
Via a telenursing app, a nurse can contact an experienced colleague to discuss the unusual symptoms or complications.
Self-help guides for patients
An app can provide access to educational videos, first aid or exercise tutorials, and condition-related lifestyle advice for patients.
See How It Works in Real Life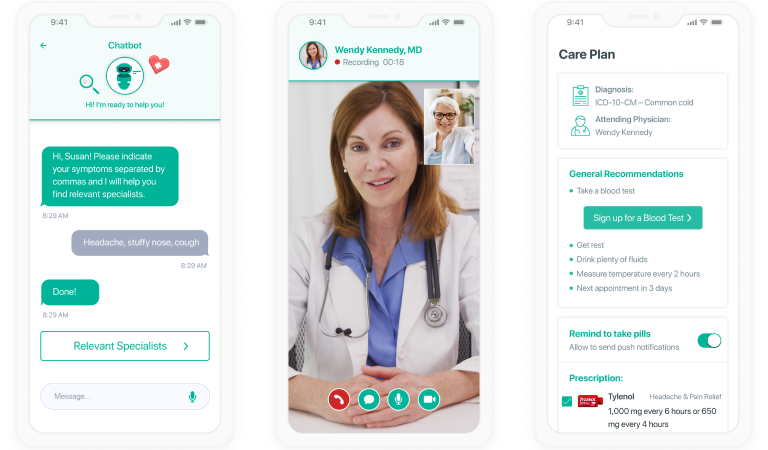 Check Out Our Telehealth App Demo
Explore opportunities that a telehealth app provides to foster continuous and impactful communication between patients and healthcare professionals.
Explore a Telehealth App with Remote Patient Monitoring
In the app demo, we show how the automated collection of health parameters, vitals analysis, and identification of symptom patterns contribute to advanced patient care.
Key Steps to Develop Telenursing Software
In the healthcare IT industry for the past 18 years, ScienceSoft knows how to build efficient telenursing software.
1
Nursing needs assessment and feature set introduction
Our healthcare consultants elicit your unique requirements and define the software's features, such as remote vitals monitoring and secure access to patient health records, and software quality attributes like scalability and usability.
2
Architecture and tech stack selection
Our solution architects choose the appropriate technologies, frameworks, and programming languages.
3
Project planning
We devise a detailed project plan, documentation and communication workflows.
4
Telenursing software development and testing
Our team codes the solution, implementing robust security mechanisms for PHI protection and ensuring full regulatory compliance, validates the software's functionality (e.g., accurate capture and display of nursing assessments and interventions) and other important characteristics.
5
Integration
with other healthcare systems (e.g., EHR/EMR, nursing documentation and call systems) and smart devices (e.g., vital signs monitors, smart beds, and smart IV pumps).
6
Ongoing support and evolution
Including troubleshooting assistance and software updates to adapt to changing nursing practices or healthcare regulations.
Telehealth Nursing Challenges and Solutions
Challenge #1
Using a telenursing app can be challenging for some groups of patients, e.g., elderly patients. Treatment adherence may be hindered by a lack of positive reinforcement.
Check out the solution
Solution
While planning the application, focus on clear and user-friendly UI that won't require additional user training. To verify that the interface is intuitive and easy-to-understand, allocate additional resources for usability testing. To motivate patients to use the app, ScienceSoft suggests implementing gamification techniques and in-app notifications to remind them of scheduled e-visits or regular vitals entry.
Challenge #2
Using a telenursing app can be challenging for some groups of patients, e.g., elderly patients. Treatment adherence may be hindered by a lack of positive reinforcement.
Check out the solution
Solution
HIPAA-compliant clouds (e.g., AWS, Azure) provide a secure environment for building a telenursing application, including EHR data storage in an encrypted database, storage of real-time patient monitoring data in the encrypted form, identity and access management, network and application firewalls, and more.
Real-Life Examples of Telenursing
Do nurses need certifications to provide telehealth care?
American Association of Critical-Care Nurses (AACN) and the American Academy of Ambulatory Care Nursing (AAACN) do not recognize telehealth nursing as a separate nursing practice or subspecialty. In other words, telenursing can be easily implemented into everyday practice because nurses do not need additional certifications to use such apps.
Cost Drivers and Investments
General investment size factors
Complexity and quantity of telenursing app functions (e.g., text chats, videoconferencing, chatbots, connected smart devices, VoIP communication, etc.).
Number and complexity of needed integrations with third-party software (e.g., EHR/EMR, CRM, HIS).
Additional investment size factors
Connected medical devices (glucometers, biosensors, stethoscopes, pulse oximeters, etc.).
Operational costs
Cloud services used in the telenursing app.
Higher bandwidth for quality video consultations.
Based on ScienceSoft's experience, the cost of a telemedicine nursing solution for healthcare providers ranges from $150,000 to $200,000+. Telehealth solutions generally reach 100% ROI in ~6-12 months (depending on the number of telenursing appointments, number of monitored patients, etc.). To develop an advanced telenursing software product, you will need from $250,000 to $300,000+ in investments.
Want to understand the cost of your telehealth software for nursing care?
Calculate the cost
Technologies ScienceSoft Uses to Build Reliable Telenursing Platforms
Telenursing Software by ScienceSoft
ScienceSoft brings in 18 years of experience in healthcare software development to help you implement high-quality software for remote nursing care.
Patrick Pakan
Founder and CEO
AKLOS Health
Thanks to ScienceSoft's practical healthcare IT expertise, we created a musculoskeletal therapy platform that can be fully customized and reflect the needs of each program member. I am excited to see AKLOS Health change the approach to physiotherapy and offer each member a truly bespoke experience that's based in science.

Justin Turner
CTO
Chiron Health
We engaged ScienceSoft to build an Android telehealth app that complements our web-based platform for our patients. They advised and successfully led the way from end to end through the technical challenges and considerations with the development of the app. We have also engaged them to introduce a few enhancements to the app and would certainly consider ScienceSoft as a technology partner in further software development initiatives.
Todd Nilson
MD
HealthPoint Plus
We are thankful for the meticulous and value-driven approach of ScienceSoft's team. They created comprehensive project documentation, feature lists, and worked out thorough recommendations to help us improve the stability and performance of our solution. ScienceSoft's project manager, business analyst, QA and software engineers were always friendly and ready to answer our questions or solve any ad-hoc issues. ScienceSoft proved to be a reliable vendor with a solid healthcare background, and we recommend them to everyone looking for a telehealth software development partner.
View all customer reviews
About ScienceSoft

ScienceSoft is a US-headquartered IT consulting and software development vendor with 34years of experience. Holding ISO 13485 certification and being experienced in the development of HIPAA-compliant software, ScienceSoft develops reliable telemedicine software for various use cases, icluding nursing care.

<![endif]--> <![endif]--> <![endif]-->