Remote Patient Monitoring Software
Architecture, Key Features, Investments
In medical software development since 2005 and in IoT since 2011, ScienceSoft designs and implements remote patient monitoring solutions to enable data-driven patient care.
Remote Patient Monitoring in Brief
Remote patient monitoring (RPM) enables medical staff (physicians, nurses, etc.) to track patients' vitals and overall health state via smart medical devices. RPM solutions automate the monitoring process, help timely spot disease progression, and improve care quality.
Integrations: smart medical devices, EHR/EMR.
Costs: from $200,000 for an RPM solution with general features to $400,000 for an app with an advanced feature set.
Smart connected devices or sensors for patient monitoring
To collect patient vitals (e.g., body temperature, blood pressure, perspiration) and transfer them using connectivity protocols (e.g., Wi-Fi, NFC) to the cloud RPM server for further analytics.
A mobile app enables patients to view their health parameters, log their symptoms, receive alerts on a potential medical device failure, request a video consultation with a physician or a nurse, etc.
To store, process, and analyze transferred medical data, link collected vitals with data from symptom and lifestyle logs and PHI from EHR (e.g., medical history, prescribed medications) to spot changes in patient state and identify their causes.
To provide medical staff (e.g., nurses, care coordinators, advanced practice nurses, physicians) with access to data on patients' health state and alert them on detected abnormalities in patients' vitals (e.g., severe hypoglycemia, prolonged tachycardia) or possible medical device issues.
To manage user role settings for medical staff and patients (e.g., enable or restrict the view of monitoring data), add and confirm virtual appointment requests, update schedules of medical staff, etc.
Real-time patient health and lifestyle tracking
Collecting patient vitals from one or several medical devices (e.g., to detect early symptoms of diseases, track chronic disease management).
Patient log of symptoms (e.g., shiver, nausea, abnormal thirst).
Lifestyle and physical activity log for patients (e.g., sleep time, walked distance) to help identify the cause of symptoms.
Medication intake log for patients.
AI chatbots interviewing patients on recent or potential symptoms.
RPM data analytics and reporting
Analytics of patient vitals against pre-set reference parameters.
Alerts to physicians on abnormal vitals to prioritize care delivery or a consultation.
Alerts to a patient and a caregiver on abnormal vitals.
Identification of trends in patients' symptoms (e.g., to spot medication side effects, disease progression).
Automated generation of RPM reports (for patients and medical staff) showing trends in a patient's health state, abnormal events (e.g., cases of atrial flutter), factors influencing the patient's health (e.g., stress, low physical activity), etc.
In-app dashboards for physicians and patients showing patients' vitals history and real-time measurements, analytics insights, etc.
IoT-based monitoring of RPM devices state and device configuration
Automated integration of an RPM solution with multiple health tracking devices.
Device failure identification in real time (e.g., by spotting unusual activity of a medical device, potential hardware failures).
Alerts on a device failure to patients and medical staff.
Configuration of RPM parameters.
Online communication between patients and physicians
Virtual consultations for patients with chronic diseases and conditions to discuss abnormal vitals, symptoms, adjust a care plan.
Messaging to get non-urgent consultations on new symptoms, medical device operation, etc.
Text-to-speech functionality for visually impaired patients.
Voice control for patients with vision impairments, motor dysfunctions, etc.
User-enabled switch to a large font and high-contrast app design.
Encryption of RPM-collected data, telehealth appointments' recordings, other PHI.
Role-based access for patients, medical staff, RPM admins.
Multi-factor user authentication.
HIPAA and HITECH regulations compliance.
Real-Life Example of RPM Software Delivered by ScienceSoft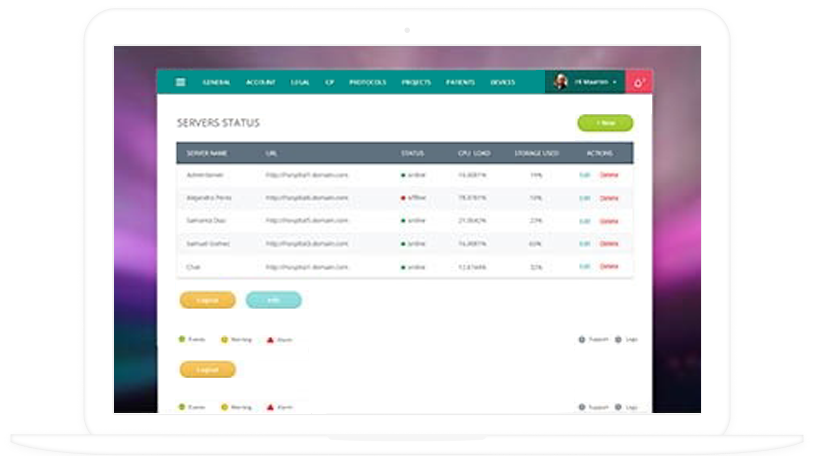 Development of Remote Patient Monitoring Software
5 mobile applications for iOS and Android (central app, communication app, home app, extended care app, "heartbeat" module).
Decreased load on the RPM software due to requests aggregation, data grouping, etc.
The solution won the Best Healthcare Technology Solution Award 2022 from Health Tech Digital.
Technologies: Android, iOS, MySQL, PHP, C/C++, Java, Node.js.
Important Integrations for an RPM Solution
At ScienceSoft, we understand the importance of all-around patient health information. To achieve it, we recommend opting for the following integrations for an RPM solution:
Smart connected patient monitoring devices – to collect patients' health parameters in real time for further analysis, track treatment efficiency.
EHR/EMR system – to access the patient health information (e.g., diagnoses, test results, chronic conditions) for physicians, log online appointments in EHR for the streamlined gathering of billing information, etc.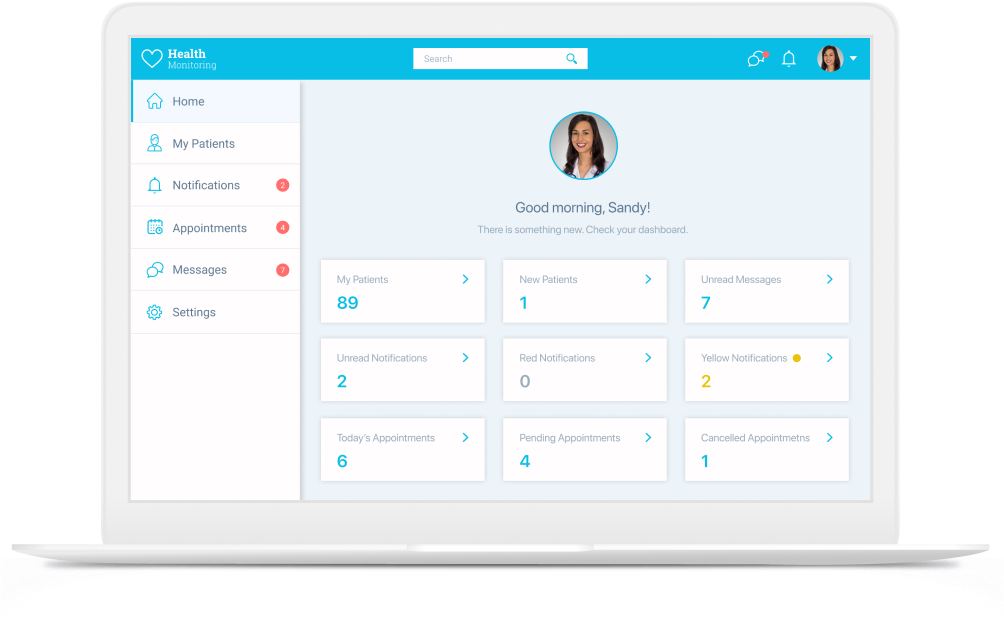 Explore a Demo of a Telehealth-Enabled RPM System
In the app demo, we show how automated vitals collection and analytics and identification of symptom patterns contribute to advanced patient care.
Why Choose ScienceSoft's RPM Software Services
33 years in software development and 17 years in healthcare IT.
ISO 13485, ISO 9001, ISO 27001 certifications.
Knowledge of healthcare standards (HL7, ICD-10, CPT, XDS/XDS-I, etc.).
Experience in FDA/CE registration, HIPAA and HITECH compliant software development.
Doctor of Medicine consultants on board.
9 Microsoft Gold Competencies.
ScienceSoft USA Corporation is listed among The Americas' Fastest-Growing Companies 2022 by Financial Times.
ScienceSoft's RPM solution won the Best Healthcare Technology Solution Award 2022 from Health Tech Digital.
on syncing smart connected medical devices with an RPM application, correct medical devices use to help patients improve the quality of measurements (e.g., the accuracy of blood pressure monitoring).
AI-based care personalization
based on a patient's diagnosis, analytics of collected vitals, logged symptoms, and lifestyle changes.
RPM accessibility compliance
with Section 508 of the Rehabilitation Act and other relevant regulations to help patients navigate through the application's features regardless of their impairments (visual, motor, etc.), level of experience with technology.
How to Get Reimbursement for RPM Services
To get reimbursement from Centers for Medicare & Medicaid Services for remote patient monitoring, ScienceSoft recommends healthcare providers to use these codes:
CPT code 99453 – for providing patients with medical equipment (initial setup) and educating them on how to use it (average payment is about $25).
CPT code 99454 – for every 30 days of supplying a medical device (average payment is about $80).
CPT code 99457 – for 20 minutes per month of remote monitoring of physiologic parameters and live interactive communication.

CPT code 99458 – for additional 20 minutes per month (average payment is about $60).
CPT code 98975 – for Initial setup of remote therapeutic monitoring and patient education.
CPT code 98976 – for every 30 days of supply of devices for monitoring the respiratory system.
Investments for an RPM Solution
The pricing ranges from $200,000 for a general remote patient monitoring system (1 device type; features messaging, alerts, etc.) to $400,000 for a solution with advanced features (e.g., advanced analytics of PGHD). A complex RPM system with multiple types of devices is likely to cost over $400,000.
Key financial benefits
patient care expenses due to reduced complications and improved overall quality of care
of missed appointments due to online care delivery
efficiency of medical staff due to a decreased number of routine patient monitoring tasks (e.g., manual vitals measurement by nurses), optimized schedules of medical staff, etc.
total revenue of a healthcare organization due to improved performance of the organization, new revenue flows after RPM implementation, and incentive payments provided by Centers of Medicare and Medicaid Services
| | |
| --- | --- |
| | ​​​​A wide range of connected medical device types to monitor health parameters, especially if these devices are produced by different manufacturers (buying a full suite of medical devices from one manufacturer can be rather expensive). |
| | ​​​​Solution functionality that fully covers RPM needs of your healthcare organization. In one of our RPM development projects, besides core functionality, we implemented a home app for healthcare services and an application for extended care team to cover all required RPM use cases. |
| | ​​​​Seamless integration with your healthcare software, including legacy solutions and tools. |
Remote patient monitoring software consulting
Our healthcare IT consultants will:
Elicit requirements for your RPM system.
Draw up a list of features for remote patient monitoring software.
Design a high-level architecture of the RPM system, choose a reliable tech stack, help choose monitoring devices.
Plan integrations with FDA-approved monitoring devices and existing healthcare software (e.g., EHR).
Calculate development costs and estimate ROI of the RPM system.
Guide to cybersecurity and regulatory compliance requirements of HIPAA, HITECH regulations.
Get a consultation
Remote patient monitoring software implementation
We will:
Identify business and operational requirements for remote patient monitoring software.
Elaborate on and prioritize features of the RPM system.
Plan app architecture, choose tech stack, design integrations with healthcare IT systems (e.g., EHR).
Map and plan user journeys.
Design intuitive UX and attractive UI of RPM software.
Develop and test RPM software with a focus on regulatory compliance (e.g., with HIPAA, HITECH, FDA regulations).
Support the RPM system after the launch (if required).
Launch my project
ScienceSoft's Customers Say
To develop a mobile application that would enhance a line of Bluetooth-enabled devices for newborn and baby care, we opened an app development tender. ScienceSoft's proof-of-concept was convincing enough for us to further the cooperation. During the project flow we were very pleased by the work of ScienceSoft's business analysts and developers, who demonstrated high level of skills and competence.
Marina Schommer, Chairman & CEO, Montex Swiss AG

About ScienceSoft

ScienceSoft is an international IT consulting and software development company headquartered in McKinney, Texas, USA. We hold ISO 9001, ISO 27001, and ISO 13485 certifications that prove we are well-skilled to develop reliable and secure software for medical devices.

<![endif]--> <![endif]--> <![endif]-->