Medical Apps for Patients
Medical apps for patients are all about engagement in care management, personalized communication with providers, and effortless health monitoring. Since 2005, ScienceSoft designs and delivers all types of patient apps in compliance with HIPAA, FDA, GDPR, and MDR.
ScienceSoft Is a Leader in Healthcare IT Services Market in 2022 SPARK Matrix
ScienceSoft is featured as a leading healthcare IT services provider, along with Athena Health and Oracle Cerner. This achievement is a result of 18 years of tireless pursuit of technological innovation, made possible by ScienceSoft's passionate team of healthcare IT experts who always strive to make a difference for patients and caregivers alike.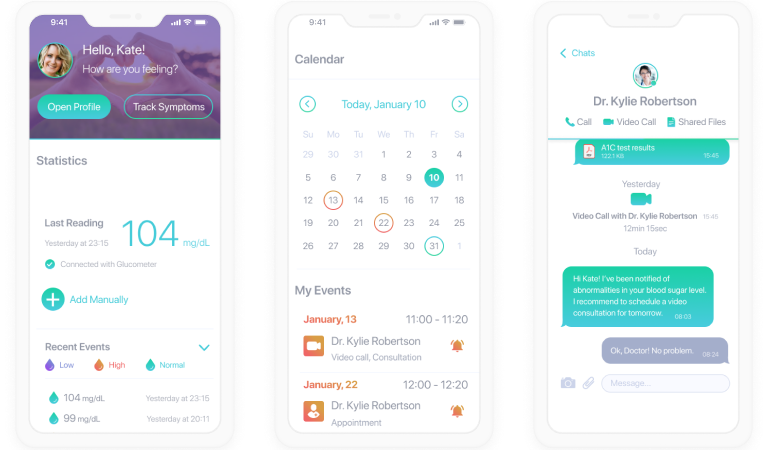 Explore Our Patient App Demo
Take a guided tour of a sample mobile app for diabetic patients to get an idea of how your patient app may look.
Check Out Our Remote Monitoring Telehealth App Demo
Discover how a telemedicine application with remote patient monitoring functionality can facilitate patient care with such features as video appointments, alerts on abnormal health parameters, disease predictions, and more.
18 years of expertise in healthcare and mobile domains
Quality management system for medical devices and SaMD backed by ISO 13485:2016 certification
Knowledge of healthcare standards (e.g., HL7, ICD-10, CPT, XDS/XDS-I)
Research-based user experience and user interface design
Experience with the standards of National Council for Prescription Drug Programs (NCPDP) concerning electronic information exchange (e.g., NCPDP D.0).
Empower patients to actively participate in their health care by taking advantage of:
Access to patient portals
Health education
Search for healthcare professionals
Patient-generated health data trackers, and more
Offer highly convenient remote healthcare services, providing:
Safe video appointments with a doctor/nurse
Doctor/nurse guidance between visits
Remote diagnosing
Vitals and symptoms tracking for gathering detailed information about patients' health
Engage patients with chronic conditions in continuous care and reduce complications and readmissions with the help of:
Notifications on scheduled appointments and lab results
Medication intake scheme and reminders
Vitals and symptoms log
Instructions on nutrition, physical activity, checking vitals, and more
Gamification techniques to increase patient motivation (e.g., goal-setting, badges for results).
Encourage patients to lead a healthy lifestyle with the help of:
Fitness and exercise sessions
Meditation manuals
Nutrition schedules
Nutrition calculators, and more
Make sure nothing gets in the way of patients' medication adherence as they embrace:
Medication plans and intake reminders
Pill identifiers
Medication price and location search
E-prescription, and more
Help patients manage their mental state or fight mental disorders using:
Mood diaries
Addiction trackers
Self-care tips and reminders
Meditation and relaxation manuals, and more
Pre- and postoperative care apps
Lower risks of surgical complications remotely by leveraging an app for:
Pre-surgery or follow-up visits
Preoperative checklists and questionnaires for recovery symptoms
Post-surgery monitoring and physician alerts in case of symptoms or vitals indicating complications
Medication intake scheme and recovery recommendations (nutrition, hydration, wound care)
Support patients in their recovery from illnesses or injuries with:
Follow-up care plans
Rehabilitation journals
Interactive sessions for neurological rehabilitation
Cognitive skills trainers, and more
Reduce costs, improve your clinical trial credibility and get real-life patient data with:
Remote monitoring of disease symptoms or medication side effects
Patient data input via text or video chat, chatbot, or focused patient questionnaires
Image and video capture (e.g., of healing wounds) for further analysis
Trial data analytics
Make patients' hospital stay more comfortable and foster patient engagement in their care management with an app providing:
Patient access to their medical record, lab results, and medical images
Personal care calendar featuring upcoming tests, procedures, rounds schedule, and more
Easy assistance requests (personal hygiene help, wheelchair request, etc.)
Room condition control (e.g., lighting, temperature)
Foster patients' rehabilitation after injuries or surgeries, support chronic diseases management, and provide remote physical therapy in professional sports with:
Online physical therapy sessions
Customizable patient therapy targets for tailored progress monitoring
Therapy sessions and health parameters log
Real-time treatment adjustment suggestions
Streamline the process of scheduling and attending virtual and in-person consultations by offering:
Dynamic search filters for choosing the best provider
In-app interactive calendar
Upcoming visit reminders and notifications of appointment changes
A virtual waiting room
Remote queue monitoring, and more
Haven't found a patient app you need?
ScienceSoft's team worked with over 100 exciting healthcare IT projects and is ready to bring in the tech expertise to implement a competitive patient app of any complexity. Just drop us a line!
Discuss my app idea
Our Happy Customers


Justin Turner
CTO
Chiron Health
We engaged ScienceSoft to build an Android app that complements our web-based platform for our patients. They advised and successfully lead the way from end to end through the technical challenges and considerations with development of the app. We have also engaged them to introduce a few enhancements to the app and would certainly consider ScienceSoft as a technology partner in further software development initiatives.
Todd Nilson
MD
HealthPoint Plus
We were impressed by their code analysis proficiency and in-depth knowledge of telemedicine specifics. ScienceSoft proved to be a reliable vendor with a solid healthcare background, and we recommend them to everyone looking for a telehealth software development partner.
Alexander Riftine
CEO
Intellewave
ScienceSoft designed and developed a native iOS app that offers a quantitative assessment of users' physical fitness. I was impressed with the excellent level of responsibility, communication skills, and mobile competencies of both the management team and developers.
Marina Schommer
Chairman & CEO
Montex Swiss AG
To develop a mobile application that would enhance a line of Bluetooth-enabled devices for newborn and baby care, we opened an app development tender. ScienceSoft's proof-of-concept was convincing enough for us to further the cooperation. During the project flow we were very pleased by the work of ScienceSoft's business analysts and developers, who demonstrated high level of skills and competence.
View all customer reviews
Technical Advantages of ScienceSoft's Apps
Compliance with data integrity and data protection requirements

Our healthcare apps for patients comply with the data integrity and data protection regulations, such as HIPAA and HITECH; industry standard ISO 13485, IEC 62304, and FDA policies. All PHI is encrypted at every point of interaction and securely stored at your servers.

Integration with other healthcare solutions

To make the best of patient apps, we guarantee the smooth integration of the apps' back end with other software via HL7 v.2/v.3 or FHIR. When integrated, any medical app for patients can freely communicate with EHR, EMR and other systems, thus facilitating the work processes of health professionals.

Cross-platform availability

Along with native iOS and Android solutions, we offer healthcare apps for patients developed on Xamarin. Thanks to this robust cross-platform development technology, both the performance and the design of the app remain impeccably native on any mobile platform. Make sure you reach out to all the patients, regardless of the platform they use.
Examples of mHealth Apps ScienceSoft Delivered
ScienceSoft's Tips on How to Make the Most of the Patient App
With 100+ healthcare projects under our belt, ScienceSoft has shaped a winning strategy on how to deliver maximum value for the customers. Сheck our approach below.
Have a clear patient app concept
Design the mobile app with an eye on the end users: you may add features specific to a certain disease, age group, or gender.
Keep an eye on security and compliance from the very start
Identify the regulatory requirements that apply to your app (e.g., HIPAA, GDPR). Then create a compliance and security plan and follow it.
Prioritize application scalability in the early stages
Ensure the app's architecture allows for scaling up without performance and security issues. It's easier to consider scalability from the start than to rearchitecture the app later.
Leverage patient app personalization and engagement techniques like badges for sticking to a healthy habit, competitions between users, games, etc., to achieve better care adherence.
Integrate the app with IT systems or medical devices
Ensure smooth data transfer between your app and relevant IT systems and enable connectivity with the medical and general-use devices that collect useful data for your app (glucometers, smart inhalers, smartwatches, etc.).
Design the interface focused on the patients' needs
Pay attention to an appealing patient app design and self-explanatory navigation. Whether tech-savvy or not, the patients should feel at ease with the app on the first go.
Patient App Services by ScienceSoft
ScienceSoft will help you get insights into the competitors or OOTB alternatives and shape the concept of your patient app. You will have a clear picture of the features, architecture, compliance measures, and development steps.
I'm interested
ScienceSoft will take over the whole patient app project, from tech and UI/UX design to development and integrations. With our expert team, you won't have to worry about compliance, security, and further app support.
I'm interested
Support and evolution of a patient app
When your app is launched, we'll help you proactively monitor its performance, security, and compliance. We are here to support your patient app on L1, L2, and L3 levels and help you add new features as needed.
I'm interested
The Benefits Our Customers Get
Healthcare software product companies
Reduced time-to-market thanks to iterative development

Improved conversion rates, upselling and user retention thanks to professionally designed UX

Easy-to-evolve product due to high-quality architecture and code

Seamless integration with other healthcare software
Easy use of medical devices – without training and manual tuning – and, as a result, improved medical device adoption

Increased patient engagement

Improved medical device development - thanks to the PGHD collected by patient apps

Augmentation of medical device capabilities (e.g., with continuous progress tracking via an app)
Pharmaceutical and research companies
Enhanced communication with patients
Improved medication adherence
Insights into company's product adoption
More personalized offers and increased loyalty
Simplified clinical trial process
Personalized health care
High-quality telemedicine services
Reduced in-person visits and re-admissions
Enhanced health care outcomes
Increased patient engagement
How to Assess The Feasibility of Your Patient App Idea?
Whether you want to launch a product or an internal app, we recommend analyzing the market first to know potential competitors or existing OOTB solutions.
Envisage your patient app
You should have a clear vision of the high-level architecture, tech stack, and feature set of your app to clearly predict the potential expenses and value for your company.
You should calculate the TCO, ROI, and potential business value of your patient app. Then, compare it with your monetization strategy (for products) or using an OOTB solution (for organizations).
Patient App Pricing
When it comes to the patient app cost, the complexity of a feature set is a major factor. On average, the cost varies between $40,000 and $300,000. Here are some examples:
A mobile patient app focused on one functional aspect (e.g., pain/anxiety management, medication intake).
A complex EHR-integrated patient app covering multiple care aspects (e.g., a telemedicine application, mental health app).
A patient app for a medical device (e.g., wellness monitoring, insulin pump management).
A chronic disease management app with top-tier patient engagement techniques.
A digital therapeutics app helping to handle or prevent a certain disease with innovative virtual therapies.
Want to get a tailored cost estimate?
Just answer a few simple questions, and we'll share a patient app price with you.
Get a cost estimate
5 Questions about Patient App Development You May Be Asking Yourself
How long does it take to develop a patient app?
It highly depends on the software functionality scope, the number and complexity of integrations, and the expertise of a project team. At ScienceSoft, we can start working on your patient app within a week and will deliver an MVP within 2–6 months.
Can you develop software as a medical device patient app?
Yes, we can. We are ISO 13485-certified to develop secure SaMD apps and know all the ins and outs of this process. Throughout the project, we will gather all the required project documentation and later help you submit the app to the FDA (according to the FDA 510(k) clearance procedure) or Notified bodies under the MDR.
Do we need to sign a Business Associates Agreement with the development vendor?
US-targeted organizations should sign a BAA with a software development company to comply with the HIPAA. According to the regulatory requirements, a written contract ensures that a business associate will adequately protect ePHI.
How can I reduce the patient app costs?
There are several ways to do so. For example, you can reduce the costs of developing chat and video call functionality by using ready-made services (e.g., Sendbird). If you need to cover iOS and Android devices, you can opt for near-native cross-platform apps instead of developing two native ones. Our business analysts can help you choose the best-fitting options to save costs without compromising on the patient app quality.
Would you sign the NDA before discussing my needs in detail?
Sure, we are ready to sign the NDA within a day and proceed with discussing your unique patient app idea. Don't worry, this agreement does not bind you to sign the development or consulting contract later. We just want you to feel secure when sharing your project needs at the earliest stage.
Do You Need a Custom Patient App?
To determine whether you need a custom patient app, please answer a few quick questions from our healthcare IT consultants.
Do you have complex patient management processes you want to mirror in your patient app?
Do you want to integrate the patient app with multiple data sources, a complex IT environment, or legacy apps?
Do you have stringent compliance and security demands?
Do you need a patient app specialized for a certain health condition?
Do you plan to monitor patients' vitals using connected medical devices or sensors?
Do you want to add advanced functionality to your app? For example, ML-based predictions based on patient's vitals and AI-based therapies.
Tell us more about your needs
Please answer at least one question to help us better understand your business objectives.
It's best to opt for a custom patient app
It seems that a custom patient app is more suitable for your needs. ScienceSoft's team is ready to help you define the necessary features, design a robust architecture, and develop a reliable patient app.
A ready-made app may be the best fit for you

Based on your answers, an off-the-shelf patient app will suit the needs of your organization. ScienceSoft's healthcare IT experts are ready to help you choose the best-fitting app.

<![endif]-->