<![endif]-->
<![endif]-->
Medical Apps for Patients
Bringing in 14 years of experience in medical app development, ScienceSoft delivers patient-focused mHealth solutions that allow systematic care and continuous communication between patients and providers. With our patient apps, you can automate collection of patient-generated health data, introduce telemedicine services, improve health outcomes, and gain a lot more benefits for your practice.
Our Customers Say
We engaged ScienceSoft to build an Android app that complements our web-based platform for our patients. ScienceSoft developers proved themselves to be Android experts. They advised and successfully lead the way from end to end through the technical challenges and considerations with development of the Android app. The estimate and timeline that they committed themselves to at the outset proved to be very accurate.
Justin Turner, CTO, Chiron Health
Patient engagement apps
Empower your patients to actively participate in their health care by taking advantage of:
Access to patient portals
Health education
Search for healthcare professionals
Patient-generated health data trackers
Telemedicine apps
Provide high availability and convenience by offering remote healthcare services, including:
Chronic disease management
Postoperative care
Remote diagnostics
Real-time and/or image-based teleconsultation
Medication apps
Make sure nothing gets in the way of your patients' medication adherence as they embrace:
Medication plans and intake reminders
Pill identifiers
Medication price and location search
E-prescription
Mental health apps
Help your patients manage their mental state or fight mental disorders using:
Mood diaries
Addiction trackers
Self-care tips and reminders
Meditation and relaxation manuals
Rehabilitation apps
Support your patients in their recovery from illnesses or injuries with:
Follow-up care plans
Rehabilitation journals
Interactive physical therapy sessions
Cognitive skills trainers
Wellness apps
Encourage your patients to lead a healthy lifestyle with the help of:
Fitness and exercise sessions
Meditation manuals
Nutrition schedules
Consumption calculators
Our mHealth Portfolio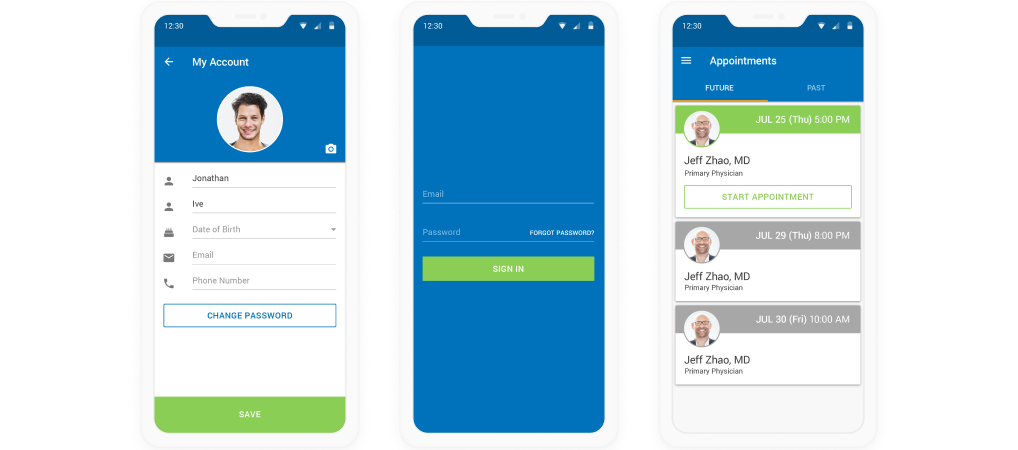 Mobile Telehealth App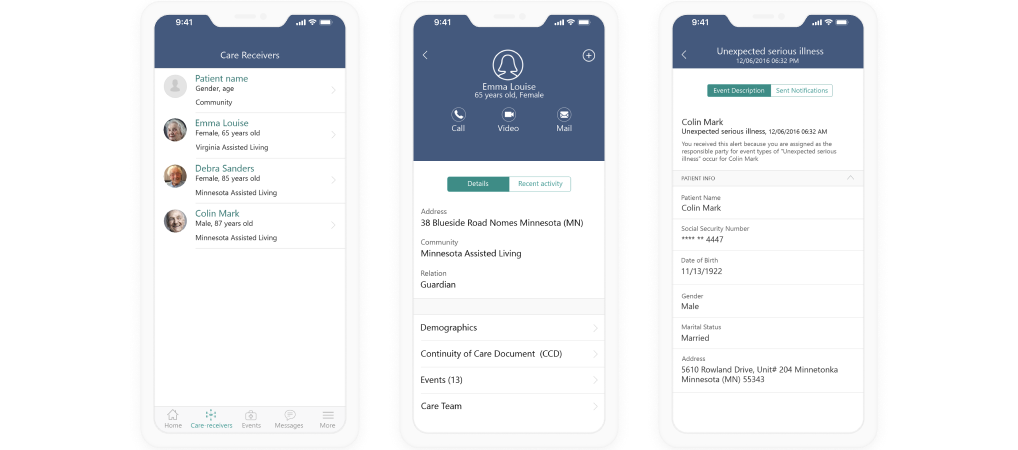 Mobile Care Coordination App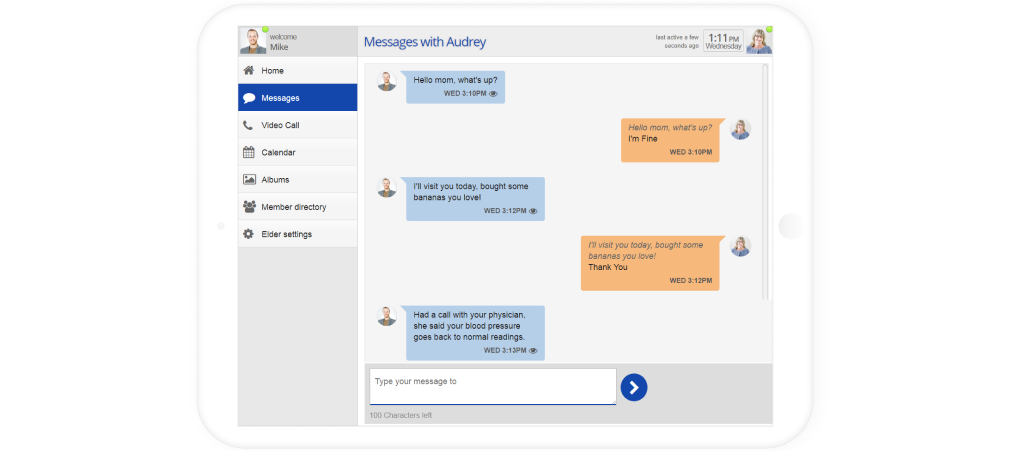 Mobile Communication App for Elderly and Caregivers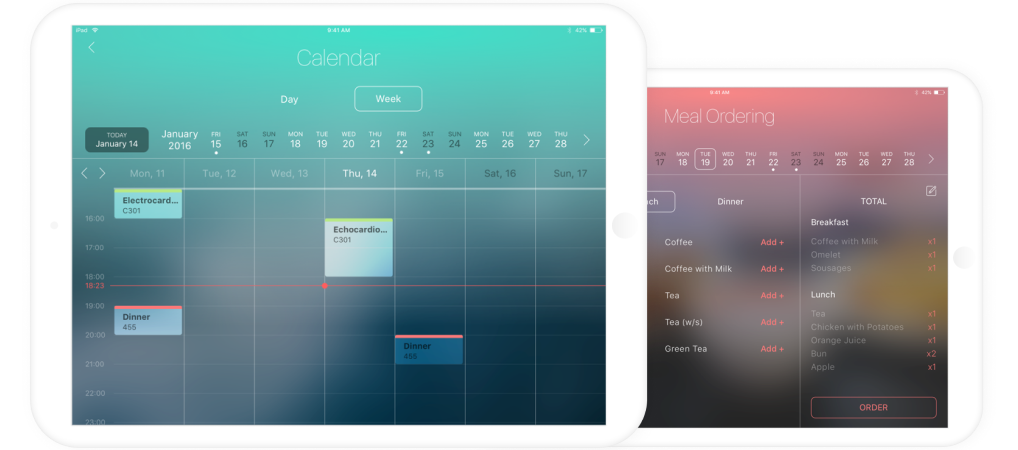 Inpatient Care Mobile App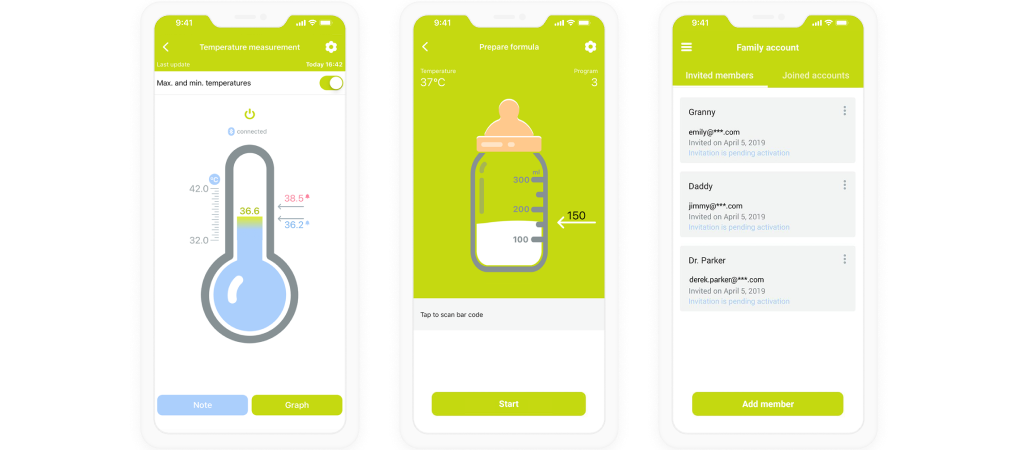 Mobile App for a Smart Baby Care System
THE BENEFITS our customers GET
Healthcare software product companies

Reduced time-to-market thanks to iterative development

Improved conversion rates, upselling and customer retention thanks to professionally designed UX

Easy-to-evolve product due to high-quality architecture and code

Medical device companies

Increased patient engagement

Improved medical device development

–

thanks to the PGHD collected by patient apps

Pharmaceutical companies

Improved medication adherence

Monitor a company's product adoption

More personalized offers and increased loyalty

Healthcare providers

Increased patient engagement

Personalized health care

High-quality telemedicine services

Reduced in-person visits and re-admissions

Enhanced health care outcomes
Our Approach to Creating Patient Apps
Condition-based apps

We don't settle for one-size-fits-all development and create mobile solutions that address certain patient needs. The software feature pack is individual for every app type, corresponding to a specific health condition, such as:

Cancer
Diabetes
Cardiovascular disease
Postoperative recovery
Asthma
Allergies
Mental health, etc.

Two-way communication

We understand the importance of cooperation between patients and healthcare professionals and strive to facilitate it by providing secure data exchange options. Our medical apps for patients allow PGHD sharing, two-way access to nutrition schedules or medication plans, as well as instant communication via audio, video, and text chats. Regardless of the method, the integrity of all PHI is always guaranteed.

User-friendly interface

Each medical app for patients developed by ScienceSoft combines performance, style, and usability. We care about end-users, know their needs, and create apps that have practical value, appealing design, and self-explanatory navigation. No matter how tech-savvy you or your patients are, you will feel at ease with our apps at the first go.

Medical device integration

To allow systematic care and enhance health outcomes, we make sure our patient apps are easy to integrate with all kinds of medical tracking and measuring devices, including:

Instant glucometers and continuous glucose monitors
Blood pressure monitors
Smart thermometers
Fitness and sleep trackers
Smart asthma inhalers
Heart rate monitors
Insulin pumps

Support

If you encounter any challenges while using our healthcare apps for patients, ScienceSoft support team is here to help you round the clock. We value all user input as we are constantly improving our mobile solutions and working on making them more robust.
Why Choose Us
ScienceSoft stands out from the mobile health market by presenting:
14 years of expertise in healthcare and mobile domains
Experience in Health Information Exchange platform development
ISO 13485:2016 and IEC 62304:2006 certified
Knowledge of healthcare standards (e.g., HL7, ICD-10, CPT, XDS/XDS-I)
Research-based user experience and user interface design
No one-size-fits-all approach to software development
Technical Advantages of Our Apps
Compliance with data integrity and data protection requirements

Our healthcare apps for patients comply with the data integrity and data protection regulations, such as HIPAA and HITECH; industry standarts ISO 13485, ISO 27799:2016; and FDA policies. All PHI is encrypted at every point of interaction and securely stored at your servers.

Integration with other healthcare solutions

To make the best of patient apps, we guarantee the smooth integration of the apps' back end with other software via HL7 v.2/v.3 or FHIR. When integrated, any medical app for patients can freely communicate with EHR, EMR and other systems, thus facilitating the work processes of health professionals.

Cross-platform availability

Along with native iOS and Android solutions, we offer healthcare apps for patients developed on Xamarin. Thanks to this robust cross-platform development technology, both the performance and the design of the app remain impeccably native on any mobile platform. Make sure you reach out to all the patients, regardless of the platform they use.
<![endif]--> <![endif]--> <![endif]-->