Virtual Hospital 
Key Aspects
With 17 years of experience in healthcare IT, ScienceSoft offers medical software development and consulting services to help healthcare organizations implement efficient virtual hospital solutions.
Medical Software Development Services
A virtual hospital solution is a way to provide remote hospital-level care and monitoring to patients with communicable (e.g., COVID-19) and non-communicable diseases (e.g., diabetes) using telehealth-based communication, IoT devices, AI for disease patterns identification, and more.
Solution composition:

A patient app, a care team app, an admin web panel, a cloud server.
Key solution integrations: Smart connected devices, EHR, a practice management system.
Key elements of a virtual hospital solution:
A patient app – to schedule and visit virtual appointments, message doctors/nurses to consult about the symptoms, track health state (e.g., vitals and symptoms) and medication intake, view treatment plans, request medication refills, etc. The app can also be used by a patient's caregiver (e.g., a relative) to help better coordinate the care.
An app for the virtual hospital care team (e.g., nurses, general physicians, cardiologists, physical therapists) – to provide online patient consultations, examinations, suggest treatment changes, access and evaluate patients' vitals, tests results, medical images, manage patients' medication, etc.
A video streaming server for real-time audiovisual communication between patients and the virtual hospital care team.
A cloud data storage and processing module for storage of PHIs, consultation recordings, etc., and analysis of patient information (e.g., device-generated data, treatment plans).
An admin web panel (for virtual hospital administrators, etc.) – to manage user access to virtual hospital software, view the list of patients, etc.
ScienceSoft's healthcare IT experts tailor the functionality set to the business needs of each customer. Below, we outline the virtual hospital features often requested by healthcare organizations we work with.
ScienceSoft's Healthcare IT Consultant Alena Nikuliak shares insights:

"The implementation of a virtual hospital is especially suitable for chronic diseases, rehabilitation, and mental health divisions, as they generally don't require urgent medical attention. Using virtual hospital software, the healthcare organization can distribute the workload of doctors and nurses and allow them to monitor more patients at the same time."
Vital Integrations for a Virtual Hospital Solution
To ensure access to cohesive and comprehensive patient information across all apps, ScienceSoft's experts recommend integrating virtual hospital software with all relevant healthcare IT systems. Here are the most common integrations:
Smart medical devices for patients – to provide the virtual hospital care team with real-time data on vitals, medication intake, etc., for disease monitoring.
EHR/EMR – to provide immediate access to a patient's medical history, chronic conditions, allergies, and contact information for the virtual hospital care team, etc.
Practice management system – to facilitate patient's access to the healthcare specialists' schedules, automate patient billing data entering to the system, etc.
Medical imaging software and a laboratory information system – to enable an instant view of a patient's X-rays, CT scans, etc., and lab test results for the care team to decide on treatment adjustment, patient readmission to a hospital, etc.
Leveraging 17 years of experience in healthcare IT, ScienceSoft's consultants identified factors which help maximize patient adoption of a virtual hospital solution leading to a faster ROI.
Patient engagement techniques
to encourage patients to follow the treatment process using notifications on medication intake, upcoming appointments, personalized educational materials on a patient's disease, quizzes on their chronic conditions, achievement badges for thorough symptoms tracking, etc.
Cross-platform compatibility and optimization for mobile devices
to ensure that a virtual hospital patient app can be accessed on various devices (smartphones, tablets, laptops, PCs) and displayed properly on various screens.
Depending on the functionality of virtual hospital software, the costs range from $800,000 (for a solution with RPM functionality, online communication with patients, data analytics of the incoming patients' data) to $3,000,000 (for a large-scale solution with advanced clinical decision support functionality).
Key financial benefits
| | | | |
| --- | --- | --- | --- |
| | Mitigated medical staff shortage due to patient monitoring tasks automation, improved medical specialists' efficiency, optimized schedules. | | Decreased length of postoperative hospital stay and lowered readmission rate due to virtual hospital care and rehabilitation. |
| | Efficient bed allocation and reduced operational expenses per patient due to decreased complications and hospitalizations of remotely monitored patients. | | |
Virtual Hospital Implementation: Success Stories by ScienceSoft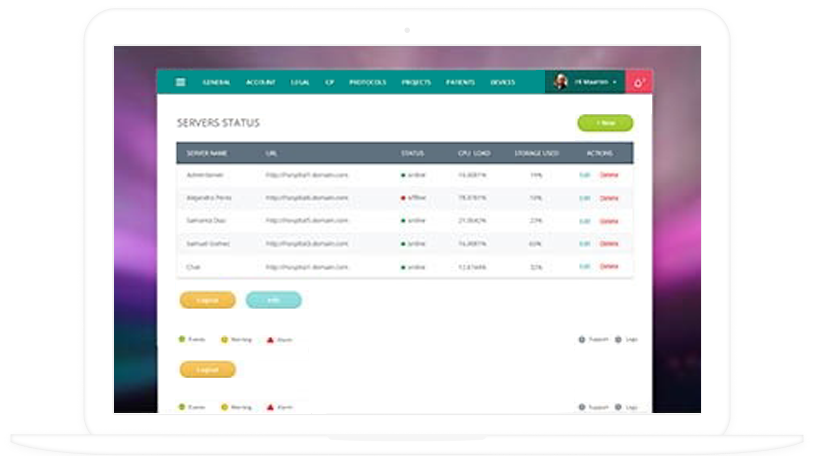 Development of a Remote Care Solution
Customer: A US-based provider of healthcare solutions.
Solution: ScienceSoft delivered a remote patient monitoring and care delivery solution, which aggregated and processed data from multiple Bluetooth sensors (e.g., tracking vitals). The solution included a communication app, a home app for patients, and more.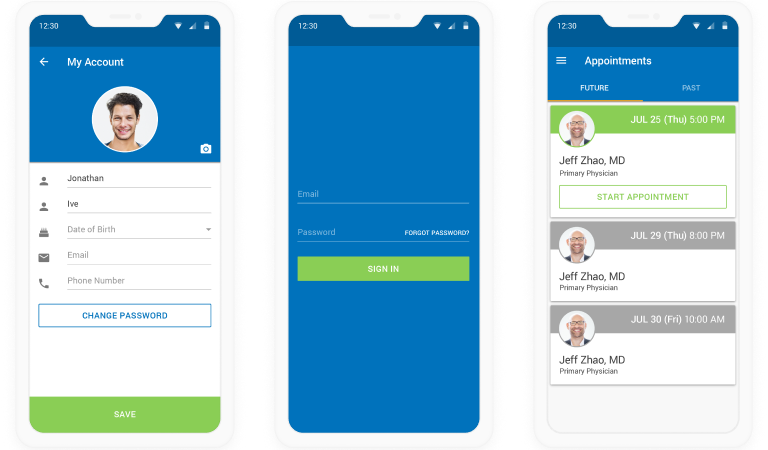 Telehealth App Development for Chiron Health
Customer: A US telemedicine platform, Chiron Health.
Solution: ScienceSoft has developed a HIPAA-compliant Android telehealth app that allows patients to book and attend online appointments with physicians through secure video communication. The app integrates seamlessly with the existing apps (EHR or EMR, RIS, LIS).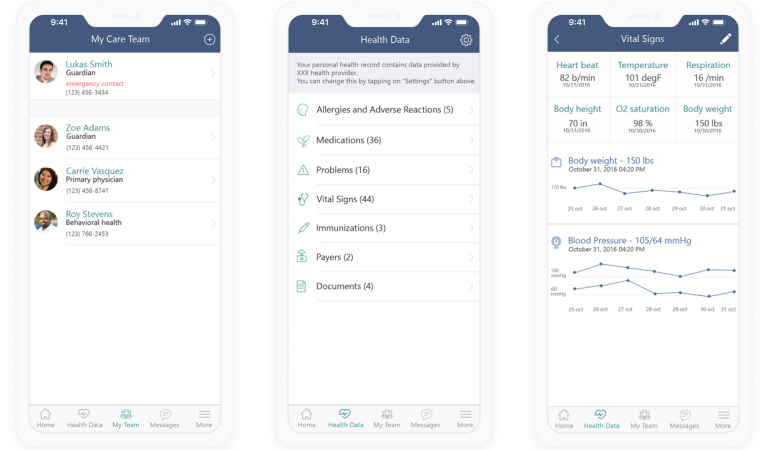 Mobile Care Coordination App Development
Customer: A US leading health information exchange (HIE) vendor.
Solution: ScienceSoft created a mobile care coordination app that creates a continuum of care by connecting patients with their caregivers across organizations and specialties.
ScienceSoft Is Experienced in Delivering Virtual Hospital Functionality
We engaged ScienceSoft to build an Android app that complements our web-based telemedicine platform. The platform allows caregivers to connect with patients for routine follow-ups and similar use cases.

ScienceSoft advised and successfully led the way from end to end through the technical challenges and considerations with development of the Android app. We have also engaged them to introduce a few enhancements to the app and would certainly consider ScienceSoft as a technology partner in further software development initiatives.
Justin Turner, CTO, Chiron Health
ScienceSoft recommends implementing a custom virtual hospital solution if you need to:
| | |
| --- | --- |
| | ​​​​Ensure seamless integration with connected medical devices and required medical software (EHR, medical imaging software, etc.), including legacy solutions. For example, when ScienceSoft developed an Android application for a US telemedicine platform, we ensured smooth integration of the software with the existing management systems (e.g., EHR / EMR, RIS, LIS), and practice workflows (e.g., scheduling). |
| | ​​​​​Get tailored functionality for advanced specialized care you plan to provide via a virtual hospital (e.g., neurological, cardiovascular care). |
| | ​​​​Implement advanced data analytics of virtual hospital patients' data to predict the course of the disease, including potential complications (for treatment improvement and research purposes). In our project for a US leading HIE vendor, ScienceSoft implemented patient data analytics to identify medical risks probability. |
Real-Life Examples of a Virtual Hospital Implementation
The University of New England (Australia) implemented a virtual hospital solution to monitor over 350 patients with moderate Covid-19 symptoms in their homes. This solution helped tackle high patient flow, reduced health risks for medical staff, and prompted the roll-out of virtual hospitals across the country.
Leeds Community Hospital launched a virtual ward providing support and monitoring services up to 40 senior patients a day. As a result, a virtual hospital solution saved nearly 10,000 bed days in 2 years.
With 17 years of experience in healthcare and 11 years in IoT, ScienceSoft can help you bring your virtual hospital solution to life to provide continuous monitoring and treatment of remote patients, optimize hospital bed allocation, and minimize the hospital readmission rate.
Virtual hospital solution consulting
Our healthcare IT consultants will:
Analyze your organization's needs for virtual hospital care delivery.
Suggest, elaborate on, and prioritize virtual hospital features.
Design solution architecture, high-level integrations with relevant healthcare IT systems (e.g., LIS, EHR).
Choose a reliable tech stack for the virtual hospital solution.
Calculate solution development investments and estimate ROI.
Advise on ensuring virtual hospital compliance with HIPAA, HITECH, NCPDP D.0 regulations.
Go for consulting
Implementation of a virtual hospital solution
Our team will:
Elicit your virtual hospital requirements.
Conceptualize the solution.
Suggest, map, and prioritize features of the virtual hospital solution.
Plan solution architecture, tech stack, integrations with healthcare IT systems (e.g., EHR, practice management system).
Map user journeys and design attractive and accessible UI.
Develop and test the virtual hospital solution.
Ensure compliance with HIPAA, HITECH regulations.
Support the virtual hospital solution after the launch (if required).
Go for implementation
About ScienceSoft

Established in 1989, ScienceSoft is an international IT consulting and software development company headquartered in McKinney, Texas, US. ScienceSoft holds ISO 13485 certificate and designs and develops medical software according to the requirements of the FDA and the Council of the European Union. Based on healthcare software development expertise obtained since 2005, ScienceSoft offers virtual hospital consulting and development services to help you leverage the benefits of virtual healthcare delivery.

<![endif]--> <![endif]--> <![endif]-->