Custom Telehealth Software for Mental Health
Sample Architecture, Key Features, and Integrations
In healthcare IT since 2005, ScienceSoft develops custom telehealth software and implements platform-based solutions to help healthcare organizations efficiently deliver remote care.
Telemedicine for Mental Health: the Essence
Telehealth for mental health enables remote interaction between mental health specialists and patients, removing distance barriers, time constraints, and fear of stigma. Patients can book online appointments, including couple, group, and family therapy sessions, reducing the disease exacerbation risk. The availability of remote sessions promotes higher patient satisfaction and retention levels, contributing to better outpatient care.
Custom telepsychiatry software can be especially beneficial for organizations willing to provide patients with personalized, disorder-tailored treatment plans, interactive tools for mental wellness self-monitoring, AI-powered symptom analysis, and more.
Telehealth software for mental health is usually integrated with EHR/EMR, a laboratory information system, and a practice management system to ensure smooth clinical workflows and instant communication.
Sample Architecture of a Telemedicine Solution for Mental Health
A high-level architecture of a telehealth solution for mental care will likely include the following key elements: an admin web panel, a patient app, an app for mental health specialists, a video streaming and messaging server, and a cloud data storage and processing module.
Telemedicine for Mental Health: Key Functionality
Relying on 18 years of experience in the healthcare IT industry, ScienceSoft's experts outline the most commonly requested features of telemedicine for mental health professionals.
See How It Works in Real Life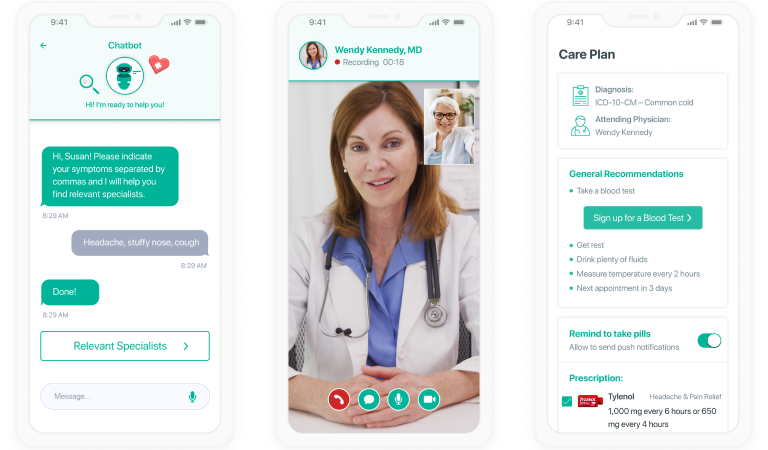 Check Out Our Telehealth App Demo
Explore opportunities that a telehealth app provides to foster continuous and impactful communication between patients and healthcare professionals.
Explore a Telehealth App with Remote Patient Monitoring
In the app demo, we show how the automated collection of health parameters, vitals analysis, and identification of symptom patterns contribute to advanced patient care.
Important Integrations for Telepsychiatry Software
Having implemented over 100 successful healthcare projects, ScienceSoft recommends the following key integrations for your telepsychiatry application:
EHR/EMR system: to provide a mental health specialist with a 360-degree patient view (e.g., information on drug allergies, chronic conditions, past treatments); to log appointments and their results in EHR for billing purposes; to enable ePrescribing features.
Smart medical devices, including wearables: to collect patients' vitals (e.g., heart rate, blood pressure) or lifestyle data (e.g., sleep duration and phases) and send them to the telehealth app server for storage, processing, and identification of abnormal values or trends.
Laboratory information system: to give mental health specialists access to patients' lab test results and monitor the prescribed medications' side effects.
Practice management system: to provide in-app access to mental health professionals' schedules; to implement automation in billing for telemedicine services and streamline accounting.
How to Develop Telepsychiatry Software
Creating telemedicine software specifically tailored for mental health requires careful planning and execution. ScienceSoft adopts a targeted approach to development, ensuring that the solution aligns with the unique needs of mental health practices.
1
Needs assessment: analyzing mental health professionals' specific requirements for remote care; identifying key pain points, challenges, and gaps in the current telepsychiatry landscape; gathering expert and focus group feedback on the popular telepsychiatry solutions; identifying evidence-based therapeutic approaches and assessment tools to integrate into the software.
2
Feature set, architecture, and tech stack design: deciding on the functionality, like secure video conferencing and chat messaging, virtual waiting rooms, and tools for mood tracking; choosing the optimal architecture and techs.
3
Project planning: devising a comprehensive project plan with detailed deliverables, KPIs, milestones, budget, and timeline.
4
UX/UI design: creating an intuitive and accessible interface for mental health professionals and patients; refining the UX/UI design based on the iterative usability testing results and user feedback.
5
Telepsychiatry software development: building the solution's front end and back end with a focus on mental health data security alongside regulatory compliance (e.g., with HIPAA, FDA/CE, CFR 42 Part 2, SAMHSA guidelines).
6
Integration with healthcare systems, mental health tools, and wearables: EHR/EMR, EEG headsets, heart rate monitors, sleep trackers, etc.
7
Testing and quality assurance: validating the software against specific scenarios to guarantee its reliability, ease of use, proper functioning, and seamless integrations.
8
Release into the relevant healthcare infrastructure.
9
Ongoing support and evolution: providing regular software updates to align with evolving mental health regulations and emerging telemedicine trends.
| | |
| --- | --- |
| | Cross-platform compatibility and mobile optimization: to ensure smooth app access and use on various devices (Android or iOS smartphones, tablets, laptops, PCs) regardless of the screen resolution. |
| | 99%+ app availability, high performance, and stability. |
| | User-friendly UX and UI with enhanced accessibility: to make navigation in the app convenient and easy for doctors and patients of any technical proficiency; to make sure the app is suitable for users regardless of their individual abilities (e.g., speech recognition for patients with visual or fine motor skills impairments, a colorblind mode). |
| | Gamification: to sustain patients' motivation (e.g., points and badges in the Goal section to record and track treatment progress). |
Investments and ROI
Key financial benefits of mental telehealth software
in session attendance due to improved patient satisfaction.
in clinical staffing and overhead expenses.
Reduced spending on repeated tests
due to well-established information exchange between a provider and a patient.
The development costs of a custom telepsychiatry solution with virtual consultation capabilities only may vary from $150,000 to $250,000. The price may increase to a range of $250,000-$400,000 when the functionality includes remote patient monitoring. The cost of end-to-end mental health patient engagement software that covers all of the above as well as long-term care and care coordination ranges between $400,000 and $1,000,000. Solutions for telemedicine in psychiatry generally reach 100% ROI in about 6 months.
Want to understand the cost of your telemedicine app for mental health?
Calculate the cost
Off-the-Shelf vs. Custom Telemedicine Software for Mental Health
Custom telehealth software for mental health

Basic telehealth capabilities

?

Audiovisual consultations, treatment plan creation, medication prescription and refill.

General medical functionality

?

Patient vitals tracking; AI-driven diagnostics, analysis across patient cases to find dependencies, voice recognition for medical note-taking; patient progress dashboards.

Limited. Vitals tracking only.

Limited. Vitals tracking; AI-powered patient engagement tools, voice recognition, and a real-time early warning score system.

Limited. Vitals tracking only.

Specialized mental health functionality

?

Mental disorder-specific treatment plans and pre-visit screening questionnaires; self-care features for patients; mental disorder symptom analysis and trigger pattern identification.

Limited. Treatment plans with specialized behavioral health templates only.

Native: with athenaNet (athenahealth EHR), athenahealth's chronic condition management, behavioral health EHR, and remote patient monitoring solutions.

Via API: with EHRs, wearables, popular connected devices (e.g., wireless scales).

Native: with Amwell Connect EHR.

Via API: EHRs (Epic, Cerner, Allscripts, etc.), smart medical devices.

Seamless connection to any required custom and platform-based solutions, including legacy software and smart devices.

Payment and insurance

?

Verifying healthcare insurance or using payment gateways to pay for medical services.

A broad suite of built-in billing tools. Easy payment collection. Medicare, Medicaid, private, and self-funded insurance coverage of medical services.

Extensive payment collection capabilities. Medicare, Medicaid, and private insurance reimbursements.

Self-payments. Private insurance reimbursements for states (29) with telemedicine parity laws only. Limited Medicare and Medicaid coverage.

All possible insurance reimbursements, including self-payments.

Security

?

Based on ScienceSoft's expert assessment.

Main criteria: software deployment type and cloud type (public, private, hybrid); basic cybersecurity mechanisms (end-to-end data encryption, role-based access control, MFA); advanced data protection capabilities (e.g., AI-powered fraud detection); compliance with global security standards.

Regulatory compliance

?

With relevant industry-specific, global, and local standards and regulations.

Compliance with HIPAA, HITECH/ARRA, ACA, ONC, HITRUST, PCI-DSS, HISP, EPCS.

Compliance with HIPAA, GDPR.

Using only HIPAA/HITECH-compliant servers.

Compliance with all required global, regional, and industry-specific regulations (HIPAA, HITECH, ONC, HITRUST, PCI-DSS, FDA, MDR, IVDR, GDPR, etc.).

Web.

Desktop: Mac, Windows.

Mobile: Android, iOS.

Web.

Desktop: Mac, Windows.

Mobile: Android, iOS.

Covers any required platforms, including web, desktop (Mac, Windows, Linux), and mobile (Android, iOS).

Ease of use

?

Based on ScienceSoft's expert assessment.

Main criteria: UX and UI complexity, convenience, and customization options; accessibility; learning curve.

Additional fees: initial setup costs + customization and integration costs.

Upon request to the vendor.

Expect to pay initial setup fees + configuration, customization, and integration fees + licensing fees that depend on the number of software users.

From $50,400

Additional fees: initial setup costs + customization and integration costs.

Unlimited number of users. No additional fees.
Do You Need Custom Telepsychiatry Software?
Answer six quick questions to determine if a custom solution or an off-the-shelf telehealth platform is the best fit for you.
Do you want to introduce SaMD functionality to the app and leverage advanced features? E.g., AI-powered symptom patterns analysis and trigger identification for patient condition management.
Are you going to add in-app treatment plans, including proprietary ones (e.g., interpersonal psychotherapy for binge eating disorder)?
Do you need to integrate the app with other third-party software or your legacy systems?
Are you looking for patient-centric, highly accessible UI/UX design?
Do you operate in multiple states or regions and must comply with a variety of specific regulations?
Is it important for you to get an optimized app that operates equally well on different platforms (e.g., mobile, tablet, laptop, desktop) or outdated hardware?
Tell us more about your needs
Please answer at least one question to help us better understand your business objectives.
A custom telepsychiatry app is the best option for you
It seems you can benefit from a custom telemedicine app for mental health. ScienceSoft's experts will gladly help you elicit the software requirements, design a robust architecture, or develop a full-fledged solution.
You can opt for a ready-made telepsychiatry app
It looks like an off-the-shelf solution will work just fine for your initiative. If you'd like to get professional advice on how to choose and implement the app that will work best for you, just drop us a line.
Success Story by ScienceSoft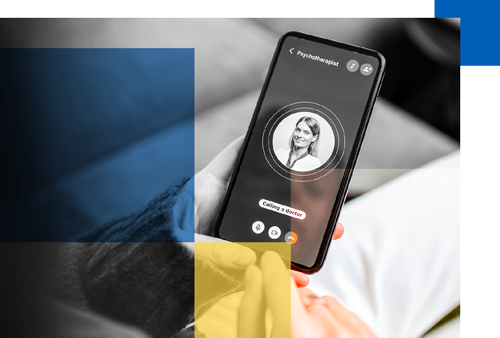 MVP Development of an iOS Telemedicine App for Mental Health
ScienceSoft developed a HIPAA-compliant telemedicine application for a US team of seasoned behavioral specialists. The fully functional MVP enabling appointment scheduling, patient-therapist communication, condition self-management, and in-app payments was released within 4 months.
ScienceSoft's Customers Say
Todd Nilson
MD
HealthPoint Plus
We worked with ScienceSoft on the refactoring and modernization of our telehealth web portal and a cross-platform patient application. During the project, we were impressed by their code analysis proficiency and in-depth knowledge of telemedicine specifics. We are thankful for the meticulous and value-driven approach of ScienceSoft's team. They created comprehensive project documentation, feature lists, and worked out thorough recommendations to help us improve the stability and performance of our solution. ScienceSoft proved to be a reliable vendor with a solid healthcare background.
Patrick Pakan
Founder and CEO
AKLOS Health
I've had six orthopedic surgeries since playing college football and tried every major digital exercise therapy platform on the market. None of them offer the comprehensive and personalized care they claim. Thanks to ScienceSoft's practical healthcare IT expertise, we created a musculoskeletal therapy platform that can be fully customized and reflect the needs of each program member. I am excited to see AKLOS Health change the approach to physiotherapy and offer each member a truly bespoke experience that's based in science.

Justin Turner
CTO
Chiron Health
We engaged ScienceSoft to build an Android telehealth app that complements our web-based platform for our patients. They advised and successfully led the way from end to end through the technical challenges and considerations with the development of the app. We have also engaged them to introduce a few enhancements to the app and would certainly consider ScienceSoft as a technology partner in further software development initiatives.
View all customer reviews
About ScienceSoft

ScienceSoft is a US-headquartered international IT consulting and software development company with 9 years of experience in delivering telemedicine solutions. Being ISO 9001, ISO 27001, and ISO 13485 certified, we help provide high-quality psychiatry telehealth services to digitalize patient care and improve retention.

<![endif]--> <![endif]--> <![endif]-->