Custom Telehealth Apps for Neurology
Architecture, Key Features, Costs, and ROI
In software development since 1989 and in healthcare IT since 2005, ScienceSoft designs and implements HIPAA-compliant telemedicine software, including solutions for neurology.
Telemedicine for Neurology: the Essence
Teleneurology uses audiovisual communication, store-and-forward features, and remote patient monitoring to help patients manage chronic neurological diseases and recover from neurological injuries. Via telehealth, neurologists can conduct patient interviews, cognitive testing, mobility exams, and consult remote emergency care teams on the treatment of acute conditions.
By 2025, the demand for neurologists is expected to exceed the supply by 19%. Teleneurology helps mitigate this issue by optimizing the neurologists' schedules, decreasing the time spent on administrative tasks, and promoting self-management of neurological diseases without compromising the quality of care.
Custom teleneurology software surpasses off-the-shelf solutions thanks to advanced features, such as assisted diagnostics, secure neuroimaging data sharing, and interactive visualizations. Such solutions help neurologists to provide efficient remote consultations resulting in improved diagnostic accuracy, faster treatment decisions, and enhanced patient outcomes.
Conditions That Can Be Treated via Telemedicine
| | | | |
| --- | --- | --- | --- |
| | Cognitive impairments like Alzheimer's disease, dementia. | | Tic disorders (e.g., Tourette syndrome, provisional tic disorder). |
| | Follow-up care for patients after stroke, TIA (transient ischemic attack). | | Myelopathy (cervical, thoracic, lumbar). |
| | Gait abnormalities and balance issues. | | Neuropathy and other neuromuscular conditions. |
| | Movement disorders like Parkinson's disease, tremors. | | Disorders associated with vertigo (blood vessel disorders, multiple sclerosis, etc.). |
| | Epilepsy and seizures management. | | Injury recovery (e.g., after spinal cord, brain injuries). |
The Architecture of a Telehealth Solution for Neurology
The core part of any telehealth solution is a cloud server with a data storage and processing module and a video streaming server. The former enables the collection and handling of patient data, medical staff schedules, self-help knowledge base, appointment recordings, etc. The latter provides real-time video conferencing functionality. Other than that, a typical teleneurology solution would include the following key elements:
Requesting and having online appointments with a neurological care specialist, scheduling therapy sessions and requesting lifestyle counseling.
Tracking symptoms, moods and vitals in the app.
Viewing self-help guides (e.g., on tremor mitigation)
Messaging a doctor for guidance on symptoms alleviation (e.g., tingling), medication side effects management, etc.
For hospital or neurological center supervisors, administrators.
Viewing the list of current app users, managing patient and medical staff access to the telehealth app.
Managing neurologists' schedule.
Adding and updating patient self-help guides, etc.
For neurologists, neurological care nurses, psychologists, physiotherapists, occupational and speech therapists, etc.
Scheduling and conducting online appointments and exams (including mental state, coordination, sensory systems, reflexes, etc.).
Managing patients' treatment plan, medication, schedule physical, speech, and other therapy sessions.
View more
Controlling patients' vitals and symptoms for the recovery process (of post-surgery patients) or disease progression monitoring.
Consulting with other doctors.
Key Features of a Telemedicine Solution for Neurology
Based on ScienceSoft's 18-year experience in healthcare IT, our experts outlined the key teleneurology software functionality requested by our customers.
To help chronic disease patients and neurological staff stay in touch without substantial time expenses, I suggest our customers augment custom teleneurology software with AI chatbots. Chatbots can increase the availability of care by providing informational support, collecting patients' health data and symptoms, and improving patient engagement.
Off-the-Shelf Telehealth Platforms
Some healthcare organizations need to implement a telehealth solution fast, so they opt for an off-the shelf product. Such software offers basic telehealth functionality and isn't tailored to the neurology domain specifics and needs. Here are some popular options:
Patient-to-provider, provider-to-provider, and multi-party video appointments.
Communication via video and phone.
Integration via open standard APIs (FHIR).
Mobile app for on-demand and scheduled virtual appointments.
Guides and videos to train the telehealth team.
Integrations with Epic, athenahealth, custom legacy EHRs.
Scheduling and conducting virtual post-discharge check-ins.
In-built ePrescribe.
Analytics reports on patient recovery.
150 options for workflow customization.
Do You Need a Custom Teleneurology App?
Answer a few short questions and find out whether you should opt for a custom-made teleneurology solution.
Do you need to automate patient assessment by introducing software as a medical device functionality to the teleneurology app? For example, image-based assessment of a patient's balance or limbs' movement range, speech assessment based on the speech recognition technology?
Do you need to add in-app treatment programs that patients can use on their own? For example, attention-improving therapy, anxiety relief treatment, motor skills exercises, memory training, reminiscing therapy?
Do you want to implement AI for patient-facing chatbots and neurological symptoms checkers?
Do you consider adding a rehabilitation module (e.g., using VR)?
Tell us more about your needs
Please answer at least one question to help us better understand your business objectives.
It's better to opt for a ready-made app
It seems that an out-of-the-box solution will work just fine for your initiative. If you'd like to get expert assistance to choose and implement the app that fits you best, just drop us a line.
A custom teleneurology app is the best option for you
It seems you can benefit from a partially or fully custom telehealth app for neurology. ScienceSoft's experts will be glad to help you elicit the software requirements, design a robust architecture, or fully develop your solution.
How to Introduce Telemedicine to The Neurology Practice
1
Analyze the current workflows in the neurology practice, the neurologists' schedules, the most common visit reasons, etc.
2
Learn about the telemedicine reimbursement rules and policies applicable in the region.
3
Create a business case for telemedicine implementation, clearly formulating the desired business goals, financial and time constraints, key success metrics.
4
Partner with a healthcare software development company to create a telehealth app tailored to your practice, or invest in a market-available telemedicine product.
5
Create user guides for patients, neurologists, admins.
6
Appoint a telemedicine program manager, decide on the staff members who will take over the telemedicine schedules update, new users approval, etc.
7
Launch the telemedicine app and train the neurologists to use this tool efficiently.
8
Start a marketing campaign on your website, encourage the neurologists to promote the online care to the patients.
9
Analyze program adoption, software performance, patient and doctor feedback to improve the app.
See How It Works in Real Life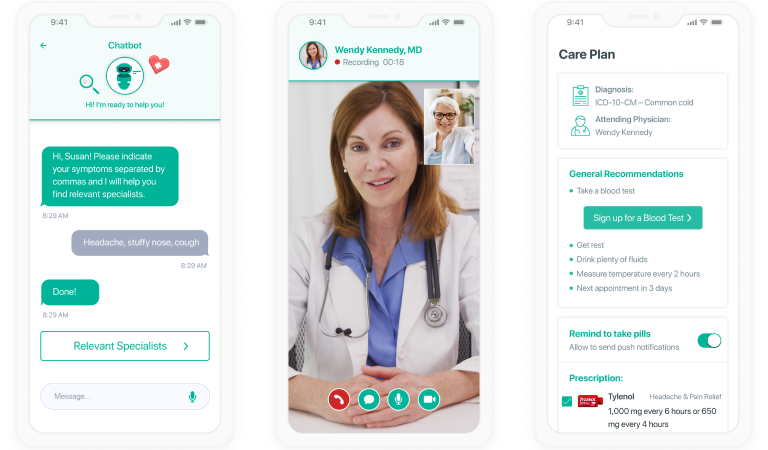 Check Out Our Telehealth App Demo
Explore opportunities that a telehealth app provides to foster continuous and impactful communication between patients and healthcare professionals.
Explore a Telehealth App with Remote Patient Monitoring
In the app demo, we show how the automated collection of health parameters, vitals analysis, and identification of symptom patterns contribute to advanced patient care.
Common Integrations for a Teleneurology App
We recommend integrating the telehealth neurology application with the following medical software and hardware to achieve patient data consistency and integrity for efficient neurological care delivery:
EHR or EMR system – to provide the neurologist with the 360-degree patient view and log the appointments and their results in EHR for billing purposes. Furthermore, multiple integrations can go via EHR: with insurance verification, e-prescribing, accounting and billing software, payment gateway, etc.
Smart devices or sensors – to enable automation in gathering patients' vitals (e.g., measuring a heart rate during rehabilitation sessions, scanning range of joints' movement at routine online appointments) and sending them to the teleneurology app for further storing, analysis, and identification of abnormalities.
Medical imaging software – to provide neurologists with direct access to medical images (e.g., MRI or CT scans) for faster case assessment and, if necessary, neurological surgery planning.
Laboratory information system – to enable neurologists to access patients' test results (blood glucose, general blood analysis, etc.).
How to Build Teleneurology Software
ScienceSoft takes a focused and detail-oriented development approach to ensure that your solution meets the specific needs of neurology practices:
1
Assessing needs and determining key features
Outlining the unique software requirements of your neurological and emergency care teams; identifying core functionalities like remote neurological examination, secure image sharing for neuroimaging, real-time conferencing with high-quality audio and video.
2
Formulating a project plan
Detailing deliverables, KPIs, milestones, budget, and timeline.
3
Developing the frontend and backend
of the teleneurology software utilizing the agile method.
4
Implementing security measures
to protect sensitive patient data: ensuring adherence to industry-specific regulations like HIPAA and HITECH, using encryption protocols for telehealth interactions.
5
Integrating
the software with healthcare systems and remote assessment, monitoring, and neurostimulation devices, e.g., Tele-EEG for epilepsy, DBS for Parkinson's disease.
6
Testing
the teleneurology solution with a focus on functionality, usability, and performance: validating the software's capabilities against neurology-specific scenarios.
7
Deploying the software, providing user training, and ensuring the adoption
of the teleneurology solution.
8
Offering ongoing support and evolution services
Promptly resolving any technical issues, embracing advancements and evolving requirements in the neurological field.
What Determines the Teleneurology App Success
With a portfolio of over 100 successful healthcare IT projects, ScienceSoft gathered the key factors that define the efficiency of teleneurology software:
Simple UI layout, clear interface including voice navigation
to enable patients (e.g., with degraded fine motor skills, short attention span) to use the app and get necessary digital neurological care.
Cross-platform compatibility and mobile optimization
to ensure your teleneurology app can be accessed on various devices (iOS or Android-based smartphones and tablets, laptops, PCs) without disruptions and be properly used by patients regardless of their devices' screen resolution.
Fast response time of the app
for fast loading of the app's elements (e.g., symptoms log, appointments scheduling) to ensure streamlined care delivery.
Challenges of Teleneurology Apps and How ScienceSoft Solves Them
Challenge: Teleneurology apps are an easy target for cyberattacks, and they are under higher risk of fraud, data and compliance breaches.
Cybersecurity is a foundational element of each of ScienceSoft's projects, especially in the healthcare domain. We design secure software architectures, use secure coding practices, follow DevSecOps approach, and perform extensive security testing to eliminate potential software vulnerabilities. We do it with compliance in mind to make sure your teleneurology app follows relevant regulations, including HIPAA, HITECH, GDPR, etc. Plus, ScienceSoft holds ISO 9001, ISO 27001, and ISO 13485 certifications that prove our dedication to software quality and data security management.
Challenge: Users of teleneurology apps may have little experience with technology or struggle to use the software due to hereditary, age- or disease-related impairments.
In our projects, we design tailored UI and UX to match the needs of the end users and implement accessibility features like flexible font sizes, text-to-speech, voice assistance, etc. Moreover, we allocate additional resources to usability testing to make sure that the delivered teleneurology app is intuitive and easy-to-use.
Costs of a telehealth app for neurology start from $150,000 – $200,000 and highly depend on the necessary functionality set. For example, such features as remote patient monitoring enabled by sensors or devices will increase the development costs. On average, a teleneurology application can reach 100% ROI within 6 months.
| | |
| --- | --- |
| Decreased length of patient stay in the hospital, lower care and ancillary costs. According to 2021 Telehealth Survey conducted by American Medical Association, over 44% of clinicians indicate that telehealth decreased the costs of care. | Improved patient and clinician satisfaction and retention. In Massachusetts General Hospital, patient satisfaction rates were above 90% and clinician satisfaction reached 94% after implementing a teleneurology program. |
| Reduced hospital admissions due to continuous health monitoring and early complications identification. | |
Rely on Our Experts to Launch a Teleneurology App
Drawing on 34 years of IT experience, ScienceSoft can help you create an advanced and reliable teleneurology solution that will be appreciated by the patients and physicians alike.
ScienceSoft's Customers Say

Patrick Pakan
Founder and CEO
AKLOS Health
Thanks to ScienceSoft's practical healthcare IT expertise, we created a musculoskeletal therapy platform that can be fully customized and reflect the needs of each program member. I am excited to see AKLOS Health change the approach to physiotherapy and offer each member a truly bespoke experience that's based in science.
Justin Turner
CTO
Chiron Health
We engaged ScienceSoft to build an Android app that complements our web-based platform for our patients. They advised and successfully lead the way from end to end through the technical challenges and considerations with development of the app. We have also engaged them to introduce a few enhancements to the app and would certainly consider ScienceSoft as a technology partner in further software development initiatives.
Todd Nilson
MD
HealthPoint Plus
We are thankful for the meticulous and value-driven approach of ScienceSoft's team. They created comprehensive project documentation, feature lists, and worked out thorough recommendations to help us improve the stability and performance of our solution. ScienceSoft's project manager, business analyst, QA and software engineers were always friendly and ready to answer our questions or solve any ad-hoc issues. ScienceSoft proved to be a reliable vendor with a solid healthcare background, and we recommend them to everyone looking for a telehealth software development partner.
View all customer reviews
About ScienceSoft

ScienceSoft is a US-headquartered international IT consulting and software development company. Delivering healthcare IT solutions for 18 years and being ISO 13485 certified, ScienceSoft has acquired a deep understanding of telemedicine software to provide quality teleneurology application consulting and development services.

<![endif]-->