Telemedicine Software with Integrated EHR
Key Aspects
Relying on 17 years of experience in medical IT, ScienceSoft designs and builds telehealth applications seamlessly integrated with off-the-shelf or custom EHR and EMR systems.
Telemedicine Software Development Services
Telemedicine software with integrated EHR enables remote patient care delivery via audiovisual communication while providing seamless access to patient health data.
Solution benefits: facilitated billing, informed care decisions for improved care quality, automation of routine tasks (e.g., patient data hansling, billing) to enhance workflow efficiency.
Valuable integrations: smart medical devices or biosensors, practice management software, CRM, laboratory information management system, medical imaging software.
Costs: from $150,000 to $400,000.
Generally, ScienceSoft delivers EHR-integrated telehealth solutions containing the following architectural elements:
App for patients to schedule and visit online consultations with medical staff, consult a doctor on new disease symptoms via messages, access a treatment plan, personal health records, etc.
Video streaming server for real-time audiovisual communication between medical staff and patients.
Data storage and processing module for storing recordings of patient-doctor video appointments and messages history, processing and analyzing patient vitals, medication intake log, prescriptions, and more.
Medical staff interface to conduct online appointments, plan and manage patient treatment, check patients' insurance coverage, and more.
Integrated EHR or EMR system for a comprehensive view of patients' medical history (chronic conditions, allergies, etc.), automated logging of visit information in EHR, streamlined billing, and more. Potentially, the EHR system can support the medical staff interface functionality, eliminating the need create a separate interface for the staff.
Admin web panel to enable supervisors, telehealth program administrators, etc., to manage access rights of telehealth software users (patients, physicians, nurses), configure medical staff's telehealth schedules, and more.
When designing the functionality set for an EHR-integrated telehealth solution, ScienceSoft's healthcare IT team reflects specific business needs of a medical organization. Based on our experience, healthcare providers we work with usually request the following features:
Integrations of EHR-connected telemedicine software should enable proper care continuity and improve clinical workflows within the healthcare organization.
ScienceSoft's experts recommend the following direct integration with the telemedicine application:
Smart medical devices or biosensors to collect patients' vitals (e.g., heart rate, body temperature), send them to the telehealth app server for storing and processing.
The following healthcare IT systems can be integrated either directly or via EHR:
Practice management (PM) software to streamline appointment scheduling, simplify patient billing for telehealth services, and healthcare organization accounting.
Customer relationship management software (CRM) to process telehealth appointment requests, provide personalized care recommendations and offerings to promote health and wellness, conducting patient satisfaction surveys, and more.
Laboratory information management system (LIMS) to provide medical staff and patients with access to patients' test results (HbA1c level, common blood count, etc.).
Medical imaging software to provide medical staff and patients with direct access to patients' medical images (e.g., CT scans, ultrasound scans) and help ensure correct diagnosing.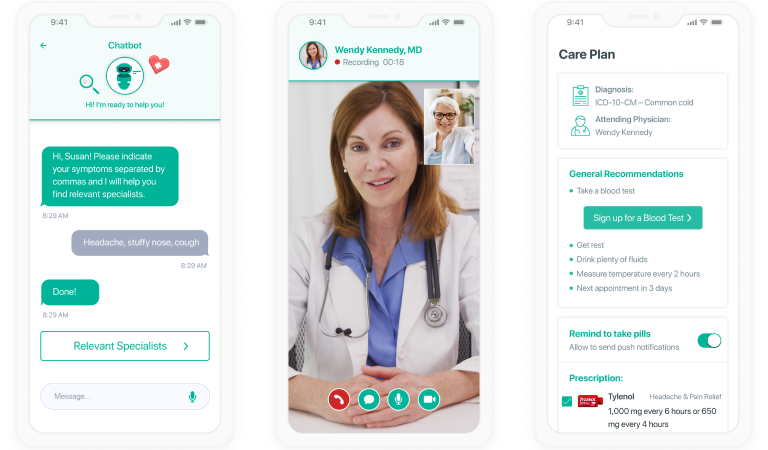 Explore a Demo of an EHR-Integrated Telehealth App
ScienceSoft showcases how a telehealth app with integrated EHR helps foster impactful communication between patients and physicians and simplifies care delivery procedures.
Relying on decades-long experience in healthcare IT, ScienceSoft's experts list key factors that help speed up user adoption of an EHR-integrated telemedicine solution among patients and medical staff and get benefits faster.
Interoperability with other healthcare IT systems (CRM, PM software, etc.) to ensure seamless virtual care workflows.
Cross-platform compatibility and mobile optimization to ensure mobility of medical staff and patients, allow access to the EHR-integrated telemedicine app via various devices (iOS or Android-based smartphones and tablets, laptops, PCs) without disruptions and issues with devices' screen resolution.
User-centered software design to help both expert and novice users (patients, physicians, etc.) navigate through telehealth software without extensive training on software use.
Implementation of EHR-Integrated Telehealth Apps: Success Stories by ScienceSoft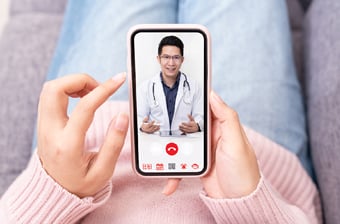 Telehealth Software Design, Development, and EHR Integration
Customer: A US business running several medical practices that provide primary care services.
Solution: Telehealth and practice management software with smooth access to patient information and convenient billing enabled by EHR integration (using data transfer standards like HL7, FHIR).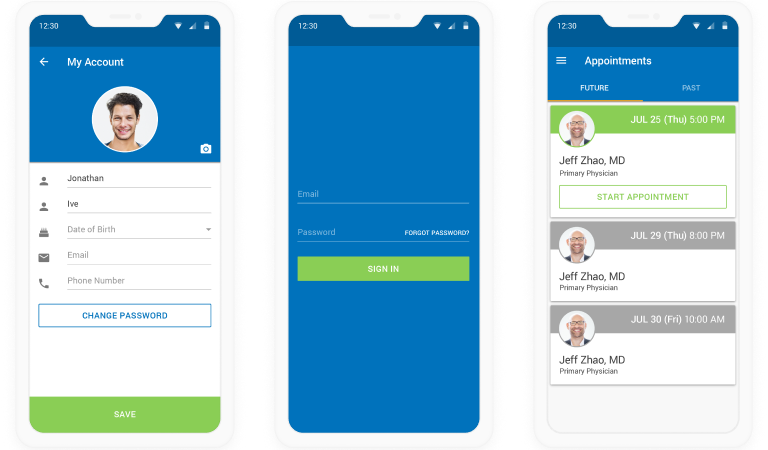 Telehealth App Development for Chiron Health
Customer: Chiron Health, a US telemedicine platform.
Solution: ScienceSoft developed a HIPAA-compliant Android telehealth app for online medical appointments through secure video communication. The app integrates seamlessly with a set of EHR and EMR systems (e.g., athenahealth, CareCloud), RIS, and LIS.
Investments for telehealth software with EHR integration start from $150,000 and highly depend on the desired functionality. Advanced features like AI, clinical decision support, integration with connected devices, complex patient data analytics, etc., may increase the development investments to $250,000. If EHR requires major re-engineering and re-architecting before integration, it may also increase the costs to $400,000.

On average, an EHR-integrated telemedicine application may reach 100% ROI within 6 months.
Key financial outcomes:
Improved efficiency of medical staff due to automation of routine data entry tasks, simplified virtual care workflows, access to accurate information throughout the medical IT systems.
Reduced risks of error when updating patients' records (as there's no need to transfer data to multiple systems manually), prescribing treatment and medications.
Increased patient engagement due to convenient access to personal health data, billing, visit and care plan notifications, etc.
Decreased operational expenses per visit from the healthcare organization's side due to automated EHR data entry and optimized staff schedules.
As demand for EHR-integrated telemedicine solutions grows, some off-the-shelf EHR vendors start complementing their products with software for virtual visits. However, ScienceSoft's experts deem it viable to opt for custom telehealth software and integrate it with EHR if your org:
Has or plans to have custom EHR
If a market-available EHR product doesn't cover the needs or specifics of your healthcare organization, it's viable to choose custom EHR with a set of tailored features. Then, if you want to introduce telehealth, we also recommend opting for custom telehealth software for a simplified integration process and made-to-measure functionality for remote patient care.
Needs a multi-purpose telehealth solution
Based on the healthcare org's business needs, it may be feasible to combine a telehealth solution with other IT systems (e.g., a patient portal, a practice management system, a physician portal).
Wants to leverage advanced techs
EHR-integrated telehealth software enriched with technologies like AI patient chatbots, data analytics, blockchain, voice recognition, text-to-speech, etc., significantly improves administrative processes efficiency, medical staff productivity, patient data security, and overall care quality.
Having delivered 100+ successful IT projects for the healthcare industry, ScienceSoft is ready to put the acquired expertise to practice and deliver an EHR-integrated telehealth system for optimized patient care and records management.
Consulting services on telehealth software integrated with EHR
What we do:
Elicit requirements for EHR-integrated telehealth software and plan its features.
Create a high-level architecture design, plan integrations with EHR and other required IT solutions (e.g., practice management software).
Select a reliable tech stack.
Estimate development investments, ROI, and payback period.
Design a risk mitigation plan for telehealth software with integrated EHR.
Map regulatory compliance requirements (e.g., HIPAA, HITECH regulations).
Go for consulting
EHR-integrated telehealth software development
Our experts will:
Gather business and operational requirements for EHR-integrated telehealth software.
Create a list of telehealth software features.
Plan the architecture of telehealth software and design integrations with EHR and other healthcare IT systems.
Design convenient UX and sleek UI.
Develop and test telehealth app software with integrated EHR.
Help comply with all relevant regulations (e.g., HIPAA, HITECH, MACRA).
Go for development
ScienceSoft as a Reliable Provider of EHR-Integrated Telemedicine Software
We engaged ScienceSoft to build an Android app that complements our web-based telemedicine platform. The platform allows caregivers to connect with patients for routine follow-ups and similar use cases.

ScienceSoft advised and successfully led the way from end to end through the technical challenges and considerations with development of the EHR-integrated Android app. We have also engaged them to introduce a few enhancements to the app and would certainly consider ScienceSoft as a technology partner in further software development initiatives.
Justin Turner, CTO, Chiron Health
About ScienceSoft

Founded in 1989, ScienceSoft is a US-headquartered international IT consulting and software development company. With 17 years of experience in medical IT and the ISO 13485 certified quality management system, ScienceSoft is ready to deliver efficient telemedicine solutions that smoothly communicate with EHR and other healthcare IT systems.

<![endif]--> <![endif]--> <![endif]-->