Medical Device Software Development Services
ScienceSoft relies on 18 years of experience in healthcare IT to design and build secure SaMD and software for medical devices. Our medical device software development skills are backed up by ISO 13485 certification.
ScienceSoft Is a Leader in Healthcare IT Services Market in 2022 SPARK Matrix
ScienceSoft is featured as a leading healthcare IT services provider, along with Athena Health and Oracle Cerner. This achievement is a result of 18 years of tireless pursuit of technological innovation, made possible by ScienceSoft's passionate team of healthcare IT experts who always strive to make a difference for patients and caregivers alike.
During our cooperation, ScienceSoft proved to have vast expertise in Healthcare and Life Science industries related to the development of desktop software connected to laboratory equipment, mobile application, and data analytics platform. They bring top-quality talents and deep knowledge of IT technologies and approaches in accordance with ISO 13485 and IEC 62304 standards.
Sergey Shleev, Prof. Dr. Department of Biomedical Science, Malmö University
What Makes ScienceSoft a Reliable Tech Partner
Medical device software development company with 34 years in IT and 18 years in healthcare domain.
ISO 13485, ISO 9001, and ISO 27001 certifications.
Knowledge of healthcare standards (HL7, ICD-10, CPT, XDS/XDS-I, etc.).
Experience in FDA registration and CE marking, HIPAA and HITECH-compliant software development for medical devices.
Field-tested healthcare software quality management and security management approach.
Doctor of Medicine healthcare IT consultants on board.
Microsoft partner since 2008.
International software development company with HQ in Texas, US, and offices in Europe and the Middle East.
ScienceSoft's RPM solution won the Best Healthcare Technology Solution Award 2022 from Health Tech Digital.
ScienceSoft became a finalist for the Health Tech Award 2022 with its laboratory diagnostics software and the HTN Now Awards 2023 in the Excellence in Remote Patient Monitoring category.
ScienceSoft received the 2023 North American Enabling Technology Leadership Award in the medical devices connectivity industry from Frost & Sullivan.
Whom We Serve
Medical device manufacturers
Healthcare software product companies and startups
Healthcare organizations and facilities
Pharmaceutical companies
Education and research centers
Healthcare NGOs
Medical Device Software ScienceSoft Delivers
Software for medical devices
Target medical devices (including wearable and implanted devices):
Class II devices – medium-risk medical devices (CT scanners, wearable glucose monitors, blood pressure monitors, wearable ECG sensors, etc.).
Class III devices – high-risk medical devices (pacemakers, cardioverter-defibrillators, deep-brain stimulators, etc.).
Sample use cases:
Remote monitoring of patients with chronic diseases (e.g., COPD, diabetes, cardiovascular, neurological conditions).
Remote patient care delivery via smart therapeutic devices (e.g., insulin pens, smart inhalers).
Early disease diagnostics using medical devices or sensors, data analytics, AI/ML.
Medication intake monitoring (using smart pill bottles, etc.).
Hospital conditions monitoring and adjusting.
Software as a Medical Device (SaMD)
Target devices:
Smartphones, tablets.
PCs, laptops.
Smartwatches and wearable fitness trackers.
Smart TV.
Sample use cases:
AI-based disease treatment and patient care planning.
ML-based drug prescription recommendation system for doctors.
Drug dosage calculation.
Medical image viewing (DICOM viewer).
Disease diagnosing via image recognition (e.g., for stroke type identification, brain tumor localization).
Direct disease management (e.g., sleep apnea episode identification, sound therapy for tinnitus patients, reminiscence therapy for patients with Alzheimer's disease).
Most Requested Modules for Medical Device Software
On-the-go access to medical device software or SaMD data helps ease the work of healthcare professionals or the disease management for the patients.
Using AI and ML, the medical device software uses data from connected devices to identify patient trends and predict the course of the disease, detect hazardous symptoms at an early stage, assess medication efficiency, etc.
Cloud-connected devices (e.g., glucose monitors, pacemakers, smart inhalers) transmit patient vitals, diagnostics, and treatment data to the cloud platform for analytics. Cloud platform enables management of the connected devices (e.g., device failure identification, parameters configuration).
IoT-based medical device tracking
Complex medical equipment and devices are tracked to identify their locations, ensure proper device disinfection and sanitation, decrease device search time, and provide remote maintenance.
Real-time health monitoring
To automate the hospital workflows and motivate patients to manage their health, the medical device software collects, stores, and analyzes patient health information (e.g., blood glucose level, sleep data).
Haven't found the functional module you need?
Share your vision with us and let us create a unique medical device solution for you.
Discuss with Experts
Our Medical Device Software Development Processes
1
Needs elicitation, requirements gathering, and specification approval
We discuss the relevant needs and the idea of medical device software with key stakeholders on your side to coin the software concept, identify and prioritize software requirements. Then, we create a detailed specification of medical device software, analyze software risks and create a risk management plan.
2
Medical device software engineering
We create a reliable and scalable architecture (e.g., N-tier, SOA) for your medical device software that allows adding new modules/device types with little to no rework. Our architects ensure system configurability, clear module interfaces, and good encapsulation of every module.
3
UX/UI design of medical device software
We conduct UX research, design user scenarios, and map comprehensive user journeys. Sleek medical device software UI enables fast and easy software adoption by all age groups regardless of their tech-savviness.
4
Medical device software development
When developing medical device software, ScienceSoft's team guarantees:
Cross-platform development to cater to multiple operating systems.
Seamless integration with healthcare software (EHR, ADT) via HL7 v.3 or FHIR.
Smart methodology choice: Waterfall – full-fledged version delivered in one iteration; Iterative (Agile, Scrum) – MVP delivery with updates every 2-4 weeks.
5
Quality assurance
6
Premarket submission
To meet the requirements of the FDA and the Council of the European Union and ensure software safety, we provide:
Development services according to ISO 13485, IEC 62304, and IEC 82304-1.
Detailed documentation (e.g., Design History File) for FDA 510 (k) premarket notification, CE marking, HIPAA compliance audits, etc.
HIPAA/GDPR risk assessment.
Guidance through FDA/CE/MDR/IVDR submission process.
7
Integration with smart devices (wearable and non-wearable, medical or general-purpose)
We enable smooth interaction of the software with devices and guarantee:
Stable communication with the IoMT system (e.g., for remote patient monitoring).
Comprehensive analytics of patient-generated health data collected by devices.
8
Medical device software support and evolution
If required, we provide medical device software support, manage the performance and security of your software, perform routine software administration tasks, and help your medical device software evolve further.
Should you consider cloud-based integration for your medical device software?
Along with effectively enabling communication of medical devices with healthcare software, implementation of data analytics, and predictive device maintenance, cloud integration is highly secure. Cloud providers (AWS, Microsoft Azure) comply with HIPAA requirements and guarantee the security of stored PHI.
To further enhance safety, ScienceSoft ensures data anonymization and encryption as well as conducts regular vulnerability assessment and penetration testing.
Explore ScienceSoft's Selected Projects
Technologies ScienceSoft Uses
Advanced Technologies We Are Experienced In
Click on the cards below to learn more about ScienceSoft's skills in trending technologies.
Costs of Medical Device Software Development
Based on ScienceSoft's experience in healthcare IT, building custom medical device software may cost around $200,000–$400,000+.
Major factors that affect the development budget and timelines are:
The medical device software solution's functional scope.
The number and complexity of integrations with healthcare devices.
Performance, scalability, security, and compliance requirements for the software.
The required development scope (PoC, MVP, a fully-featured solution).
Sourcing model and team composition.
(for outsourced development) A vendor's service pricing model.
Pricing Options ScienceSoft Offers
We pre-agree on the fixed quote and the payments are bound to the project's milestones. This model is best for medical device software projects with no expected changes.
Monthly, we issue a report on the completed tasks and charge you in accordance with the progress made. This option is optimal if the project scope is prone to requirement changes.
Time and Materials with a cap (T&M NTE)
As in T&M, we charge you an hourly rate of outsourced specialists for the time spent on medical device software development every month. Yet, there is a fixed maximum total charge.
What Our Customers Appreciate about ScienceSoft

Maria Zannes
President & CEO
bioAffinity Technologies
bioAffinity Technologies hired ScienceSoft to help in the development of its automated data analysis software for detection of lung cancer using flow cytometry. Our project required a large amount of industry specific methodology and algorithms to be implemented into our new software connected to EHR/LIS systems, which the team handled well. They are reliable, thorough, smart, available, extremely good communicators and very friendly.
Marina Schommer
Chairman & CEO
Montex Swiss AG
To develop a mobile application that would enhance a line of Bluetooth-enabled devices for newborn and baby care, we opened an app development tender. ScienceSoft's proof-of-concept was convincing enough for us to further the cooperation. During the project flow we were very pleased by the work of ScienceSoft's business analysts and developers, who demonstrated high level of skills and competence.
Alexander Riftine
CEO
Intellewave
ScienceSoft designed and developed a native iOS app that offers a quantitative assessment of users' physical fitness. I was impressed with the excellent level of responsibility, communication skills, and mobile competencies of both the management team and developers.
View all customer reviews
The Financial Times Includes ScienceSoft USA Corporation in the List of the Americas' Fastest-Growing Companies 2023
For the second year in a row, ScienceSoft USA Corporation ranks among 500 American companies with the highest revenue growth. This achievement is the result of our unfailing commitment to provide high-quality IT services and create best-value solutions that meet and even exceed our clients' expectations.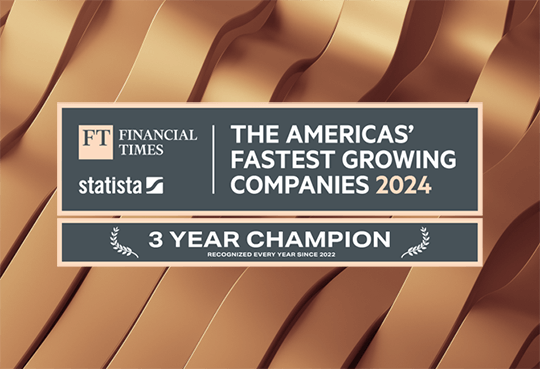 Benefits of Cooperation with ScienceSoft
| | |
| --- | --- |
| Cooperation without large upfront investments due to iterative development. | Delivery on time and within budget thanks to DevOps and balanced manual & automated testing. |
| UX design that passed usability testing, to ensure fast adoption by all age groups. | Prevention of software bugs and malfunctions to guarantee flawless device performance. |
| High-quality software architecture and code, allowing for cheap and easy maintenance. | Assistance with preparing all the necessary documents for FDA registration submission. |
ScienceSoft's Approach to Service Delivery
We keep all our medical device software development activities open to audits from your side. We may discuss and set KPIs (e.g. test coverage, customer satisfaction, etc.) that we share with you in regular reports to ensure the project is on track.
We are ready to kick off a project within a week. To develop a medical device software MVP with priority features, we need 3-6 months. Then, we roll out other features according to the pre-agreed schedule with major releases every 2-4 weeks.
If needed, we help with applying for FDA/CE registration of medical device software or SaMD by preparing all necessary developer documentation for you. We also provide continuous software support and offer software evolution.
All about our Healthcare IT services
<![endif]--> <![endif]--> <![endif]-->