Web and Mobile Hospital Apps
Fast Launch and Evolution of Secure Hospital Software
Being ISO 13485-certified, ScienceSoft is ready to develop or modernize web and mobile hospital apps of any complexity. We deliver robust medical solutions that streamline hospital workflows, help improve patient and business outcomes, and drive high ROI.
Web and mobile apps for hospitals help deliver care to patients and enhance hospital workflows using digital tools and advanced techs. With 18-year experience in healthcare, ScienceSoft is ready to develop, evolve, and support hospital apps that drive better care outcomes and improve patient and staff satisfaction.
ScienceSoft Is a Leader in Healthcare IT Services Market in 2022 SPARK Matrix
ScienceSoft is featured as a leading healthcare IT services provider, along with Athena Health and Oracle Cerner. This achievement is a result of 18 years of tireless pursuit of technological innovation, made possible by ScienceSoft's passionate team of healthcare IT experts who always strive to make a difference for patients and caregivers alike.
Key Use Cases of Hospital Apps
The market of hospital management solutions is expected to grow at a CAGR of over 12.48% during 2021−2027. According to the research, 64% of physicians across medical specialties find digital technology effective for medical treatment tracking. Here are the medical specialties where hospital applications proved to be the most efficient:
Primary care
Pediatrics
Chronic diseases
Cancer care
Cardiology
Transplantology
Physiotherapy
Mental health
Allergology
Plastic surgery
Phytotherapy
Chiropractic
Hospital Applications ScienceSoft Works With
Hospital apps empower healthcare providers to cut administrative, supply chain, patient care costs; they help efficiently manage staff and patients, handle intensive data flows. Below, we list three main types of hospital apps ScienceSoft works with.
See Hospital Apps in Action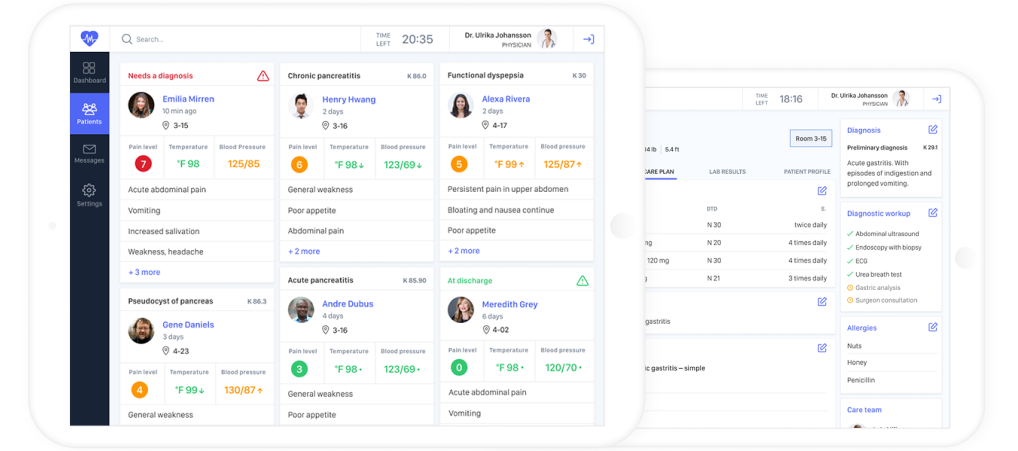 Hospital App Demo
To get an idea of how your hospital app may look, ScienceSoft invites you to take a guided tour of a tablet hospital app for a physician.
Telehealth App with Remote Patient Monitoring
Check out ScienceSoft's demo of a telemedicine app with remote patient monitoring functionality that helps track outpatients' recovery and adjust the therapy.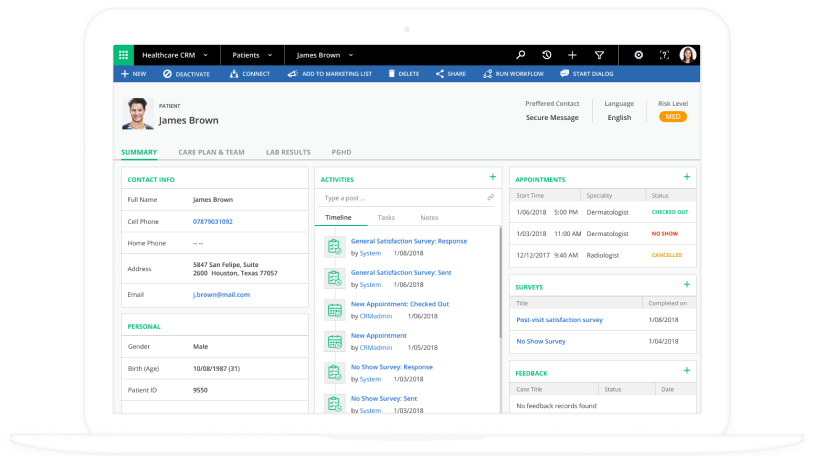 Hospital CRM Demo
ScienceSoft's demo showcases how Dynamics 365-based hospital CRM enables continuous patient support and guidance, fosters engagement, and provides insights into a patient's needs.
ScienceSoft, a Mature Developer for Your Hospital App
34 years in the IT market and 18 years in the healthcare IT.
ISO 13485, ISO 9001, and ISO 27001 certifications.
Vast experience in developing apps compliant with HIPAA, HITECH, NCPDP standards, FDA and ONC requirements, IVDR, MACRA, MIPS, CEHRT, SAFER.
Working expertise with healthcare standards (e.g., HL7, ICD-10, CPT, XDS/XDS-I).
Experience in FDA submission and CE marking.
ScienceSoft's RPM solution won the Best Healthcare Technology Solution Award 2022 from Health Tech Digital.
ScienceSoft became a finalist for the Health Tech Award 2022 with its laboratory diagnostics software and the HTN Now Awards 2023 in the Excellence in Remote Patient Monitoring category.
Let Us Meet You Where You Are
We Let Our Customers Speak for Us

Maria Zannes
President & CEO
bioAffinity Technologies
bioAffinity Technologies hired ScienceSoft to help in the development of its automated data analysis software for detection of lung cancer using flow cytometry. Our project required a large amount of industry specific methodology and algorithms to be implemented into our new software connected to EHR/LIS systems, which the team handled well. They are reliable, thorough, smart, available, extremely good communicators and very friendly.
Sergey Shleev
Prof. Dr. Department of Biomedical Science
Malmo University
During our cooperation, ScienceSoft proved to have vast expertise in the Healthcare and Life Science industries related to the development of desktop software connected to laboratory equipment, a mobile application, and a data analytics platform. They bring top-quality talents and deep knowledge of IT technologies and approaches in accordance with ISO 13485 and IEC 62304 standards.

Justin Turner
CTO
Chiron Health
We engaged ScienceSoft to build an Android app that complements our web-based platform for our patients. They advised and successfully lead the way from end to end through the technical challenges and considerations with development of the app. We have also engaged them to introduce a few enhancements to the app and would certainly consider ScienceSoft as a technology partner in further software development initiatives.
Marina Schommer
Chairman & CEO
Montex Swiss AG
To develop a mobile application that would enhance a line of Bluetooth-enabled devices for newborn and baby care, we opened an app development tender. ScienceSoft's proof-of-concept was convincing enough for us to further the cooperation. During the project flow we were very pleased by the work of ScienceSoft's business analysts and developers, who demonstrated high level of skills and competence.
View all customer reviews
Six Steps to a Perfect Hospital App: Let's Take Them Together
1
Planning stage
ScienceSoft's business analysts elicit and analyze your hospital app requirements, plan and prioritize its features, define the project scope, delivery schedule, and a risk mitigation plan. At this stage, a solution architect designs hospital app architecture, and a regulatory consultant plans the compliance strategy.
2
Design stage
UX experts map out user journeys to make them more intuitive, and the UI team designs sleek interface elements to make the hospital app attractive for the target users.
3
Development stage
ScienceSoft's experienced developers split the project into 2–4 week iterations and deliver a functional MVP with a set of priority features. Based on the user feedback and the pre-agreed scope of functionality to add, the team proceeds with frequent releases of new features until the MVP turns into a full-fledged app. At this stage, the app is also integrated with other hospital IT systems directly or via APIs.
4
Testing stage
In parallel with the hospital app development, our QA team conducts functional, integration, penetration, performance testing, as well as software compliance and vulnerability assessment.
5
Launch, support, and maintenance
After releasing the hospital app, ScienceSoft healthcare IT support team manages the performance of the app, proactively detects and fixes defects. If required, we also conduct regular security checks and updates, manage user access, and introduce minor functional adjustments.
6
Healthcare software evolution
When you decide that the hospital app doesn't cover all the business needs anymore, ScienceSoft is here to help you introduce new features, upgrade old capabilities, integrate the app with the new elements of your IT ecosystem, etc.
How to Protect Your Hospital App against Security and Compliance Risks?
Improper security measures for a hospital app may jeopardize patient information and lead to HIPAA/GDPR penalties for healthcare providers and involved parties. To avoid it from the very start, we recommend choosing an IT vendor with practical experience in HIPAA, HITECH, GDPR, and other applicable data security regulations.
At ScienceSoft, we have 20+ years of experience in information security and ensure compliance by employing data encryption, data anonymization, data access control measures, and more. After the launch of your hospital app, we can perform regular vulnerability assessments, penetration testing, and establish continuous system monitoring.
Dmitry Kurskov, Head of Information Security Department at ScienceSoft, shares his insights:

"The implementation of a virtual hospital is especially suitable for chronic diseases, rehabilitation, and mental health divisions, as they generally don't require urgent medical attention. Using virtual hospital software, the healthcare organization can distribute the workload of doctors and nurses and allow them to monitor more patients at the same time."
Technologies We Use to Build Reliable Hospital Apps
Sought-After Functionality for Hospital Apps
With an experienced team behind 100+ successful healthcare projects, we are ready to implement functionality of any complexity, including the following promising features.
Essential for remote patient care, messaging and videoconferencing functionality enables medical staff to provide online consultations and monitor the treatment process.
With advanced software as a medical device functionality in your hospital app, you can provide state-of-the art patient care. ScienceSoft is ready to introduce SaMD features that automate and improve diagnostics, treatment delivery, or disease management.
Integrations with IT systems
To achieve data consistency throughout the organization, the hospital app should be integrated with other relevant systems. Among the must-haves are EHR, HIS, practice management software, and your patient portal.
Don't Miss Out on Advanced Technologies for Hospital Apps
Click on the cards below to learn more about ScienceSoft's skills in trending technologies.
Practical examples of advanced techs used for hospital apps
ScienceSoft's experts share the most promising cases of advanced techs' implementation in the hospital apps:
Join the Ranks of Our Healthcare Success Stories
Select a Pricing Approach for Your Hospital App Project
Best for: The projects with a clear scope that will not change later. Works best for hospital apps developed according to the Waterfall model.
Essence: The customer receives a fixed quote for the fixed project scope.
Payment schedule: The payments are aligned with the pre-agreed project milestones.
Best for: The hospital apps with a project scope that is likely to change or may require adjustments based on the user feedback.
Essence: The customer pays for the actual time spent on the project, based on the hourly rate of the outsourced specialists.
Payment schedule: Monthly payments with reports on completed work.
Time and Materials with a cap
Best for: The projects with a scope that may require changes but with a limited development budget.
Essence: The customer pays for the actual time efforts, but there is a fixed maximum total charge.
Payment schedule: Monthly payments with reports on completed work.
Get a Cost Estimate for Your Healthcare Software Development Project
Just answer a few questions prepared by our medical IT consultants. We will calculate the cost and provide a tailored healthcare software offering for you.
ScienceSoft's experts will study your case and get back to you with an answer within 24 hours.
The Financial Times Includes ScienceSoft USA Corporation in the List of the Americas' Fastest-Growing Companies 2023
For the second year in a row, ScienceSoft USA Corporation ranks among 500 American companies with the highest revenue growth. This achievement is the result of our unfailing commitment to provide high-quality IT services and create best-value solutions that meet and even exceed our clients' expectations.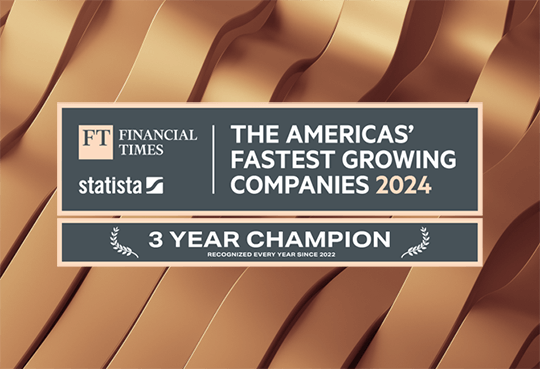 How ScienceSoft Tackles Hospital App Development
for a hospital app MVP delivery

intervals between major releases

submission support for SaMD hospital apps

physician, nurse, patient satisfaction score
All about our Healthcare IT services
<![endif]--> <![endif]--> <![endif]-->