Web and Mobile Hospital Apps
Hospital mobile applications are used to optimize care delivery and access, enhance internal hospital processes, increase patient satisfaction and improve outcomes. ScienceSoft leverages its 16-year expertise in healthcare IT to offer hospital apps consulting, development, and support services.
Hospital App Stability and Evolution Are at Risk?
ScienceSoft's team is ready to ensure the stable work and quick payback of hospital applications while enriching them with new features according to feedback from users.
EHR
HIS (hospital information system)
RCM (revenue cycle management)
Practice management software
Diagnostic applications
Digital workplaces for doctors and nurses
View more apps related to care delivery
Drug prescription assistance software
Medication administration software
Incident management software
Medical image management software
Lab management software
Applications for improving internal hospital processes
Medical staff management software
AR for medical staff training
Healthcare data analytics
Hospital inventory management software
Hospital asset tracking software
Patient-centered applications
Digital therapeutics (DTx)
Telemedicine apps
Patient engagement apps
Patient portals
Healthcare AI chatbots
View more patient-centered apps
Patient monitoring apps
Inpatient care apps
Outpatient care apps
Medical specialties
Cancer care
Cardiology
Chronic diseases
Allergology
Primary care
View more medical specialties
Pediatrics
Plastic surgery
Transplantology
Physiotherapy
Phytotherapy
Chiropractic
Mental health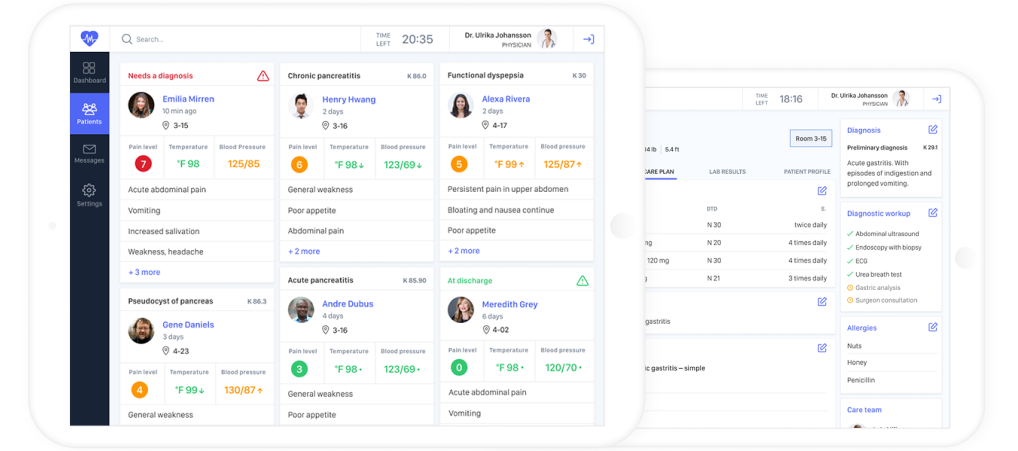 Explore Our Hospital App Demo
To get an idea of how your hospital app may look, take a guided tour of a sample tablet hospital app for a physician.
Discover Remote Patient Care Opportunities
Check out ScienceSoft's demo of a telemedicine application with remote patient monitoring functionality to monitor and adjust outpatients' recovery.
32 years in the IT market.
16 years in the healthcare IT industry.
ISO 13485:2016 certification (Quality management system for medical devices and Software as a Medical Device).
Rich experience in developing HIPAA-compliant software.
Working experience with healthcare standards (e.g., HL7, ICD-10, CPT, XDS/XDS-I).
Research-based UX and UI design to ensure users' convenience.
At ScienceSoft, we create hospital applications that meet all HIPAA regulations. We ensure HIPAA compliance by employing data encryption, data anonymization, data access control measures, etc. To ensure the safety of hospital apps after roll-out, we can perform regular vulnerability assessment, penetration testing, and conduct continuous system monitoring.
Dmitry Kurskov, Head of Information Security Department at ScienceSoft
Applying cybersecurity measures once and forgetting about them forever is not a good strategy. The security system should be regularly monitored, assessed, tested, and improved."
Leverage Advanced Technologies in Hospital Apps
ScienceSoft is ready to build or upgrade your hospital application with the required advanced techs to enable:
Development, evolution and reinforcement of a hospital software product
Development of web, mobile, PWA apps, including back end development.
App evolution (new branded app features and modules, integration and customization capabilities).
Consulting on architecture redesign, UX redesign, cloud migration, DevOps, CI/CD, QA and test automation
Support of a custom hospital application
We ensure the stability and evolution of your in-house application providing support services that include:
L1, L2, L3 support.
HIPAA compliance testing.
Regular security testing.
Choose High-Quality Hospital App Development and Support Services
ScienceSoft offers full-cycle hospital app development and support services that will help you keep your application stable and ensure its fast evolution with no compromise on its quality.

Handle Your Hospital App with Expert Help!

ScienceSoft's team is ready to help you stay competitive with end-to-end hospital app development and support services.

<![endif]--> <![endif]--> <![endif]-->