Custom Telemedicine Apps for Rural Areas
Features, Architecture, Costs
In healthcare IT since 2005, ScienceSoft designs and implements reliable telemedicine software for care delivery in rural areas.
Telemedicine in Rural Areas: the Essence
Telehealth enables virtual healthcare services for rural residents, improves patient self-monitoring, reduces avoidable trips for patients and medical staff, and decreases the risk of complications. In the US, rural areas comprise about two-thirds of the primary care health professional shortage areas, spurring the increase in demand for rural telehealth services.
Custom telehealth software is vital for rural resident care as it can be specifically tailored to address unique backcountry challenges. These may include limited connectivity in remote areas, compatibility with localized healthcare systems, integration with regional health data repositories, and adherence to specific rural healthcare policies or regulations.
Based on ScienceSoft's experience, developing a custom telehealth platform for rural areas may cost from $150,000 to $400,000 and depends on the system's complexity (e.g., advanced features or legacy software integrations).
The Architecture of Telemedicine Software for Rural Areas
At the core of the telemedicine solution for rural areas is a cloud server with a video streaming server and a data storage and processing module. The former enables real-time audiovisual communication between medical staff and patients. The latter stores patient-doctor video appointments history and recordings, messaging history, shared images (e.g., photos of wounds), PHI (e.g., logged symptoms and vitals), and more.
Other vital modules of rural telehealth software include:
To schedule and visit online consultations with medical staff (a physician, a nurse, etc.).
To consult a doctor on disease symptoms (e.g., cough) via messaging.
To log vitals and symptoms in the app.
To access and use educational materials on self-monitoring, home care, and rehabilitation.
Show more
To schedule necessary offline screenings and tests, etc., and receive notifications about them.
App for medical staff (physicians, nurses, etc.)
To conduct online appointments and regular health checkups for rural patients.
To manage patient treatment and medication plans.
To schedule remote consultations with other specialists for rural patients.
To monitor patients' health state.
For hospital supervisors, telehealth program administrators, etc., to:
Process emergency care requests from rural residents.
Edit the list of rural telehealth app users (e.g., add users from new service regions).
Manage access rights of rural telehealth app users.
Manage medical staff's schedules, etc.
Key Features of Rural Telemedicine Software
Based on its experience in healthcare IT since 2005, ScienceSoft describes common and advanced functionality of a telehealth system for rural patients.
How to choose features for a rural telemedicine app?
When deciding on the telehealth application functionality, I recommend starting with a thorough analysis of target users. For example, suppose many of your patients have chronic diseases and require continuous tracking of health parameters. In that case, it may be feasible to add remote patient monitoring functionality and integrate the app with wearables or smart medical devices.
Important Integrations for a Telehealth App for Rural Areas
ScienceSoft's healthcare IT consultants find it important to integrate telemedicine software with the following systems to achieve patient data exchange automation:
For an integrated view of rural patients' medical history (chronic conditions, allergies, etc.).
For automated visit logging in EHR and streamlined billing.
For EHR-enabled integrations with accounting software, e-prescribing software used by pharmacies in the service region, etc.
To enable collection and processing of rural patients' vitals (e.g., blood pressure, body temperature).
To enable in-app monitoring of rural patients' vitals by medical staff.
Medical imaging and lab software
To enable in-app access to patients' medical images.
To provide doctors and patients with direct access to test results (HbA1c level, blood glucose, etc.) issued by any partnering local laboratory.
Practice management system
To enable in-app access to medical specialists' schedules for an administrator, a doctor, or a patient.
For automated medical services billing, accounting, etc.
How to Develop Telehealth Software for Rural Areas
To deliver custom telemedicine software for rural residents, ScienceSoft follows the key development steps outlined below:
1
Identification of essential features, such as remote patient monitoring, audio/video consultations, and patient record management, to ensure seamless healthcare delivery in rural settings.
2
Definition of a resilient and adaptable software architecture and tech stack design for optimized performance in low-bandwidth internet environments.
3
Detailed planning to establish project goals, timelines, and allocate resources.
4
Incremental development of an accessible and responsive telehealth software solution.
5
Implementation of necessary security measures to safeguard patient information.
6
Rigorous testing of the software across different network conditions to ensure its high performance.
7
Integration with a wide range of connected medical devices for home use (e.g., wrist and finger pulse oximeters, remote health examination kits, portable ECG monitors, handheld ultrasound scanners), enabling rural residents to perform diagnostic tests under remote supervision.
8
Smooth software deployment, taking into account the specific infrastructure limitations of rural areas, such as unreliable internet connectivity and power supply.
9
Ongoing support and maintenance to ensure the software remains up-to-date, continues to meet the evolving needs of all user groups, has no bugs, and boasts the most advanced features.
What Determines the Success of Telehealth for Rural Areas
Communication stability

To tackle remote communication issues in rural regions, your app needs to provide various connection modes (e.g., switching to audio-only using VoIP or cellular network message-based communication in case of poor internet connection).

Smooth integration with healthcare IT systems

To provide medical specialists with up-to-date patient data and help them remotely deliver care to rural patients, you should ensure timely access to all needed information from integrated EHR, LIS, medical imaging software, etc.

Intuitive, user-friendly UX/UI

To ensure that rural patients of any age and tech proficiency can comfortably use the app, focus on the usability and accessibility of telehealth software from the very start.
The development of rural telemedicine app costs from $150,000 (for core communication and care planning features) to $400,000 (for advanced features like patient data analytics, RPM, etc.). Depending on the number of telehealth visits, the number of medical staff members, and other service factors, a rural telehealth solution can reach 100% ROI in ~6 months.
| | |
| --- | --- |
| | Expanded service area due to the ability to deliver care to hard-to-reach population groups, underserved regions, etc. |
| | Decreased length of postoperative hospital stay for rural patients and lowered readmission rate by 31% due to telehealth-supported home care and rehabilitation. |
| | Mitigated medical staff shortage in the service regions due to improved medical specialists' efficiency, optimized schedules, and decreased travel time. |
| | Reduced operational expenses per rural patient (including efficient bed allocation) for hospitals due to decreased hospitalizations of about 70% of remotely monitored patients with chronic diseases and other conditions. |
| | Improved visit attendance (for patients with chronic conditions, mental health conditions, etc.). |
Examples of Telemedicine for Rural Areas

Horizon Health Alliance, a mental healthcare provider based in Buffalo, New York, implemented a telehealth solution and now serves 70% of patients virtually. Within a year, Horizon has served 891 unique patients from rural areas with limited access to mental health and substance use disorder services.
SA Health, Australia, implemented a telehealth platform for rural residents to gather vital health information from stroke patients and provide virtual consultations. As a result, it doubled its rural treatment capacity and reduced unnecessary hospital-to-hospital transfers by 72%.

Riverwood Healthcare Center in Aitkin, Minnesota, quickly deployed a telehealth solution for the virtual treatment of patients during the coronavirus pandemic. Now, the center has rolled out the new model of care to its family physicians, specialty providers, and rehabilitation therapists.
Why Opt for Custom Telehealth Software for Care Delivery to Rural Areas
ScienceSoft's healthcare IT consultants recommend that you choose custom development of a telehealth app for rural patients if you need:
Functionality tailored to the needs of a healthcare organization and rural patients
Software covers a wide array or a specific set of healthcare services and precisely fits into the healthcare organization's workflows. For one of our customers, we combined a telehealth solution with a practice management system to ensure convenience for medical staff.
Advanced data analytics
Analytics of patient symptoms and vitals to predict the course of the disease, potential complications, and risks, optimize the set of required telehealth services for rural patients.
See How It Works in Real Life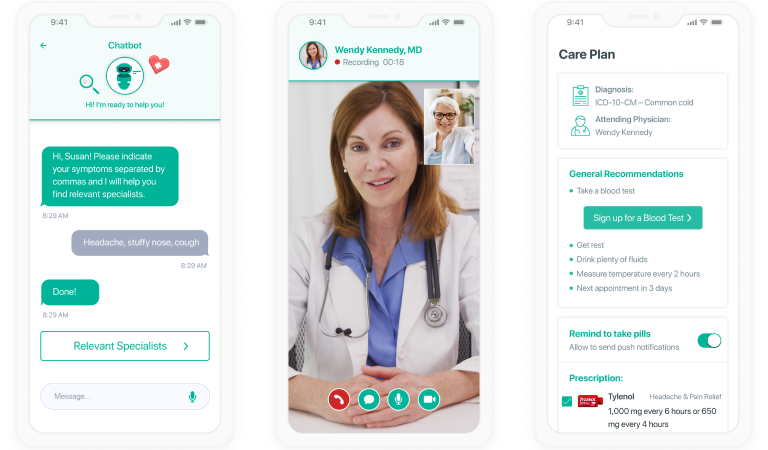 Check Out Our Telehealth App Demo
Explore opportunities that a telehealth app provides to foster continuous and impactful communication between patients and healthcare professionals.
Explore a Telehealth App with Remote Patient Monitoring
In the app demo, we show how the automated collection of health parameters, vitals analysis, and identification of symptom patterns contribute to advanced patient care.
Telehealth Software for Rural Areas by ScienceSoft
With 100+ successful healthcare IT projects in our portfolio, ScienceSoft has extensive practical experience in telemedicine and is ready to design and implement telehealth software tailored to the needs of rural residents.
ScienceSoft's Customers Say
Patrick Pakan
Founder and CEO
AKLOS Health
Thanks to ScienceSoft's practical healthcare IT expertise, we created a musculoskeletal therapy platform that can be fully customized and reflect the needs of each program member. I am excited to see AKLOS Health change the approach to physiotherapy and offer each member a truly bespoke experience that's based in science.
Todd Nilson
MD
HealthPoint Plus
We are thankful for the meticulous and value-driven approach of ScienceSoft's team. They created comprehensive project documentation, feature lists, and worked out thorough recommendations to help us improve the stability and performance of our solution. ScienceSoft's project manager, business analyst, QA and software engineers were always friendly and ready to answer our questions or solve any ad-hoc issues. ScienceSoft proved to be a reliable vendor with a solid healthcare background, and we recommend them to everyone looking for a telehealth software development partner.

Justin Turner
CTO
Chiron Health
We engaged ScienceSoft to build an Android telehealth app that complements our web-based platform for our patients. They advised and successfully led the way from end to end through the technical challenges and considerations with the development of the app. We have also engaged them to introduce a few enhancements to the app and would certainly consider ScienceSoft as a technology partner in further software development initiatives.
View all customer reviews
About ScienceSoft

ScienceSoft is a US-headquartered international IT consulting and software development company founded in 1989. With 18 years of experience in healthcare IT and ISO 13485 certified quality management system, ScienceSoft is ready to deliver reliable telemedicine solutions for efficient care delivery in rural areas.

<![endif]-->