Custom Telehealth Software in Physical Therapy
Complete Overview
ScienceSoft employs its 18 years of experience in healthcare IT to design and develop robust physical therapy telemedicine software for healthcare organizations and software product companies.
The Essence of Telehealth for Physical Therapy
Telehealth technology helps physical therapists foster patients' rehabilitation after injuries and surgeries, manage chronic conditions (e.g., arthritis), and provide care for professional athletes remotely. Telemedicine software enables remote delivery of physical therapy, improves care continuity, and promotes better treatment adherence. Custom telehealth software for physical therapy is especially useful as it allows healthcare providers to deliver tailored treatment and rehabilitation plans, which contributes to personalized and targeted care, satisfied individual needs of patients, and maximized therapy outcomes.
Architecture of a Telemedicine Solution for Physical Therapy
The main elements of the telemedicine platform for PT are a cloud server with a data storage and processing module and a video streaming server, an app for patients, an app for physical therapists, and an admin web panel.
The solution can be integrated with EHR/EMR software to maintain cohesive data throughout the healthcare IT systems. A telehealth application can be integrated with smart medical devices (e.g., heart monitors, wearable smart watches) or sensors (e.g., computer vision for motion tracking) to monitor the physical therapy progress and treatment adherence.
The main elements of the solution include:
to view and follow physical therapy programs, record therapy sessions, contact a therapist for help and guidance, etc.
to allow hospital administrators, supervisors, or private practice therapists (when SaaS model is used) to view a list of physical therapists and patients, grant the app access to patients and physiotherapists, add new physical therapy programs, etc.
App for physical therapists
to assign physical therapy programs, manage treatment, monitor therapy progress, patients' health parameters, etc
Do You Need a Custom Telehealth App for PT?
ScienceSoft has prepared a few simple questions that will help you determine whether you need a custom-made telemedicine solution for virtual physical therapy.
Do you want your telehealth app to be integrated with medical devices or sensors? For example, to track patient activity and range of movement, help monitor complications, etc.
Do you plan on designing unique physical therapy programs (e.g., pre-recorded and animated videos or VR-based physiotherapy)?
Do you have a complex IT environment and/or legacy software (EHR, RCM, practice management, etc.) and need to seamlessly integrate the telehealth app into it?
Do you want to automate physiotherapy patients' progress assessment with AI-driven analytics?
Tell us more about your needs
Please answer at least one question to help us better understand your business objectives.
A ready-made app may cover your needs
It looks like an out-of-the-box solution is just right for your organization. If you need to choose and implement the best-fitting telenursing app, ScienceSoft's experts are ready to help you.
A custom telehealth app for PT is the way to go
Based on your answers, it seems you should opt for a custom telehealth app for PT. ScienceSoft's healthcare IT experts with 5-20 years of experience will be glad to help you define the necessary features, design a robust architecture, and develop your telemedicine solution.
Key Features of a Telehealth Application for Physical Therapy
At ScienceSoft, we create a unique set of physiotherapy telehealth app features for each customer to cater to their specific business needs. Here is the list of core features we implement that encompasses most of physical therapy software use cases.
See How It Works in Real Life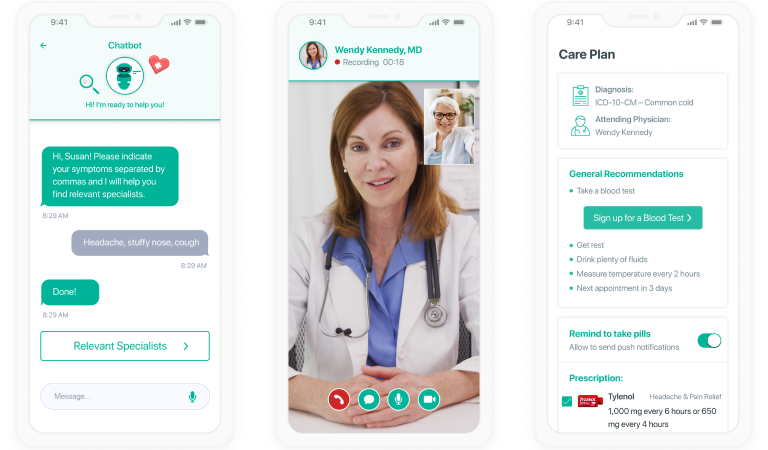 Check Out Our Telehealth App Demo
Explore opportunities that a telehealth app provides to foster continuous and impactful communication between patients and healthcare professionals.
Explore a Telehealth App with Remote Patient Monitoring
In the app demo, we show how the automated collection of health parameters, vitals analysis, and identification of symptom patterns contribute to advanced patient care.
Important Integrations for Telehealth PT Software
To enable automation of patient data entry and get an overall picture of patient health while planning and conducting remote physical therapy sessions, ScienceSoft suggests integrating the telehealth PT application with:
to ease access to the patient health information (e.g., diagnoses, chronic conditions) for physical therapists and log e-visits in EHR for the streamlined gathering of billing information.
Connected medical devices
to collect and analyze patients' health parameters (e.g., blood pressure, pulse, SpO2) in real time, adjust the physiotherapy, track treatment results and effectiveness.
How to choose technology for medical device integration with a telehealth app for PT?
We recommend choosing connectivity technology (e.g., Wi-Fi, NFC, Bluetooth) for smart medical device integration based on the device properties, manufacturers, security concerns, and requirements of your healthcare organization. For example, Bluetooth is often used to securely connect smartwatches or sensors.
How to Create Telehealth Software for Physical Therapy
When building a custom telehealth solution for physical therapy, having a well-structured plan is vital to ensure a successful project outcome. Below, ScienceSoft outlines the key steps involved in the development process:
1
Analyzing and documenting the specific requirements of your physical therapy practice, including the desired functionalities, patient engagement features, and integrations.
2
Introducing a tailored feature set, defining the architecture design, and selecting the tech stack.
3
Creating a project plan, outlining the deliverables, KPIs, project milestones, development budget and schedule for transparent project management and resource allocation.
4
Building the telehealth software for physical therapy according to the project requirements and design specifications.
5
Conducting testing and QA to ensure the solution's functionality, stability, security, and regulatory compliance (e.g., with ADA, HIPAA, HITECH, GDPR, PCI DSS).
6
Migrating patient records and therapy data from the existing systems to the new software for guaranteed care continuity.
7
Integrating the telehealth software with the necessary external and internal systems (e.g., EHR/EMR, billing systems) and smart medical devices (e.g., motion sensors, pain relief machines).
What Determines the Success of a Telehealth App for Physical Therapy
Before the pandemic, only 2% of physical therapists provided care via telehealth, states the research of the American Physical Therapy Association. By July 2020, 47% of physical therapists started using video consultations in their practice.
To ensure telehealth appointments bring benefits to the patients, ScienceSoft's experts recommend to consider the following factors:
Easy in-app therapy programs search, editing, and adding
to allow physical therapists to set up an effective patient therapy program fast.
Gamification of physical therapy
to motivate patients (e.g., points for completing a therapy session or reaching predefined therapy milestones, in-app badges for progress).
Clear UI and intuitive UX
to help patients navigate through remote physiotherapy sessions and the telehealth application's features, e.g., with pop-up text or voiced recommendations (especially relevant for geriatric care).
Examples of Telemedicine for Physical Therapy
Essen Health Care, an NYC-based medical group, implemented a telehealth-based virtual physical therapy, rehabilitation, and RPM program. The organization witnessed a 20% reduction in the rehabilitation period, and patient adherence increased by 65% compared to in-facility adherence.
Exchange Physical Therapy Group, a practice with three clinic locations in New Jersey, implemented telehealth for physical therapy in response to the COVID-19 pandemic. Around 10% of their patients used telehealth to stay active and continue rehabilitation.
Telehealth App for Physical Therapy: a Success Story by ScienceSoft

Customer: A US-based software product company.
Solution: A wearable-based physiotherapy platform, including a mobile and a web app.
Key features:
An in-app personalized therapy plan with detailed exercise video instructions.
Patient progress reports based on the range of joint motion data from the wearable sensors.
Instant text messaging between patients and therapists.
Access to educational content.
Project highlights: ScienceSoft developed proprietary algorithms for Xsens DOT wearable sensors to accurately assess the knee joints and low back mobility.
Benefits of Telehealth PT
Improved care availability
to physical therapy treatment due to convenient therapy delivery at patients' homes (Healthcare IT News).
Telehealth Software for Physical Therapy by ScienceSoft
Holding ISO 13485 certification, ScienceSoft creates efficient telemedicine apps for PT according to the requirements of the FDA and the Council of the European Union.
Our Customers Say
Patrick Pakan
Founder and CEO
AKLOS Health
I've had six orthopedic surgeries since playing college football and tried every major digital exercise therapy platform on the market. None of them offer the comprehensive and personalized care they claim. Thanks to ScienceSoft's practical healthcare IT expertise, we created a musculoskeletal therapy platform that can be fully customized and reflect the needs of each program member.

Justin Turner
CTO
Chiron Health
We engaged ScienceSoft to build an Android app that complements our web-based platform for our patients. They advised and successfully lead the way from end to end through the technical challenges and considerations with development of the app. We have also engaged them to introduce a few enhancements to the app and would certainly consider ScienceSoft as a technology partner in further software development initiatives.
Todd Nilson
MD
HealthPoint Plus
We were impressed by their code analysis proficiency and in-depth knowledge of telemedicine specifics. ScienceSoft proved to be a reliable vendor with a solid healthcare background, and we recommend them to everyone looking for a telehealth software development partner.
View all customer reviews
About ScienceSoft

ScienceSoft is an international IT consulting and software development company headquartered in McKinney, Texas, US. For 18 years, ScienceSoft has been rendering expert consulting and development services for telemedicine applications and helped healthcare organizations provide quality remote physical therapy to improve patient care and quicken rehabilitation.

<![endif]-->