Wearable App Development
Architecture, Steps, and Key Technologies
In healthcare IT since 2005 and in IoT development since 2011, ScienceSoft helps businesses in the healthcare domain design and develop apps for wearable medical devices.
Wearables in Healthcare: The Essence
In healthcare, wearable IoT is a network of patient-worn devices connected to the cloud. Wearable apps collect, transmit, and analyze health data in real time, enabling continuous patient monitoring and immediate healthcare interventions. Wearable technology is highly efficient for chronic condition monitoring, therapy delivery, rehabilitation, diagnostics, and activity tracking.
An Overview of the Healthcare Wearables Market
In 2022, the wearable medical devices market was estimated at $22.44B, and it is expected to reach $60.48B by 2027 at a CAGR of 21.9%. The core market drivers are the rise of lifestyle-associated chronic diseases, the growing geriatric population, the increasing popularity of home healthcare and remote monitoring, and the focus on personalized patient care.
86% of patients report that wearables improve their health outcomes. With the recent surge in demand for the technology, more and more healthcare providers start looking for specialized wearable software that enables instant and secure PGHD transfer to the cloud-based servers and EHR/EMR systems and provides advanced analytics capabilities.
How the Healthcare Industry Adopts Wearable Technology
Wearable medical devices and complementary apps provide medical professionals with a holistic picture of patients' health state. They also enable patient self-monitoring and, therefore, help improve patient care outcomes. The adoption of the technology shows a steady increase:
In 2022, 46% of US adults owned a wearable device, compared with 45% in 2021 and 43% in 2020 (Rock Health Digital Health Consumer Adoption report).
13% of Americans plan to buy a wearable device within a year.
37% of smart watch owners use them to monitor heart health, 35% control sleep quality, 17% measure stress levels, and only 8% track chronic conditions.
The Architecture of Cloud-Based App for Wearable Devices
ScienceSoft's experts recommend the following cloud-based software architecture to power wearable devices in healthcare.
The solution includes a cloud server, which receives data from wearable devices via gateways and a firewall. The cloud server includes data storage, processing, and analytics modules and hosts the solution's business logic and control applications. The solution also has user interfaces for patients, medical staff, medical device technicians, and admins, which help access the collected and analyzed data from wearables, send commands to the wearable devices (e.g., initiate pain management), and more.
In similar projects, ScienceSoft's healthcare IT team integrates the IoT solution with EHR to enable a comprehensive view of patients' medical history (chronic conditions, allergies, etc.).
Guide to Wearable Medical Devices Used in Patient Care
6 Key Steps to Build Wearable Application
Wearable app development is usually split into 6 steps: discovery; requirements engineering and architecture design; project planning; UX and UI design; development, testing, and launch; maintenance and evolution. Below, ScienceSoft's consultants describe a generalized plan for wearable software development.
Note: In each unique project, the duration, stage order, and activities may vary to better reflect the customer's needs.
Defining the business goals and the high-level scope of the software for wearables.
Investigating the target market segment, competitors and identifying the target audience.
Identifying the target wearables (e.g., market-available products, proprietary wearable devices).
For commercial software products: productizing wearable device software.
Defining the compliance requirements (e.g., HIPAA, GDPR, FDA submission/CE marking).
Conducting a risk assessment and creating a risk mitigation plan.
Creating a business case for the software (featuring the estimated development cost, the total cost of ownership, and the expected ROI).
When the software for wearables poses a medium or high risk to the patients (which corresponds to Class II and Class III medical devices according to FDA classification), it requires FDA 510(k) submission (for the US) or CE marking. You should consider this at the very beginning of the project to prepare all the necessary documentation. In our wearable-related projects, we follow the approach to documentation described in IEC 62304:2006 (Amendment 1:2015) and ISO 13485.
Requirements engineering and architecture design
From 3-4 weeks (may run in parallel with step 1)
Defining the functional and non-functional requirements for wearable device software.
Planning the feature set, including the core and secondary functionality.
Designing a secure and scalable software architecture.
Planning integrations with the target wearables.
Choosing the optimal technologies (e.g., for device connectivity, backend development).
For software products: choosing a monetization strategy (in-app purchases, ads, subscription, etc.).
Designing a detailed wearable device software requirements specification.
Project planning
Around 1-2 weeks
At ScienceSoft, we mainly use Agile methodologies for project management. They proved to be effective even for strictly regulated domains like healthcare. Using Agile – say, Scrum or Kanban – helps adjust the wearable device software requirements and functionality on the go. It allows for more flexibility during the development and helps our customers get exactly what they need even if regulatory requirements or user needs change midway into the project.
UX and UI design
Around 1-2 weeks
Conducting UX research with the target users of wearable device software in mind.
Outlining user interaction with the software, building user personas and scenarios.
Designing UX wireframes to illustrate user interaction with the software.
Creating visual identity and design elements for the software.
Creating a UI prototype.
Development, testing, and launch
From 3 months for an MVP
Building the server side of the software and the APIs for wearable device integration.
Developing the software UI based on the prototypes.
Implementing security and compliance features (e.g., MFA, role-based access, end-to-end data encryption).
Conducting end-to-end testing, including functional, integration, performance, security, and accessibility testing.
Conducting a HIPAA compliance risk assessment (for the US).
Launching the software or uploading the custom mobile application for wearables to the App Store (for iOS) or Google Play Market (for Android).
Maintenance and evolution
Continuous
Supporting and maintaining the wearable device software (e.g., implementing new security measures, addressing user issues, optimizing cloud resource consumption).
Introducing new software features and adjusting the UX/UI based on user feedback and the changing business needs.
Real-Life Examples of Wearable Apps We Delivered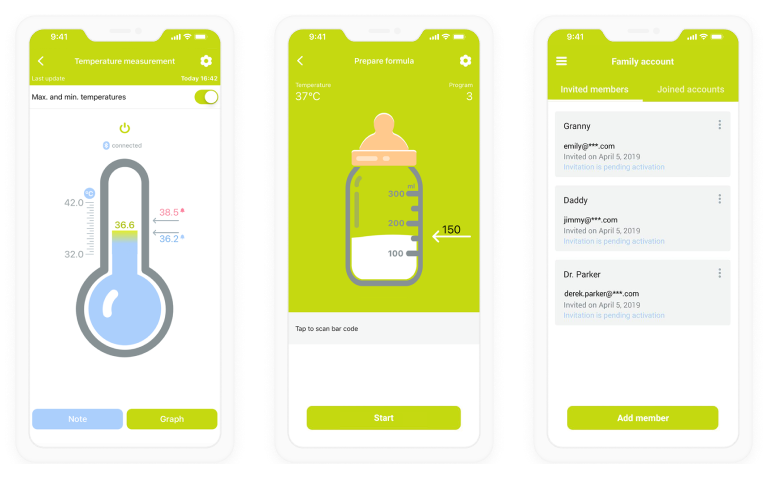 Development of a Mobile Baby Care App for a Smart Baby Care System
Customer: A European distributor of globally acknowledged brands and owner of several healthcare product lines.
Solution: ScienceSoft has created from scratch an IoT-based mobile baby care app for parents that enables automated collection of baby data from branded wearable health monitoring devices (e.g., GPS smart watch) and smart devices (e.g., baby's weight from scales, baby's body temperature from a thermometer).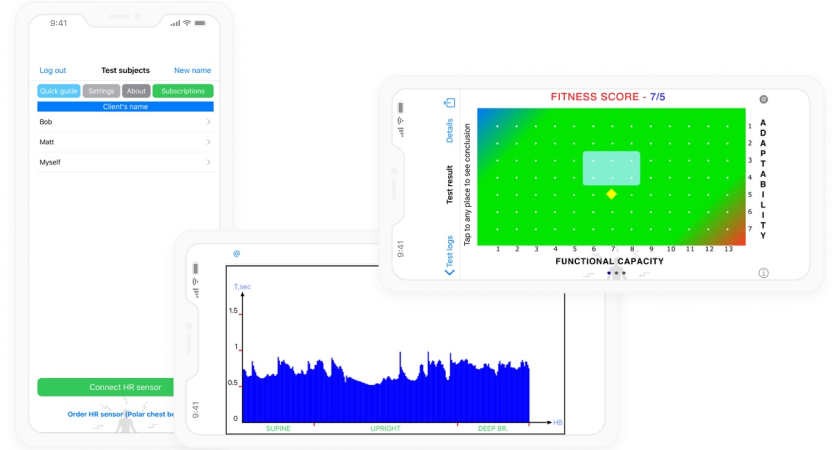 Mobile Heart Rate Tracking App Development
Customer: A US company providing healthcare, sport, military organizations with research on the population's health and effective training techniques.
Solution: ScienceSoft delivered an iOS app that supports the required wearable heart monitoring devices (e.g., Wahoo Fitness). The app can perform evaluation of the initial fitness level, training progress monitoring, identification of the changes in fitness, etc.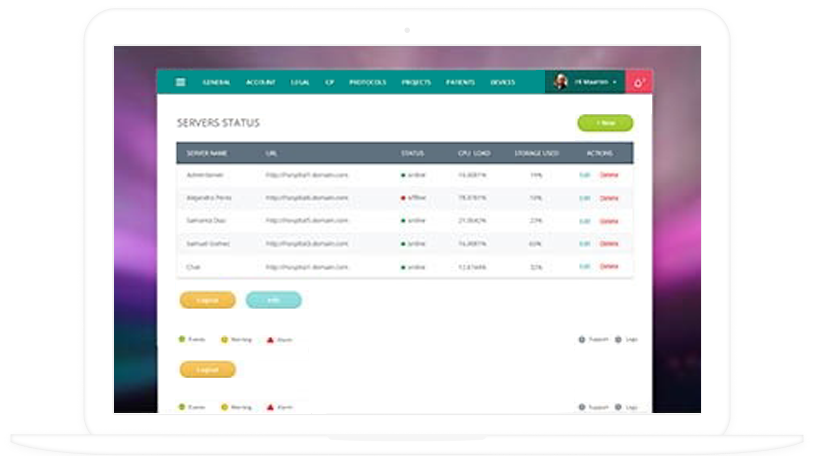 Development of Remote Patient Monitoring Software
Customer: A US-based provider of healthcare solutions with development centers in the Gulf region.
Solution: ScienceSoft created a solution for remote patient monitoring, which aggregated and processed data from multiple sensors (measuring blood pressure, tracking movements, etc.) connected via Bluetooth. The solution also included a communication app, a home app for patients, and more.
Tech Stack ScienceSoft Uses for Wearable Apps
Services by ScienceSoft
With 18 years in healthcare IT consulting and development services and an ISO 13485 certified quality management system, ScienceSoft helps you design and develop apps for medical wearables.
Plan functionality of IoT software for wearables based on your business needs.
Map user journeys to plan UX and UI.
Design high-level architecture, APIs for integrations with medical systems.
Plan integrations with wearables.
Estimate the cost, ROI, and software delivery timelines.
Guide to HIPAA, HITECH, FDA compliance.
Opt for consulting
Conceptualize software for wearables based on your business needs.
Create feature lists for each user group.
Plan software architecture and integrations with wearables.
Develop the MVP and roll out secondary features based on the feedback.
Ensure compliance with required regulations (HIPAA, HITECH, etc.).
Opt for development
Our Customers Say

Marina Schommer
Chairman & CEO
Montex Swiss AG
To develop a mobile application that would enhance a line of Bluetooth-enabled devices for newborn and baby care, we opened an app development tender. ScienceSoft's proof-of-concept was convincing enough for us to further the cooperation. During the project flow we were very pleased by the work of ScienceSoft's business analysts and developers, who demonstrated high level of skills and competence.
Alexander Riftine
CEO
Intellewave
ScienceSoft designed and developed a native iOS app that offers a quantitative assessment of users' physical fitness. I was impressed with the excellent level of responsibility, communication skills, and mobile competencies of both the management team and developers.
Sergey Shleev
Prof. Dr. Department of Biomedical Science
Malmo University
During our cooperation, ScienceSoft proved to have vast expertise in Healthcare and Life Science industries related to the development a desktop software connected to laboratory equipment, mobile application and data analytics platform. They bring top quality talents and deep knowledge of IT technologies and approaches in accordance with ISO13485 and IEC62304 standards.
View all customer reviews
Use Cases of Wearable Health Technology
Successful Implementation of Wearables by US Hospitals
Desert Oasis Healthcare, California, introduced remote patient monitoring with wearables for patients with heart failure. 70% of remotely monitored patients reported that the program enabled them to better manage their condition. 90% said that RPM complements their offline appointments and makes them more valuable.
After implementing wearable technology for at-risk patients, Augusta University Medical Center, Georgia, reported that patient deterioration into preventable cardiac or respiratory arrest reduced by 89%.
About ScienceSoft

In healthcare IT since 2005, ScienceSoft is an international wearable app development company with headquarters in Texas, US, and offices in Europe and the Gulf Cooperation Council. ScienceSoft has ISO 13485 certified quality management system for developing software for medical devices and SaMD and is ready to design and build remote patient monitoring software leveraging the medical Internet of Things.

<![endif]-->