AI-Powered Chatbots for Healthcare
Get a Truly Smart Medical Chatbot
Leveraging 34 years in AI technology, ScienceSoft develops medical chatbot products and custom solutions with cutting-edge functionality for healthcare providers.
Medical Chatbots with AI in Brief
Perfectly imitating human interaction, AI-powered medical chatbots can improve the quality and availability of care and patient engagement, drive healthcare and administrative staff productivity, facilitate disease self-management. AI chatbots often complement patient-centered medical software (e.g., telemedicine apps, patient portals) or solutions for physicians and nurses (e.g., EHR, hospital apps).
Essential Market Insights
The global healthcare chatbot market was estimated at $184.6 million in 2021. By 2028, it is forecasted to reach $431.47 million, growing at a CAGR of 15.20%. The rise in demand is supported by increased adoption of innovations, lack of patient engagement, and need to automate initial patient assessment.
Medical Chatbots, Explained
Architecture
The natural language processing module recognizes the essence of a person's audio or text message (symptoms description, etc.) and transforms it into a structured request. Then, AI chatbot can:
Trigger the data retrieval (e.g., potential diagnoses, patient health records) from a knowledge base or an integrated app (e.g., EHR, CRM, HealthKit, Google Health).
Authorize the requested operation in the integrated app (e.g., schedule an appointment).
Turn to the recommendation engine to run ML algorithms (e.g., for personalized treatment adjustments).
To develop an AI-powered healthcare chatbot, ScienceSoft's software architects usually use the following core architecture and adjust it to the specifics of each project.
| | |
| --- | --- |
| | |
| | ScienceSoft's tip: At the early stages of the project, you need to make sure that the chatbot can be easily integrated with the necessary systems, for instance, HIS, EHR, practice management system, RCM. It will facilitate activities like appointment scheduling, treatment validation, etc. |
Use cases
According to Business Insider Intelligence, up to 73% of administrative tasks (e.g., pre-visit data collection) could be automated with AI. With the recent tech advancements, AI-based solutions proved to be effective for also for disease management and diagnostics. ScienceSoft's healthcare IT experts narrowed the list down to 6 prevalent use cases.
A chatbot checks patients' symptoms to identify if medical help is required. It also can connect a patient with a physician for a consultation and help medical staff monitor patients' state.
Value: Improved access to medical care, less misinformation.
Successful example: a virtual assistant using speech, text, images, and video for patient assessment.
Patient support in post-operative care and chronic disease management
A chatbot guides patients through recovery and helps them overcome the challenges of chronic diseases.
Value: 24/7 access to care support, handling non-standard questions due to the access to personal care plans and treatment protocols.
Successful example: a chatbot app for oncology patients.
Virtual assistants for medical staff
A chatbot can be a part of a doctor/nurse app helping the staff with treatment planning, adding patient records, calculating medication dosage, verifying prescribed drugs, and retrieving all the necessary patient information fast.
Value: Increased staff efficiency, improved treatment accuracy.
Often used for mental health and neurology, therapy chatbots offer support in treating disease symptoms (e.g., alleviating Tourette tics, coping with anxiety, dementia).
Value: Better access to care, addressing the shortage of medical professionals, overcoming social stigma.
Successful example: a chatbot offering cognitive-behavioral therapy.
General patient assistance
AI chatbots provide basic informational support to patients (e.g., offers information on visiting hours, address) and performs simple tasks like appointment scheduling, handling of prescription renewal requests.
Value: 24/7 assistance availability; decreased load on the call center; patient convenience.
Patient survey before/after the appointment
A friendly AI chatbot that helps collect necessary patient data (e.g., vitals, medical images, symptoms, allergies, chronic diseases) and post-visit feedback.
Value: routine tasks automation.
At ScienceSoft, we know that many healthcare providers doubt the reliability of medical chatbots when it comes to high-risk actions (therapy delivery, medication prescription, etc.). To avoid costly mistakes, we often opt for iterative development. With each iteration, the chatbot gets trained more thoroughly and receives more autonomy in its actions. For example, on the first stage, the chatbot only collects data (e.g., a prescription renewal request). After more training, the chatbot's scope of actions is expanded.
Features
With 100+ successful projects for healthcare, ScienceSoft shares AI chatbot functionality that has been in demand recently.
Helps simplify the work of medical professionals and access to care for patients. Speech recognition functionality can be used to plan/adjust treatment, list symptoms, request information, etc.
Backed by sophisticated data analytics, AI chatbots can become a SaMD tool for treatment planning and disease management. A chatbot can help physicians ensure the medications' compatibility, plan the dosage, consider medication alternatives, suggest care adjustments, etc.
Human-like response generation
Using AI to imitate an actual conversation, medical chatbots will send personalized messages to users.
When aimed at disease management, AI chatbots can help monitor and assess symptoms and vitals (e.g., if connected to a wearable medical device or a smartwatch).
Notifications for patients and medical staff
A chatbot can send reminders like taking medication or measuring vitals to patients. In case of an emergency, a chatbot can send an alert to a doctor via an integrated physician app or EHR.
To accelerate care delivery, a chatbot can collect required patient data (e.g., address, symptoms, insurance details) and keep this information in EHR.
A chatbot helps select a doctor and choose a suitable date and time slot. After confirmation, the visit is scheduled in EHR.
Prescription refilling or renewal
Patients can request prescription refilling/renewal via a medical chatbot and receive electronic prescriptions (when verified by a physician).
Using the integrated databases and applications, a chatbot can answer patients' questions on a healthcare organization's schedule, health coverage, insurance claims statuses, etc.
The technology behind informational chatbots may seem relatively easy to use. Still, as with any AI-based software, you may want to keep an eye on how it works after launch and spot opportunities for improvement. For that, you will need to set up quality metrics. For example, your employees responsible for patient engagement can measure user satisfaction by asking patients to leave feedback on chatbot performance or periodically verifying chatbots on a random dialog sample to improve the technology.
How ScienceSoft Puts AI Chatbot Technology Into Practice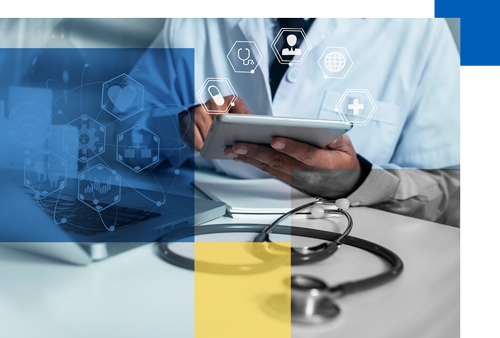 Development of a Patient Mobile App with an Integrated Medical Chatbot
A US-based care solutions provider got a patient mobile app integrated with a medical chatbot. The chatbot offered informational support, appointment scheduling, patient information collection, and assisted in the prescription refilling/renewal.
How to Develop a Healthcare Chatbot
Analyzing the needs you want to meet with an AI chatbot and plan the desired functionality (simple interactions, complex data analytics, etc.).
Defining the applicable regulatory requirements for your chatbot type (e.g., HIPAA, GDPR, MOHAP), creating a regulatory compliance roadmap.
If the AI chatbot performs SaMD functions, classify it according to SaMD types and define the FDA, MDR, or other registration strategy.
Planning a tech stack and architecture, creating complete project documentation throughout the whole project for further regulatory submission.
Planning the development project.
Selecting the fitting ML algorithms depending on the chatbot's purpose (e.g., for appointment booking, NLP).
Healthcare chatbot ML model training and validating the results.
Developing the chatbot and testing the intelligent chatbot's response relevance, performance, etc.
Integrating the chatbot with the relevant IT systems (e.g., EHR, CRM).
For SaMD features: submitting the chatbot for registration or clearance to the relevant authorities (e.g., FDA).
Launching the AI chatbot.
Technologies Powering Medical Chatbots with AI
ScienceSoft's software engineers and data scientists prioritize the reliability and safety of medical chatbots and use the following technologies.
The Challenges Ahead and Ways to Solve Them
Taking the lead in AI projects since 1989, ScienceSoft's experienced teams identified challenges when developing medical chatbots and worked out the ways to resolve them. Check our recommendations to stay on the safe side.
#1 The accuracy of AI chatbots may affect patient outcomes.
Solution: To avoid possible chatbot malfunctioning, ScienceSoft follows the risk-based approach. We divide all AI chatbot actions into low-risk and high-risk groups. For high-risk tasks (e.g., medication prescription), we recommend allocating additional resources to AI training or adding physician verification.
#2 Medical chatbots access and handle huge data loads, making them a target for security threats.
Solution: ScienceSoft's engineers recommend employing measures like data anonymization, encryption, and user authentication mechanisms early on. Besides, throughout the project, we perform regular vulnerability assessments and penetration testing of software and the development infrastructure.
#3 Users may be annoyed by the slow response from a medical chatbot.
Solution: It may occur if the chatbot searches through an extensive data set or is overloaded with requests. At ScienceSoft, we address this concern at the architecture design stage and plan a cloud-based architecture that will handle the anticipated amount of data and temporary request spikes.
What Are Codeless Alternatives to Custom AI Chatbots?
Launching a chatbot may not require any specific IT skills if you use a codeless chatbot product. They are easy to understand and can be tuned to fit basic needs like informing patients on schedules, immunizations, etc. Another option is an AI chatbot that leverages custom AI algorithms. According to the analysis made by ScienceSoft's healthcare IT experts, it's a perfect fit for more complex tasks (like diagnostic support, therapy delivery, etc.). In the table below, we compare a custom AI chatbot with two leading codeless healthcare chatbots.
Conditional chatbot logic

?

A chatbot can personalize questions and alter the dialog flow based on the user's answers.

Symptom checking functionality

Patient support in post-operative care and chronic disease management

Only simple suggestions.

Only simple suggestions.

Tailored suggestions for a patient (generated by a clinically tested AI engine).

Virtual assistants for medical staff

May require FDA/MDR submission as SaMD.

General patient assistance

?

Information on working hours, medical facilities addresses, doctors' shifts, emergency lines, etc.

HIPAA, GDPR, MOHAP, FDA, MDR, and other applicable regulations.

The platform doesn't offer any in-built user authentication tools or technical safeguards required by HIPAA (data encryption, identity management, etc.), so it is not suited for PHI transfer.

The platform doesn't offer any in-built user authentication tools or technical safeguards required by HIPAA (data encryption, identity management, etc.), so it is not suited for PHI transfer.

It can integrate with website building and marketing tools only.

It can integrate with Native iOS and Android SDKs, messaging, and analytics tools.

It can integrate the data from all the required sources and interact with other healthcare IT systems (appointment scheduling systems, EHR, etc.)

Pricing for a mid-sized healthcare provider

From $1,000 to $3,800 a year (a subscription fee).

From $2,400 a year (a subscription fee).

A one-time development cost starting from $70,000 for a simple solution (information support, online scheduling, etc.) to $250,000 for a SaMD AI chatbot.
How Much Will an AI Chatbot Cost You?
The cost range depends on the functionality in the first place. The investments start from $70,000 for a relatively simple solution (e.g., providing information support, online scheduling) to $250,000 for a complex AI chatbot (e.g., with advanced clinical decision support functionality).
Wondering how much it will cost in your specific case?
Get a quote
Major cost factors of AI chatbots in healthcare
Development costs
Intended use and functionality of a chatbot.
The number of data sources to process, data quality.
ML algorithms' complexity and expected accuracy.
Compliance-associated costs (e.g., implementation of HIPAA security measures, FDA registration for healthcare chatbots with SaMD functionality).
UI requirements.
Required integrations (e.g., with EHR, third-party telehealth solutions, scheduling modules).
Operational costs
AI maintenance costs.
Infrastructure costs.
| | | |
| --- | --- | --- |
| Project start within 1–2 weeks. | AI chatbot MVP delivered within 2–4 months. | Further functionality is released every 2­–3 weeks. |
Ready to Implement a Medical AI Chatbot?
Relying on 34 years of experience in data science and AI and 18 years in healthcare, ScienceSoft develops reliable AI chatbots for patients and medical staff.
About ScienceSoft

ScienceSoft is an international software consulting and development company headquartered in McKinney, Texas. With vast experience in medical IT since 2005, we help software product companies and healthcare providers leverage chatbots in their medical software development projects to enhance the patient experience, deliver verified information fast, and automate routine processes.

<![endif]-->