Custom Telemedicine Apps for Primary Care
Features, Success Factors, Costs
Leveraging 18 years of experience in healthcare software development, ScienceSoft designs and develops custom telemedicine software for remote primary care.
Telemedicine for Primary Care In Brief
Primary care telehealth enables physicians, ob-gyns, pediatricians, and other primary care specialists to provide consultations via video & audio calls and instant messaging. It helps patients get treatment for minor diseases, discuss their health and well-being, and visit behavioral therapy sessions remotely.
Custom telemedicine solutions for primary care have particular value for several reasons. They streamline care coordination between primary care providers and other healthcare professionals. They also enable the delivery of personalized interventions, which contributes to better chronic disease management and preventive care. In addition, custom software effectively caters to the unique needs of primary care clinics with a specialized focus, e.g., on pediatrics, geriatrics, psychiatry, or women's health. Also, it seamlessly integrates with the existing systems, helping avoid workflow disruptions.
Architecture: Telehealth software for primary care includes a cloud server, a patient app, an app for medical staff, and an admin panel.
Integrations: Primary care telemedicine solutions usually integrate with EHR, LIS, medical imaging software, and practice management software.
In this guide, ScienceSoft describes how to implement a secure and efficient primary care telehealth application.
The Architecture of Primary Care Telemedicine Software
The core part of a telehealth platform for primary care is a cloud server with a data storage and processing module and a video streaming server. The cloud module collects and handles the history and recordings of primary and follow-up video appointments, messages, images shared by a patient, patient-generated data, and more. The video streaming server enables online audiovisual communication between the medical staff and patients.
Below, we describe other must-have modules for primary care telemedicine software:
App for patients or patients' caregivers
Scheduling and access to online medical appointments.
Sending messages and images.
Vitals and symptoms log.
Self-help materials.
Scheduling of offline screenings or tests and access to the results.
Used by telehealth app admins, healthcare org's administrators, etc.
Access management for telehealth app users (e.g., add/remove a user, grant rights to edit patient data).
Editing of general patient data.
Management of doctors' and nurses' schedules, and more.
Online primary care appointments and messaging with patients.
Treatment and medication plans.
Consultations with other specialists (e.g., cardiologists, neurologists) within a healthcare org via texts/video.
The Functionality of Primary Care Telemedicine Software
ScienceSoft always adjusts telehealth software functionality to reflect the needs of your healthcare organization. Below, our experts share commonly requested telehealth software features for primary care.
Key Integrations for Primary Care Telehealth Software
For correct remote diagnosing, treatment planning, virtual primary care delivery, ScienceSoft's experts suggest integrating telehealth software with the following medical IT systems:
to have a comprehensive view of patients' medical history (chronic conditions, allergies, etc.).
to log the scheduled primary care visits in EHR for further billing.
to enable primary telehealth software integrations with accounting software, e-prescribing software, etc.
to enable access of medical staff to recent patient images (e.g., X-rays) during the follow-up appointment.
Laboratory information system (LIS)
to access patients' test results from a doctor or a patient account and decide on follow-up actions.
Practice management system
to enable admin access to primary care specialists' schedules.
to automate billing for initial and follow-up visits.
How to Create Primary Care Telehealth Software
Below, we outline the major development steps ScienceSoft takes when crafting custom primary care telehealth solutions:
1
Evaluating the needs of primary care providers and their patients, gathering your organization's unique requirements.
2
Eliciting a feature set, specifically focusing on functionalities like secure patient-doctor communication, virtual waiting rooms, remote monitoring for chronic disease management, e-prescriptions and refills, etc.
3
Defining the architecture and tech stack design.
4
Planning the project (scope, milestones, deliverables, KPIs, budget, timeline) to ensure efficient software development and resource allocation.
5
Building the user and server sides of the primary care telehealth solution, with an eye towards patient data privacy and security; ensuring compliance with regulatory standards, e.g., HIPAA, HITECH, and GDPR.
6
Integrating the software with existing systems (e.g., EHR/EMR, visit scheduling, and billing systems) and smart medical devices (e.g., ECG monitors, spirometers, CGM) for smooth data exchange and data entry automation.
7
Performing testing and QA activities to ensure the solution's quality and reliability.
8
Ensuring the software's comfortable adoption by your healthcare organization's staff and patients by providing comprehensive user training and assistance (manuals, video tutorials, helpdesk support, etc.).
9
Offering continuous support and maintenance to promptly fix the emerging issues, implement new features to meet the evolving primary care needs, and stay abreast of regulatory changes impacting telehealth.
What Determines the Success of Telemedicine in Primary Care
According to a 2022 research by the Commonwealth Fund, 82% of US primary care physicians felt telehealth improved the timeliness of care delivery, 75% said telehealth allowed them to assess mental and behavioral health needs more effectively, and 77% reported satisfaction with practicing telehealth. To achieve maximum efficiency of the telehealth tool, ScienceSoft recommends focusing on:
Reliable integration with relevant healthcare software
(e.g., EHR, medical imaging software) to allow medical specialists to access all patient information from a telemedicine application for primary examination, diagnosing, and treatment.
Patient-centric software design
for high adoption and intuitive use of the primary care telehealth application for patients.
​Resilient online communication with a primary care specialist
to avoid interruptions of video communication and ensure the ability to efficiently switch to audio communication or cellular network, for example, in case of low-speed internet connection.
Investments and ROI for a Primary Care Telehealth App
Primary care telehealth app development usually costs from $150,000 for a solution with general features (online visits, messaging, health log, etc.) to $400,000 for an app with advanced functionality (e.g., AI-based patient chatbots, complex analytics). On average, the payback period is around 6 months.
Financial outcomes you get
| | | | |
| --- | --- | --- | --- |
| | New revenue streams due to the replacement of follow-up patient calls with reimbursable telehealth visits (Healthcare IT News). | | Increased number of visits due to improved visit attendance and accessibility of remote primary care (Health Services Insights). |
| | Improved efficiency of primary care medical staff due to optimized schedules and lower risks of contacting an infected patient. | | Enhanced quality of care due to accessible telehealth-supported diagnosing and treatment of minor diseases, which helps avoid complications (Elsevier). |
| | Increased patient satisfaction due to convenient healthcare service delivery. According to the survey, 85% of primary care patients are happy with telehealth visits. | | Improved patient outcomes resulting in higher reimbursements due to faster care delivery and preventative care. (Critical Care Medicine). |
Examples of Telemedicine for Primary Care
Sutter Health in California offers primary care virtually and tries to resolve a patient's issue via a video call before scheduling an in-person appointment. After implementing the program, Sutter Health provides 90% of care services using telemedicine.

Riverwood Healthcare Center in Aitkin, Minnesota, expanded its healthcare offering with a telehealth platform for family physicians, specialty providers, and rehabilitation therapists.
Why Opt for Custom Primary Care Telehealth Software
Based on 18 years of experience in healthcare IT, ScienceSoft recommends developing a custom primary care telehealth app if you need to:
| | |
| --- | --- |
| | Cost-efficiently integrate the app with complex or legacy healthcare software (EHR, laboratory information system, etc.) and medical devices. In our project with the AKLOS Health physiotherapy platform, we delivered a telehealth app integrated with wearable sensors to measure the range of motion (ROM) of patients' joints. |
| | Leverage the functionality of different types of healthcare software (e.g., prescription verification, automated treatment planning, and patient eligibility check) within one app. |
| | ​Implement advanced features unavailable in OOTB primary care telehealth solutions (e.g., AI-based analytics). When developing an app for patients with obesity, ScienceSoft implemented an AI engine for smart suggestions (e.g., personalized diet tips). |
How to choose a telemedicine app for primary care?
Many standalone video conferencing tools on the market can be quickly deployed, but very few are qualified for primary care delivery. To ensure the confidential exchange of PHI, we suggest opting for custom HIPAA-compliant primary care telemedicine software or software products designed for medical use.
Primary Care Telemedicine Implementation: Success Stories by ScienceSoft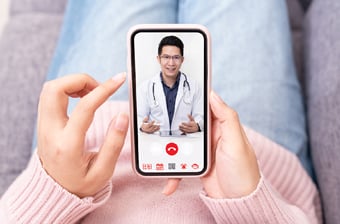 Telehealth Software Design and Development for Primary Care Practices
Customer: A US business running several primary care practices.
Solution: ScienceSoft designed and developed a functional telehealth and practice management solution MVP with the vital features. The solution consisted of a mobile telehealth app and a web portal for appointment scheduling and management.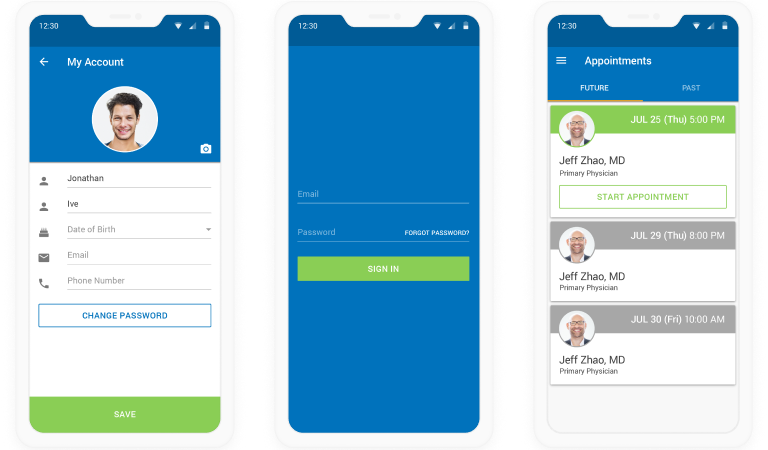 Telehealth App Development for Chiron Health
Customer: A US telemedicine platform, Chiron Health.
Solution: ScienceSoft has developed a HIPAA-compliant Android telehealth app that allows patients to book and attend online appointments with physicians through secure video communication. The app integrates seamlessly with the existing apps (EHR or EMR, RIS, LIS).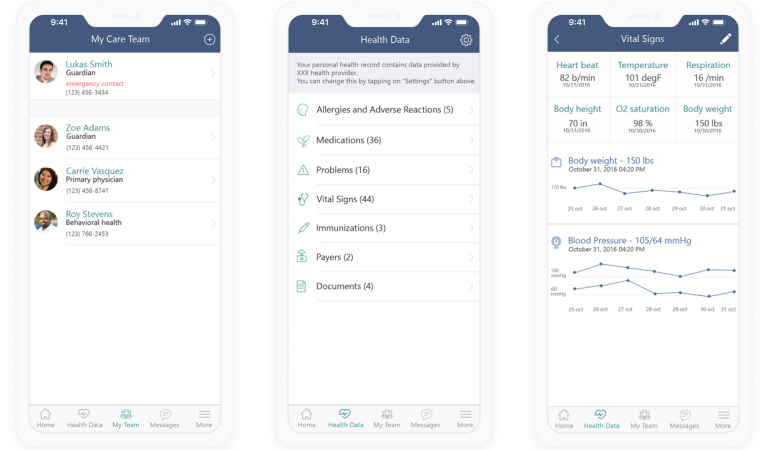 Mobile Care Coordination App Development
Customer: A US leading health information exchange (HIE) vendor.
Solution: ScienceSoft created a mobile care coordination app that creates a continuum of care by connecting patients with their caregivers across organizations and specialties.
Ready to Start Your Primary Care Telehealth Project?
Having an ISO 13485-compliant quality management system for healthcare software development, ScienceSoft is ready to design and implement virtual primary care software to provide medical support to remote patients.
ScienceSoft's Customers Say
Todd Nilson
MD
HealthPoint Plus
We are thankful for the meticulous and value-driven approach of ScienceSoft's team. They created comprehensive project documentation, feature lists, and worked out thorough recommendations to help us improve the stability and performance of our solution. ScienceSoft's project manager, business analyst, QA and software engineers were always friendly and ready to answer our questions or solve any ad-hoc issues. ScienceSoft proved to be a reliable vendor with a solid healthcare background, and we recommend them to everyone looking for a telehealth software development partner.
Patrick Pakan
Founder and CEO
AKLOS Health
Thanks to ScienceSoft's practical healthcare IT expertise, we created a musculoskeletal therapy platform that can be fully customized and reflect the needs of each program member. I am excited to see AKLOS Health change the approach to physiotherapy and offer each member a truly bespoke experience that's based in science.

Justin Turner
CTO
Chiron Health
We engaged ScienceSoft to build an Android telehealth app that complements our web-based platform for our patients. They advised and successfully led the way from end to end through the technical challenges and considerations with the development of the app. We have also engaged them to introduce a few enhancements to the app and would certainly consider ScienceSoft as a technology partner in further software development initiatives.
View all customer reviews
About ScienceSoft

ScienceSoft is an international IT consulting and software development company headquartered in McKinney, Texas, US. Having 34 years of experience in custom software development and 18 years of experience in healthcare IT, ScienceSoft offers consulting and development services to create telemedicine solutions for cost-effective primary care delivery.

<![endif]-->