Implementation of a BI Solution for a US Leading HIE Vendor
Technologies
MS SQL Server
Customer
The Customer is a US leading health information exchange (HIE) vendor.
Challenge
Having an HIE platform, the Customer wanted to aggregate the patients' data available from different healthcare providers, as well as extend platform's functionality by adopting risk management. The Customer also wanted to establish a role-based access control to the reports and dashboards, so security was another challenge to solve.
Solution
While rendering BI implementation services, ScienceSoft started with creating a data warehouse from scratch using Microsoft SQL Server. For ETL development, our team suggested Microsoft SQL Server Integration Services. As a next step, two analytical cubes were created using Microsoft SQL Server Analysis Services. For the user interface, ScienceSoft offered Kyubit BI, as the technology was Microsoft SSAS-compatible and quick in report development.
At the final stage of the project, the following reports and dashboards were delivered:
Registered-events dashboard that shows events by communities, type and time range;
Demographics dashboard that gives an overview of top patients with events, events by age, gender and marital status;
Influence of problems and medications report and dashboard, which contain the information about a problem/medication name, as well as a number and % of patients with the problem/medication;
Prevention dashboard that shows patients with repetitive events, event notifications by care team role, events by notification channel.
In the context of this project, an event means a health problem a patient encounters (for example, a serious injury, hospitalization, unexpected illness, etc.).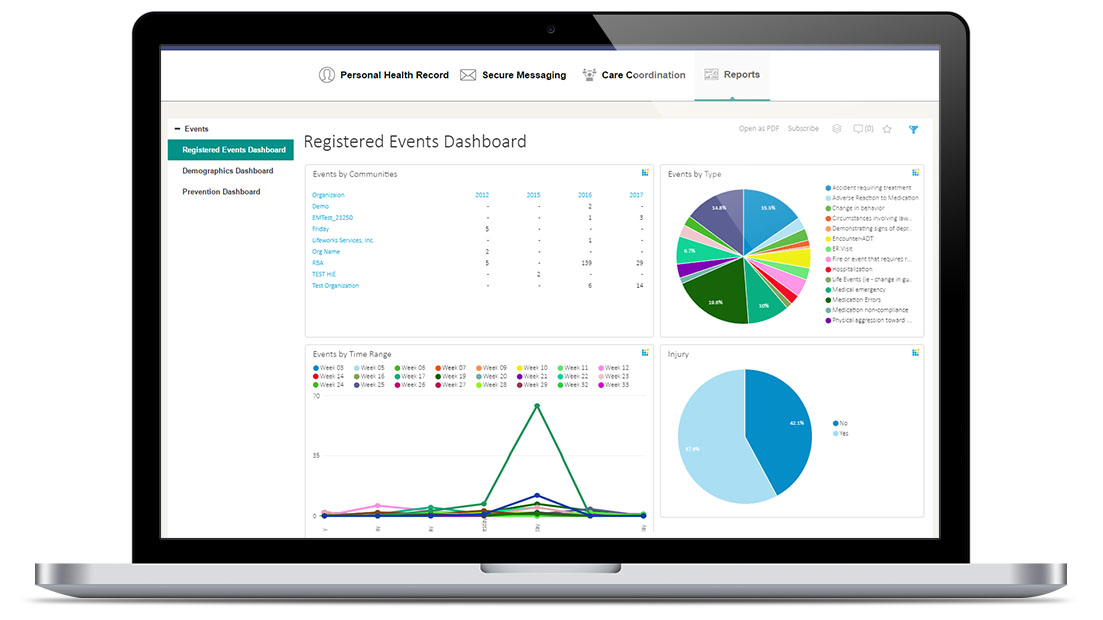 To ensure data security, ScienceSoft implemented a role-based access control to the reports and dashboards:
Organizational level (the healthcare providers that use the Customer's HIE platform can access all the data related to their organization);
Community level (a healthcare community can access all the data related to it);
Personal level (care teams members, such as physicians, case managers and care coordinators can only access the data shared with them).
At the closing project stages, ScienceSoft's team was developing the dashboards that revealed no sensitive information, but gave an overall picture needed to analyze the trends and dependencies.
Results
At the end of the project, the Customer got a flexible BI solution that allows aggregating the patients' data. According to the Customer's requirements, several security levels (all data, organization level, community level, personal level) were set based on the user roles.
ScienceSoft delivered informative and easy to use reports and dashboards. One of the dashboards shows the impact of patients' diagnoses and medications they have received (extracted from the health records) on an event probability. Based on medical data analysis, the healthcare providers can take measures to reduce the risk of an event.
Technologies and Tools
Microsoft SQL Server, Microsoft SQL Server Analysis Services, Microsoft SQL Server Integration Services, Kyubit Business Intelligence.

Need help with a similar project?

Drop us a line, and our rep will contact you within 30 minutes to arrange an initial discussion.

<![endif]--> <![endif]--> <![endif]-->