End-to-End Digital Transformation Services
From strategy to action
Digital transformation is the process of planning and executing an individual business strategy for digital adoption. Medium and large enterprises partner with ScienceSoft to find improvement opportunities in their business processes and launch digital transformation.
Every process can be improved or transformed digitally
"There's always a way to achieve a much higher return on employees' efforts and a company's resources with a deliberate digital transformation strategy. A digitally savvy company can grow irresistibly."
Customer experience transformation
We create customer experience programs focused on digital engagement and multitouch customer journeys. It allows our clients to stand out in the market competition and stay strong in crisis times thanks to the established digital presence.
Elements of digital transformation:
Ecommerce launch in B2C and B2B segments.
Immersive digital experience: AR-powered apps, 3D product modeling, live video integration.
IoT-assisted in-store experience: smart shelves, connected consumers, personalized store navigation.
Programmatic advertising tools.
Customer service transformation
We help businesses create fast, helpful and proactive digital customer service. This way, it becomes a building block of lasting customer loyalty.
Elements of digital transformation:
IoT-enabled remote servicing.
Multi-channel customer service desk.
AI adoption for task automation and data-driven insights for faster case resolution.
Intelligent chatbots.
By redesigning supply chains, we help make them faster and more flexible and take associated risks under control. Positive changes are possible throughout supply chain management.
Elements of digital transformation:
No-touch supply chain planning.
Ad-hoc demand forecasting.
E-procurement.
Dynamic pricing.
RFID-based warehouse management.
Multichannel order management.
Robotic process automation.
Blockchain-based traceability in cargo transportation and handling.
We help companies digitalize up to 90% of corporate finance-related tasks and, thus, drive significant time and cost savings and improvements in financial data accuracy.
Elements of digital transformation:
Automation of document processing, financial calculations, and bookkeeping.
AI-powered big data processing to support financial planning and analysis.
In-house banking, automated POBO and ROBO/COBO operations.
Blockchain-based recordkeeping to improve security of sensitive data.
We provide digital tools to arm your employees with new abilities and enable more effective ways of working.
Elements of digital transformation:
Automation of a document life cycle.
Low-code apps for quick automation of everyday tasks and workflows.
Digital workspaces for team collaboration.
Secure remote work environment.
E-learning tools.
API-driven infrastructure for fast integration of internal and external systems.
Manufacturing transformation
We bring to life the Industry 4.0 concept to increase manufacturing productivity and quality. We can fully plan and supervise your transition to a smart factory.
Elements of digital transformation:
Sensor-equipped machinery providing data on the machinery condition and enabling preventive maintenance.
Digital twins to run simulations in a virtual environment and apply results to real objects.
Connected workers to exercise greater process control.
Product quality control.
Healthcare transformation
We help healthcare institutions open up new ways to deliver health care remotely, especially valuable in times of social distancing and for patients in distant or rural areas. Also, we apply techs to improve the quality of patient examination, supervision and treatment.
Elements of digital transformation:
Telemedicine.
Wearable IoT devices for remote health monitoring, on-site tracking of the location of patients and hospital staff.
RFID-based management of hospital inventory.
Medical image analysis.
VR solutions for different educational and treatment purposes.
Digital patient engagement via portals and apps.
Financial service transformation
We help banking, payment, lending, and investment companies achieve digital agility in a rapidly evolving BFSI sector with the help of custom process automation solutions and advanced technologies.
Elements of digital transformation:
Automation of omnichannel customer servicing operations.
Intelligent risk assessment.
AI-supported client interaction.
Decentralized finance.
Advanced IAM.
Scalable IT infrastructure to process the growing volume of financial data.
Open APIs to facilitate sharing of financial data and create new services.
We take a holistic approach to identify and improve all pain points and inefficiencies that undermine your processes in any business area. We prioritize the goals and actions to keep the high pace of your digital transformation and get the return on your investment as early as possible.
Elements of digital transformation:
Modernization of legacy software with unreasonable cost of ownership.
Creation of new business software.
Cloud enablement.
The Financial Times Includes ScienceSoft USA Corporation in the List of the Americas' Fastest-Growing Companies 2023
For the second year in a row, ScienceSoft USA Corporation ranks among 500 American companies with the highest revenue growth. This achievement is the result of our unfailing commitment to provide high-quality IT services and create best-value solutions that meet and even exceed our clients' expectations.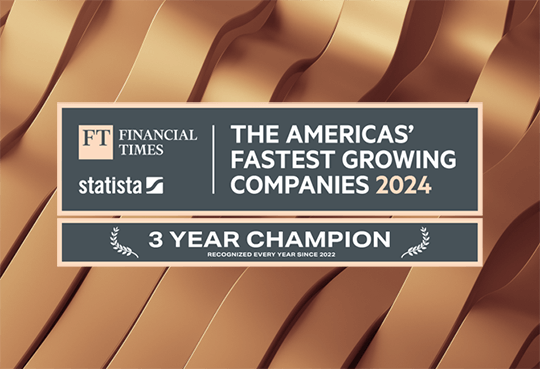 1
In-depth investigation of the current business state
At this step, we:
Get an overall business picture: size, geographical presence, major processes, business model(s), product/service lines, supply chains, finance.
Find out business goals and a planned roadmap for further company development. As the vision of different stakeholders may differ, we consolidate the opinions and ultimately advise on how the strategy may be tuned in view of digital transformation.
Define business areas subject to transformation and study them thoroughly using business process assessment, interviews, problems/goals decomposition, value stream mapping.
Identify areas of waste:

Time and energy waste for manual, repetitive, excessive activities.
Defects in end products or processes and costs associated with their correction.
Irrational use of assets or space.
Miscommunication, poorly coordinated activities between employees.
Wasted data.
2
Digital transformation strategy
At this step, we:
Set up long-term digital transformation goals.
Prioritize goals based on the expected impact and urgency.
Plan a sequence of manageable initiatives taken to achieve the goals.
Appraise each initiative in terms of cost, time, and manpower requirements.
3
Digital transformation implementation
We help with:
IT infrastructure transformation to reduce costs and enable technology-driven innovation.
Implementation of new software aimed to bring the required improvements to business processes.
Transformation of existing software solutions to align them with the current business needs, make more maintainable and user-friendly.
Integration of business systems internally and with third-party apps and services.
Setup of data analytics of the required complexity, from descriptive data analysis to data science.
Digital testing tailored specifically to digital transformation projects and covering end-to-end functional, integration, performance, security, usability, and data migration testing.
4
Risk mitigation
Throughout the entire digital transformation, we control the risks of:
Operational complexity to prevent user-unfriendliness in apps or overcomplicated processes hard to adopt.
Unresponsiveness or lagging performance of business apps caused by improper architecture.
Vulnerabilities in a cybersecurity system.
Data leakage or data confidentiality breaches.
Non-compliance of digital solutions with sectoral regulations.
Cost and time overruns.
5
Program and project management
We concert all the activities planned for digital transformation and help:
Coordinate multiple autonomous teams.
Manage the costs and achieve maximum business value for the given budget.
Establish the practice of continuous integration and continuous deployment (CI/CD).
Manage delivery deadlines and mitigate possible delays.
Report on the digital transformation progress.
Tune the digital transformation strategy amid the implementation in case of altering circumstances.
Edge computing & low-latency network
Cloud computing
Robotic process automation
Machine & deep learning
Natural language processing
Image analysis
Artificial intelligence & data science
Internet of Things
Digital twins
Blockchain
Augmented & virtual reality
How ScienceSoft Will Create Your Digital Transformation Profit
Digital transformations are vast in scale and cost. So, before rushing into this experience, you need to understand if the investment will pay off. Below, we describe the most common opportunities created by digital adoption, but surely you will have even more benefits arising from your individual digital transformation strategy.
Asset efficiency
Labor productivity
Sales opportunities
Digital conversions
Paperwork
Operational costs
Machinery downtime
Order lead time
Product quality control
Response to demand fluctuations
Employee satisfaction
Document routing
Response to demand fluctuations
Resolution of customer service cases
Interdepartmental coordination
Approval procedures
Business performance metrics
<![endif]--> <![endif]--> <![endif]-->