End-to-End Digital Transformation Services
With 34 years of experience in IT, ScienceSoft helps businesses across 30+ industries modernize their legacy systems, introduce process automation, and reach new heights with the help of advanced technology. Knowing the value of risk management in DT, we carry out targeted, sustainable innovations in business-critical areas and maintain strict budget control.
When Is It Time for Digital Transformation?
A recent McKinsey survey has revealed that 9 in 10 leaders and C-level executives have embarked on at least one digital transformation project in the past two years. What prompts businesses to kick off DT?
Legacy systems get progressively harder to scale and update over time, accumulating technical debt. The resulting low performance and growing security concerns turn this from an inconvenience into a critical business risk.
Manual business and IT processes are slow, error-prone, and tedious for the involved teams, leading to suboptimal results. Without efficient automation, the gap between established routines and expected outcomes becomes impossible to breach.
Market competitors leverage modern technology to operate faster, serve customers better, and win new markets. Without a solid digital strategy to support your unique proposition, it's hard not to lag behind.
Digitalized processes accumulate more and more data each day, but with manual data management and siloed storage, it doesn't reach analytics in time to have a meaningful impact on decision-making.
Why Choose ScienceSoft as Your Digital Transformation Partner
In IT since 1989, we have gained vast experience in digitalizing business processes across 3,600+ projects.
Dream team to cover any IT needs
Our most valuable asset is the pool of 750+ professionals ranging from solution architects, developers, and QA engineers to data scientists and Certified Ethical Hackers.
Our strategically-minded consultants and pragmatic tech experts work together to develop granular, meaningful changes that deliver rapid value.
We know the process specifics, unique challenges, and regulations of 30+ industries, including healthcare, BFSI, retail, and manufacturing.
Our distributed locations in the US, Europe, and the Gulf Cooperation Council allow us to make on-site visits and closely collaborate with companies from 70+ countries worldwide.
Building lasting partnerships
Major market players, including Fortune 500 companies, trust us to manage their IT needs, and we get 62% of our revenue from clients that stay with us for 2+ years.
Don't implement DT just for the sake of innovation
Why do some digital transformation projects fail and some don't? A great differentiator is the alignment of technology and business strategy. No matter how popular or powerful a new tech is, it won't work a miracle unless you solve a clear business challenge with it. At ScienceSoft, we first analyze the client's needs and then decide how to modify their technology environment to meet them. We only implement DT initiatives when we are confident they'll bring tangible business improvements in the target field. This is the only way to get a sustainable financial return from digital transformation.
Applying Digital Transformation across Business Areas
Industry-Specific Digital Transformation
The Financial Times Includes ScienceSoft USA Corporation in the List of the Americas' Fastest-Growing Companies 2023
For the second year in a row, ScienceSoft USA Corporation ranks among 500 American companies with the highest revenue growth. This achievement is the result of our unfailing commitment to provide high-quality IT services and create best-value solutions that meet and even exceed our clients' expectations.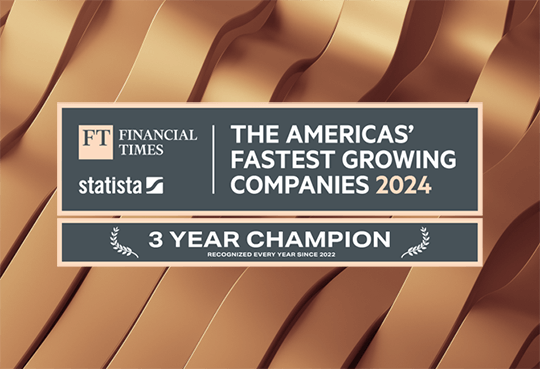 Our Multi-Industry Portfolio of Digital Business Transformation Projects
How We Unfold Digital Transformation
Digital transformation is the revision and evolution of a company's technology environment with the goal of improving business performance metrics. At ScienceSoft, we manage large-scale projects effectively by bringing clear structure and organization to the process while leaving space for tuning our framework to each unique project.
1
In-depth investigation of the current business state
At this step, we:
Get an overall business picture: size, geographical presence, major processes, business model(s), product/service lines, supply chains, finance.
Find out business goals and a planned roadmap for further company development. As the vision of different stakeholders may differ, we consolidate the opinions and ultimately advise on how the strategy may be tuned in view of digital transformation.
Define business areas subject to transformation and study them thoroughly using business process assessment, interviews, problems/goals decomposition, value stream mapping.
Identify areas of waste:

Time and energy waste for manual, repetitive, excessive activities.
Defects in end products or processes and costs associated with their correction.
Irrational use of assets or space.
Miscommunication, poorly coordinated activities between employees.
Wasted data.
2
Digital transformation strategy
At this step, we:
Set up long-term digital transformation goals.
Prioritize goals based on the expected impact and urgency.
Plan a sequence of manageable initiatives taken to achieve the goals.
Appraise each initiative in terms of cost, time, and manpower requirements.
3
Digital transformation implementation
We help with:
IT infrastructure transformation to reduce costs and enable technology-driven innovation.
Implementation of new software aimed to bring the required improvements to business processes.
Transformation of existing software solutions to align them with the current business needs, make more maintainable and user-friendly.
Integration of business systems internally and with third-party apps and services.
Setup of data analytics of the required complexity, from descriptive data analysis to data science.
Digital testing tailored specifically to digital transformation projects and covering end-to-end functional, integration, performance, security, usability, and data migration testing.
4
Risk mitigation
Throughout the entire digital transformation, we control the risks of:
Operational complexity to prevent user-unfriendliness in apps or overcomplicated processes hard to adopt.
Unresponsiveness or lagging performance of business apps caused by improper architecture.
Vulnerabilities in a cybersecurity system.
Data leakage or data confidentiality breaches.
Non-compliance of digital solutions with sectoral regulations.
Cost and time overruns.
5
Program and project management
We concert all the activities planned for digital transformation and help:
Coordinate multiple autonomous teams.
Manage the costs and achieve maximum business value for the given budget.
Establish the practice of continuous integration and continuous deployment (CI/CD).
Manage delivery deadlines and mitigate possible delays.
Report on the digital transformation progress.
Tune the digital transformation strategy amid the implementation in case of altering circumstances.
Digital Transformation Technologies for Advanced Business Capabilities
Edge computing & low-latency networks
Cloud computing
Machine & deep learning
Natural language processing
Image analysis
Artificial intelligence & data science
Internet of Things
Digital twins
Blockchain
Augmented reality
Virtual reality
Big data
What DT Clients Value in ScienceSoft's Approach
Flexibility in scope and cost
We can start DT within one business area and gradually expand it after it brings the first results. The initial investment may range between $100,000 and $500,000, while the total enterprise-wide DT cost may reach $5,000,000, depending on the scale.
Minimal business disruptions
We approach change management strategically and implement new system components step-by-step to give your employees time to adapt. We schedule software releases and any infrastructure works outside of your business hours to further minimize disruptions.
Streamlined user adoption
We involve key stakeholders at the UX/UI design stage to create convenient software that solves the issues of the current solution, motivating users to adopt it. We also actively gather feedback from the first adopters to design better user training materials and minimize friction.
Thorough project scoping, pragmatic planning, and mature risk management practices allow us to estimate realistic timelines that we can meet without compromising software quality or extending the budget.
With a pool of over 750 talents, we can quickly provide competent specialists for any ad hoc task, from user support and cybersecurity to data science and blockchain.
When engineering project requirements, our analysts focus on solving specific business challenges rather than simply building software. They also assess the economic feasibility and potential outcomes of each DT initiative, guaranteeing wise resource allocation.

<![endif]-->