Managed Infrastructure Services
An MSP with 34 years in IT, ScienceSoft offers fully managed and co-managed IT infrastructure services to provide you with stable infrastructure performance, reduced infrastructure maintenance costs and proactive issue resolution.
Why Choose ScienceSoft to Manage Your IT Infrastructure
34 years in IT and 15 years in IT service management (ITSM).
750+ employees, 50+ infrastructure management team members.
10 years in DevOps practices.
Strategic partnerships with Microsoft, Amazon, ServiceNow, Oracle, Salesforce.
Included in the 2023 IAOP Global Outsourcing 100 list as one of the world's best outsourcing service providers and advisors.
ISO-certified quality management system, internal quality-oriented processes and policies, focus on value for customers, and motivated professional teams.
ISO 27001-based information security management system established to assure the safety of the customers' data we access.
Deep experience in 30+ industries, including healthcare, retail, BFSI, and manufacturing.
Benefits You Get Choosing Us for IT Infrastructure Management
Reduced IT infrastructure maintenance costs
We help achieve up to 150% cost savings compared to the cost of in-house infrastructure support. Among our ways to lower costs are virtualization technology, automation and orchestration, cloud migration, rightsizing cloud resources, using Reserved and Spot instances, implementing serverless architectures, improving ITSM processes, and many more.
No interruptions to business operations
We continuously monitor infrastructure components to proactively identify and resolve issues. We perform regular updates and upgrades and apply patches to keep your systems up-to-date and secure. We scale hardware, software, and support to answer your growing business needs.
34 years in IT services without a single security breach, ScienceSoft guarantees full protection of your data. We heavily invest in a mature information security system compliant with ISO 27001, retain top security experts on board, and follow CIS, NIST, OWASP requirements and recommendations.
Check a sample KPI system
A sample KPI system
Costs:
Target budget for managed infrastructure services:

Budget spent
Over budget approved and spent (if any)

Your employees' time spent to handle ScienceSoft's requests
Services reliability:
Service availability
Response time
IT incidents (issues users encountered)
IT infrastructure security:
Number of vulnerabilities found by independent penetration testing
Number of security incidents
Changes (by business value and priority):
Delivered
Waiting in a backlog
Backlog waiting time expired
User satisfaction:
User satisfaction score
Change adoption metrics
IT Infrastructure Components We Cover
ScienceSoft's IT infrastructure management services result in hassle-free IT operations and boost business efficiency. From continuous monitoring, support and optimization to carefully planned large-scale migrations and evolution of the entire IT infrastructure or its parts, we can take care of it all.
Servers
Network devices like switches, routers, wireless access points
Desktops
Mobile devices
IoT devices
Cloud and on-premises databases
Data warehouses
Data lakes
Customer- and partner-facing software
Online catalogs
Customer feedback tools
Self-service apps
Partner/vendor/patient portals
ERP
CRM
Business intelligence
Corporate intranets
Software development infrastructure
Development and testing environments
CI/CD pipelines
Containerization tools
Dependency management systems
Scope of IT Infrastructure Managed Services by ScienceSoft
Selected Projects
ScienceSoft has helped businesses from 30+ industries maintain, enhance, and transform their IT infrastructures.
ScienceSoft has been providing an excellent level of service maintaining the application's AWS infrastructure, as well as deploying and configuring new Linux-based virtual machines and AWS cloud services.

During our cooperation, ScienceSoft's team has built a fault-tolerant and highly available application infrastructure with automatic crash recovery capabilities, which makes our web application stable and high-performing. We would certainly recommend ScienceSoft as a reliable managed infrastructure service provider.
Gordon Seipold, CEO, 3steps2web
Consistently Bringing Outstanding Results
Our Approach to Building Collaboration
Our approach to collaboration is centered around value the customer gets, which is proved by the Global Outsourcing 100 award. We adhere to a multi-tiered approach to collaboration with your IT team or your vendor's team, and adjust it taking into account your business situation, objectives, and requirements.
This is how our collaboration may look:
Find out more: How ScienceSoft sets up a value-driven collaboration
The Financial Times Includes ScienceSoft USA Corporation in the List of the Americas' Fastest-Growing Companies 2023
For the second year in a row, ScienceSoft USA Corporation ranks among 500 American companies with the highest revenue growth. This achievement is the result of our unfailing commitment to provide high-quality IT services and create best-value solutions that meet and even exceed our clients' expectations.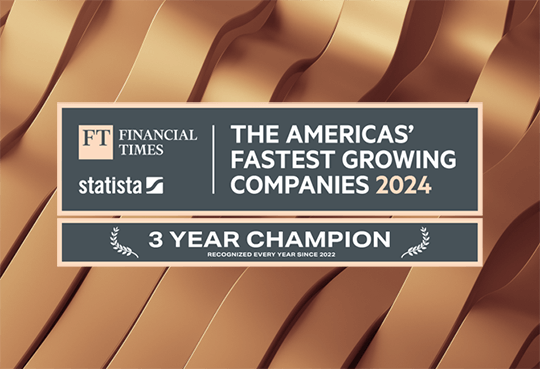 How ScienceSoft Delivers IT Infrastructure Managed Services
1
Infrastructure analysis
Timeline: ~2-4 weeks.
We assess your current IT infrastructure design. We also talk to your business and technical stakeholders or third-party vendors to get the details on the available IT infrastructure assets, configurations and specifics of your IT infrastructure components. With the information obtained, we suggest an optimal custom set of services and discuss KPIs to track the success of our collaboration.
2
Responsibility transfer
Timeline: ~2-4 weeks.
We sign a statement of work and a service level agreement, and you are gradually switching to a new service model where we take the entire responsibility for your IT infrastructure.
3
Service delivery
Continuous service
We provide the agreed set of services, minimizing management efforts on your side by ensuring a high level of service transparency. We regularly analyze the results of our activities and submit detailed reports to you according to the agreed schedule. If you have a question that requires an immediate answer, a dedicated project manager is always in touch.
4
Evolution
Timeline: Urgent changes can be implemented within 8 working hours, new functionality can be delivered in 1 day – 2 weeks.
We suggest and implement changes to increase the reliability and flexibility of your IT infrastructure. At the same time, we continuously adjust our cooperation to meet your needs, e.g., scale the team, reconsider the set of services required, add or remove KPIs to track.
You can include step-by-step component modernization in your outsourcing contract to reduce future management costs for legacy components and simplify their maintenance. The modernization may cover such activities as replacing/repurchasing, app/database migration to modern languages and frameworks, re-engineering, and re-architecting.
Tools and Technologies We Work With
Choose Your Service Option

Depending on the services coverage you expect from us, we can deliver our IT infrastructure managed services according to two possible models:

<![endif]-->