Are you contemplating a BI project but still not quite sure of how to make it flawless? We have summarized our 15 years of experience in rendering BI implementation services and offer the answers to five questions that companies most frequently ask.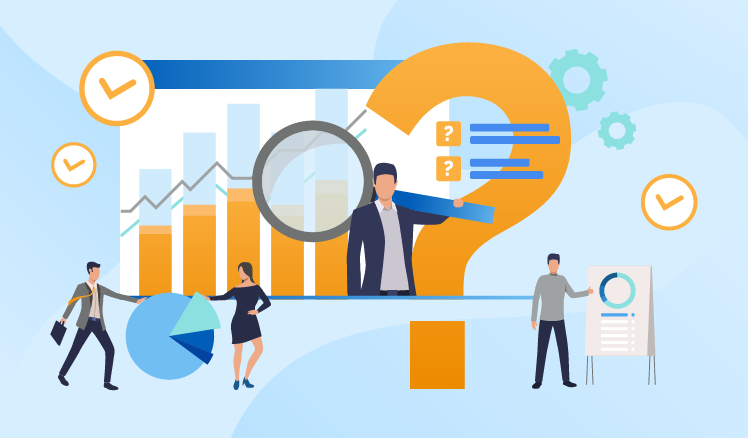 Question 1. How to make BI solve business problems?
Running operations in the uncertain business environment
How easy decision-making would be if no uncertainty existed: for example, a company would know how many SKU items exactly they should provide their customers with daily.
A BI solution powered with 4 types of analytics helps companies make data-based decisions in an uncertain business environment. With the help of the BI solution, companies can examine historical data, identify problems and their root causes, create forecasts and even receive recommendations on what action they should take.
Failing to outpace the competitors
A company may run many activities, such as having frequent promotions, communicating with loyal customers, redesigning the website or introducing changes in the product or service portfolio, yet see no impact of these efforts on their market position.
With BI, a company can analyze customer and finance data to understand their customers' preferences and value. This is how the company can define what need they should satisfy to get more profit, as well as satisfy customer needs better than their competitors can do. A closer look at the market data, which BI enables, helps to define the strengths and weaknesses of their own and their competitors' businesses.
Read also:
Missing prompt info about business operations
Companies deprived of up-to-date info about their business operations can fail to react when their immediate intervention is needed. For instance, a business that gets production quality control results the next week rather than receiving at least daily updates, is at threat of not taking a timely corrective action. For example, this manufacturer can fail to spot an issue in the product's design, which would result in several faulty batches.
A BI solution allows analyzing real-time data, as well as making use of pre-built and ad hoc reports. With self-service BI, ad hoc reporting doesn't take days or weeks anymore, as it is created by end users themselves instead of the analysts. Besides, BI solutions are available for both desktop and mobile users, which allows busy managers and senior specialists to conveniently access the data without delay.
Poor performance monitoring
It is a common practice for companies to have their departmental and individual KPIs in separate spreadsheets, yet this doesn't mean that this practice is effective. It requires substantial analysts' efforts to bring all the isolated documents together to see a broader picture of the overall business performance.
A centralized BI solution becomes a single source of truth – the data retrieved from various data sources is integrated and cleaned, so only high-quality and up-to-date data is available for KPI calculation. Administrators of a BI solution set formulas for calculating each KPI, and relevant thresholds, if any, thus unifying the calculation. Intuitive dashboards allow end users to monitor how a company, a department or an employee performs against the target. To see in practice how a centralized BI solution works, check our BI demo.
Question 2. How long will it take for the BI investments to pay off?
The investment part
The average cost of BI implementation for a company of 500 – 2,000 employees is $250,000, which covers designing and delivering a data warehouse, ETL processes, an OLAP cube, reporting and dashboards, data preparation and training on OLAP.
The pay-off part
For further calculations, we'll consider the above mentioned BI solution. Say, the analytics department of a mid-sized company monthly prepares 18 reports for each of the 7 departments they serve. Provided that the preparation of one report takes 2 hours and an hour of the analyst's work comes out at about $72 (considering the wage and other costs, such as medical insurance and office space), we see that manually prepared reports can cost the company more than $200,000 yearly. Only this fact means that BI investments can pay off in a year.
However, reduced costs of reports preparation isn't the main benefit that companies pursue. According to the recent survey, 91% of the respondents state that they benefit from faster reporting, analysis or planning; 84% - from better business decisions; 74% - from improved operational efficiency.
When a company improves operational efficiency, it can reduce its overall costs. Let's take a company with 2,000 employees and assume that the company's costs are almost equal to their revenue, which is $1.2 billion a year (as the average revenue per employee is $0.6 million). Considering that the implementation of BI will help to reduce overall costs by at least 1%, the company can save $12 million a year.
Question 3. How long does it take to implement a BI solution?
From our experience, for a $250K project, it takes 4-8 months to implement a BI solution. The range is wide as the implementation speed heavily depends on the expected functionality and the project scope. To reap the benefits of BI as early as possible, we recommend applying an iterative approach. According to this approach, instead of delivering the whole BI project at once, the implementation team delivers it in one month-long iterations. For each iteration, a BI vendor's implementation team in close collaboration with the company defines the BI components, KPIs and reports to be delivered. The most expected functionality is delivered first. The main advantage of this approach is that the company can employ the deliverables of the first iteration in their daily work while the team of business analysts and developers proceed with designing and coding the components chosen for the next iteration.
Question 4. What are typical mistakes to avoid during BI implementation?
To implement a BI solution successfully, it's necessary to avoid some common pitfalls:
Failing to meet business needs
At the stage of BI vendor selection, it's so easy to get carried away with multiple offers and finally lose focus of a business' specific needs. Yet, a promise of the trendiest or the cheapest BI solution, or the one offering the widest functionality doesn't necessarily end up with comprehensive answers to the business questions.
Our advice: Assigning representatives from different departments to collect and communicate the needs of these departments to a BI vendor can be a good starting point. With the company-wide needs envisaged, it will be easier to sift through different BI vendors' offers.
Lacking a long-term vision
Satisfying only immediate needs while implementing BI is likely to result in speedy dissatisfaction with the solution. For example, several months after the solution's launch, a company decides to analyze big data in order to introduce predictive maintenance, while the current solution wasn't intended to support such scalability. Introducing significant changes, for instance, altering the solution's architecture, will be accompanied by high investments.
Our advice: Before implementing a BI solution, it's necessary to set forth a clear BI strategy that will correspond to both short-term and long-term (for 3 – 5 years) business objectives. The strategy should reflect the expectations regarding reporting needs, data sources, types of analytics applied, scalability of the BI system, technologies used, and more.
Failing to consider data quality
Low-quality data cannot be the foundation for healthy BI that contributes to a business' success. Even the strongest enthusiasts of an implemented BI solution will soon stop using it, should it produce misleading reports that contain errors. And poor adoption by end users means the return to old practices, which makes the investments and efforts useless.
Our advice: Keeping an old 'garbage in – garbage out' adage in mind, it would be wise for companies to check their available data and improve its quality if required. However, this one-time action won't be enough to ensure the health of a BI solution in the long run. To keep data up-to-date, complete and accurate, a company should set up effective data entry and a proper data quality management process, which covers 4 key steps:
Promoting the importance of data quality throughout the company: conducting regular training sessions, introducing KPIs that relate to data quality.
Searching for primary sources of inaccuracies and entry errors and working on their elimination.
Designing data quality rules and thresholds.
Constantly monitoring the quality of data.
Disregarding evolution and support services
The successful launch of a BI solution seems the right time to breathe a sigh of relief and enjoy the results of the great work. However, users can still have new needs. For example, a diversified company may decide to integrate their disparate businesses and get bird's eye view reporting that would embrace all the business directions.
Our advice: It makes sense to thoroughly examine the service portfolio of a potential BI vendor and consider what evolution and support services they offer apart from pure implementation. It's better to select the vendor who can render a full range of services –implementation, support and evolution – and can be responsible for all the deliverables, rather than having separate vendors to render a separate service. Also, it's necessary to estimate new needs realistically and plan the budget for support accordingly.
Facing poor user adoption
Isn't it painful to see that the solution, which required implementation effort and money investments, is abandoned by users? This scenario is quite realistic if users aren't fully aware of the reasons for implementing BI or the possibilities that the solution offers or they simply don't know how to work with it.
Our advice: It would be wise to involve the users from the start – already at the stage of formulating the needs of various departments. Besides, it's important to ask a BI vendor to conduct dedicated initial training targeted at various user groups. Also, the business should get some feedback after the training to check that users don't have any unanswered questions regarding the BI solution.
Question 5. How to manage the chosen BI vendor?
Contractual aspects
The contract must reflect the key milestones of the project, their duration, the number of participants involved and their positions, the deliverables to be provided during each of the milestones, as well as the established set of KPIs. This makes the whole implementation project transparent and more controllable.
As to payments, the time and material model with the agreed project budget will be a good option. This model provides for the payments bound to deliveries, according to the vendor's time invested in the implementation. In general, the time and material model is a frequent choice for long-term projects where business or market requirements may change, therefore, some flexibility is expected.
Collaboration aspects
It will be beneficial if a BI vendor's role is not limited to simply implementing the requirements. The vendor is expected to bring in best practices, as well as work closely with the company while designing and delivering a BI solution. For example, at the stage of gathering requirements, the company should communicate their needs, while the vendor should be able to elicit and elaborate the requirements. Besides, the vendor should modify the requirements or add new ones throughout the project. Such modifications can also be triggered by the stakeholders' regular feedback on the implemented components and functionality.
Final thoughts
The big stones of BI implementation are making a BI solution to pay off and having a long-term roadmap. Additionally, we strongly recommend going beyond the pure implementation and take care of such important aspects as data quality issues, user adoption, after-launch support and evolution.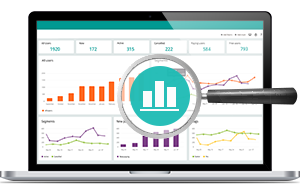 14 years of BI practice. Full-cycle services to deliver powerful BI solutions with rich analysis options. Iterative development to bring quick wins.