2016 wasn't a year dedicated to healthcare software for distant chronic disease management and overall telemedicine. However, a new initiative by The Centers for Medicare & Medicaid Services (CMS) can make 2017 a year when telehealth started its victory march. We've criticized CMS's conservatism that couldn't motivate providers to adopt telemedicine technologies widely, but the Centers have proposed a new rule that has a potential to cut the criticism off.
In the Medicare Physician Fee Schedule 2018, CMS introduced a number of new telehealth services qualified for reimbursements, including:
Health risk assessments,
planning for chronic care management programs,
psychotherapy for crisis situations along with interactive complexity,
virtual visits to decide if a patient is eligible for low dose CT.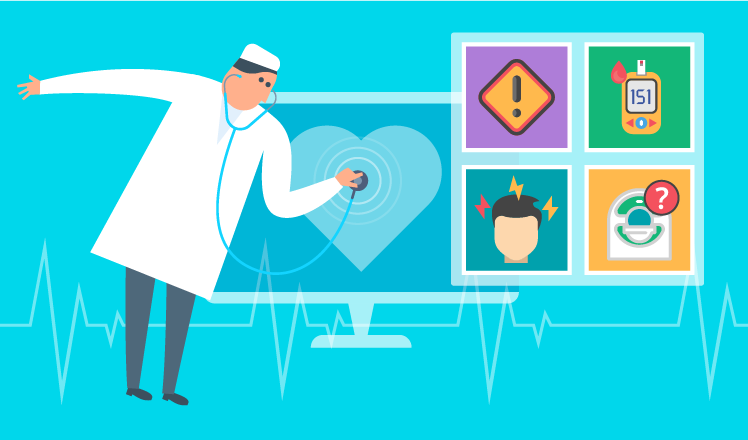 To apply for reimbursements, caregivers have to comply with usual conditions, particularly, a physician or other authorized practitioner should use an interactive telecommunication system (audio and video equipment allowing two-way, real-time interaction) and provide services to an eligible patient located in a telehealth originating site. According to the proposed rule, in this case, "Medicare pays a facility fee to the originating site and makes a separate payment to the distant site practitioner furnishing the service."
By extending the range of services to chronic disease management planning and health risk assessments, CMS offers providers a way to communicate with patients more regarding their health status changes and forthcoming treatment. Since multiple patients are unable to opt in for frequent office visits, CMS facilitates the life of these patients with new service types covered.
The rule once again states that the amount of reimbursement for providing a telehealth service should be equal to the amount for the same service provided in person. Hopefully, when the range of reimbursable services will become wide enough, telemedicine technologies will successfully boost up across multiple healthcare organizations. They actually start to evolve at the bedside, according to the news.
How CMS initiatives align with reality
In a recent press release, The U.S. Department of Veterans Affairs Midwest Health Care Network announced a collaboration with the Air Force Medical Operations Agency to provide five military treatment facilities with access to VA's Tele-ICU capabilities.
The Tele-ICU is a telemedicine technology that includes:
Telecommunications equipment in a patient's ICU room (a speaker, microphone, two-way high-resolution ceiling-mounted video camera and video screen).
Tele-ICU software that monitors a patient's vitals in real time (e.g., blood pressure, heart rate and critical lab data), and then sends algorithm-based alerts to nurses and physicians about changes in patient's health status.
Off-site Tele-ICU support & monitoring center that can be located anywhere, equipped with patient census screen, vitals and lab alerts, patient profiles, live audio-video feed, electronic medical record (CPRS), digital imaging (PACS) and ICU Clinical Information Systems (CIS).
This solution allows patients to interact with VA's Tele-ICU licensed physicians (Tele-Intensivists) and critical-care nurses, who can see a patient directly and access his or her health data, including chart review, in a 24/7 mode. Physicians are able to prescribe medications, order tests and procedures, confirm diagnoses and discuss the treatment plan with the patient and their relatives remotely. The agreement is meant to extend the care reach to Air Force patients in Las Vegas; Biloxi, Mississippi; Hampton, Virginia; Dayton, Ohio; and Anchorage, Alaska.
VA Secretary Dr. David Shulkin hopes to enhance care quality and reduce expenses through the Tele-ICU by enabling real-time monitoring and tracking of critically ill patients. He stated that the technology "improves the quality of care, decreases costs by supporting evidence-based practices, and it improves patient outcomes through decreased ventilator days, ventilator-associated pneumonias and reduced lengths of stay."
"Collaborative partnerships, such as this agreement with VA, help us provide the best possible care to our service members, military family members and retirees who receive health care through the Department of Defense," highlighted Acting Assistant Secretary of Defense for Health Affairs, Dr. David Smith.
The future of telehealth isn't determined yet
As CMS posted the rule for comments and suggestions, we anticipate that the final rule version can be even more rewarding for telehealth evolution. However, even without updates in regulations, healthcare organizations move forward to remote care delivery and collaborate in enabling technology support for real-time patient health monitoring. So, let's wait and see what the new rule will be and review the opportunities it will open.