Development of Mobile Communication Software for the Elderly and Caregivers
Technologies
Mobile, iOS, Android, Angular.js
Customer
The Customer is an international company connecting the elderly and their caregivers with the help of multiple digital communication channels.
Challenge
The Customer wanted to assist seniors across various settings (home, hospital, assisted living facility, senior housing) to feel close to their friends and family with the help of technology. At the same time, they intended to provide caregivers with an effective tool to track the wellbeing of a person being under their care.
The Customer chose mobile technology because of its flexibility. They decided to create a thorough system that would meet needs of both caregivers and elderly in connecting each other conveniently. Seniors needed a solution simple enough to adopt it quickly. Caregivers needed a functional and cross-platform application. In general, the system had to serve as both a communication channel for daily conversations across settings and an emergency alert.
Solution
ScienceSoft's medical app development team created the mobile system consisting of two main parts according to user roles – an elderly person and a caregiver.
Senior's application
The app for a senior is installed on a tablet with a customized Android OS provided by the Customer. The basic functionality within the software includes:
Video calls
Secure text messages
Photo album
Daily schedule
Emergency button
The elderly can get in touch with their close ones via video calls, see shared memories in photo albums, answer text messages from their caregivers and see their calendar with daily activities as well as get automated notifications on doctor appointments. In case of need, they can press an emergency button to alert caregivers.
Caregiver's application
The app for caregivers can be installed on Android, iOS or other mobile OS. It allows family and relatives stay close to seniors in various situations – hospital settings, assisted living facilities or just their own homes. Caregivers can use the following functions within the app:
Secure text messages
Video calls
Calendar
Photo sharing
Member directory
Elder settings
Caregivers can make phone calls or write text messages to the elderly and share their precious moments with them. Moreover, they have an ability to see the senior's calendar with doctor appointments and schedule medicine intake, phone call or any other activity for their person under care. The caregiver can also track if the senior is complying with the necessary routine and intervene if necessary.
Within the member directory, the caregiver can add more relatives or friends as well as change their personal and contact information. Moreover, the settings allow the caregiver to alter the senior's location, date, app's background colors, profile photo and alerting system. For example, if an elderly person forgets to take daily medications or mark this activity done, the app will send a reminding sound after an hour or can remind to call the physician 5 minutes prior to the activity.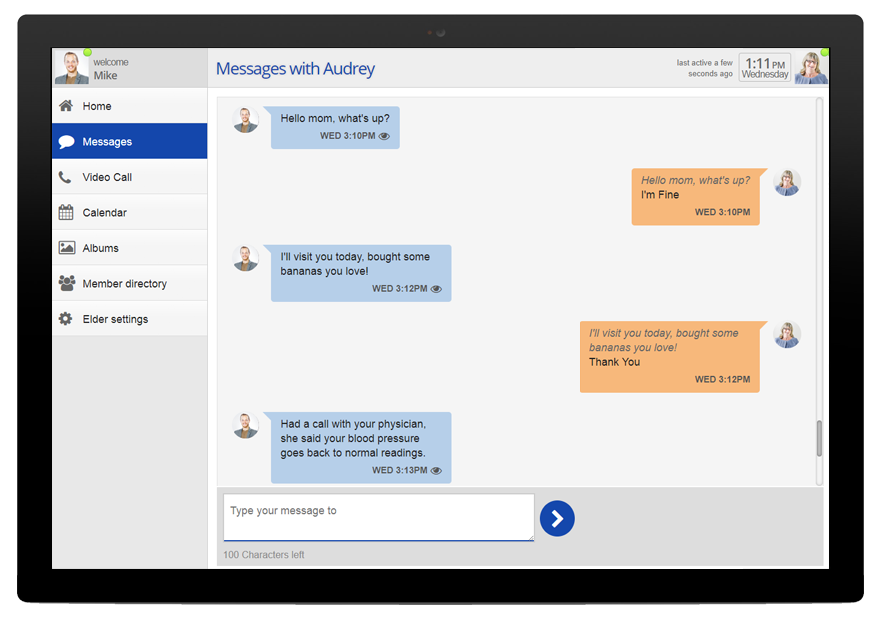 Results
ScienceSoft's medical app developers created a mobile communication system for elderly and their caregivers, allowing them to interact across multiple settings, including hospitals, senior housing, assisted living facilities or homes. Caregivers can track the senior's compliance with prescribed routines and keep in touch with the person under care in a number of ways. The elderly, in their turn, feel connected to their loved ones and taken care of.
Technologies and Tools
Meteor JS, Angular JS, WebRTC, Native Android SDK

Need help with a similar project?

Drop us a line, and our rep will contact you within 30 minutes to arrange an initial discussion.

<![endif]--> <![endif]--> <![endif]-->