IoT Solutions for Healthcare
Healthcare IoT solutions facilitate monitoring patient health state and tracking medical staff and assets through the network of smart devices and sensors connected to the cloud. With 12 years in IoT, ScienceSoft provides reliable IoMT solutions to improve patient care, asset use, and staff productivity.
ScienceSoft Is a Leader in Healthcare IT Services Market in 2022 SPARK Matrix
ScienceSoft is featured as a leading healthcare IT services provider, along with Athena Health and Oracle Cerner. This achievement is a result of 18 years of tireless pursuit of technological innovation, made possible by ScienceSoft's passionate team of healthcare IT experts who always strive to make a difference for patients and caregivers alike.
IoMT Solutions for Technology-Enabled Care
In healthcare IT since 2005, we deliver solutions to make the healthcare environment more secure and convenient for patients and healthcare professionals.
Continuous monitoring of asset location and availability to prevent loss and theft.
Asset utilization management for optimized asset investments.
Automated asset management.
Monitoring and assessment of patients' vitals (e.g., pulse, blood pressure, glucose) in real time.
Continuous analysis of patients' health data to improve disease treatment and management and enable better care decisions.
Alerting a nurse and a doctor in case of abnormal health parameters.
IoT-based patient and staff tracking
Patients' and employees' locations tracking in real time.
Patient flow assessment and prediction.
Doctors' and nurses' schedules and daily tasks optimization.
Patient and staff safety improvement.
Bottleneck identification in internal hospital processes.
Additional IoT-based components of a smart hospital
Smart rooms lighting using cloud-connected ward sensors (e.g., a light switch, door, and window contacts).
Climate control (e.g., to maintain a lower temperature in the empty wards), and more.
At the IoMT strategy planning stage: ​​​​​​we outline the capabilities of a future IoMT solution, advise on integrating it into your healthcare services, align it with IT and business strategies.
At the IoMT solution planning stage: we design a tailored IoMT solution with a flexible and scalable architecture to enable you to expand the IoMT solution with new features when required.
We develop, test, and implement IoMT solutions in agile iterations based on high-level or detailed requirements. The first solution version with a lean set of high-priority features can be available within 3-6 months.
We monitor the IoMT solution and its performance, detect and fix defects, conduct predictive maintenance, validate security, perform application administration, add new functionality, etc.
Benefits of Technology-Enabled Care with IoT
| | |
| --- | --- |
| | New opportunities for chronic disease management and better care for outpatients with the help of remote patient monitoring and outcomes analytics. |
| | Asset cost analysis and asset investment optimization using the data about how assets are used in a hospital. |
| | Increased patient safety and satisfaction. |
| | Lowered risk of medical equipment malfunctions due to predictive maintenance. |
| | Reduced staff overloads due to automated routine tasks (e.g., patients' health parameters measurement, medical asset disinfection). |
| | For large health systems: better visibility from the headquarters into the state of remote facilities. |
| | Tracking of movable assets and better visibility into medical asset utilization. |
Competitive Advantages of ScienceSoft's IoMT Solutions
Integration with the IT ecosystem

We seamlessly integrate IoMT solutions with the healthcare systems (e.g., EHR, EMR, HIS) to ensure effective communication between IT infrastructure elements and avoid data fragmentation.

Data and application security

To tackle information security challenges and protect sensitive information (e.g., patients' health records) from misuse, we deliver HIPAA-compliant IoMT solutions. We are also ready to conduct a vulnerability assessment and penetration testing of your IoMT solution to ensure the highest level of protection of sensitive data. Our information security management capabilities are backed by ISO 27001 certificate.

Fast software delivery and lowered investment risks

Despite the benefits of the medical Internet of Things, there is still the risk that substantial investments may not pay off as expected. We offer an iterative development to mitigate the risk: we work in short iterations, and you pay only for the performed work instead of spending a huge budget at the very beginning. We begin with an IoMT solution featuring basic functionality, so you can put it into practice and see the benefits. With every new iteration, we expand the solution's functionality.
The Financial Times Includes ScienceSoft USA Corporation in the List of the Americas' Fastest-Growing Companies 2023
For the second year in a row, ScienceSoft USA Corporation ranks among 500 American companies with the highest revenue growth. This achievement is the result of our unfailing commitment to provide high-quality IT services and create best-value solutions that meet and even exceed our clients' expectations.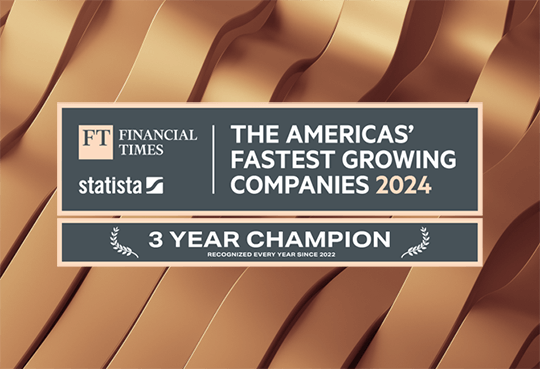 All about Internet of Things
<![endif]-->