Editor's note: Andy talks about the business potential of moving legacy software to the cloud as well as the key cloud adoption options and success factors behind legacy-to-cloud transformations. And should you be planning to deploy your app in the cloud, ScienceSoft gladly offers assistance with both from scratch development of a cloud app or existing application modernization.
The business world is in the midst of a mass shift to cloud-based IT environments. The recent Gartner surveys show that more than a third of modern companies see cloud adoption as a top investment priority. And according to the 2020 IDG Cloud Computing Survey, 92% of businesses already use the cloud in some capacity, and the number is expected to rise to 95% in a year.
While the majority of new applications get deployed in the cloud and are purposely built to live and run in the cloud, many businesses still rely on legacy software. No wonder, the interest for cloud transformation and migration of legacy software is on the rise. Below, I present some popular legacy-to-cloud migration scenarios and share the highlights of ScienceSoft's practical approach to efficient and safe application migration.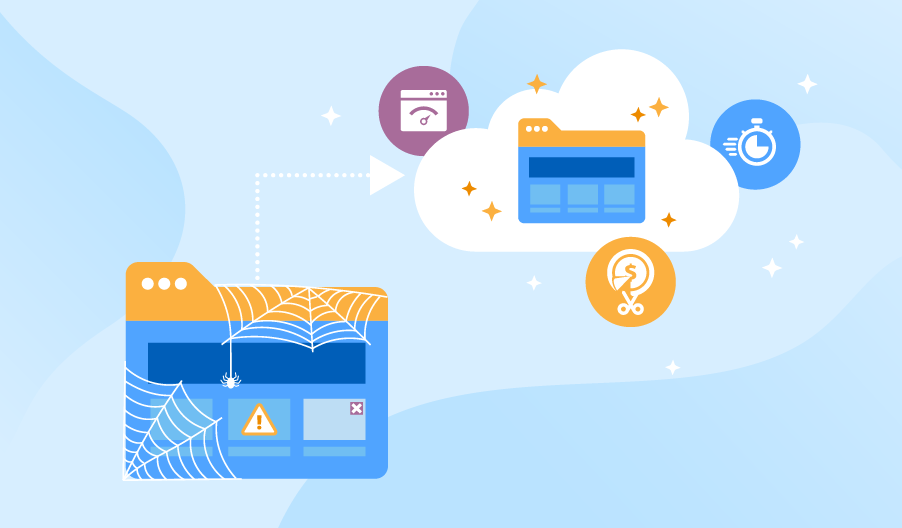 Why adopt the cloud?
Cloud migration for legacy software is an attractive technique to reduce its total cost of ownership and retain competitiveness. Among the prominent benefits of cloud migration, there are boosted agility, increased resilience and performance, simplified updates and high availability under increasing loads, reduced development and operational costs via the usage of ready-to-go cloud services and predictable pay-as-you-go cost structure. As for practical examples, I can mention ScienceSoft's projects for an MSP consulting firm and a provider of cashback services, where we cloud-empowered their customer portals to efficiently meet the growing loads. And a vendor of accounting and payroll software that approached ScienceSoft to migrate their desktop software product to the cloud now leverages the possibility of quick centralized functionality updates and easier maintenance of the system.
What are legacy-to-cloud transformation options?
Application re-hosting
Application re-hosting implies the as-is shift of a legacy application to the cloud. Application re-hosting is a quick, relatively safe and easy migration option. However, it offers very limited cloud-driven benefits. I recommend employing this option when a business needs to grant anywhere access to their application, partially optimize the usage of hardware resources, or enable DevOps for software support and evolution.
Application re-platforming
Application re-platforming implies the shift of a legacy application to the cloud with small optimizations in the application architecture without significant changes to its code. This option is good to use to leverage some of the cloud services, for example, switching from an on-premises database to AWS RDS or Azure SQL Server to take off the administering burden or simplify scalability.
Application re-factoring/re-architecting
Application re-factoring/re-architecting implies significant changes in a legacy application, such as transforming a legacy monolith architecture into independent, self-contained microservices. This migration scenario helps leverage all kinds of cloud services for easier development, operation and innovation, as well as the cloud capabilities for scalability, availability, portability, and resilience with self-recovery and dynamic loading.
To choose a fitting cloud migration option, you should consider your application, business needs, and budget. Also, take into account that besides being a gateway to more cloud benefits, the last two options require larger investments and entail significant risks and challenges during the migration process. What is more, they're problematic to carry out for legacy apps with an obsolete and complicated interdependencies.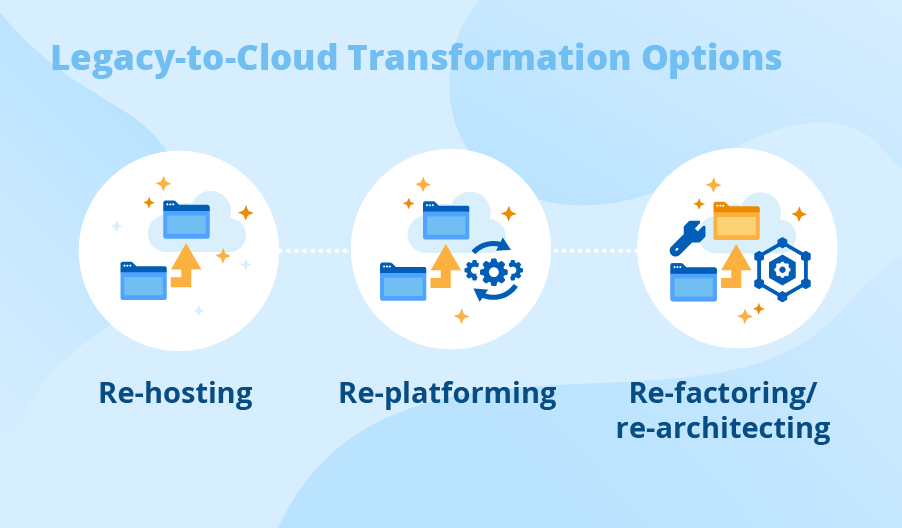 ScienceSoft's approach to application migration to the cloud
Modernization projects can appear large, risky and expensive. To minimize related risks and ensure a successful cloud migration process, we at ScienceSoft focus on the following:
Creating a business case
An initial step of any cloud adoption project is to decide whether it's feasible to move your application to the cloud. The benefits of the cloud transformation sound impressive, but legacy applications are often large and complex systems that can be too costly and risky to change, or too expensive to run in the cloud (for example, apps with resource-intensive capabilities like media processing). To make sure all efforts and spending pay off, we start every modernization journey with:
Identification of the desired improvements.
Thorough technology, architecture, data and infrastructure analysis.
Consideration of security factors.
Calculation of the migration ROI.
Report on migration feasibility.
Choice of a strategic approach towards cloud migration.
Bringing minimum disruption to the business processes
Legacy systems under modernization are critical to business operations, so they shouldn't have downtimes. To ensure continuous digital transformation with no disruption to the business, we break the cloud adoption into clear, manageable processes and take measured steps always being ready to roll back. We also employ automated tests to check the changes promptly, frequently and comprehensively.
What public cloud provider should you choose?
When migrating to a public cloud, I recommend considering AWS by Amazon and Microsoft Azure first. Over the years, I've witnessed Amazon and Microsoft being reliable and continuously improving cloud platform providers with advanced and growing cloud services offerings. The two clouds differ in the pricing model, the breadth of services, the partner ecosystem, and available cloud architectures. The final choice should be made based on your specific needs.
You can also consider Google Cloud Platform and DigitalOcean. They are both good when you need a more affordable alternative. However, their offerings may be unable to fully cover your needs.
Drive max value via cost-effective and safe cloud adoption
The success of large legacy transformations demands significant upskill or reskill of your in-house development team. If you don't have the desire or time for that, be sure to turn to an established provider of legacy upgrade & recovery services. My colleagues at ScienceSoft will be happy to support you at any stage of the cloud adoption journey, just give them a shout.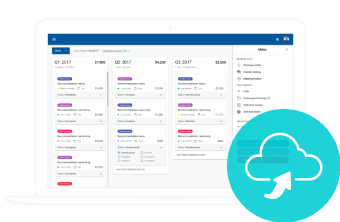 Get your application moved to cloud smoothly, promptly, and cost-effectively.