Editor's note: Nick navigates you through outsourcing models to help choose the one fitting your project. And if you want to further explore outsourcing cooperation specifics with a vendor, feel free to explore ScienceSoft's IT outsourcing offer.
Being in the IT industry for more than three decades, I often see the following situation. A company feels the need to use outsourcing services due to the absence of established in-house development or to overcome such development issues as delays in delivery, severe bugs, hindered growth or slow digital transformation. Still, the final decision is postponed due to uncertainty of which engagement model to choose and concerns about losing control over the development process or putting the company's security at stake.
Definitely, these are the right things to doublethink about. In this article, I'll share my recommendations on how to reduce possible IT outsourcing risks and launch a productive outsourcing initiative drawing on ScienceSoft's experience as an IT service vendor.
The choice of an engagement model depends on your unique situation. However, some unreliable vendors may bring you round to the model of their interest just because it's more profitable for them, or they have a limited range of outsourcing models to offer.
That's why I recommend mapping out your outsourcing strategy before reaching out to vendors. And to help you weigh all the options you have on the outsourcing market, I've prepared an overview of 3 outsourcing models: full process outsourcing, dedicated teams, and staff augmentation.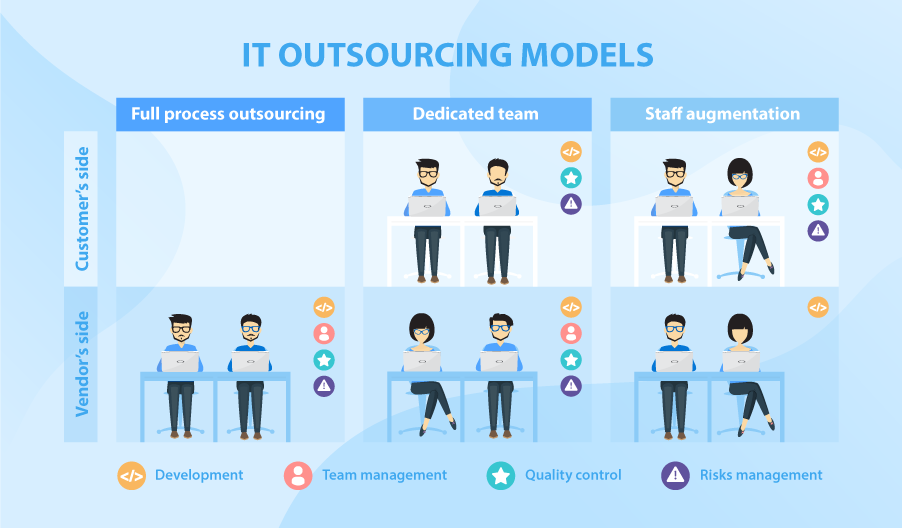 What it is: A vendor takes over the whole development process, with full responsibility for team organization and management, quality of the results and accompanying risks. To get a taste of how this outsourcing model works in practice, check our project for an international marketing agency, where ScienceSoft's team covered all development stages, from business analysis to solution support.
When to choose: If you don't possess development expertise at all or for particular software to be developed, or if you're overloaded with other projects in the pipeline.
Pros:
Minimum management efforts on your side and freed time to focus on core business activities.

High quality of deliverables and timeline alignment guaranteed by SLA (with penalties for breaching it).

Access to a vendor's development process expertise and best practices.

Tackling project-related risks is on a vendor's side.
Cons:
Slower setup than in other models.

Less control over the development process than in other models.
How to set the cooperation right: You should ask for transparent reporting and dedicate a representative who will keep active communication with a vendor. For example, ScienceSoft, as a vendor, offers day-to-day communication on demand and weekly status calls within this outsourcing model.
What it is: A vendor offers a dedicated team that integrates with your in-house team and/or your another vendor and works on an outsourced part of the project, sharing risks and responsibility for the quality. Team management stays on a vendor's side, and their PM reports regularly to your PM (or product owner) on the progress.
When to choose: ScienceSoft's customers choosing this model have an established development team and processes but lack resources or domain expertise.
Pros:
The fastest ramp-up: the teams are usually pre-assembled by a vendor and their structure is further adjusted to your project needs (adding or excluding team members).

Saved time and efforts on project management with complete control of the results retained.

Full technical ownership with access to a vendor's expertise at the same time.
Cons:
Possibility of some disruption into an established process because of a new team.

Possibility of communication gaps and collaboration difficulties.
How to set the cooperation right: I recommend looking for a vendor who can take the responsibility to seamlessly merge with your development and communication environment and set up all the needed tools for it.
To have an example of such successful integration, read about ScienceSoft's project for IBM/Consul. There we established the development and test labs to incorporate into the customer's environment and organized regular on-site visits for knowledge transfer.
What it is: A vendor provides you with remote professionals that you manage directly.
When to choose: In case of an established but slow development process or the shortage of rare or advanced expertise. Also, when you need just 1-3 resources, not a complete team.
Pros:
Flexibility: getting the exact number of experts you need, from 0.5 full-time equivalent (FTE) to 100 FTE and above. Note that the dedicated team option becomes more effective starting from 10 FTE.

Easy scaling up and down to adapt to changing business needs.

Suitability for both long-term and short-term engagement, for example, when you run into a problem that requires specific skills to solve.
Cons:
Full responsibility for project-related risks on your side.

Onboarding and managing outsourced professionals are on your side.

Possibility of communication gaps and collaboration difficulties.
How to set the cooperation right: Although management is on your side, I advise choosing a vendor who also tracks the performance of their employees and helps them resolve issues, if any, as it significantly raises the quality of services you get.
For the detailed comparison of IT outsourcing models, please download the PDF table. There you can find the division of responsibilities for each model and other insights.
Whatever model you choose, you need to take general precautions regarding an outsourcing engagement that apply to all of them:
Signed NDA

will prevent issues with sensitive information leakage. For security-critical applications, I suggest you choose an established IT vendor, as they commonly have a more mature infrastructure and advanced security policy in place.

A vendor should document all deliverables in a shareable knowledge base that you can enter anytime. And having access to a task tracking system, such as Jira, gives you a needed overview of the day-to-day project progress.
Fixed price.

You pay a pre-defined price based on time and efforts estimated by a vendor at the initial cooperation stage. I recommend this model when you have a clear software vision and know that it's unlikely to change, as in Waterfall projects.

Time and Material (T&M)

. You pay for hours reported by a vendor per month. It fits full process outsourcing of Agile projects with lots of change requests, as well as dedicated teams and staff augmentation models, where the scope of work is often defined on the go, and the team size may change throughout the project.
Your next steps to start a successful outsourcing initiative
A fitting IT outsourcing model brings great benefits: reduced costs, streamlined development, and enhanced software quality. To choose it right, you need to define:
Current development problems (slow development, lacking certain expertise, etc.).

The desired level of control (whether you want to have all the control, share it with a vendor, or delegate it to them).
After you've chosen the model, you can start screening vendors. I recommend reducing the number of potential vendors to 3-10, paying attention to their trust indicators: years of experience, professional certifications, case studies, and testimonials. As ScienceSoft offers all 3 engagement models, I welcome you to consider us as a candidate to take over or reinforce your project or project pipeline. If you're interested, just drop us a line to discuss the details.
Looking for an outsourcing partner to take over your software development project or the entire pipeline of projects? ScienceSoft is ready to support your business growth and digital transformation initiatives.