IoT Analytics Solutions and Services
IoT analytics enables companies to draw actionable insights from data generated by the devices connected to the IoT cloud. With 34 years of experience in data analytics and 12 years in IoT, ScienceSoft helps companies implement reliable IoT analytics solutions and provides IoT analytics as a service.
34 years in data analytics and data science.
12 years in IoT and comprehensive expertise in delivering IoT solutions.
10 years of big data consulting and implementation practice.
Microsoft partner since 2008.

AWS Select Consulting Partner.

A member of the Oracle Partner Network.
Featured among 10 Fastest Growing Data Analytics Companies and 10 Fastest Growing IoT Companies by the Silicon Review.​​​​
Services in line with ISO 9001-certified quality management system.
ISO 27001 ensured security of customer information.
Service Options
Implementation of IoT analytics solutions
For businesses, who want to benefit from IoT insights obtained with their own organization-wide IoT analytics tool, we offer full-cycle IoT analytics solution development, starting from needs analysis up to the solution's launch, after-launch support and evolution.
IoT analytics as a service
For businesses who want to bypass implementing and maintaining an in-house IoT analytics solution but still want to enjoy IoT insights, we offer IoT analytics as a service. You get access to a web interface with regular and ad-hoc reports, while we handle the IoT analytics solution's technical realization.
The Financial Times Includes ScienceSoft USA Corporation in the List of the Americas' Fastest-Growing Companies 2023
For the second year in a row, ScienceSoft USA Corporation ranks among 500 American companies with the highest revenue growth. This achievement is the result of our unfailing commitment to provide high-quality IT services and create best-value solutions that meet and even exceed our clients' expectations.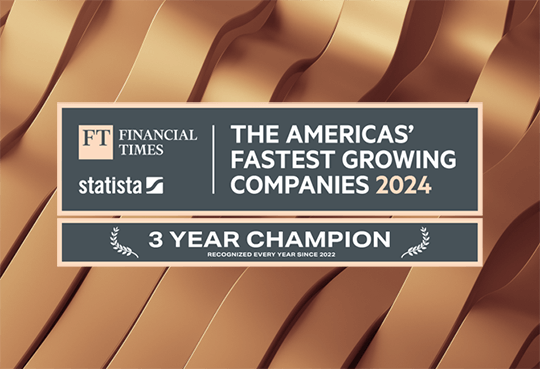 IoT Analytics Solution Implementation
We provide full-cycle implementation services, which comprise:
1
Business analysis
Our BA team will analyze your analytics needs, translate them into a feature set, carry out a feasibility study taking into account the capabilities of the existing data analytics solution, if you have one implemented, as well as consider legal, regulatory, and security requirements to create a detailed requirements specification.
2
Dashboard design
Our UI/UX designers will create an optimal dashboard layout that clearly reflects trends, patterns, and dependencies derived from the IoT data, adapting the displayed content to relevant use roles.
3
Architecture design and development
Designing and developing IoT analytics solutions we focus on consistency, reliability and flexibility. At this stage, our database department will:
Design and implement a data lake for storing sensor data.
Design and implement a big data warehouse for a well-tuned management of sensor data and metadata (e.g., the data about sensor locations, calibrations and maintenance). Also, our data engineers will implement ETL processes for a range of data sources, such as ERP, MES, WMS, and others, to create a consolidated data management and analytics solution.
Implement BI, reporting and visualization tools for deriving insights form the historical and real-time sensor data and conveying the insights in the form of predefined and ad-hoc reports.
Implement a machine learning component to power the solution with predictive analytics capabilities.
We implement an IoT analytics solution in stages, launching a first application version with high-priority functionality first and then adding new features every 2-4 weeks. If this approach is not suitable in your situation, we can implement an IoT analytics solution at once according to a traditional Waterfall methodology.
4
Quality assurance
Throughout the development cycle, we perform regular code reviews, carry out continuous testing and release testing with a reasonable share of automation to prevent a solution's downtime, performance issues, and errors in analytical output.
5
Launch
We release an IoT analytics solution or its version in the production environment.
6
After-launch support
During 1 to 3 month after the deployment, we will carry out IoT analytics solution monitoring and performance management, as well as perform a range of daily administration tasks including security updates, user and access management.
7
User training
We will carry out comprehensive training (e.g., step-by-step guides, onsite training, workshops) to help your employees understand the IoT analytics solution's features and functions before it goes live.
8
IoT analytics solution evolution
We continuously improve the reliability of your IoT analytics solution to make sure it stays up-to-date with your business needs in the long term. We will systematically monitor and optimize the key components of a solution infrastructure, including device, network, data, and security management, as well as plan and implement solution changes and expansions.
IoT Analytics as a Service
To let your business benefit from IoT insights without having to deal with the hurdles of IoT analytics solution implementation, we are ready to take over your analytics-bound tasks on a subscription basis. Here are the stages according to which we prove IoT analytics as a service.
Assessment of an enterprise's analytics needs and SLA preparation

We will work collaboratively with your IT and business departments to understand your business goals and a current level of analytics maturity. Based on the obtained information, we will choose relevant analytics methods (e.g., basic reporting, online analytical processing, machine learning-driven analytics) with regard to feasibility and the potential to improve strategic decision-making.

We will reflect the detailed description of the service, state the agreed level of service quality, determine appropriate KPIs and monitoring procedures, as well as document service timing and charges in an SLA.

Data quality assessment and data preparation

We will analyze available IoT data and metadata from the perspectives of structure and quality to state if it is consistent, accurate, complete, and auditable enough to fulfill your analytics requirements. Our big data professionals will put effort into cleansing and reorganizing available data if it is incomplete or contains duplicate and erroneous records to assure highly accurate analytics results.

Service execution

We leverage descriptive, diagnostic, predictive, and prescriptive analytics to carry out a range of tasks including uncovering the root causes of past events, detecting hidden dependencies and trends in both historical and streaming data, and making predictions based on them.

We present the insights gained with the analysis in the form of:

Standard reports providing insights on a predefined range of parameters at particular intervals.
Ad hoc reports allowing to drill down any parameter and build custom reports on the fly.
Alerts generated automatically based on predefined rules.

Reporting on service provided

We present monthly reports on provided services containing a detailed performance evaluation against the targets specified in a service level agreement.
Benefits of IoT Analytics
Fact-based decision-making based on the collected data about the organization's operations.
Identification and elimination of ineffective business flows to improve operations' productivity.
Reduced operational costs due to smart resource allocation.
Customer insights allowing to create tailored customer experience.
Technologies We Use
All about Internet of Things
<![endif]--> <![endif]--> <![endif]-->