Editor's note: Adapting performance reviews for mobile devices can offer a range of advantages to both the management and employees. Read on to learn more about the mobile performance review strategy and feel free to ask for the help of ScienceSoft's application development team in its implementation.
The study on performance reviews by Corporate Leadership Council (CLC) research group showed astounding results: 95% of managers are dissatisfied with their performance review systems and strategies at work; 59% of employees say performance reviews aren't worth time, while 56% say reviews don't provide them with the information on what they should improve.
CLC is not alone. Other studies, including that of the Society for Human Resource Management (SHRM), prove that "many executives and senior managers did not endorse or even use their performance management system", and that many HR departments eventually choose to move on from performance reviews.
This article analyses the pros and cons of leaving annual performance reviews behind and shows how to step up performance management with mobile.

The last principle of the Agile Manifesto penned in 2001 so that the world's IT vendors could all optimize their processes, reads: "At regular intervals, the team reflects on how to become more effective, then tunes and adjusts its behavior accordingly." Adobe recalled this statement in 2012 while announcing that annual performance review didn't fit their human resource management and business strategy, and they would instead implement a more frequent feedback system. Microsoft discontinued performance reviews in 2013, and was followed by many other organizations, including Accenture, General Electric, Deloitte and PwC.
Dr. Elaine Pulakos, the author of Performance Management: A New Approach for Driving Business Results explained that performance review doesn't actually live up to its initial purpose of boosting employees' motivation. Since reviews and rankings are done once a year, successful employees don't get rewarded for their accomplishments in time and unsuccessful ones get deprived of their bonuses for an entire year. Feeling unappreciated or tied down to their previous mistakes, these employees can't move forward – and neither does their company's business.
While HR experts hoped that without annual reviews they may improve managers' communication and employee engagement, help managers to assign a fairer pay as well as give them time for informal conversations, CEB Global warns that the results have been exactly opposite so far. Once organizations abandon performance reviews, their manager conversation quality decreases by 14%, employee engagement declines by 6% and top performers get 8% less satisfied with their pay.
When in 2016 both Deloitte and PwC returned to the ranking system, it only backed up the fact that less than 5% of managers are able to do without rankings. HR professionals at large corporations that took the risk of moving away from performance management ended up with a double-edged sword: although annual reviews held productivity back when executed, businesses weren't better off without them.
Certainly, the purpose of these risk-taking companies was to implement an active and regular management feedback policy. Yet, most of them simply left the whole reviewing matter unsupervised, expecting the workforce and the management to go with informal feedback. This may not be an effective strategy for business. No matter how democratic and flexible today's workplaces are, some things should stay regulated in order to function properly.
A shift to mobile technology can be the golden middle of agility and regulation that is so necessary for performance management today. Mobile performance management apps – with different UIs for managing staff and regular workforce – could naturally instill cooperation, engagement and order.
Listed below are some of the winning characteristics of a performance review app concept, illustrated with examples of supported functions:
In regard to feedback, the word 'regular' is rather vague. For some managers it means once a week, for others a month. A more reasonable option is to align feedback frequency with an employee's productivity levels. In other words, feedback should follow certain progress. By reporting their achievements, employees will be continuously creating a sort of a social network-like feed of updates for their line manager to react to.
Employees, especially millennials, are motivated with responsibility and opportunities for growth. They don't want to discuss their failures long after they got over them on their own – they want prompt feedback that will guide them and help them become more successful.
With a performance review app in their pocket, line managers will find it easy to support and give advice to workforce anytime. Once an employee fills in a short report or a progress summary in the app, a line manager receives a notification about an update. In urgent matters managers can contact an employee and discuss the issue immediately, but in minor cases they are free to provide their feedback right in the app.
To help managers provide quick but informative follow-up easier, the mobile app can contain standard forms, devised and customized by a company's HR department. The form can be shaped as those on eBay or Amazon: with 3-5 questions ("How much professional attitude did the employee show while performing the task?", "Did the employee give their all to finish the task successfully?") to rate on the scale from 1 to 5 stars and a text box for a concise comment.
No person is completely immune to criticism. Even while being constructive and aimed at improvement, some feedback can demotivate employees and hamper their further growth. Therefore, HR managers advise to depersonalize negative feedback to the most possible extent.
A performance review app allows to provide negative feedback through electronic 'suggestions' forms. Apart from giving managers time to regain their temper, such forms can have standard questions like "Which employee's weak sides require more attention?" or "How can an employee's performance be improved?" These phrases alone will tone any harsh criticism down, and will keep even the most emotional manager within the limits of tact and composure.
Annual ranking is hardly justifiable, since employee performance changes overtime and newcomers come throughout the year. Mobile performance ranking can be set to form weekly, biweekly or monthly reviews, and can automatically filter employees by their stars. This way, top performers will be noticed and rewarded in time.
Endnote
By delivering a performance review app, a mobile development team can help HR managers constantly be on the same page with their workforce: support them in their daily activities, provide constructive and emotionally neutral remarks, as well as fairly assign pay checks. Yet, while understanding the importance of functional and mobile-enabled management, companies shouldn't underestimate live conversation. With criticism depersonalized and all the procedural matters settled via mobile software, face-to-face conversations can be reserved for discussing future plans and positive impressions that would motivate both employees and managers for a more dedicated and productive work.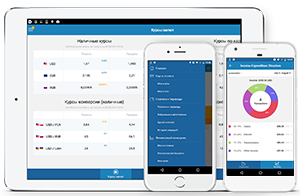 Dealing with a mobile-related challenge? Take advantage of the diverse and deep knowledge of our mobile development team.