Top 6 HIPAA-Compliant Cloud Platforms for Storage and Processing
Comprehensive Overview
With 18 years experience in healthcare IT consulting and 11 years in cloud implementation and migration, ScienceSoft helps companies design and implement a HIPAA-compliant cloud environment for PHI storage and processing.
HIPAA-Compliant Cloud: Organizing a Secure Environment
Designing and implementing a HIPAA-compliant cloud environment requires either highly experienced team members on board or a trustworthy vendor with relevant competence. The main challenge is to organize an environment for storing, processing, analyzing and sharing protected health information (PHI) in such a way that all the required HIPAA safeguards are observed.
HIPAA-Compliant Cloud: Key Functionality
Blending cloud expertise with practical HIPAA experience, ScienceSoft defines the core functionality of a HIPAA-compliant cloud.
Semi-automated migration and hosting of legacy apps.
Platform for cloud-native healthcare applications.
Building advanced healthcare solutions with off-the-shelf services: AI, big data, IoT, blockchain, computer vision, etc.
Scalable isolated containers for healthcare apps.
Containers' orchestration.
Service mesh to connect microservices.
Data storage and management
EHR data storage in an encrypted database.
Storage of real-time patient monitoring data in the encrypted form.
Snapshot backup/recovery.
Encrypted healthcare data sharing.
FHIR-compliant APIs for secure data processing.
Data warehouse with encrypted data storage and data backups.
Big data analytics that supports in-transit encryption.
Identity and access management.
Network and application firewalls
Virtual private clouds
Native SIEM
Multi-factor authentication.
Creating and managing cryptographic keys.
Support of a hardware security module for generating and using customers' cryptographic keys with at least FIPS 140-2 Level 3.
6 Best HIPAA-Compliant Clouds
ScienceSoft's projects for designing and implementing HIPAA-compliance clouds for healthcare helped us to choose 6 best platforms and describe their strengths.
Caution. Although all the cloud providers mentioned below ensure their cloud's security, as well as sign standard BAAs, it's necessary to configure the platform correctly to get a fully compliant environment. Among the obligatory actions are access permissions setup, proper encryption, setup of controls for file integrity monitoring.
Microsoft Azure
Description
According to Gartner, Microsoft Azure holds the second place in the cloud computing market. To comply with HIPAA regulations, Microsoft invests around $1bln per year in cybersecurity.
Microsoft Azure provides a variety of HIPAA-compliant services, including those for PHI storage, data management, machine learning, IoMT, etc.
Best for
Edge computing & IoMT
AWS
Description
Gartner rates Amazon Web Services (AWS) as a leader in the healthcare cloud computing market. 120+ HIPAA-eligible services, including those for cloud computing, app integration, PHI storage, IoMT device management, analytics, data sharing, etc. There's also an AWS for Health offering with services tailored to healthcare organizations. For example, Amazon HealthLake enables storing, querying, and analyzing health data to create a chronological view of patient health data, make predictions about patient health, etc.
Best for
Hybrid cloud & IoMT
Atlantic.Net Cloud
Description
Atlantic.Net provides HIPAA-compliant hosting services to a rapidly growing number of healthcare providers. With a fault-tolerant and highly available architecture, Atlantic.Net Cloud enables encrypted PHI management, offers around-the-clock protection with managed backups and disaster recovery options, and provides Web Application Firewall to defend systems from the vulnerabilities. Other security services feature Multi–Factor Authentication, Intrusion Prevention Systems, Automated server patching, and end-user security tools (e.g., Anti-Virus Deep Security, Log management).
Best for
Security and managed services
Google Cloud Platform
Description
In its Magic Quadrant for Cloud Infrastructure and Platform Services, Gartner puts Google on the third place.
Google offers its customers HIPAA-compliant services, including Google Drive, Cloud IoT Core, Cloud SQL, Cloud Storage, etc.
Best for
Highly variable load
Oracle Cloud
Description
According to Gartner's Magic Quadrant, Oracle is a Niche Player.
Oracle offers more than 80 cloud services that comply with HIPAA regulations, including identity and access management, load balancing, managing block storage volumes, PHI storage and a data leakage protection system.
Best for
Lift & shift migration
IBM Cloud
Description
In Gartner's Magic Quadrant for Cloud Infrastructure and Platform Services, IBM is ranked as a Niche Player. IBM claims to be the only cloud services provider that uses FIPS 140-2 Level 4 (encryption certification of the highest level) and KYOK (keep your own key) function with a dedicated hardware-security module (HSM).
IMB offers more than 40 cloud services that comply with HIPAA regulations, including Cloud Databases, Cloud App ID, Cloud Block Storage, Cloud File Storage, Cloud for VMware Solutions, and more.
Best for
The highest security
Choose the Right Cloud with Expert Help
Please take 5 minutes to answer the questions that will help us understand your needs. We'll get back to you with advice on the optimal cloud platform.
ScienceSoft's experts will study your case and get back to you with an answer within 24 hours.
Benefits of Cloud Implementation and Migration with ScienceSoft
We map out individual pragmatic strategy for each application to reduce the re-development costs that may be required before migration.
We help you select a cost-optimal cloud platform for migration.
We plan the required cloud resources and leverage auto scaling to efficiently cope with changing workloads.
We plan and carry out migration without hindering your business processes.
We ensure maximum isolation of app microservices infrastructure components to retain the overall operability if a failure occurs.
We set up application performance management to observe the app's health.
HIPAA-Compliant Cloud Solutions: Success Story by ScienceSoft
Development of a HIPAA-Compliant HIE System and a Patient Mobile App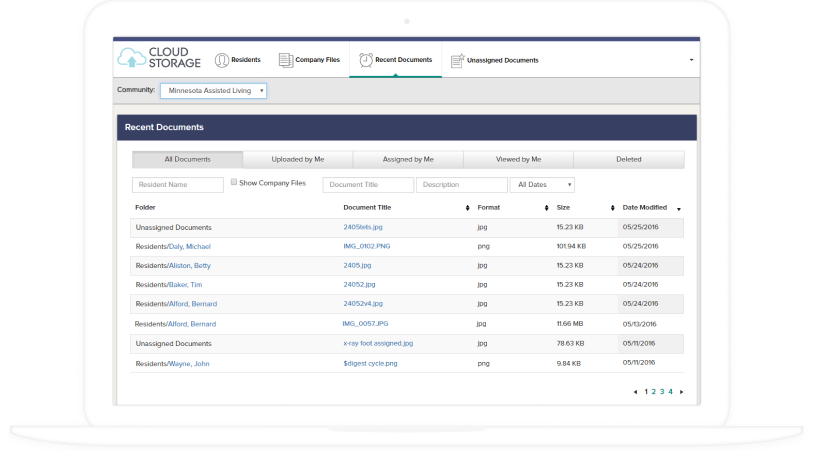 ​​​​​
The Customer, a US-based care management solutions provider, needed a HIPAA-compliant solution to increase the speed and safety of electronic health records (EHRs) sharing and improve communication among care providers, patients, payors, community-based organizations, pharmacies, laboratories, etc.
Solution:
ScienceSoft developed an AWS-based HIE system that gathers patient information and enables its secure storage, access and transmission within a healthcare facility and with third-party organizations.
ScienceSoft ensured encryption of data in-transit and at-rest, data anonymization and data access control to comply with HIPAA.
ScienceSoft delivered a complementing Android app for patients to access their health data, have online meeting with doctors, refill/renew prescriptions, and more.
How to Choose the Best HIPAA-Compliant Cloud
Many good HIPAA-compliant clouds are available today, each having specific strong and weak sides. It is our job as a vendor-neutral cloud enablement company to keep up with cloud services and help you find the best match for your needs. To do this, we consider multiple factors: your requirements for the cloud infrastructure management and upgrades, performance and availability, pricing, presence of standard interfaces, hybrid capability, data backup and retention strategy, specific HIPAA-compliant IaaS and PaaS services available, your existing cloud deployments, and much more.
18 years of experience in healthcare IT consulting and 11 years in cloud implementation and migration speak for themselves – ScienceSoft guarantees your quick and smooth journey to the best fitting HIPAA-compliant cloud.
About ScienceSoft

ScienceSoft is an international IT consulting and IT services company headquartered in McKinney. Since 2012, we have been providing our customers with cloud consulting services, and since 2005 - healthcare IT consulting services. A partner to AWS and Microsoft, we have experienced HIPAA consultants and cloud engineers on board. Being ISO 13485-certified, we design and develop, as well as revamp medical software.

<![endif]--> <![endif]--> <![endif]-->