Editor's note: Alena explains why remote cardiac monitoring is gaining popularity in the context of COVID-19 and offers recommendations for its implementation for healthcare providers. If you consider using remote cardiac monitoring for your healthcare organization, check what ScienceSoft's team offers in healthcare IT consulting.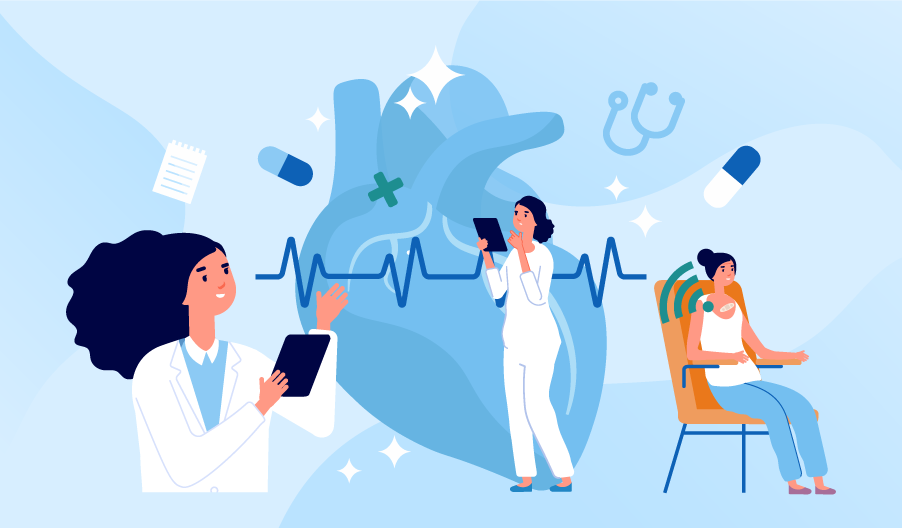 The cardiac monitoring and cardiac rhythm management devices market is projected to reach $26.8 billion by 2025 from USD 22.1 billion in 2020, at a CAGR of 4.0% from 2020 to 2025. Remote cardiac monitoring (RCM) is carried out by cloud-connected cardiac devices (e.g., smart ECG patches, implantable pulmonary artery pressure sensors, cardioverter-defibrillators, etc.). RCM allows healthcare professionals to detect remotely even the minor improvements and impairments in the patient's heart health. Data on the patient's cardiovascular health is collected by the device continuously, over a long period of time, analyzed by patient application algorithms and transmitted directly to the doctor's application.
The number of people infected with COVID-19 is slightly declining in the United States. However, if a person has an existing heart condition (e.g., heart failure, coronary artery disease, cardiomyopathies, or hypertension), they are more likely to become severely ill if they are infected. Thus, people with heart diseases tend to avoid visiting healthcare facilities, because of the risk of contracting the virus. The optimal solution for cardiac centers and hospitals is the replacement of the face-to-face examination of patients with heart conditions with examination using telemedicine, namely, audiovisual technology and smart patient-worn or implantable devices for remote cardiac monitoring.
Make your RCM software HIPAA-compliant
Since the software used for remote cardiac monitoring exchanges confidential patient information, it must comply with the Health Insurance Portability and Accountability Act (HIPAA).
Ensure full tech support to customers
The users of your remote cardiac monitoring solution should get tailored tech support from routine consultations to troubleshooting major problems.
Create tutorials for patients and healthcare professionals
Before launching your RCM, you should make sure that patients and physicians are properly educated to use the system. Invest in detailed video tutorials and manuals.
The benefits of RCM for healthcare providers and patients
Technology-driven innovation in patient monitoring, such as RCM, allows healthcare providers to stay ahead of the competition. Consider the benefits in more detail below.
Real-time patient condition monitoring
RCM helps doctors detect abnormal heart rhythms faster. For example, without using RCM, a cardiologist needs regular face-to-face appointments with a patient to review his or her heart health data, accumulated by the implantable cardioverter-defibrillator over three to six months of device operation. With remote cardiac monitoring, the information about a patient's heart condition is transmitted wirelessly to the clinic in real time for early identification of actionable cardiac events.
Reduced hospitalizations
The CHAMPION trial examined 550 patients with chronic heart failure symptoms. The patients were randomly divided into two groups: a group with daily downloads of pulmonary artery pressure readings using an implanted sensor device, and a group without daily downloads available for the clinicians. It was found that there was a 33% decrease in hospitalizations due to heart failure over an average of 18 months in the group that used an implanted sensor device.
Reduced routine visits to the doctor
Without RCM, patients with implantable cardioverter-defibrillator visit the doctor every 3 - 6 months for a heart condition data download and device checks. With RCM, the number of in-office follow-up visits may drop to two per year, which helps patients save time and, as a bonus, reduce transportation costs. Also, RCM makes patients active participants in the healthcare process and improves the effectiveness of cardiac disease management.
According to the American Heart Association's report, the number of Americans living with cardiovascular diseases is expected to reach 45.1% by 2035, and many healthcare providers consider RCM very promising for investment. As for drawbacks, using RCM may raise patient concerns about the safety of their personal health information. The solution to this problem can be RCM software which is HIPAA-compliant and developed using data encryption and data access control measures. If you need professional assistance in any aspect of implementing RCM software, you are welcome to turn to ScienceSoft's healthcare IT consultants.
Consult Me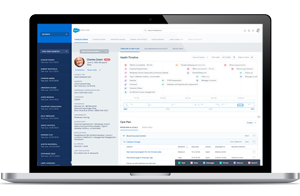 Want to Minimize the Risk of Data Leakage with Your IoMT Solution?
ScienceSoft's professionals can consult you on all possible ways to secure your IoMT solution and provide a proposal for a reliable solution.